Do you want to learn how to become a Civil Engineer in India? Then this is the best place for you as we have compiled every single piece of information on how to pursue your career as a Civil Engineer right from Eligibility Criteria, Entrance Exams, Top Colleges, Skillset needed, Career Options, Salary Offered, etc. Follow the quick facts over here regarding the Civil Engineering Course and clear all your queries.
Refer to Course Details to know more about related courses and find details like Admission Process, Eligibility Criteria, etc.
What is Civil Engineering?
Civil Engineering is one of the oldest branches of Engineering. It is known for the Construction of Buildings and has different stages like Planning, Designing, Construction, Maintenance. Old Developments like Harrapa, Mohanjo-Daro to the current stunning sky structures every physical structure is about Civil Engineering. It is the broadest part of designing that we witness in our day-to-day lives.
Civil Engineering Eligibility Criteria
Students who are willing to pursue Civil Engineering Course h/she needs to complete their undergraduate engineering program and then opt for a post-graduation program in the same stream. However, one can choose Diploma in Civil Engineering too. Refer to the further modules to know the Eligibility Criteria for becoming a Civil Engineer at each and every stage.
Diploma in Civil Engineering
There are plenty of institutions that offer a 2-year diploma in civil engineering.
Eligibility

However, to get admission the minimum eligibility criteria is that they must clear 10th or equivalent with at least 45% aggregate in Maths and Science as compulsory subjects. English should also be a compulsory subject in their 10th Standard.
BTech Civil Engineering
This is a 4-year course which is in turn divided into 8 semesters.
Eligibility
Students need to clear their 10+2 or equivalent exam from a recognized college with Physics, Chemistry, Maths as mandatory subjects
The Admission Process to this Btech Civil Engineering Program is through Entrance Exams like JEE Mains, JEE Advanced, KCET, MHCET, etc.
MTech in Civil Engineering
This is a 2-year full-time post-graduation program.
Eligibility
Aspirants must have cleared their Bachelor's Degree with a Minimum Aggregate.
Admissions are provided on a merit basis in GATE Exam.
Career Path to become a Civil Engineer | How to become a Civil Engineer in India?
There are 2 ways in which one can become a Civil Engineer and they are as below
Step 1: You can do your 12th Science(Maths) and then finish B.Tech. Later move to M.Tech and then Proceed with Ph.d.
Step 2: You can do 12th Science(Maths recommended) and then pursue an integrated course B.Tech+M.Tech in Civil Engineering a 5 Year Course and Proceed to Ph.d.
Do Read:
Civil Engineer Course Curriculum
Civil Engineering Course Curriculum differs from College to College. However, the fundamentals of the Programme remain the same. We have outlined an overview of topics that you might come across in your Civil Engineering Programme.
Semester 1
Semester 2
Mathematics I
Mathematics II
Chemistry
Physics
English for Communication
Programming and Data Structure
Basic Electronics
Basic Electronics
Mechanics
Engineering Drawing and Graphics
Engineering Drawing and Graphics
Electrical Technology
Electrical Technology
Introduction to Manufacturing Processes
Introduction to Manufacturing Processes
Semester 3
Semester 4
Water and Waste Water Engineering
Transportation Engineering
Hydraulics
Structural Analysis
Solid Mechanics
Water Resources Engineering
Breadth I
Surveying I
Mathematics III (Module 1)
Surveying II
Semester 5
Semester 6
Design of RC Structures
Design of Steel Structures
Soil Mechanics & Foundation Engineering
Elective II
Elective I
Elective III
Breadth (IT)
Elective IV
Breadth II
Elective V
Project I
Semester 7
Semester 8
Elective VI
Breadth III
IT & CAD Applications
Breadth
Elective
Project III
Project II
Comprehensive Viva Voce
Civil Engineering Specializations
You can choose from a lot of specializations available in Civil Engineering. Select from the options available and study in whichever specialization you want as per your interest.
Construction Engineering
Coastal and Ocean Engineering
Geotechnical Engineering
Fire protection engineering
Structural Engineering
General Engineering
Bridge Engineering
Irrigation Engineering
Land development
Materials Engineering
Transportation engineering
Urban Engineering
Hydraulic Engineering
Water Resources Engineering
Environmental Engineering
Top Civil Engineering Colleges in India
Below is the list of the top most colleges in the country that offer a Civil Engineering Course. Select the college based on your personal choice and study your favorite course.
Indian Institute of Technology, IIT Bombay
Indian Institute of Technology, Delhi (IITD)
Indian Institute of Technology, (IIT Kharagpur)
Acharya Institute of Technology (AIT Bangalore)
Dayananda Sagar College of Engineering (DSCE)
Cochin University of Science and Technology (CUSAT)
Birla Institute of Technology and Science (BITS-Pilani)
Indian Institute of Technology, Roorkee (IITR)
Indian Institute of Technology, Guwahati (IITG)
National Institute of Technology (NIT Trichy)
College of Engineering Pune (CoEP)
National Institute of Technology, (NIT Jamshedpur)
National Institute of Technology (NIT Kurukshetra)
Jadavpur University (JU, Kolkata)
Indian Institute of Technology, Kanpur (IITK)
Indian Institute of Technology, (IIT Madras)
Delhi Technological University (DTU)
Indian Institute of Technology, IIT-BHU
Anna University (AU Chennai)
Indian Institute of Technology, IIT Hyderabad
Thapar University (TU Patiala)
Motilal Nehru National Institute of Technology (MNNIT)
PEC University of Technology (PEC)
Guru Nanak Dev Engineering College (GNDEC)
Gandhi Institute of Technology and Management University (GITAM University)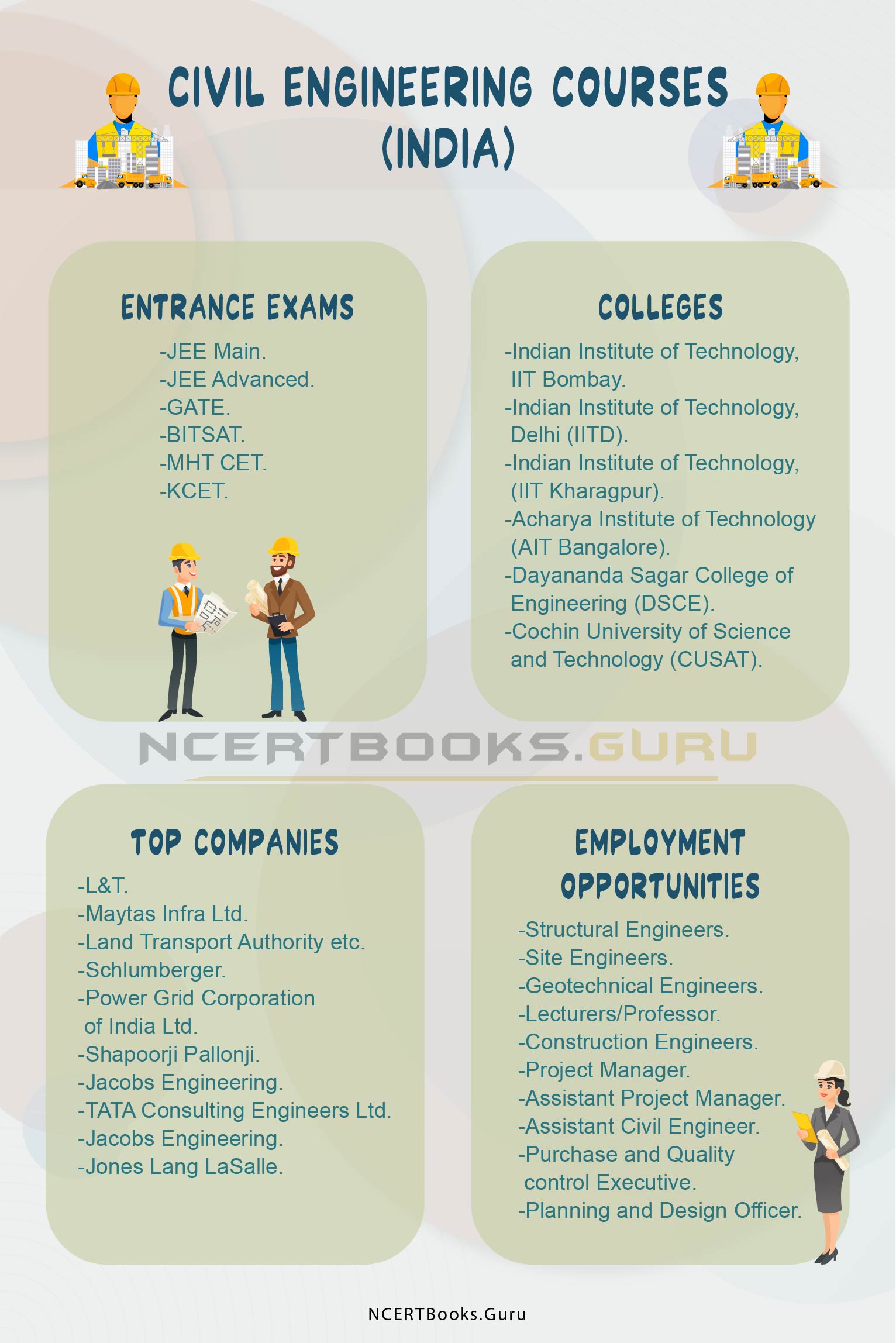 List of Entrance Exams for Civil Engineering
The majority of the colleges offer Civil Engineering Course Admission to Candidates depending on the Score in National or State Level Engineering Exams. However, certain colleges conduct their own entrance exams to provide Admission into Btech Programmes. Popular Entrance Examinations Aspirants should look up to for Admission into UG, PG Civil Engineering Courses are as follows
JEE Main
JEE Advanced
GATE
BITSAT
MHT CET
KCET
Best Books for Civil Engineering
Students while preparing for their Civil Engineering Course can refer to the following prescribed books and score well in their academics. You can choose the book you are comfortable with while preparing based on your understanding. They are as beneath
Structural Analysis by Rusell C. Hibbeler
Structures or why Things don't fall down by J.E Gordon
Why Buildings Fall Down: Why Structures Fail by Matthy's Lew
Principles of Foundation Engineering by Braja M. DasMario Salvador
Top Companies for Civil Engineering
Popular Firms that hire Civil Engineers are mentioned below for your reference. They are as such
L&T
Maytas Infra Ltd
Land Transport Authority etc
Schlumberger
Power Grid Corporation of India Ltd
Shapoorji Pallonji
Jacobs Engineering
TATA Consulting Engineers Ltd
Jacobs Engineering
Jones Lang LaSalle
Required Skillset to become a Civil Engineer
Project Management, Communication Skills, Creativity are fundamental skills one needs to become a successful Civil Engineer. To set yourself above the crowd you need to possess some desirable qualities.
Leadership Skills
Negotiating Skills
Attention to Detail
Good Time Management
Problem Solving Skills
Ability to Visualise
Team Player
Passion for Learning
Employment Opportunities/ Career Options for Civil Engineering
Civil Engineers are hired by various departments or firms such as Construction Firms, Defence Forces Development Boards Municipal Bodies, etc. There is a huge scope for Civil Engineering in today's world. They can work in public or private sectors. Have a glance at the popular job profiles that civil engineers can land into after finishing their graduation.
Structural Engineers
Site Engineers
Geotechnical Engineers
Lecturers/Professor
Construction Engineers
Project Manager
Assistant Project Manager
Assistant Civil Engineer
Purchase and Quality control Executive
Planning and Design Officer
Building control surveyor
Consulting civil engineer
Contracting civil engineer
Water engineer
Salary Packages Offered to Civil Engineering Graduates
Salary ranges from 3-4 Lakhs for a fresher who has done Civil Engineering. With growing years of experience and based on the reputation of the college the salary packages might differ. With the right skillset salary wouldn't be a constraint once you reach that expertise level.
FAQs on Civil Engineering
1. What Companies hire Civil Engineers?
Top Companies that hire Civil Engineers are
L&T
Maytas Infra Ltd
Land Transport Authority etc
Schlumberger
Power Grid Corporation of India Ltd
Shapoorji Pallonji
2. Is Civil Engineering a good career?
Civil Engineering is a good career and provides a plethora of opportunities to the ones who pursue it. They can enter into various sectors both in public and private sectors.
3. What is the salary of a civil engineer in India?
The Average Salary of a Civil Engineer in India is about 3-4 Lakhs. This can vary based on your potential, firm, reputation of the college, and many more factors.
Summary
We wish the knowledge shared on How to become a Civil Engineer in India has shed some light on you. For more information or any suggestions do leave us your comments via the comment section so that we can get back to you. Bookmark our site to avail latest updates on other course details at your fingertips.