Architecture Courses After Class 12: The study of designing buildings is known as architecture. There are many architectural wonders in the world and if you are also inspired by them and want to create something like that, architecture might be the right career choice for you.
Keep reading the following article to know everything about architecture courses after class 12th. What the course is about, eligibility criteria, admission process, skills, entrance examinations, top colleges, fee structure, syllabus, job opportunities, salary, etc.
What are Architectural Courses?
Architectural courses teach students about designing and constructing the interior of structures. They focus on building designing skills in the students so that they can become skilled professionals and design wonders. Architecture courses develop unique thinking abilities in students along with teaching them basic concepts that the students can learn after completing class 12th in order to kick start their journey as architects.
All this knowledge and skill will help the architects build fascinating buildings, libraries, highways, airport terminals, etc. Whilst there are many architectural courses available for students after class 12th, the most popular course for architecture students is B.Arch. We will now look at all the different architectural courses that are available for the students who had just finished school.
List of Available Architectural Courses after 12th in India
There are many different courses that are available under the heading of architectural courses for students after their class 12th. Following is a list of the most popular courses that students can pursue if they want to enter the architectural field after they have completed their 12th:
B. Arch: Bachelor of architecture is an undergraduate-level course that can be completed in 4 years. This is one of the most popular courses undertaken by students who want to become an architect. Bachelor of architecture courses can be done in landscape architecture or building construction technology. Multiple job roles are available for candidates after completing this course.
B. Planning: Bachelor of planning is an undergraduate-level architecture course. The duration of the course is 4 years and it is divided into 8 semesters. A variety of job roles is available for the candidates after completing a bachelor of planning course.
B.Sc. in Construction Management: Construction management is an undergraduate course that the student can complete in 3 years. In this course admission is mostly done by the direct method, however, some colleges might take their own entrance examinations for admission to this course.
Diploma in Architecture: A diploma in architecture is a diploma-level course that the students can pursue directly after class 12. Following are the major diploma courses that come under diploma in architecture:
Diploma in an architectural assistantship
Diploma in architecture engineering
Foundation diploma in architecture and design
Diploma in construction management
Diploma in construction technology
Architecture Courses after 12th Eligibility
The minimum eligibility criteria for students who want to pursue architecture after completing their class 12th is that they must have scored a minimum of 50% marks in their class 12th board examinations. There is a lesser requirement of percentage for schedule caste and scheduled tribe candidates which are 45%. Diploma holders in relative disciplines are also eligible for architectural courses.
What is the Admission Process in Architecture Colleges in India?
For taking admission to architectural courses students can either opt for direct admissions or they can get into the colleges via entrance examinations. The national aptitude test in architecture and the joint entrance examination are national-level entrance examinations that can get students admitted to a bachelor of architecture courses in various top colleges in the country.
If the students are going for direct admission, they have to follow the following steps:
The students can either apply in an online mode by visiting the website of the college that they want to get admitted to or they can go to the college and fill out the application.
After filling out the application form and submitting all the necessary documents, the application form will be considered as submitted. If the application form is selected, the candidate will be called in for counseling.
While counseling, colleges might also conduct interview rounds according to which the candidates will be selected. If the candidates are selected, they will have to lock their seats in the college by paying some amount of the fee.
After the students have paid the fee, their seat will be considered final in the college and they can start their classes as per the schedule of the college.
If the student opts for entrance exam based admission the student will have to follow the following steps:
First of all, students will have to register for the entrance examination that they want to take. They can do so by going to the online portal of the body that conducts the examination and filling out the
After that, they will wait for the admit card to be released and they must download the admit card once it is released since without the admit card they won't be granted permission to take the test.
After taking the test, the result is declared and if the candidates have cleared the examination they will be called in for counseling.
At the time of counseling, the student will get the college according to the marks that they have obtained in the entrance examination.
After that, the student will have to go to the college and again reserve a seat by paying a certain amount of fee.
After paying the fee and resolving the seat cover the student will be considered enrolled in that particular course in that particular college. Then the student can attend the classes as per the schedule of the college.
Do Refer:
Skills Required to Pursue Courses after Bachelor of Architecture
There are some core skills that are essential for a candidate if they want to pursue architectural courses and want to do good in their career as an architect. Following are the most important skills that candidates must have if they want to succeed in the architecture field:
Design skills
Knowledge of buildings and construction
Attention to detail
Reasoning skills
Customer service skills
Leadership quality
Analytical thinking
Communication skills
Legal knowledge
Creative skills
Teamwork skills
Numerical skills
Computer literacy
Problem-solving skills
Commercial awareness
Artistic skills
Engineering skills
Visualizing skills
Entrance Exam for Architecture Courses After Class 12th
Following is a list of the most popular entrance examinations that the students take in order to get admitted to top architecture colleges:
National Aptitude Test in Architecture
JEE Mains (Paper 2)
JEE Advanced
AMUEEE
WBJEE
There are various institutes in the country that are famous for their education and architecture departments. Following are some of the top colleges, in no particular order, that provide good quality education in architectural courses:
Vellore Institute of Technology Bhopal
Jamia Millia Islamia University
Andhra University, Visakhapatnam
Himalayan University
North-East Frontier Technical University
Amity School of Urban Management
Aligarh Muslim University
Bundelkhand University
Dr. APJ Abdul Kalam Technical University
Galgotias University
Sharda University
Jawaharlal Nehru Technological University
ITM University
GD Goenka University
Birla Institute of Technology
Kalinga Institute of Industrial Technology
Aryabhatta Knowledge University
Punjab University
Madhav University
Bangalore University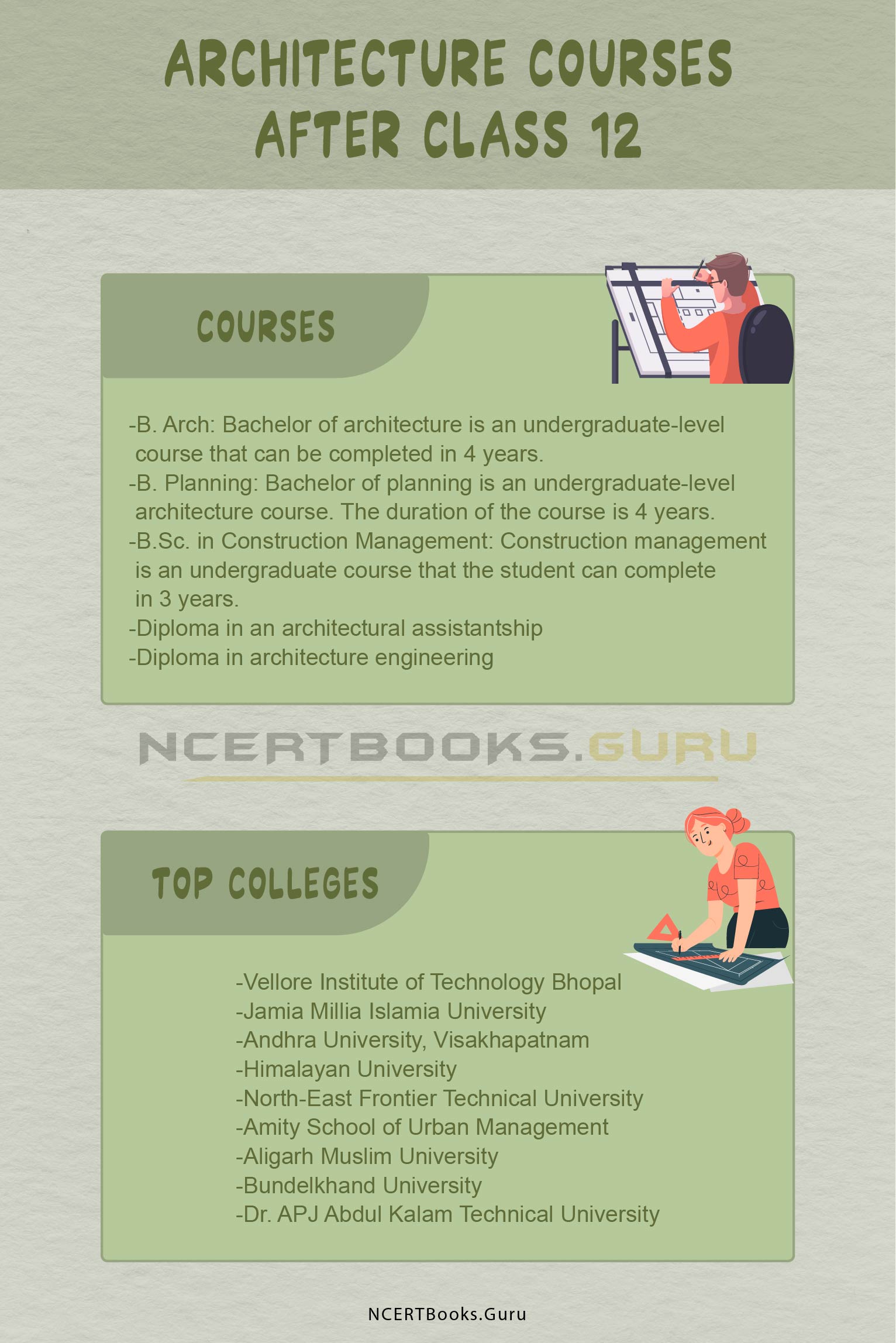 Architecture Courses after 12th Fees
The fee for an architecture course can range from somewhere between INR 1,00,000 to INR 8,00,000 per annum. The exact fee of the course completely depends upon the college that the student has chosen to pursue their architecture course. Also, according to different courses, the fee structure is different. The fee mentioned above is the general range of the fee for various architectural courses.
Bachelor of Architecture Courses Syllabus
The particular syllabus of a course is specific to that course. However, the subjects of study are a common thing in almost all architectural courses in one way or another. Following is a list of the main subjects of study in architectural courses:
Architecture design
Theory of structures
Building construction
Building management
History of architecture
Architectural drawing
Computer and software lab
Workshop practice
Building science and services
Architectural appreciation
Training
Theory of settlement planning
Design applications
Thesis project
General proficiency
Job Opportunities after Pursuing B.Arch Courses after Class 12
Completing architectural courses after class 12 opens up various doors of opportunities for students in the world of architecture and interior designing. Students can go for jobs that suit their interests particularly well. Following are some of the top job profiles that the students can work on after they've completed their architectural studies after class 12:
Contractor and researcher
Project planner
Design architect
Regional planner
Urban planner
Project assistant manager
Manager sales
Business development manager
Architectural assistant
Data analyst
Architecture designer
Architecture draftsman
Staff consultant
Technical assistant
Architectural historian
Art director
Architectural engineer
Interior designer
Landscape architect
Salary of an Architect in India
After completing an architectural course right after class 12th a fresher candidate can expect a salary of somewhere between INR 2,00,000 per annum to INR 8,00,000 per annum. In this field of architecture, experiences are of utmost importance. Hence experienced members will receive a much higher salary as compared to the newbies. As one will continue to gain experience in the field with various job roles the salary package will also increase for the candidate.
FAQ's on B.Arch Courses after 12th Arts
1. Can I pursue architectural courses right after I have completed class 12?
Yes, you can definitely perceive architecture courses right after completing your class 12. The minimum eligibility criteria for this course is that your class 12th must be from a recognized Board of Education and you must have scored at least 50% marks in your board examination.
2. Can I pursue architectural courses after I have completed my 12th in arts?
Yes, you can have any stream in your class 12th and you will still be able to pursue architectural courses after completing your class 12. You can have a science stream commerce stream, an art stream, It doesn't matter. What matters for admission to architectural courses is your class 12 percentage and your marks in the entrance examination that you took for admission to the course.
3. What can I do after I have completed my undergraduate architecture program?
After completing your undergraduate architecture course, you can either go for a job or higher studies. You can go for a master's in architecture course or an MBA program if you want to go for higher studies. If you want to go for a job, there are multiple job opportunities available such as:
Contractor and researcher
Project planner
Design architect
Regional planner
Urban planner
Project assistant manager
Manager sales
Business development manager
Architectural assistant
Conclusion
We hope that you were able to get information regarding architecture courses after class 12th. We hope that the article that has all the details about the courses right from the eligibility criteria to the salary of architects in India helped you. Do let us know how you felt about this article and what would you like to see from us in the future via the comment section below. Checkout NCERTBooks.Guru for more latest updates. All the best!