Types of Architecture Courses: The architecture degree is an amazing blend of designing, mathematics, engineering, technology, art, and knowledge of today's technologies. Thus the job of an architect requires various skills for the better development of their provided job roles.
For this rewarding degree, you can choose any course starting after your class 10th or 12th. However, the basic time is around 5 years for the completion of both bachelor's and master's degrees. Later, you will be required to practice for 2 years. The process to get a license as an architect is not an easy task and requires a lot of dedication, but you can do it.
Hence, to know more about the Types of Architecture Courses available to you read the below article without any delay.
Types Of Architecture Degrees
There is a wide range of architecture degrees available in India. From diploma to Ph.D. you can study the complete detailed structure of the architecture. As the course is not prefixed with office and buildings but also it includes a lot more aspects. The same goes for you, you can choose any of these vast course ranges available for architecture courses.
Certificate courses
PG Diploma Courses
UG Courses
PG Courses
Ph.D. Courses
Have a detailed look over these above-mentioned types of architectural degrees for students in India.
Certificate Architecture Courses in India
The certificate courses provide an opportunity to pursue them in both offline and online manner. There are various institutes for online and offline certificate architecture courses. The course can be completed in a brief period. Some courses you can complete within a few days or a week and a maximum in 12 months.
Frank Gehry Teaches Design and Architecture.
Making ArchKnowledgeby IE School of Architecture and Design.
Practices for Sustainable Architecture by Philadelphia University.
Roman Architecture by Yale University.
The Art of Structural Engineering by Bridges by Princeton University.
These online courses are offered by top institutes like Udemy, EdX, Coursera, and more.
The top offline certificate courses are listed here:
Certificate course in Architectural Design
Certificate Courses in Interior Designing
3D Architecture Design and Visualization
Autonomous Diploma in Interior Architecture
The diploma courses are available for 3 years. The course list is available here for the diploma courses:
Diploma in Architectural Assistantship
Diploma in Architectural Engineering
Diploma in Construction Management
Diploma in Construction Technology
Foundation Diploma in Architecture and Design
PG Diploma Architecture Degree
The PG Diploma degree courses provide you with a master's degree in the architectural field. They are top-level than the diploma courses and more knowledge is provided in these courses as compared to a diploma. But they can be pursued after bachelors. Some of them are described here:
PG Diploma in Construction Management
PG Diploma in Town Country Planning
Bachelor Of Architecture Degree
The B.arch degree can be pursued in two modes online and offline. To be eligible for the bachelor's degree you must have cleared class 12. You can have a B.Arch degree and pursue the following specializations:
Architectural design
Architectural engineering
Architectural history
Art and Design
Building Information Modeling
Building Technology
Community Design
Computer-aided Design
Engineering
Environment/sustainability
Graphic Design
Housing
Interior architecture
Landscape architecture
Urban planning
It is a 2-year course program that can be pursued after a bachelor's degree. The master's degree will help you to gain more practical knowledge about the subjects related to the planning and designing aspects of architecture. Some of the PG Architecture courses are listed here;
Architectural conservation
Housing
Landscape architecture
Sustainable architecture
Town and country planning
Industrial design
Architecture and digital design
Building engineering and management
Urban design
Architectural design
Transport planning
Regional planning
Environmental planning
Ph.D. Architecture Degree Types
The Ph.D. degree will include a lot of research in architecture. The course is available in two formats: thesis and project work. It can compete in 3 to 4 years.
Ph.D. in Housing
Ph.D. Architecture
Ph.D. in Planning
Ph.D. in Urban Planning
Related Articles:
The BS Architecture Course
The Bachelor of Science in architecture is a 2 years program. It can be pursued before the undergraduate courses. Throughout the course, you will get to know more about real-life problems. The course is leading toward the BAC' accelerated for the master's degree in architecture. The courses included these modules:
Mechanics
Basics of Architecture
Construction Technology
Descriptive Geometry
Architectural Drawing
History of Architecture
Practice in Design
Detailed Architecture Requirements
Diploma: The students can get admission based on their class 12th marks with a minimum aggregate of 50%. Some colleges may admit the students based on entrance exams and some admit them based on the merit list.
PG Diploma: You need to be clear in your graduation or the equivalent education certificate with at least 50% aggregate marks. There are some colleges which may ask you to show your experience certificate.
Undergraduate Course: The bachelor's degree can be pursued after class 12th with aggregate marks of 50%. Some colleges may also accept you if you have completed class 10th with a diploma in the relevant domain. In addition to this, you might be required to clear some entrance exams as informed by the university guidelines of admission. The entrance exams which might need to be clear are JEE, AIEEE, NATA, and a few others as required by the colleges.
Graduate: You must have completed your bachelors in the relevant domain with at least 50% aggregate. Some universities admit students based on merit exams but some may ask you to clear GATE and CEED. Few colleges conduct their aptitude tests and conduct interview sessions.
Ph.D.: For the doctoral degree you need to clear a few examinations such as UGC NET and CSIR. You are also required to clear a master's degree in the relevant domain.
Fees for Different Types of Architectural Courses
The fee structure for architectural courses varies from region to region. Also, the structure for diploma, PG diploma, UG, PG, and the Ph.D. course is different. Here is the average fees range available:
Diploma: INR 8,000 to 85,000
PG Diploma: INR 10,00 to INR 90,000
Undergraduate: INR 1,00,000 to INR 5,00,000
Post Graduate: INR 1,00,000 to INR 4,00,000
Ph.D.: INR 50,000 to INR 3,00,000
Top Colleges for Different Types of Architecture Courses
The colleges for different types of architecture are available in these below-mentioned colleges. However, there are a few more colleges on the list which are available all over India. There are various government and private colleges which offer various types of architectural courses.
IIT Roorkee – Indian Institute of Technology
NIT Calicut National Institute of Technology
Aryabhatt Institute of Technology
Aligarh Muslim University
IGNOU
School of Planning and Architecture
IIT Kharagpur
IIT Madras
Jawaharlal Nehru Architecture and Fine Arts University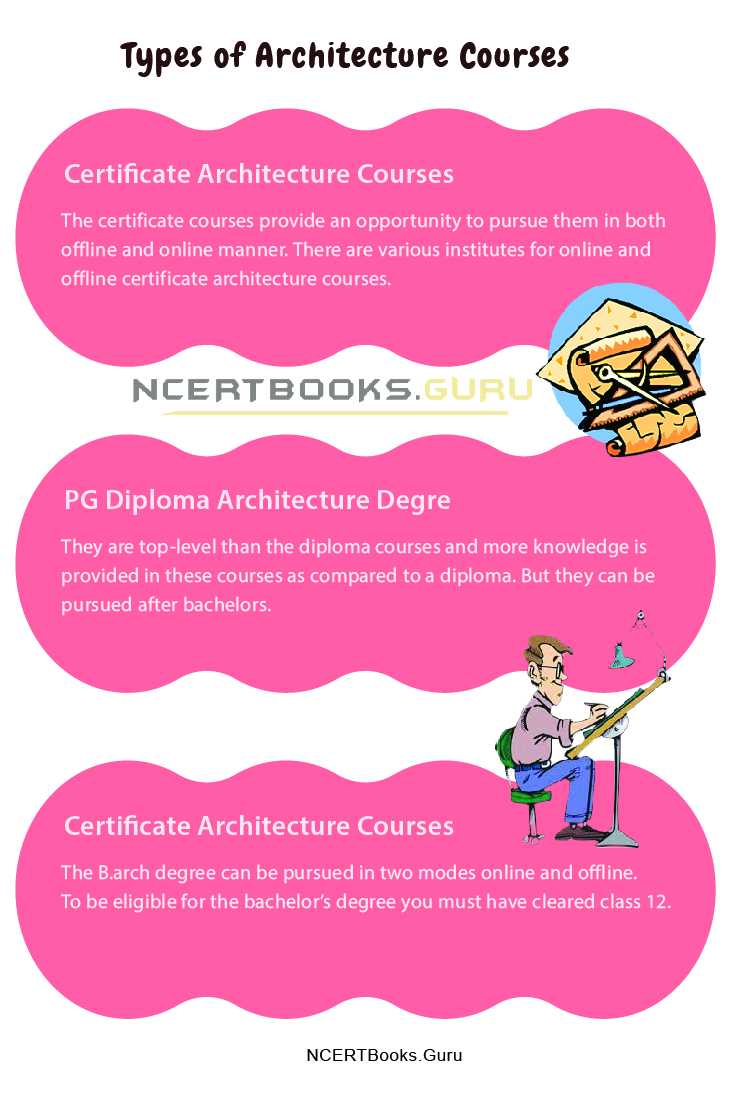 Career Scope After Architecture Degree Completion
Architecture is a reputed domain and provides high-profile jobs in both government sectors. However, to be a professional architect you need to have the required degree and proper experience. There will be a proper 3-year training given to the professional architects. There are various domains in which you can get a job after the architecture course:
Data Analyst
Landscape Architect
Urban Planner
Architectural Assistant
Interior Designer
public works departments
Also Refer:
Salary for Certified Architecture Courses Holders
The average salary which is provided to architecture is ranged from INR 4 lakh to INR 5 lakh. For experienced architects, the pay range is available for around INR 10 Lakh per annum.
1. Which is the best field in architecture? 
The best field in architecture depends on your interest and skills. But here are the few top paid domains for architectures are:
Landscape Architect.
Architectural Designer.
Green Building & Retrofit Architect.
Extreme Architect.
Architectural Technologist.
Commercial Architect.
Preservation Architect.
2. What are the top recruiters for architecture?
Various companies that hire architecture for top positions are:
CAD Outsourcing Services.
CBRE
Virtual Building Studio.
Vimal Sony Associates
AXIS Architects & Urban Planners
HOK
L&T
DPA
Atkins
Kiara Architecture.
WoodFlake Business Solutions
3. What are the best colleges for a PG Architecture degree?
The top colleges which provided Postgraduate degrees in architecture are:
School of Planning and Architecture
Ansal University
IIT Kharagpur
NIT Trichy
BIT Mesra
CEPT University
BITS Pilani
Delhi Technological University,
IIT Madras
IIT Guwahati
Manipal University
4. Is Architecture a good career option? 
Yes, architecture creates a lot of opportunities in both government and private sectors. There are high-profile jobs available for the architects even at their experience level. Even the salary provided for the architecture is pretty good.
Conclusion
Now, you have complete information on the Types of Architecture Courses. So you can pursue your dream career easily. If you still face any difficulty then you can ask your doubts in the comment section below. Also, you can check more information about architecture courses from our official website NCERTBooks.guru.