Masters in Architecture Courses: After completion of your bachelor's degree in architectural engineering, if you are interested in higher studies you can go for an option master's degree in architecture. Let us look into different types of courses, eligibility, fees, duration everything we have in master's in architecture [M. Arch]. M.Arch is a 2-year diploma course. So, if you are one who is interested in a master's degree in architecture courses, look into the complete article for clear details.
Still, if you want to check course details for any other stream of engineering.
Masters in Architecture Courses Highlights
| | |
| --- | --- |
| M Arch Full Form | Master of Architecture |
| Course Level | Postgraduate |
| Eligibility Criteria | B Arch with a minimum of 50% marks |
| Average Course Fees | INR 1 – 2 Lakh |
| Duration | 2 Years |
| Entrance Examination | GATE, CEED, MAH MArch CET |
| Type of Examination  | Semester Wise |
| Top Career Opportunities | Project manager, Landscape/design conservator, Project Architect, Design Architect |
| Top Recruiters | Architecture development organizations, Housing, and urban development organizations, Public works departments, or PWD. |
| Average Salary | INR 2 – 10 Lakh |
For students who are looking to study for master's in architecture courses, we have some eligibility criteria. Look into them below.
Candidates need to complete their B.Tech Architecture from a recognized university with a minimum of 50% of marks.
And to get into this course you need to attend the entrance examination with qualifying marks.
Some institutes require an aptitude test and an interview for M. Arch.
M. Architecture Entrance Exams
Here we are going to provide an entrance exams list. Some of them are:
Karnataka PGCET
TANCET
CEED
TS PGECET
GATE
M.Tech Architecture Courses Duration & Fees
The duration of this M.Tech architecture course is 2 years. In every college, the duration of the course is the same. Fees for the course change from college to college and university to university.
IIT Fee: INR 50,000
NITS Fee:  INR 2,00,000
Private Colleges: INR 15,000 to INR 1,50,000.
Syllabus for M. Arch Courses
| Semester 1 | Semester 2 |
| --- | --- |
| Traditional and contemporary landscape | Web design and portfolio production |
| Urban design studio | Advanced architectural design studio I |
| Sustainable and green building design | Performance evaluation of buildings |
| Urban conservation and practice | Urban landscape design |
| Contemporary architecture: theories and trends | Services in high rise buildings |
| Landscape ecology and planning | Contemporary architecture II |
| Semester 3 | Semester 4 |
| Sustainability and energy conservation in landscape architecture | GIS modeling in urban planning |
| Research methodologies in architecture | Material conservation |
| Architecture and critical theory | Building management and control systems |
| Advanced architectural design studio II | Appropriate technologies and sustainable construction |
| Emerging practices in housing | Material conservation |
| Dissertation | Thesis |
Electives 
Futuristic Architecture
Low-Cost Building Design And Techniques
Advanced Landscape Design
Building Bye-Laws And Professional Practice
Project Management
Specializations in M. Architecture Course
Some of the popular specializations in master in architecture courses are shown below.
Landscape Architecture
Sustainable Architecture
Town and Country Planning
Rural Architecture
Industrial design
Building engineering and management
Architectural conservation
Transport planning
Environmental planning
Architecture and digital design
Best Universities for Masters in Architecture
List of colleges that are given below for master in architecture courses.
School of Planning & Architecture
Jamia Millia Islamia
College of Engineering Trivandrum
School of Planning and Architecture, New Delhi
NIT Calicut
IIT Roorkee
Lovely Professional University
Birla Institute of Technology
Visvesvaraya National Institute of Technology
Thiagarajar College of Engineering
Career Options for Master's in Architecture(M.Arch)
Following is the list of career options for a master's in architecture candidate.
Assistant Professor
Urban Planner
Senior Project Architect
Landscape Architect
Design Architect
Project Architect
Do Read: 
Skills Required For M.Architecture
If you are studying M.Arch or if you are going to study M.Arch you need to have some certain skills are given below.
Reasoning Ability
Analytical Skills
Ability to be initiative
Communication Skills
Critical Thinking
Attentive
Construction Knowledge
Salary & Roles Offers after Completing M.Architecture
After completing of master's in architecture, we have many opportunities in this sector. In this sector, we have a position of design and project architect is the trending one. And after completion of this course, you can also start your own organization and you can earn the best income annually. Now we will look into the roles and salary are given below.
Project architect  – 2,50,000 – 9,50,000
Design architect  – 3,00,000 – 10,00,000
Project architect – 2,50,000 – 9,50,000
Landscape/design Conservator – 2,00,000 – 9,00,000
Professor – 2,60,000 – 8,00,000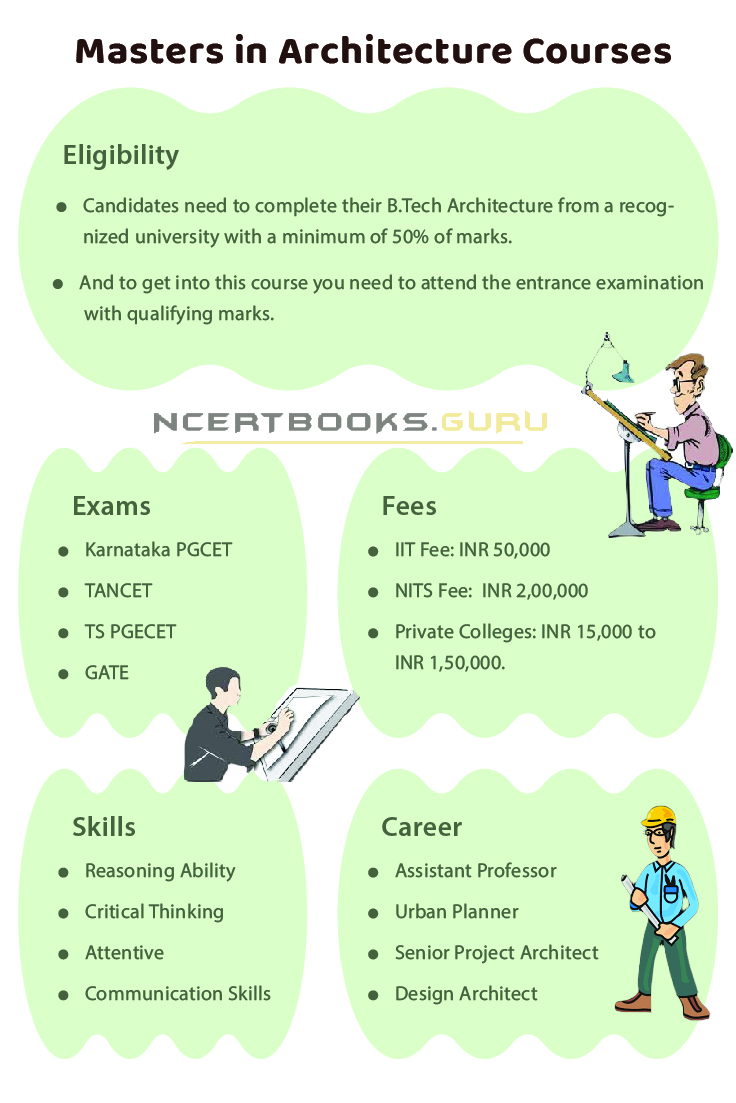 Frequently Asked Questions for Masters in Architecture
1. What is the duration of M.Architecture?
The duration of this master's in architecture is 2 years.
2. What is the minimum score to get admission in M.Arch?
To get admission into the M.Architecture you should get 50% of the minimum marks.
3. What is a master's in Architecture?
Master's in architecture course specializes in planning, residential infrastructure, and designing commercial.
Summary
Hope that the complete information about Masters in Architecture courses is very useful for you. And in these courses, we have lots of opportunities in the future. Still, if you are having any doubts you can signup and comment to us in the comment section. We try to answer your doubts as early as possible.  To avail of all the latest updates about other courses, stay tuned.