Textile Designing Courses: Textile designing is the way to create artistic designs through fabric and clothes. Textile designers have a lot of tools to make their imagination into reality. All the brands offer unique designed outfits to the customers. Textile designing is everywhere, starting with the clothes you wear to the wallpaper. These are fabrics, yarns, and fibers. Here, you will get information on the details of the textile designing course. The duration, eligibility criteria, prerequisite, admission procedure and fee structure of the textile designing course are discussed here. You will also get to know which Indian institutions offer a textile designing course and how is the job market for textile designers in India.
Get to Know More about other types of Course Details in Stream wise, and Category wise.
About Textile Designing Courses
Textile Designing is the process of weaving yarn and fiber creatively to form a decorative and flexible cloth or fiber. It is either printed or adorned. There are three parts of textile designing like woven, printed, and mixed media. It was there from ancient times, but nowadays, it has become an industry. Carpet, towel, clothing, etc. are produced by textile designing. Textile designers make trends in the fashion industry by creating a unique collection of clothes. Textile designers possess both creative and technical skills. Artistic skill is required to produce a great design, whereas technical expertise is mandatory to build it properly. Textile designers should possess basic knowledge of computers as well. Nowadays, most of the designs are created on the computer. Textile designers sometimes use the same design in different colors. Textile Designers can understand the trend and create designs within a challenging environment and deadline.
Textile Designing Courses Subjects, Concepts
| | | |
| --- | --- | --- |
| CAD – Print | Textile Chemical Processing | Woven Design Project |
| Textile Design Techniques | Woven Structures | Surface Techniques |
| CAD – Dobby, Carpet and, Jacquard | Visual Merchandising | Graduation Project |
| Fashion Studies | Fabric Styling | World Textiles |
| Traditional Indian Textiles | Advanced Woven Structures | Craft Research and Documentation |
| Entrepreneurship management | Fabric Studies | Industry Internship |
| Print Design Project | Pattern Making & Construction | Non-Loom Techniques |
| Textile Science | Fabric Quality Assurance | Sustainable Design |
| Professional Ethics & Responsibilities | Fashion Marketing & Merchandising | Advanced Design Project |
List of Colleges Offering Textile Designing Courses
There are almost 298 colleges in India that offer Textile Designing Course after 12th. Among them, the top ten colleges' names are mentioned below :
National Institute of Design, Gujarat
National Institute of Fashion Technology, Maharashtra
National Institute of Fashion Technology, New Delhi
Pearl Academy West Campus, New Delhi
Symbiosis Institute of Design, Maharashtra
Industrial Design Center, Indian Institute of Technology, Maharashtra
National Institute of Fashion Technology, Hyderabad
National Institute of Design, Andhra Pradesh
National Institute of Fashion Technology, Kerala
National Institute of Fashion Technology, Karnataka
Textile Designing Courses Prerequisite
To pursue this course, one should have a creative mind and basic knowledge of weaves and fabrics. One must have the artistic taste and experience of colors, shades, etc. Excellent communication is another requirement to be a good textile designer. The person should have an innovative mind and skills to draw different designs. The person should be aware of current fashion trends, goal-oriented, and have an eye for detail. S/he should have excellent observation skills and understand the customer lifestyle.
Textile Designing Courses Eligibility Criteria
To take admission to a bachelor's degree in textile designing, one should have passed 10+2 from a recognized board. Some colleges specify that applicants must have secured a minimum of 50% marks in class 12 if they belong from the general category and 45% in level 12 if they belong from SC/ST/OBC category. For PG courses, it is preferred that the candidate possess a bachelor's degree in the same field. However, candidates from any stream can apply if they have the prerequisites.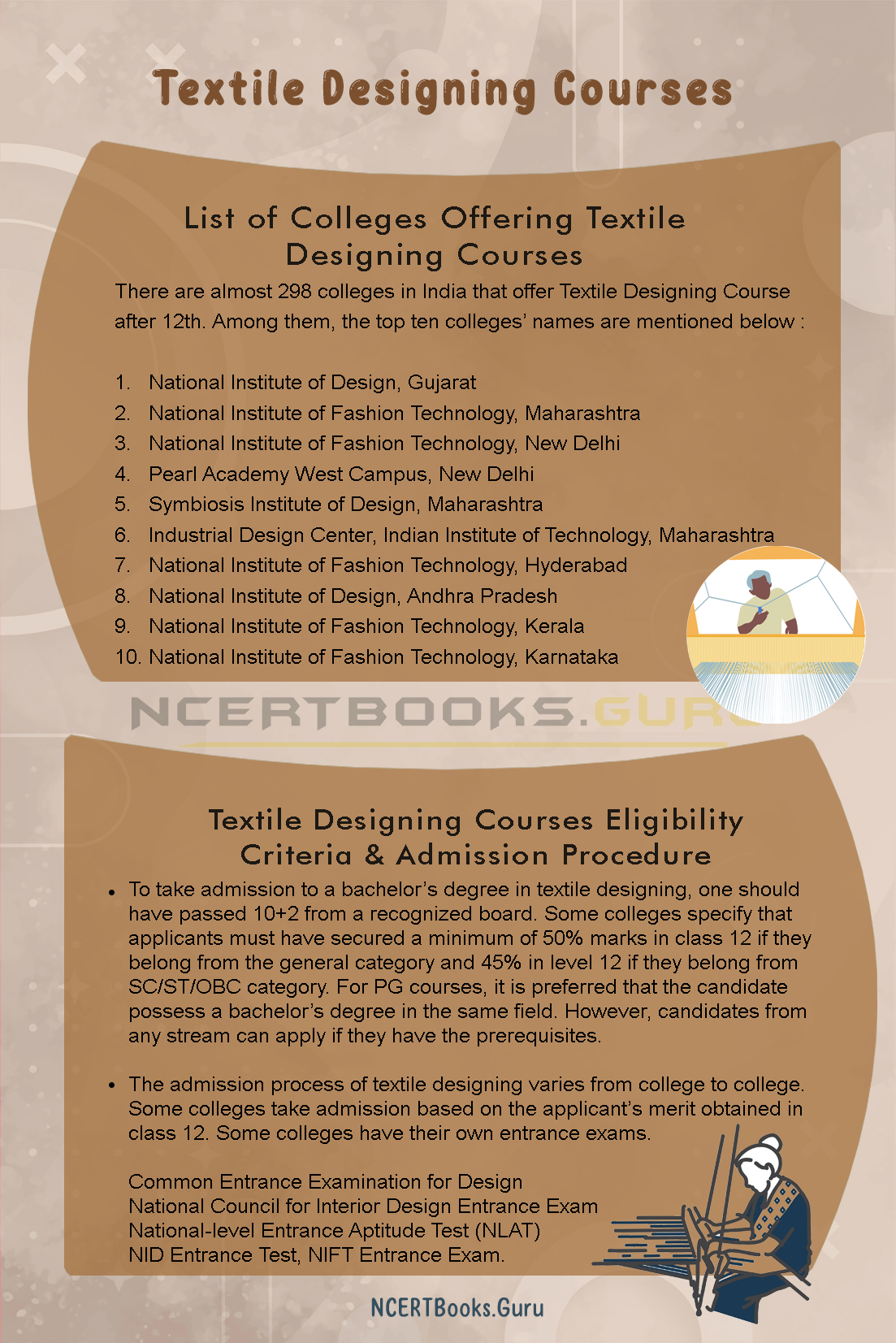 Textile Designing Courses Fees Structure
The course fee of textile designing varies from 60000 to 12 lacs rupees. The course fee depends on the location, program type, quality of the instructors, and the college's reputation. Government and government-aided colleges charge lesser than private institutions.
Textile Designing Courses Admission Procedure
The admission process of textile designing varies from college to college. Some colleges take admission based on the applicant's merit obtained in class 12. Some colleges have their own entrance exams. Some of the accessible entrance exams for the textile designing course are given below:
Common Entrance Examination for Design
National Council for Interior Design Entrance Exam
National-level Entrance Aptitude Test (NLAT)
NID Entrance Test, NIFT Entrance Exam.
Textile Designing Course Duration
Bachelor's degree in textile designing is of three academic years. A Master's degree in textile designing is of two academic years. But there are diploma programs in textile designing as well. These diploma programs are for one year.
Textile Designing Courses Syllabus
The syllabus varies from college to college. However, a standard curriculum is mentioned here so that you can have a rough idea on the syllabus before taking admission in the course.
Textile Design Course Curriculum for UG Courses
Course
Syllabus
BDes Textile Design
Applied Art on Textiles
Basics of Computer Science Application
Colour Mixing
Communication and Graphic Design
Computer-Aided Design (CAD) & Weave Design
Design, Art and Basic Design
Design Elements and Principles
Dueing Embroidery
Exhibition Design
Fine Arts- Drawing Sculpture and Painting
Foundation Programme in Design
Graphic Software And Its Usage For Image Creation
History Of Art
Marketing And Merchandising
Print Design
Printing & Finishing
Principles Of Resource Management
Professional Management
Properties Of Materials
Quality Analysis & Assurance
Surface Development Techniques
Textiles And Clothing
Textile Design And Applied Arts
Textile Dyeing And Pattern Making
Bachelors in Textile Design
Elements of Design
Geometry
Visualisation Representation
Overview of Fashion
Material Studies
Computer Application
Field Study
Integrated Term Project
Design Methodology
Fashion Studies
Surface Techniques
Textile Science
Introduction to Weaving Skills & Knitting Skills
Appreciation of Traditional Textiles
Computer-Aided Design for Print
Digital Imaging & Editing Techniques
Textile Design Development Project
Dyeing
Printing and Finishing
Quality Analysis & Assurance
CAD and Weave Design
Print Design
Styling for Apparel & Home Furnishings
Woven Design Project
Dobby & Jacquard Design
Marketing & Merchandising
BA Textile Design
Weaving
Dyeing & Printing
Weaving/ Dyeing & Printing
Weaving/ Printing
BA (Hons) Textile Design
Principles of Design and Fashion
Fashion Model Drawing
Communication Skills & Personality Development
Introduction to Textiles
Pattern Making
Instruction Techniques
Technical Drawing
Construction Techniques
Fashion Illustration
Machinery & Equipments
Surface Ornamentation
Computer Application
Fashion Studies- Woven
History of Design
Principles of Management
Graphic Design
Computer-Aided Design
Colour Theory
Fundamentals of Fashion Marketing & Merchandising
Fashion Studies – Knit
Traditional Textiles & Embroidery of India
Dyeing and Printing
Textile Garment Quality Analysis and Assurance
Yarn Craft
Fashion Forecasting
Design Management
Textile Design Course Curriculum for PG Courses
| | |
| --- | --- |
| Textile Theory | Fiber Theory |
| Yarn Process | Textile Texture |
| Textile chemistry | Weaves process |
| Loom's process | Textile science (printing & dying) |
| Introduction to finishing advance weaving process | Finishing process articles on printing industrial visit |
| Market Dynamics | Knitting Industrial Visits |
| Project on woven & knitting fabrics | Advance Diploma in Textile Design – 2 year |
Study Material of Textile Designing Courses
There are thousands of books on textile designing available, both offline and online. Some of the good books on textile designing are mentioned below :
Indian Textiles by John Gillow
Handcrafted Indian Textiles: Tradition by Martand Singh, Rahul Jain, and ?ta Kapur Chishti
Paisleys and Other Textile Designs from India written by K. Prakash
Textile Arts of India by Kokyo Hatanaka
Woven Wonder: The Tradition of Indian Textiles by Asharani Mathur
Do Check the Textile Engineering Course details.
Job Openings for Textile Designers
There are many job opportunities for textile designers. Most employers recruit qualified textile designers though some allow those who have completed vocational courses only. Some of the job openings for a textile designer are mentioned below :
Weaver
Quality assurance inspector for textiles
Freelance textile artist
Home furnishings textile design
Product developer for interior design
Fashion textile designer
Textiles production manager
Quality assurance manager of textiles
Research and development analyst
The textile supply chain manager
Textile marketing manager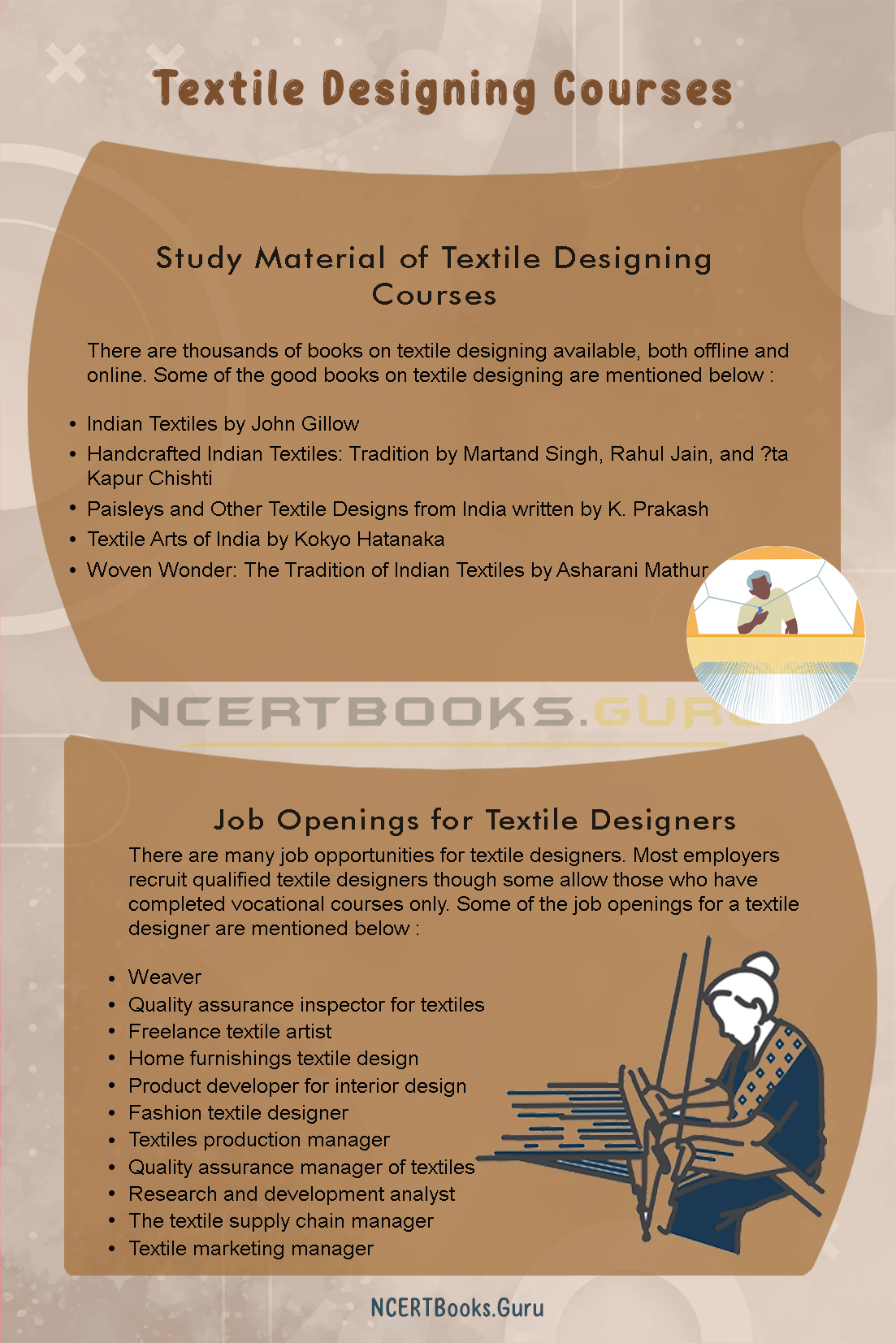 Also, Refer
Top Recruiters of Textile Designers
After completing the textile designing course in India, one can get the chance to work with reputed fashion brands like Bombay Dyeing, Welspun, etc. Some of the top recruiters of textile designers are mentioned below :
Arvind Mills
Triburg
Jagdish Stores
Alps Industries Pvt. Ltd.
Rupayan (Jaipur)
Bombay Dyeing
Donear Industries Ltd.
Aditya Birla Home Décor
Crew BOS
Nahar Industries
The Shop
Future Group
Welspun India
Shades of India
Himmatsingka Seide
Fabindia
Indian Terrain
Bharat Silks
AVH Exports
Jayshree Textiles
Shingora International Pvt. Ltd.
Globe Enterprises
Rateria Exports
Manish Arora
Mahajan Overseas
Portico
Grasim Industries Ltd.
Masaba Gupta
Mura Collective
Madura Fashion & Lifestyle
Mafatlal Industries Ltd.
Mangalam Arts
NSL Textiles
OBT Carpets
Pantaloons
Raymond's India Limited
Ratan Textiles
Reliance Brands Limited
Sabyasachi Couture
Shahi Exports
Shades of India
Siyaram Silk Mills
Synergy Lifestyles Pvt. Ltd.
Trident Industry
Textrade International
Vardhman Mills Ltd.
W (TCNS Clothing Pvt. Ltd.)
Salary Offered to Textile Designers in India
The entry-level salary of a textile designer is between 3 to 5 lacs per annum. Those who have completed a master's degree in textile designing and have relevant experience can earn up to 20 lacs per annum in India. Textile designers can receive a handsome package doing freelancing as well.
FAQ's on Textile Designing Course
Question 1.
Which states in India are famous for textile designing?
Answer :
Maharashtra, Gujarat, Tamil Nadu, Uttar Pradesh, Karnataka, Madhya Pradesh, Rajasthan, and West Bengal are famous for this industry.
Question 2.
What is CAD in textile designing?
Answer:
CAD means computer-aided design. Nowadays, designers design using some computer software.
Question 3.
How is the market of textile designing?
Answer :
This industry has almost 4.5 crore workers, including 35.22 lacs handloom workers in India. The domestic textile and apparel market was at an estimated US$ 100 billion in FY19. The production of raw cotton in India has reached 36.04 million bales in the financial year 2020.
Question 4.
Is textile designing the right career choice?
Answer :
This is a competitive field. One must possess good theoretical knowledge as well as practical skills to get success in this field.
Summary of Textile Designing Courses
Textile Designing course online is best suitable for those who have a creative mind and zeal for innovation. If you have a passion for creating fashion trends, textile designing can be a good career option for you. If you have any other queries on the textile designing course, please tell us in the comments section.