Diploma Tailoring Course Highlights: Candidates who are interested in the field of fashion designing or tailoring courses can know tailoring course details on this page. After successfully completing the tailoring diploma course, individuals are able to stitch various clothes and start a boutique on their own.
Tailoring Diploma is a one-year diploma course that you can pursue after completing class 10th. This course trains students in the field of fashion designing, tailoring, cutting, stitching, etc. We have given all the points regarding the course details such as eligibility conditions, admission procedure, top colleges, course fee, career scope, exam details, how to get a diploma certificate, and others in the following sections.
About Diploma Tailoring Course
Diploma on tailoring course is a one-year diploma level professional course. It helps candidates to cut and stitch a variety of clothes according to the lifestyle industry through practical and hands-on experience. Students who have passed 10th class from a recognised organisation can apply. Admission to tailoring courses is done based on the merit list prepared from the qualifying exam.
People after finishing the diploma tailoring course are offered various job profiles like a tailor, cutting expert, freelancer, boutique manager, etc. The salary ranges from Rs 25,000 to Rs 35,000 per month.
Diploma in Tailoring Course Overview
| | |
| --- | --- |
| Course Name | Diploma in Tailoring |
| Course Level | Undergraduate |
| Tailoring Diploma Course Duration | 1 year |
| Eligibility Conditions | 10th Class |
| Admission Process | Merit Basis |
| Course Fee | INR 35,000/- |
| Job Designation | Tailor |
| Average Pay Scale | INR 15,000 to 20,000 per month |
Tailoring Diploma Course Eligibility Conditions
The following are the eligibility conditions of the Diploma Tailoring Course.
Candidates must have passed the 10th standard from a recognised organisation.
You must have an interest in learning tailoring skills.
Tailoring Diploma Course Admission Process
Interested and eligible candidates can go through the simple admission steps to get admission in one of the best colleges of Diploma in Tailoring Course.
Visit the college or institution's official website.
Select your course for certification.
Then, proceed to Enrollment by giving all your personal details.
After filling all the required details in the application, upload the documents.
Pay the course fee using credit card/ debit card/ net banking/ UPI method.
After payment, your admission process is completed.
Documents Needed for Tailoring Diploma Course Admission
The list of mandatory documents required for the diploma tailoring course admission procedure is here.
Mark sheet and pass certificate of your class X
School leaving certificate
Provisional certificate
Transfer certificate
Domicile certificate/ residential proof
Proof of disability (if any)
Character certificate
SC/ST/Other Backward Caste Certificate (if any)
Note: Every college issues a list of required documents. Make sure you have all certificates on the list when you apply.
Why Study Diploma Tailoring Course?
Diploma Tailoring Course is a suitable course for the candidates who have always dreamed of becoming a tailor.
The course duration is only one year to become a professional tailor.
A diploma in tailoring course improves the skills of the students by letting them know the latest techniques going on in the industry.
Candidates can get a decent salary package after completing the course. They will get placed in popular companies like Allen Solley, AVASA, etc.
Diploma in Tailoring Course Advantages
Diploma Tailoring Course is an excellent course for those candidates who wants to learn the skills of tailoring and fulfil the dream of becoming a professional tailor in a short span of time.
Diploma in Tailoring is a course for candidates who want to convert their ideas into reality.
Through this tailoring course, individuals can learn about the latest fashion trends in India and the world.
A self-employed tailor can sew and repair garments, home furnishing articles and manage livelihood out of it.
Top Colleges of Diploma Tailoring Course
These are the best colleges and institutions that offer tailor diploma courses for students in India.
Bapujee College, Sarthebari, Assam
Indira Gandhi Polytechnic for Women, New Delhi
Florence Academy of Fashion, Design and Language, New Delhi
Florence Polytechnik, New Delhi
Lal Bahadur Shastri Training Centre, New Delhi
Maharani Kishori Memorial College of Vocational Education for Girls – MKM, Haryana
Maxx Academy, Haryana
Nowgong Girls College, Assam
PCM S.D. College for Women, Punjab
Not only the above-mentioned institutions but also the government offer 1 to 6 months courses for the people who want to learn tailoring skills and get self-employed.
Required Skills for Tailoring Course Diploma
Tailor should be good at maths so that they can make calculations faster and take measurements accurately, able to explain to their clients how clothes look on them.
They should be creative, with an eye for colour: neat, quick, and accurate, with an eye for detail, able to work in any situation.
They also have the ability to pay attention to the customers, customer service skills, ability to operate and use sewing machinery and equipment.
They should also be good at customer service, good communicators and listeners, with the ability to interpret clients' requirements.
They must also have the ability to visualise designs, able to put clients at ease.
They also have pattern cutting skills, knowledge of all fabric types and their properties.
Diploma in Tailoring Course Syllabus
Diploma Tailoring Course Subjects details are along the lines. You must have secured pass marks in all these subjects to get certified in the course.
Cutting and Tailoring
Dress Making
Cutting and Tailoring I
Dress Making I
Cutting and Tailoring II
Dress Making II
An exam is conducted for the students after finishing a 1-year course duration. Contenders who have qualified in the exam will get certification and can work as a professional tailor. The examination details are as follows:
The test duration is 1 hour
The total number of questions is 30
Each question has 2 marks
The total number of marks is 60
Passing marks is 30 which is 50% of total marks.
There is no negative marking.
Related Articles:
Tailoring Diploma Course Career Scope, Job
After taking initial training and gaining experience, Tailors often have to choose a business strategy. You can start working as an employee in an established tailoring company or start a tailoring business. People who work with established companies have to concentrate on customer needs, designing outfits and making alterations.
Tailors who start their own business have to perform all duties as a regular tailor but they also run their businesses, including creating marketing campaigns, finding new clients, hiring workers and dealing with them. You can also pursue Diploma Fashion Designing Course after this course.
The different job profiles after Diploma Tailoring Course are here.
Professional Tailor
Start Tailoring Business or Boutique
Freelancer
Diploma Tailoring Pay Scale
A tailor gets a salary of Rs.15,000 to Rs.20,000 per month. In a few professional companies, they can get more than this. Experienced candidates can get between Rs.20,000 and Rs.55,000 per month. Tailors with their own businesses can earn from Rs.30,000 and more in a month.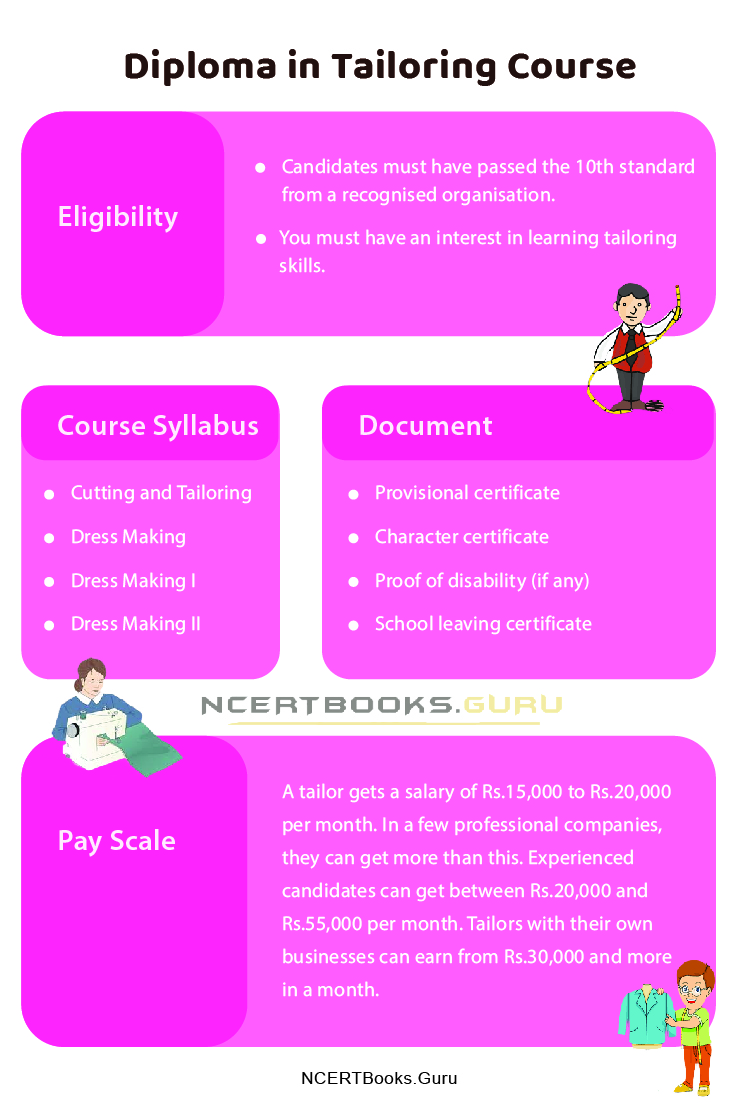 FAQ's on Diploma in Tailoring Course
1. Can I learn tailoring online?
Yes, people can take tailoring classes online and learn skills. Most tailors can learn their craft at home with a book and an online college course.
2. How much does it cost to learn tailoring in India?
On average, Diploma Tailoring Course Fee is Rs.35,000 in most of the institutions.
3. Is tailoring a good profession?
Tailoring is a highly-skilled job that required a steady hand, attention to detail and precise working. Individuals who want to choose this profession must have good eyesight and colour vision.
Final Words
We hope that this article contains all the information regarding Diploma in Tailoring Course. Knowing all diploma course of tailoring aspects will help you make a better decision on whether to choose this course or not. Meanwhile, visit our site ncertbooks.guru and check all diploma course details.