Dairy Diploma Course: Dairy technology is a science and engineering discipline that examines milk processing and its effects on humans. A part of the food technology and processing industry, it uses the science of biochemistry, bacteriology, and nutrition to manufacture, package, distribute, and transport dairy products like milk and ice cream.
Technology is basically used to make dairy products both useful and hi-tech these days. Its benefits have not been restricted to dairy products. The sector also offers packaged food. Technological advances have caused dairy products to no longer be considered perishable commodities.
For candidates pursuing studies in dairy technology at the undergraduate and graduate levels, there are several different courses available. Students can pursue a degree or diploma in the field. BTech, BSc, MTech, and MSc are among the most popular dairy technology courses.
As part of this course, the main focus is on developing competencies in procuring milk, producing value-added products, monitoring quality control, and processing fluid milk in dairy plants. This course provides training in entrepreneurship so that self-employment in dairy processing can be encouraged. The course usually lasts one year. A diploma program like this usually takes a minimum of one year and a maximum of four years to complete.
Dairy Diploma Eligibility Criteria
Dairy technology diploma courses are offered by a number of universities and colleges in India. Dairy technology is also taught as a professional subject at some institutions.
UG Diploma: Candidates must pass Class 12th in the Science stream with the minimum percentage required by the university or college.
PG Diploma: Graduate students in dairy technology should possess a minimum percentage required by their respective universities or colleges.
Dairy Diploma Course Curriculum
Depending on the degree program (BSc/ B.Tech/ MSc/ MTech/ diploma) and specialization, the course curriculum in dairy technology may differ. Dairy technology holds a variety of specializations, such as dairy chemistry, dairy engineering, dairy economics, dairy cattle nutrition, and dairy cattle physiology, among others. There are eight semesters in the four-year B.Tech course, with each semester lasting six months. Dairy Technology students are required to take essential subjects during each semester.
Dairy Diploma Colleges List
College of Dairy Technology, Raichur
College of Veterinary Science, Tirupati, Andhra Pradesh
National Dairy Research Institute (NDRI), Karnal, Haryana
IGNOU Ahmedabad Regional Centre, Ahmedabad
Sanjay Gandhi Institute of Dairy Science and Technology, Patna, Bihar
Warner School of Food and Dairy Technology, SHIATS, Allahabad, Uttar Pradesh
Find a collection of various course details belonging to different categories all in one place and resolve all your queries such as duration, fee structure, career options, and many more.
Skills Required for Diploma in Dairy Course
A candidate with a special interest in dairy products and dairy technology is most likely to enroll in the course. In order to pursue a dairy technology course, candidates need to possess the following traits and skills:
Dedicated and Efficient
Support for the industry
Organisation and management skills
Teamwork
Inventive and curious mind
Scientific and technical knowledge
Dairy Diploma Course Fees
1 year Dairy Diploma Course Fees is Rs. 15,200/-.
Dairy Diploma Admission 2022
Students who have finished their 12th class can begin the admission process for the diploma in dairy course by referring to the following sections.
Visit the college/university official website.
Fill the registration form and pay the exam fee (if any).
Attend the entrance exam with admit card.
Qualified students have to submit the required documents.
After document verification, college will send offer letter to confirm admission.
Dairy Diploma Career Prospects
In India, dairy technologies play a significant role in the agriculture-based industry. India's dairy industry is experiencing rapid expansion, which has created a huge demand for qualified professionals. Therefore, dairy technology is a field abundant with opportunities for candidates who pursue a course in this field.
Students with a dairy technology degree can work in both the public and private sectors in places like rural banks, manufacturing companies, milk processing plants, and dairy farms. Listed below are the positions available to graduates and postgrads in dairy technology:
Dairy Technologist
Microbiologist
Dairy Nutritionist
Dairy Scientist
Dairy Production Manager
Dairy Manager
Logistics and Distribution Manager
Farm Manager
Quality Control Officer
Top Recruiters that hire Dairy Diploma Course Candidates
There are several top recruiters in the dairy technology field, including:
Amul
Mother Dairy
Nestle
Britannia Industries
Vadilal Group
Reliance Industries
Vasudhara Dairy
Metro Dairy Limited
Dairy Diploma Salary
Freshers in the Dairy Technology industry generally earn a salary package between Rs. 2 lakhs and Rs. 4 lakhs annually. The pay package gradually increases as you gain experience, make more posts, and hire recruiters.
Refer to Similar Courses: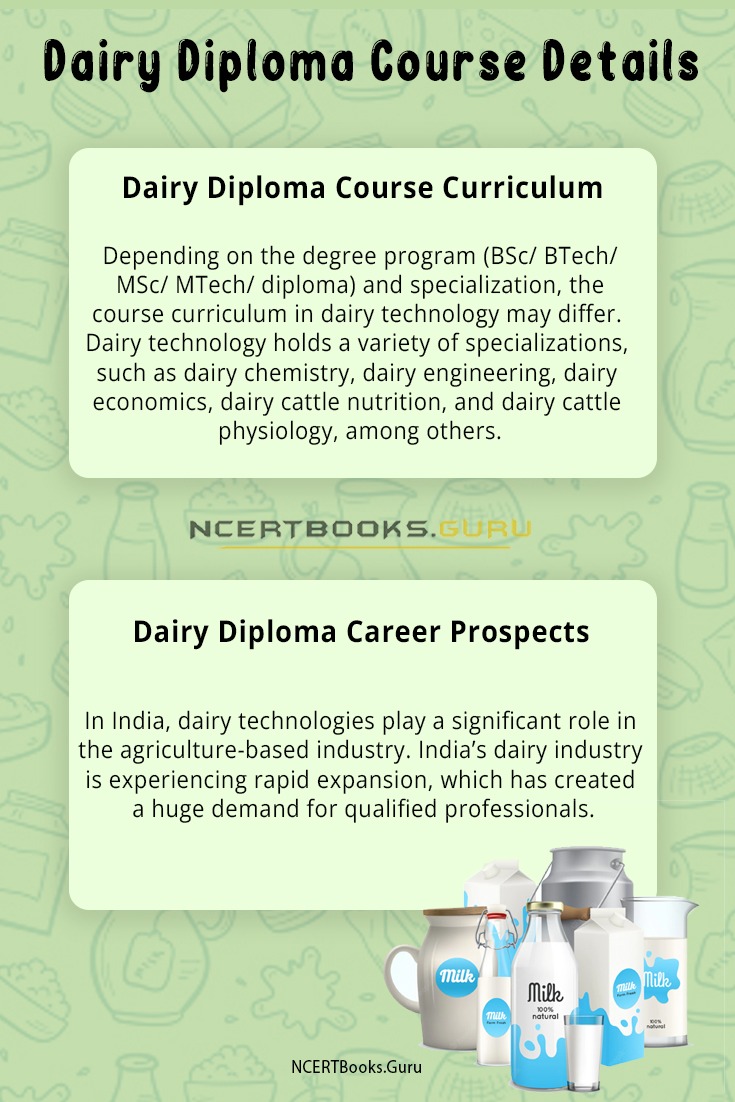 FAQs on Dairy Diploma Course
1. Is Dairy Diploma a good course?
Yes, Dairy Diploma is a good course for sure and helps you land in better career opportunities after pursuing it.
2. What is the scope of Diploma in Dairy?
Career options after pursuing Dairy Diploma Course after 10th are as follows
Dairy Technologist
Microbiologist
Dairy Nutritionist
Dairy Scientist
Dairy Production Manager
Dairy Manager
Logistics and Distribution Manager
Farm Manager
Quality Control Officer
3. How long is a Dairy Diploma Course?
Diploma in Dairy Course lasts about 1 Year.
Conclusion
A candidate interested in the subject may go for a higher degree program like a Post Graduate Diploma in Dairy Technology and then pursue research. Government jobs and private jobs are available related to dairy farming. Their employment options include dairy farms, rural banks, cooperatives, and the manufacturing and processing of milk products.
Alternatively, they can work as consultants, begin their own dairy business, ice cream units, or work in the dairy industry on a small scale. Additionally, they can work in academic institutions, both private and public, or conduct research. There are many opportunities and scope in the coming years for students who are interested in this course.