Diploma in Apparel Design: As part of the Apparel Design program, students are exposed to a specialized and artistic way of monitoring and producing garments and clothes in the fashion business.  It is the course where they have to be creative and think of new ideas and concepts.
This apparel design and construction diploma courses covers all the minor details related to the manufacturing and designing of clothes such as fashion art and drawings, fabric production, garment design and pattern, various sorts of knitting, computerized aided stitching, patterns, and predicting for apparel, conceptual design, etc.
What is Apparel Designing?
Apparel designing is one of the best courses to pursue as the one who is specialized in this field have a plethora of opportunities lying ahead of them. Various sectors require the skills and expertise of an Apparel designer such as Customized Fashion, Athletic Wear, Workout Gear, Operational Clothing (clothing specifically designed for a specific profession), and so on.
And if you are planning to pursue a Diploma in Apparel Design then you have landed on the right page, in this article, we will discuss all the detailed information regarding a diploma in apparel design and fabrication technology that will help you to get a comprehensive idea of this course.
About Diploma in Apparel Design and Course Duration
The duration of a Diploma in Apparel Designing can vary from 1 to 3 years which completely depends on the institution and the course structure. This course is based on the revised curriculum of fashion trends and designing, guiding students towards various lucrative careers in the field of apparel fashion designing. It entails creativity, technicality, and innovative ideas for the Fashion industry.
Know More About Fashion Designing Course Details
Apparel designers conceptualize and develop clothes and accessories. An apparel designer's primary responsibility is to keep track of changing or trending fashion items and forecast future trends. An apparel designer is also in charge of creating innovative illustrations, selecting appropriate trends and fabrics, and overseeing production. They need acknowledgment from the client, vendors, or art directors before moving forward with the notion.
Basic Skills Required for Apparel Designing Diploma Courses
Apparel Designing is a task that requires innovation and creativity, apart from these there are several other skills that are required to master the course of Diploma in Fashion and Apparel Design, such as:
Understanding of color, hue, and tone.
Good communication skills
Quick to pick up new information
Basic tech skills, such as utilizing a computer-aided design tool, designing, and operating machinery.
Deep understanding of fashion trends, markets, and demands of the clients.
Attention to detail
Fashion industry awareness is essential.
Persuasiveness
Graphic design, drawing, and outlining designs
Patience in the face of long hours of meticulous work
Vibrant consistency and adaptation
Top Government and Private Colleges for Diploma in Apparel Designing with Fees
Various colleges provide a short-term Diploma in Apparel Designing, we have listed some of the best institutions along with their Type (Private/Government), Fee structure so that it will be easy for you to choose the best institution.
Name of the Institution
Private/ Public
Total Fees

Government Women's Polytechnic College, Location: Bangalore

Public
·         INR 3,990

Government Polytechnic College For Women,

Location: Hassan

Public
·         INR  12,810

Periyar University

Location: Salem

Public
·         INR  7,220

·

SAGE University, Indore

Indore

Private
·         INR 30,000

ATDC – Apparel Training And Design Center

Location: Jaipur

Private
·         INR 52,000

Apparel Training and Design Centre

Location: Gurgaon

Private
·         INR 45,000

Acharya Polytechnic

Location: Hessarghatta Road, Bangalore

Private
·         INR  40,215
Diploma in Fashion Technology and Apparel Designing Eligibility
Applicants who have finished their 10+2 from recognized boards are eligible to enroll in the Diploma course for apparel designing. Applicants from any stream can join this course you only need to have design and fashion skills. Additionally, if you have an elevated degree in fashion and its technique, you can enroll in the course.
See More:
Admission Procedure for Diploma Courses in Apparel Designing in India
There are certain procedures that a candidate must follow in order to get admission to the Diploma in Apparel Designing program. You can refer to the steps below for the admission procedure.
Students can apply to the college/institution website and fill in the required details, students are selected on a merit basis and the marks are obtained in class 10th standard.
Students can also visit their desired colleges directly with the required documents for admission.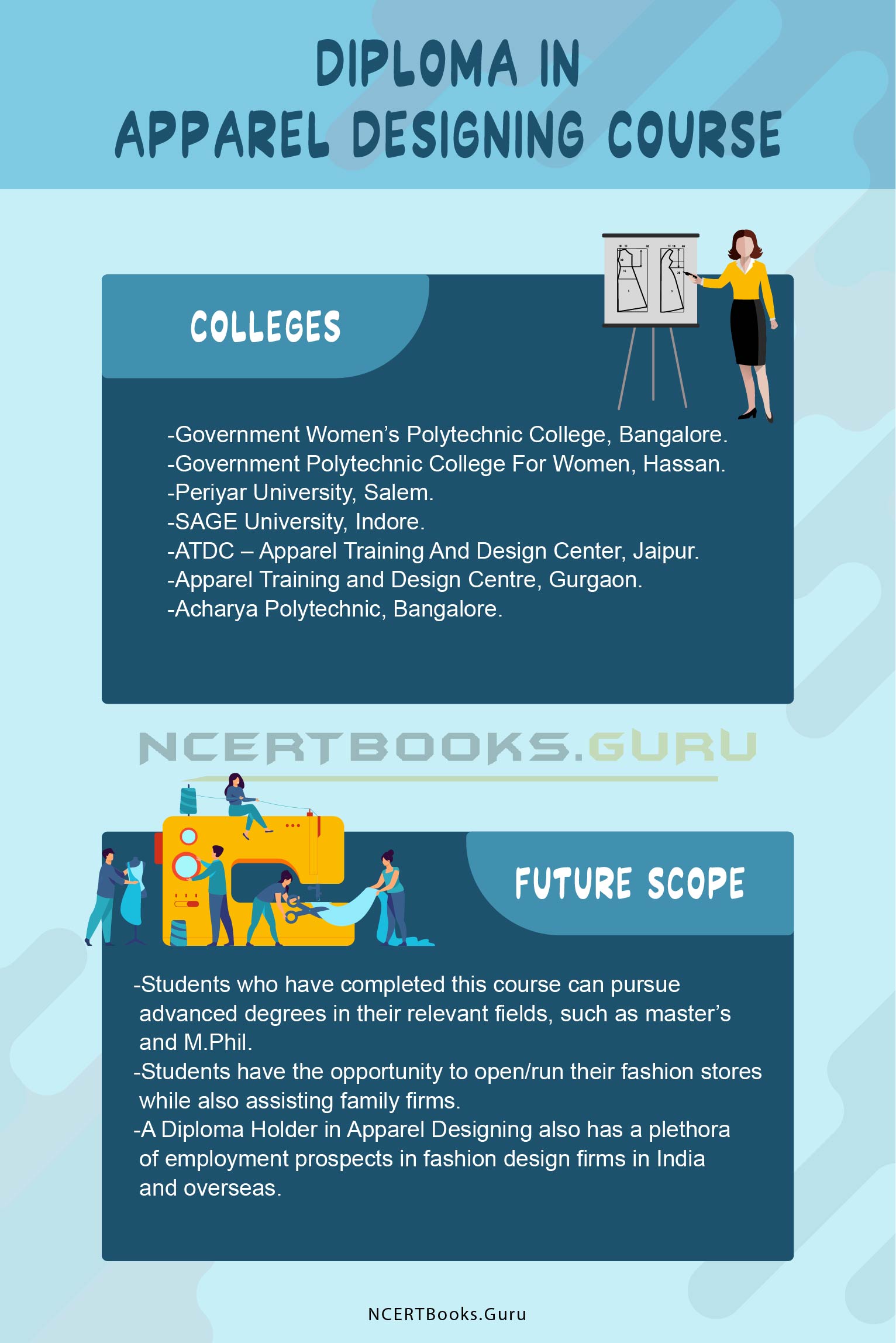 Diploma in Fashion and Apparel Design Syllabus
This detailed diploma in fashion & apparel design program enables learners to understand, develop their skills, and comprehend the basics of apparel design. Fiber theory, basic knowledge of design and classification, underlying principles of apparel design, and basic drawings are all included in the apparel designing course to provide a firm foundation in drawings and designing.
Project work, internship programs, industrial training, and other aspects of the apparel and fashion design curriculum help learners gain technical skills that they can pertain to as soon as they start working. Below you can find the list of subjects that are covered in this course:
Apparel Production
Textile Testing
Apparel Computer-Aided Design
Fashion Business Management
Apparel Quality Assurance
Portfolio Presentation
Non-woven & Technical Textiles
Apparel Export Documentation
Shop Floor Management
Fibre & Yarn Science
Basics of Pattern Making & Sewing
Elements of Fashion & Design
Fabric Analysis
Basics of Garment Construction
Fashion Art & Design
Pattern Making & Clothing Construction
Wet Processing
Traditional Textile Art
Historic Costumes
Entrepreneurship Development
Fashion Accessories
Garment Surface Ornamentation
Project & Viva Voce
Area of Specialization in Fashion & Apparel Design Courses in Diploma
Apart from Diploma in Apparel Designing, there are several other areas in Fashion & apparel Designing where you can pursue a Diploma Course; some of those areas are listed below.
Diploma in Fashion Photography
Diploma in Retail Merchandising
Diploma in Leather Design
Diploma in Textile Design
Diploma in Visual Merchandising
Diploma in Jewelry Design
Future Scope for Diploma Apparel Design Courses in India
The majority of people nowadays are intrigued by fashion. People enjoy purchasing fashionable clothing and other fashion items which they can flaunt. As a result, the fashion industry is growing in importance. Numerous young people are becoming interested in the industry to the point where they want to make a career out of it. Skilled candidates have a lot of options.
Once you have completed your Diploma in Apparel Designing you can work as Assistant Fashion Designer, Associate Stylist, Junior Textile Designer, etc. If you want to upgrade your skill to a higher level you can also go for degree courses, below we have listed some of the bright scopes that this course can provide you.
Students who have completed this course can pursue advanced degrees in their relevant fields, such as master's and M.Phil.
Students have the opportunity to open/run their fashion stores while also assisting family firms.
A Diploma Holder in Apparel Designing also has a plethora of employment prospects in fashion design firms in India and overseas.
Job Opportunities for Apparel Designers After Diploma Programs
Apparel fashion designers are responsible for creating and sustaining an apparel brand. Apparel designers develop, highlight, and forms pattern design concepts, as well as predict the average cost of production and retain their affiliated company's clothing lines.
Predicting fashion trends is similar to predicting climate conditions. Because the fashion business is dynamic and new patterns are established every day, fashion forecasters are required to study and analyze the global fashion industry. All these are the basic duties of an Apparel Designer now the various jobs that are offered to a Diploma holder in Apparel Designing are as follows:
Fashion Assistant
Fashion Instructor
Retail Fashion Designer
Fashion Stylist
Product Development Assistant
Fashion Designer & Merchandiser
Fashion Coordinator
Designer
Fashion Designer
Different Employment Areas for Diploma in Apparel Design Course in India
There are various areas of employment where a Diploma in Apparel Designing can apply for a job; these sectors provide amazing pay and career options after taking up the best designing courses in India. Some of the employment sectors are listed below:
Institutions of Textile Design
Organizations that manufacture and export garments
Apparel Design Companies
Governmental Organizations
Universities and Colleges
Diploma in Apparel Design and Merchandising Salary
The average salary for a fresher after earning a Diploma in Apparel Designing is between INR 2,00,000 and INR 6,00,000. However, it completely depends on one's qualifications and the skills one possesses. In the fashion industry, experience trumps education, so if you are skillful and talented there is no limit to your income as the growth and development of this industry are increasing at a much faster rate.
Do Check: 
FAQs Related to Diploma Apparel Design Courses Online
1. Is there a distinction between fashion and apparel design?
Fashion design encompasses the creation of garments, jewelry, footwear, and other items. They create designs based on market trends and forecasts. Fabric, material, color, and design are all things they deal with. Apparel design, on the other hand, is the process of creating cloth from the ground up. They are regarded as a more technical individual. Textile printing, embroidery, and conceptual design are among their skills.
2. Is pursuing an apparel design diploma a good idea?
The fashion business is flourishing as the trend for fashionable clothing rises. Demand for talented and innovative designers is growing at the same time.  This is a good course for you if you have an interest in fashion and would like to grasp the fundamentals of fashion design, and want to be a popular apparel designer. It can assist you in showcasing your fashion skill and expertise.
3. Is it possible to get a job with an Apparel Design Diploma Certification?
A professional life in fashion or apparel design can be challenging due to the competitive nature of the fashion industry. Achieving an advanced diploma or degree in apparel design from a reputable institution, on the other hand, can open up opportunities for you in almost every position in the specialized industry.
To work in the fashion industry, you do not need a diploma or a degree. The important things that contribute to a potential job opportunity are your competence, innovation, the types of tasks you do, and your experience.
5. What is the goal of clothing design?
An apparel designer's goal is to develop visually appealing clothes by contingently altering design features centered on design fundamentals.
Conclusion
A Diploma in Apparel Design is the course that fills you with all the skills and expertise that are required to be a good Apparel Designer. Being an apparel designer you have to predict the upcoming fashion trends and come up with fresh and innovative ideas.
Hence, your ability to be creative and innovative plays an important role in making your career successful as an apparel designer. The job of an apparel designer after diploma courses in apparel design is not only to make wearable and stylish cloth but to make a masterpiece out of a simple piece of cloth.
So if you have the passion and zeal for fashion and apparel designing, go for it and create your "Master Piece." For more career updates and other course details, visit our comprehensive website @ ncertbooksguru.com