Railway Engineering Courses After 12th: Railway Engineering deals with the construction and designing of the railway system. Railways are the lifeline of India which creates numerous opportunities for the students who choose railway engineering as their career option after 12.
This type of engineering will also provide you with an interesting path for other transportation industries. Railway Engineering is the discipline of Civil and Transport Engineering.
Are you worried about the latest details for railway engineering? Don't worry we are providing you with the complete details on the Railway Engineering Courses in India.
About Railway Engineering Courses After 12th
Choosing Railway Courses are the turning point for your better career opportunities. You have multiple options for courses which you can choose. There are diploma courses, bachelor's degrees, PG Diploma, and Masters available for Railway Engineering. Thus its created more opportunity for you to get a job. Here, you can have the complete details on after-class 12th railway engineering courses.
M.Tech Programme in Railway Engineering
Diploma in Transport Economics and Management
Diploma in Railway Engineering
Diploma in Rail Transport and Management
Diploma in Multi-Modal Transport (Containerization) and Logistics Management
Certificate course in Metro Rail Technology
Admission Procedure for Railway Engineering
The admission will be done based on your class 12th marks. There might be some universities that will ask you to clear entrance exams too. Here are the steps in general that you can follow for the Railway Engineering Courses After the 12th Admission Procedure to college.
Visit the official website of the college you want to get admission
Check out the B.Tech Railway Engineering and then proceed with the application form.
Now, you can submit your required details as asked by the university. The basic details may be class 10th and 12th marks, income status, father and mother name, your complete permanent address, caste certificate (if any), and more.
However, before the admission process, you must look for eligibility which is an important task.
After 12th Railway Engineering Courses Eligibility Criteria
The Eligibility Procedure for Railway Engineering Courses includes various steps:
You must have cleared class 12th with a minimum 50% aggregate from a recognized university.
You must have studied Physics, Chemistry, and Maths in your class 12th as the main subject.
Some colleges may ask you for the entrance exams you must have cleared any of these

JEE Mains
JEE Advanced
BITSAT
VITEEE
Or, as required by the university's admission process.
Railway Engineering Courses Details After 12th Fee Structure
The Fees may be around Rs 1.5 LPA to Rs 2.5 LPA. If you are willing to go to some of the best colleges they may also charge you higher or lesser which depends on the facilities and the quality of education they are providing.
List of Railway Engineering Colleges in India
There is various top-rated institute available in India for Railway Engineering after 12th. Here, is the list for a few.
| | |
| --- | --- |
| Name of the College | Location |
| Indian Institute of Mechanical and Electrical Engineering | Jamalpur |
| Indian Railway Institute of Financial Management | Secunderabad |
| Indian Railway Institute of Signal Engineering And Telecommunications | Secunderabad |
| Indian Railways Institute of Civil Engineering | Pune |
| Indian Railways Institute of Electrical Engineering | Nasik |
| Indian Railways Institute of Logistics & Materials Management | New Delhi |
| Indian Railways Institute of Transport Management | Lucknow |
| Indian Railways Track Machine Training Center | Allahabad |
| National Academy of Indian Railways | Vadodara |
Railway Engineering Syllabus
The Railway Engineering Course Duration is 4 years which consists of 8 semesters. These are, the topics that will be taught throughout the course, The segregation of these topics yearly is dependent on the college guidelines.
Train Resistance and Tractive Power
Rack Fittings and Fastenings
Rehabilitation and Renewal of Track
Curves and Superelevation
Non-Conventional Energy Systems
Sleepers
Diesel Systems
Track Management and Maintenance
Railway Stations and Yards
Signalling and Interlocking
Level Crossings
Track and Track Stresses
Railway Tunnelling
Subgrade and Formation
Engineering Surveys and Construction of New Lines
Rail Joints and Welding of Rails
Track Junctions and Simple Track Layouts
Railway Electrification- EMUs, Metro Stocks
HVAC Systems for Railways
Track Maintenance
Track Drainage
Ballast
Points and Crossings
Modernization of Railways and High-Speed
Creep of Rails
Alignment of Railway Lines
Construction of New Railway Lines and Track Linking
Suburban Railways in Metro
Geotech Engineering and Surveying
Railway Accidents and Disaster Management
History and General Features of Indian Railways
Modern Methods of Track Maintenance
Modern Welded Railway Track
Equipment at Railway Stations
Welding Technology and Corrosion
Railway Track Gauge
Advanced Bridge Planning
Geometric Design of Track
Rails
Locomotives and Other Rolling Stock
LHB Coaches
Also, Refer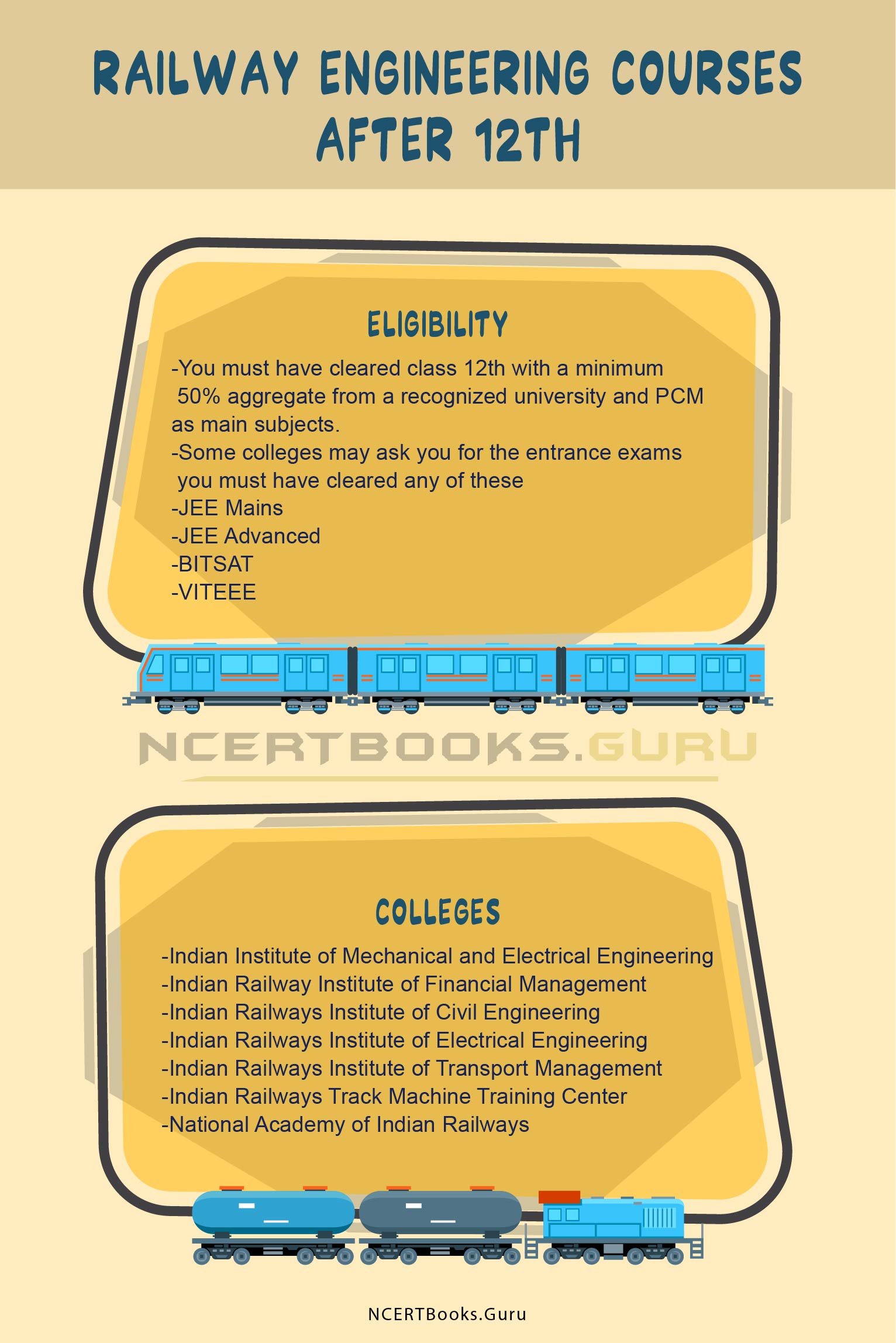 Skills Required for Railway Engineering Courses After 12th
Without skills, it is not easy to get your dream job. You are required to be proficient in the following subjects:
Computer Skills
Data Knowledge
Project Management
Knowledge of mechanics, electrical, and another field too.
Also, check the Top 10 Engineering Courses that are helpful to fulfill your dream with the above-mentioned skills.
After Class 12th Railway Engineering Career Scope & Jobs
After the completion of a bachelor's degree, you have ample opportunities to work with some of the reputed firms in India as well as MNCs. You can also look for government sector jobs. Here, are the few common hiring positions for railway engineers:
Assistant Executive
Central Engineering Services
Customer Relation Assistant
Database Administrator
Deputy General Manager
Indian Railway Electrical Service
Indian Railway Personnel Service
Indian Railway Store Service
Indian Railway Traffic Service
Junior Engineer
Station Master
Telecommunication Engineer
Junior Engineer
Superintendent Mechanical Engineer
Junior Computer Operator
Senior Section Engineer
Senior Section Engineers
FAQs on Railway Engineering Courses After 12th Class
1. Is it easy to opt for courses in Railway Engineering after the 12th?
Ans. Yes, you can easily go for the Railway Engineering Courses after class 12th if you have scored 50% marks in your class 12th. Some colleges may or may not ask you for entrance exam marks to get admission into the college.
2. Are there any entrance exams for Railway Engineering?
Ans. Yes, for railway engineering also you are required to clear basic engineering entrance exams such as JEE Mains, JEE Advanced, BITSAT, VITEE, and various others as recommended by the college admission process.
Ans. Yes, the railway is a good career., In India, railways are an important means of transport which makes it a good career opportunity. Also, the Railway Engineer Salary provided is pretty good and both the private and government sectors.
4. What are the ways to get into the Indian Railways?
Ans. You are required to clear railways entrance exams to get into the Indian Railways. You can visit the railway's official website and fill out the application form for recruitment.
Conclusion
Railways Engineering Courses After 12th is a good career. As in the above article, we have included all the important factors related to engineering in railway courses. You can ask all your questions in the below comment section. Also, you can visit our official website Ncertbooks.guru for more details on Best Engineering Courses in India.