Polytechnic Courses: Choosing a suitable career is the first step one takes towards achieving success. The students studying in standard 10 and 12 should choose their stream from beforehand so that they can work and develop their skills towards the course he wanted.
A Polytechnic course consists of various courses like applied science and industrial arts. It also includes various vocational and technical courses. The polytechnic institutions provide diploma courses, post-diploma courses, and certificate courses. The Polytechnic institutions are a bit different from any other university. They are more inclined to offer a student primarily the best practices or field knowledge, and theoretical expertise comes next.
This article is helpful for students willing to pursue an excellent polytechnic course. In this article, we have tried to list some of the best Polytechnic courses one can pursue after passing their 10th and 12th standard.
Polytechnic Colleges in India
There are mainly two types of Polytechnic colleges in almost every state of India and all the major districts in India. It is a boon to the students, and the kinds of Polytechnic College are as follows:
Polytechnic Colleges mostly funded by the Government or the Government Polytechnic College, and
Private, or Self-Financed Polytechnic Colleges.
Polytechnic Courses Available
Types Of Courses Available
The job oriented diploma courses that the Polytechnic Colleges provide can be further divided into two subcategories, namely:
Non-Technical Diploma courses,
Certificate courses, and
Technical Diploma courses.
Eligibility
The minimum qualification one requires to obtain any polytechnic course is to pass the 10th standard from a recognized board. The students who have passed the 12th standard can also pursue the course.
Duration Of The Course
The duration of the Polytechnic courses is 2 to 3 years, depending on the course type.
Polytechnic Courses Admission
The Government Polytechnic Colleges, which are reputed and well established, are known to conduct examinations after selecting valid candidates who have the desired percentage.
The Uttar Pradesh Joint Entrance Exam UPJEE (Polytechnic), UP Polytechnic Entrance Exam, Joint Entrance Examination Council of Uttar Pradesh (JEECUP) are the different names given to the state-level entrance examination for the candidates interested in getting admitted in the Diploma and the Post-Diploma course in the best polytechnic colleges in Uttar Pradesh.
The mode of examination is offline, where the candidate has to attend 100 objective type questions, and the minimum age limit is 14.
The students from the Uttar Pradesh domicile would be given more preference.
The Telangana State Polytechnic Common Entrance Test or the TS PolyCET is another examination conducted by any state board to select deserving students for the best polytechnic colleges in the state of Telangana. The examination is held once every year. The mode of the examination is offline.
Candidates from the Indian Council for Secondary Education, Central Board of Secondary Education, Telangana Open School Society, National Institute of Open School, Andhra Pradesh Open School Society, or any other equivalent examination board is eligible to take the test.
Some of the Top Polytechnic Courses available in India
Under the Polytechnic Diploma courses, these are the few available courses:
IT Engineering
Civil Engineering
Mechanical Engineering
Computer Science Engineering
EC Engineering
IC Engineering
Electrical Engineering
Electronics Engineering
Aerospace Engineering
Electronics and Telecommunication Engineering
Aeronautical Engineering
Automobile Engineering
Petroleum Engineering
Mining Engineering
Food Processing and Technology
Chemical Engineering
Genetic Engineering
Food Processing and Technology
Mining Engineering
Plastics Engineering
Agriculture Information Technology
Biotechnology Engineering
Textile Engineering
Infrastructure Engineering
Power Engineering
Motorsport Engineering
Environmental Engineering
Metallurgy Engineering
Production Engineering
Some of Best Polytechnic Colleges
Listed below are some of the best polytechnic colleges in India:
Magarpatta Institute of Hospitality Management or MIHM, Pune
National Institute of Fashion Technology or NIFT, Navi Mumbai
Institute of Hotel Management, Catering, and Nutrition or IHM PUSA, New Delhi
Institute of Hotel Management, or IHM, Mumbai
CMC Vellore
Asian College of Journalism, or ACJ, Chennai
Tamil Nadu Agricultural University or TAU, Coimbatore
Also, Read:
Polytechnic Colleges Fees
The Government Polytechnic Colleges charge a nominal fee of around 2 to 5 thousand per year, whereas the Private Polytechnic Colleges have relatively higher fees, which range from about 10 thousand to 30 thousand per year, and the fees vary from institute to institute. The yearly Polyrechnic Courses fees may not include the hostel fees, lab fees, canteen fees, or uniform fees.
Lateral Entry: If one has pursued any of the above-mentioned courses, one may get direct admission into the second year of relevant B.Tech or B.E program. This direct admission into the second year is called lateral admission.
Information On Some Selected Polytechnic Course
Diploma In Mechanical Engineering: The academic program which deals with mechanical engineering is 3 years long. The course covers topics such as –thermodynamics, the theory of machine, working of the machine, physics, engineering graphics, etc. After completing this course, one may have the chance of lateral entry in the second year of the relevant B.E or B.Tech course.
Diploma In Electrical Engineering: This academic program which primarily deals with aspects like transformers, the transmission of electricity and its generation, electric circuits is 3 years long. Electrical engineers may pursue a Master's Degree after the completion of this course in fields such as EC, Large Scale Integrated Circuits, etc. Also, lateral entry is available for B.Tech or B.E courses in Electronics or Electrical Engineering.
Diploma In Civil Engineering: The academic course that deals with the construction and maintenance of buildings and other physical structures like roads, dams, bridges, canals, etc. is 3 years long. After completing this course, one might avail of the lateral entry into the relevant B.Tech or B.E course.
Polytechnic Courses Jobs and Salary
Polytechnic course is often correctly referred to as a short-cut to a successful and professional career. One can opt for employment under private companies as well as government jobs and can expect a handsome salary of more than $2000 per month. One can even start his or her own Business.
We hope that this article helped you choose the Polytechnic course of your choice, which will further help you to fix a goal and put in the required effort.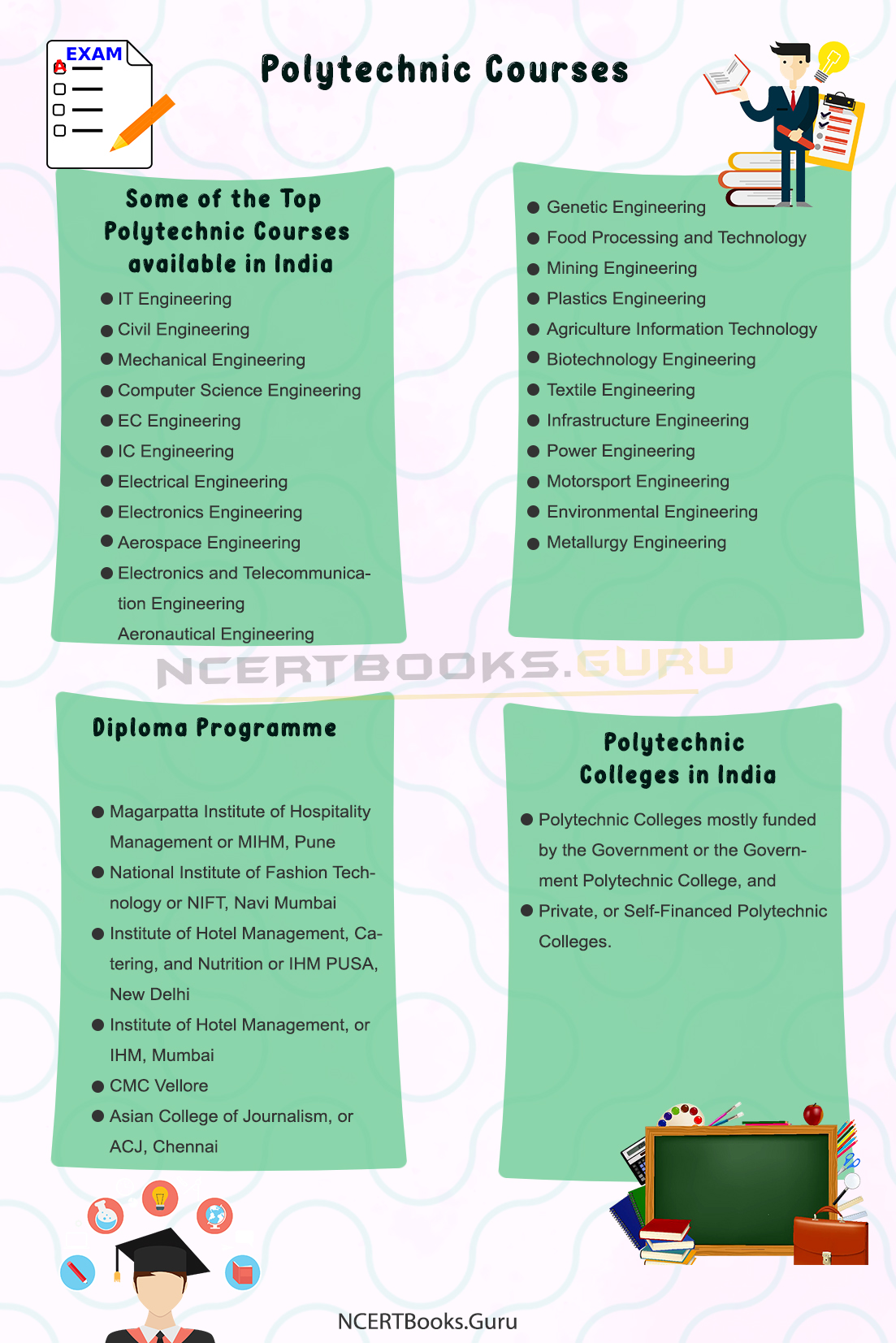 Question 1.
Can I opt for a Polytechnic Course after I have passed class 12?
Answer:
Yes, you can opt for any of the Polytechnic Courses after class 12 and it is considered to be the best skill development course.
Question 2.
Is there any Polytechnic course I can study after class 10?
Answer:
If you want to indulge in polytechnic courses after class 10, it is best for you to opt for one of the following:
Electrical engineering,
Architectural Engineering,
Instrumentation and Control,
Civil Engineering,
Information Technology, and quite a few more of the same kind.
Question 3.
Is Polytechnic an easy course to study?
Answer:
If you have an interest in Engineering Technology and Science, Polytechnic course is the right choice for you.