Photography Courses: Does watching a beautiful scenario make you take a shot of it instantly? If the answer is yes, then it will be no surprise if we catch you looking up for photography courses. Thanks to the advancement in education, now you can directly opt for a photography course after 12th. So, what are you waiting for? Let us start scrolling and understand the opportunities and scope of photography after 12th grade.
While many believe that photography is a creative hobby, professionals say that it is not just art but also science. The art should be studied well if you want to make a full-time career out of it. There is so much to learn in photography which makes it a great science— angles, graphics, editing, lens, digitalization and lighting. In earlier times, it was only considered as a hobby but today, fashion hubs and media houses are hiring full-time photographers.
Now that you are aware that building a successful career in photography is possible, let us see how you can do it right after the 12th.
Photography Courses After 12th
The three main options for pursuing photography after 12th are the following
Bachelor's Degree courses
Diploma courses
Certificate courses
Depending on your interest and circumstances, you can choose which format you would like to choose.
Photography Bachelor's Degree Course
A bachelor's degree course is usually a 3-year program in a full-time college. It gives full exposure to students about the history, art, and science of photography. Some of the bachelor's degree courses for photography are as follows:
BA Photography
BA Visual Arts and Photography
BFA Photography
Sc. in Photography and Cinematography
Sc. Photography and Video Visual Production
Eligibility: The eligibility of enrolling in a bachelor's degree course for photography is securing decent scores in the 12th class examination in any stream from a qualified board. Thereafter, the student has to attempt the entrance exam of the specific college.
Course Structure: As mentioned above, the course is a 3-year program with 6 semesters. The student is rewarded with an undergraduate degree after the completion of the course with all skills required for professional photography and editing.
Scope: Out of all the different types of photography courses, the bachelor's degree is the most recognized and reputed. The student can pursue a career as a commercial photographer, journalist, image and video editor, digital marketer, etc.
Other than the above-mentioned photography courses for a bachelor's degree, student interest in photography can also complete their undergraduate in Media Production, or Journalism, and Mass Communication courses.
Photography Diploma Courses
A diploma in photography provides a widened structure of the practice of photography. It also outlines the major aspects of photography that a student will require in order to build a successful career in the media world. Some of the diploma courses in photography are as follows:
PG Diploma in Photography
Diploma in Fashion Photography
Diploma in Professional Photography
Diploma in Digital Cinematography
Diploma in Photography and Digital Imaging
Diploma in Digital Photography
Diploma in Professional Photojournalism
Diploma in Photography and Cinematography
Diploma in Advertising and Commercial Photography
Diploma in Digital Cinematography
Eligibility: The student has to pass the 10th or 12th class examination in any stream associated if a certified board. Also, needs to pass the additional criteria which vary in each institution.
Course Structure: Unlike the bachelor's degree, a diploma is of a shorter duration. It can vary from 6 months to 2 years. There are even shorter courses with a duration of 1 month or 3 months which only introduces photography and its primary skills to the students.
Scope: The students complete the diploma with a certified diploma degree and enhanced knowledge about vision, communication skills, and technical skills involved in photography. Placements include travel or sports photographer, product photographer, photojournalist, video editor, fashion photographer or wedding photographer.
After the completion of the diploma, it will be the experience gained by the students that will help them climb up the success ladder.
Certification Courses in Photography
A certificate in photography is offered by a number of institutes all over India. It has limited scope as compared to diploma and undergraduate courses but is a great option to kick-start a career in photography.
Advanced Photography
Style and People Photography
Business Photography
Photography and Image Editing
Digital Photography
Fashion and People Photography
Certificate in Digital Cinematography
Certificate in Advertising and Commercial Photography
Certificate in Professional Photojournalism
Eligibility: To be eligible to enroll for a certification course in photography, the student must pass 12th class examination from a certified board. A few institutes also allow the 10th class passed eligible for the course.
Course Structure: The certification photography courses are much shorter and the student can complete them within 1-6 months. The course is for 3 months or 6 months with a final assignment.
Scope: The scope of completing a certification in photography offers the students career as a fashion photographer, commercial photography, or news photography. The student can also contribute to documentary shooting, video editing, digital marketing, or choose fields such as fashion, sports, or wildlife for self-employment.
Also, Read:
Photography Courses Fees
The cost of photography courses varies with the type of photography course you are looking at. For a diploma course, up to 2,00,000 INR can be expected, while a certification costs less than 50,000 INR. For an undergraduate or PG diploma, the fees will depend on the institute and can cost you up to 30,000-60,000 INR per semester. It can increase depending on the credibility of the institute and the packages offered by the placement cell.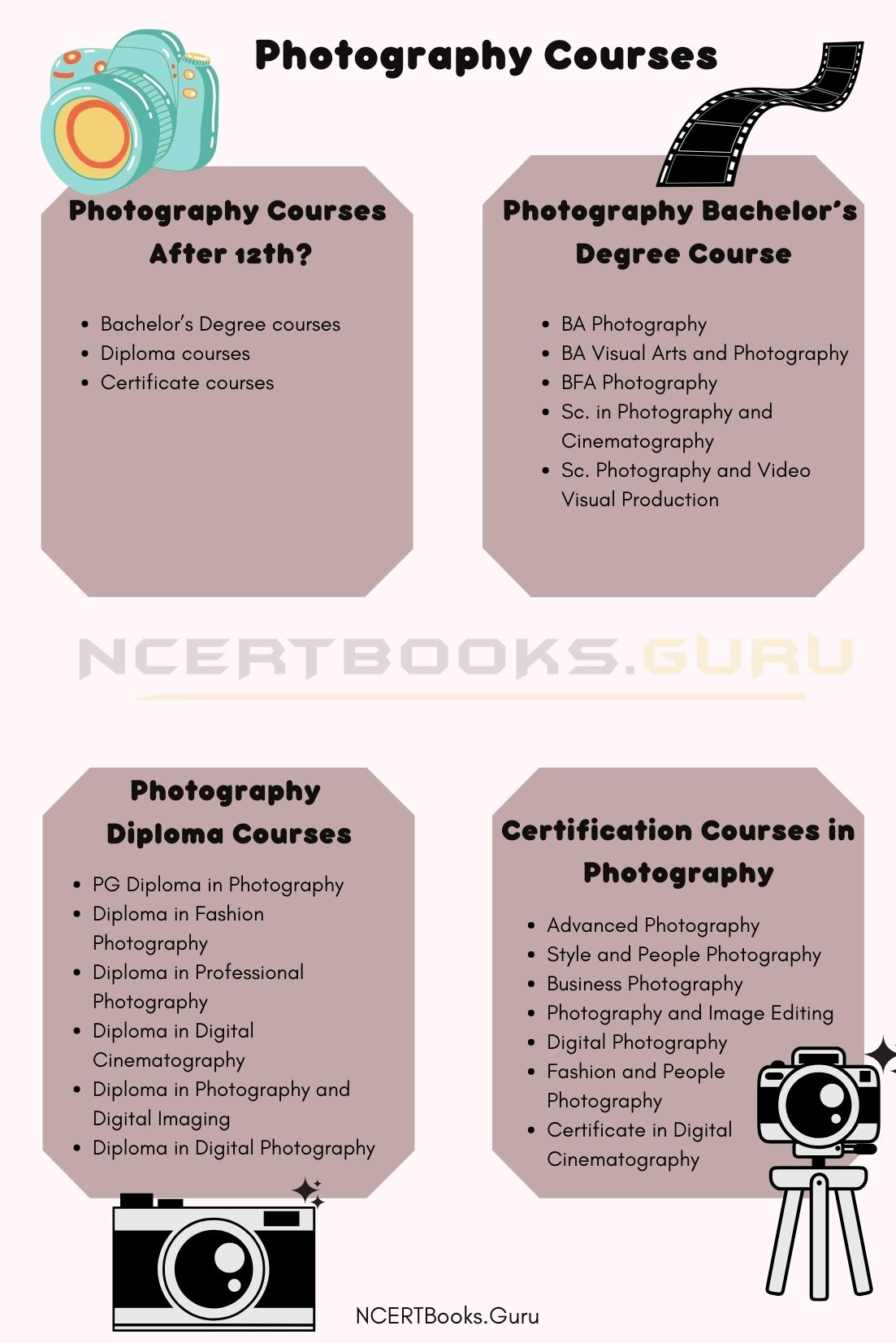 Photography Courses Industry Domains/ Job Opportunities/ Salary
A career in photography certainly seems like a promising one, looking at the rise in digitalization around the world. With everybody on their screens, scrolling through social media, a good photographer is what every firm requires at the moment.
The scope of photography will only rise, along with an increase in demand for freelance and in-house photographers for magazines, PR or digital marketing agencies and entertainment and event industry. Some of the jobs are wedding photographer, digital marketer, sports photographer, video or image editor, offering a secured salary of INR 18,000-INR 40,000.
FAQ's On Photography Courses
Question 1.
What subjects does the course include?
Answer:
The students learn about image capturing, light exposure, digital processing, editing, application of filters, light composition, and usage of flash and other tools.
Question 2.
Do I need a professional camera for the course?
Answer:
No, any camera would do. However, you can upgrade to a DSLR for a better experience.
Question 3.
Can I complete the course online?
Answer:
Many institutes provide online courses in photography, it will involve assignments and framework of units to help develop your photography skills.