UI Design Course Details: User interface design (UI) is the design for machines and software, such as mobile devices, home appliances, computers, and other electronic devices focusing on maximizing usability and the user experience. The aim is to make the user's interaction as valuable and outspoken as possible to accomplish user goals.
The design process must balance visual elements and technical functionality to generate a system that is operational, useful, and adaptable to change the user's needs. Graphic design and typography support its usability, influencing how the user performs specific interactions and improving the artistic appeal of the design.
Interface design involves a wide range of projects from computer systems, cars, and commercial planes; all of these projects include much of the same fundamental human interactions yet also require some unique skills and knowledge.
A Brief on UI Design
UI design needs a good understanding of user needs. It focuses on the demands of the platform or its user's expectations. There are multiple phases and processes in the UI design.
Functionality requirements gathering – Collecting a list of the system's functionality to achieve projects goal and needs of the user.
User and task analysis – Its a form of field research; it's the analysis of the system's prospective users by studying how they perform the tasks that the design must support and conducting interviews to elucidate their goals.
Information architecture – it helps the Development of the process and information flow of the system
Prototyping – Development of wire-frames, in the form of paper prototypes or simple interactive screens.
Usability inspection – Here, an evaluator inspect a user interface. This is used in the development process as it can be used to judge prototypes or specifications for the system, which generally cannot be tested.
Usability testing – Prototypes are tested on an actual user. They use a technique called think aloud protocol where the user is asked to talk about their thoughts during the experience. UI design testing allows the designer to understand the design's reception from the viewer's standpoint, thus facilitating creating successful applications.
Graphical user interface design – Here, we see the Original look and feel of the design through the final graphical user interface (GUI). These are voice-controlled interfaces and design's control panels and faces which involve oral-auditory interaction, while gesture-based interfaces witness users are engaging with 3D design spaces via bodily motions.
Software Maintenance – After the interface's deployment, exceptional maintenance change features, fix software bugs, or completely upgrade the system. Once a choice is formed to update the interface, the legacy system will undergo another version of the planning process and start to repeat the interface life cycle stages.
Required Skillset for UI Design Course
UI as a design specialization requires applicants to have sufficient technical knowledge and an eye for detail. To pursue the Course later make a future in UI/ UX design, candidates need to possess the below-mentioned skillset:
Knowledge of software
Knowledge of programming languages
Creativity
Good communication skills
Ability to work in a team
Good interpersonal skills
VisualizationEye for detail
Time management
Visual communication skills
UI Design Course Eligibility Criteria
Candidates can pursue a UG degree in UI/ UX if they have completed their 10+2 from a recognized board. Students from any stream (Science/ Commerce/ Arts) are eligible to apply for UI/ UX course admission.
To secure admission in the PG level UI/UX Design course, candidates should have completed their graduation from a recognized college/ institute.
UI Design Course Curriculum
The course curriculum of the UI Design course varies as per the degree offered on completion of the Course. Apart from this, the subjects/ topics taught in the UI Design course may differ from one college to another. Download UI Design Course Syllabus PDF. Some common topics that are taught in a UI course offered at the UG level are:
BDes in User Experience Design 
Fundamentals of Design
Principles of Design
Visual Communication
Empathy & User Study
Ethnography & People Design
Service Design
Design Thinking
Information & Data Study
UI Design
Interaction Design
Design for Rural India
Design for Futuristic Technologies
Imagin 6D UX Process
BDes in Visual Communication
Design Principles
Studio Materials
Drawing-I
History I (Civilization & Technology)
Visualization and representation
Culture, Cinema, and Media-I
Design Principles
Drawing-II
History II (Civilization, Culture & Society)
Research & Documentation
Measured Drawings
Culture, Cinema, and Media-II
Graphic & Communication Studio I
Visual Design I
Typography I
Photography I
Colour 1: Theory & Psychology
CAD: Introduction
History of the Arts I
Graphic & Multimedia Studio II
Visual Design II
Typography II
History of Visual Culture
History of the Arts II
Photography II
Color II: Psychology of Color
Visual Ergonomics and Human Perception
Graphic Studio III
Contemporary Practice: Art
Visual Design III
Sustainability in Design
Color Theory III
History of the Arts III
Practice, Management & Enterprise
Graphic Studio IV
Design & Subculture
Integrated Visual Systems
Discourse & Writing – IV
Elective Studio I
Branding & Visual Merchandising
Product Design
Print & Pre-Press Portfolio
Graphic Studio V & VI
Design Futures
Graphic Design & Society
Elective Studio – II
Branding & Visual Merchandising
Product Design
BDes in Communication Design
Art and visual perception
Drawing 1: Object, nature and human figure sketching
Elements of Design: Composition
Socio-Cultural Signs & Symbols
English: Creative Writing
Colour Theory
Drawing 2: Perceptive, Isometric and Orthographic
Elements of Design: Colour and Form
Typography 1: Calligraphy
Drawing 3: Illustration Techniques and Styles Exploration
Introduction to Digital Design 1: Word, Excel, and PowerPoint
Art History and Art Appreciation
Communication
Drawing 4: Visualisation and Representation
Basic Graphic Design
Basic Photography
Introduction to Digital Design 2: Photoshop, Illustrator, and InDesign
Content Development
BDes in Transdisciplinary Design
Unlearning and Orientation
Introduction to Design Process Workshop
Anthropometrics
Elements of Design
Design Theory and Methods
Exploring Design Disciplines
Visualisation & Representation
Construction Materials
Visualizing space
Ethnography
Material and Manufacturing
UX (Empathy Maps/ Experience Maps)
Creative Coding (Open Frameworks/Processing)
Physical Computing (Arduino/ IoT/ Microcontrollers)
Experimental Animation
Material Study
Manufacturing Processes
Form Studies
User experience design
Product Ergonomics
BCA (Design-Animation/Graphics/UI)
Introduction to computer and internet
Drawing & sketching, fine arts, commercial arts
Computer graphics and illustrator
Communication skills
Story writing, storytelling & storyboarding
Photoshop
Visual communication
Digital audio and sound forge
Animation process and flash
3D Studio MAX
Photoshop for 3D Studio MAX
Character Studio
HTML and CSS
Video production basics
Adobe Premiere
After Effects (AFX)
Working with Sound Forge
Working with Dreamweaver
Maya (software)
Photoshop for Maya
Combustion
Multimedia technology
Virtual reality
Media digitization and production
Students can also go through subjects taught in UI design courses offered at the PG level.
MDes in User Experience Design
MDes in Interaction Design
Master of Design in UI
This Course has a vast learning platform. It also has a Diploma And Certificate courses.
Diploma in Web UI Design Course
3-Dimensional Animation
VFX certification courses
Digital film making
Graphic design and Multimedia
Certificate in UI Design Course
Fundamentals of Computers, Multimedia, and internet
Concepts of Graphics and Illustrations
Basic Art
Adobe Illustrator
Corel Draw
Internal Test 1 & Assignment 1
Adobe Photoshop Extended
Internal Test 2 & Assignment 2
Adobe Indesign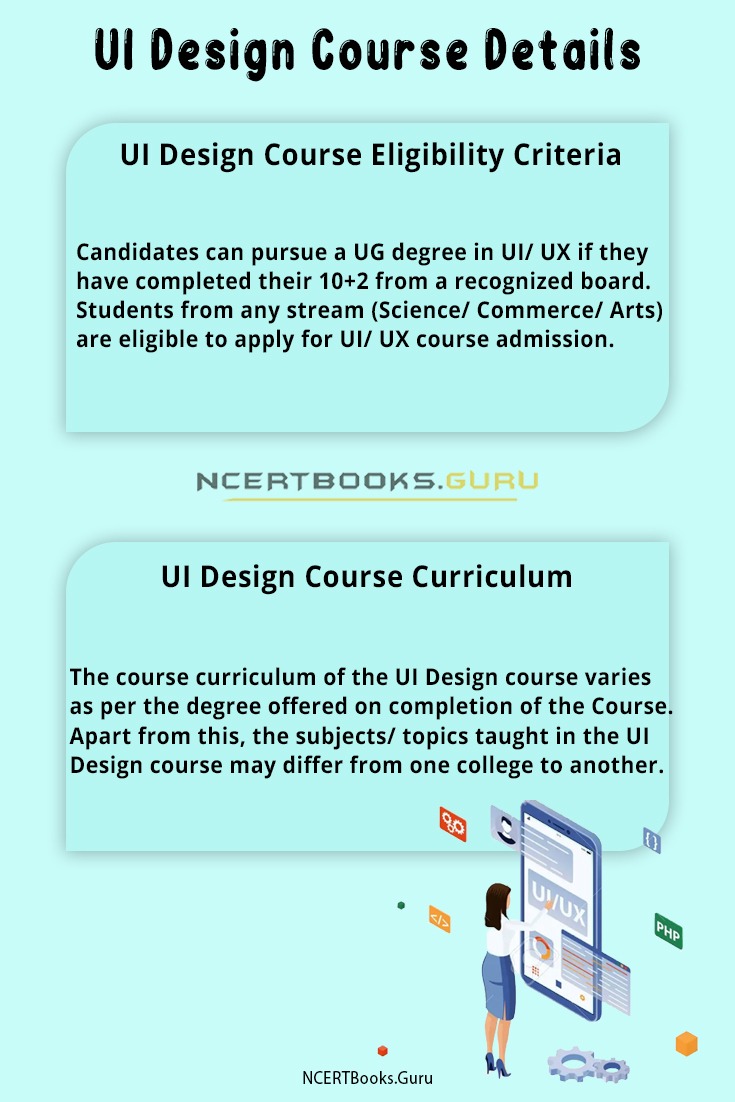 Post Graduate Diploma in UI Design and Development
Foundation Study
Conceptualization
UI Visual Design
UI Development
Application Prototyping
Usability and User Experience
See More:
UI Design Job Profiles
After completing a UI design course, a candidate can get higher studies in the same Course or even opt to pursue a job. The most popular job profile that candidates can pursue after completing a UI course is to become a UI designer or a UX designer.
UI Design Course Fee Structure
The UI Design Course fees structure differs from college to college. The average course fee for UI design varies from 20000 to 7 lakhs per annum. Also, check the best designing courses in India.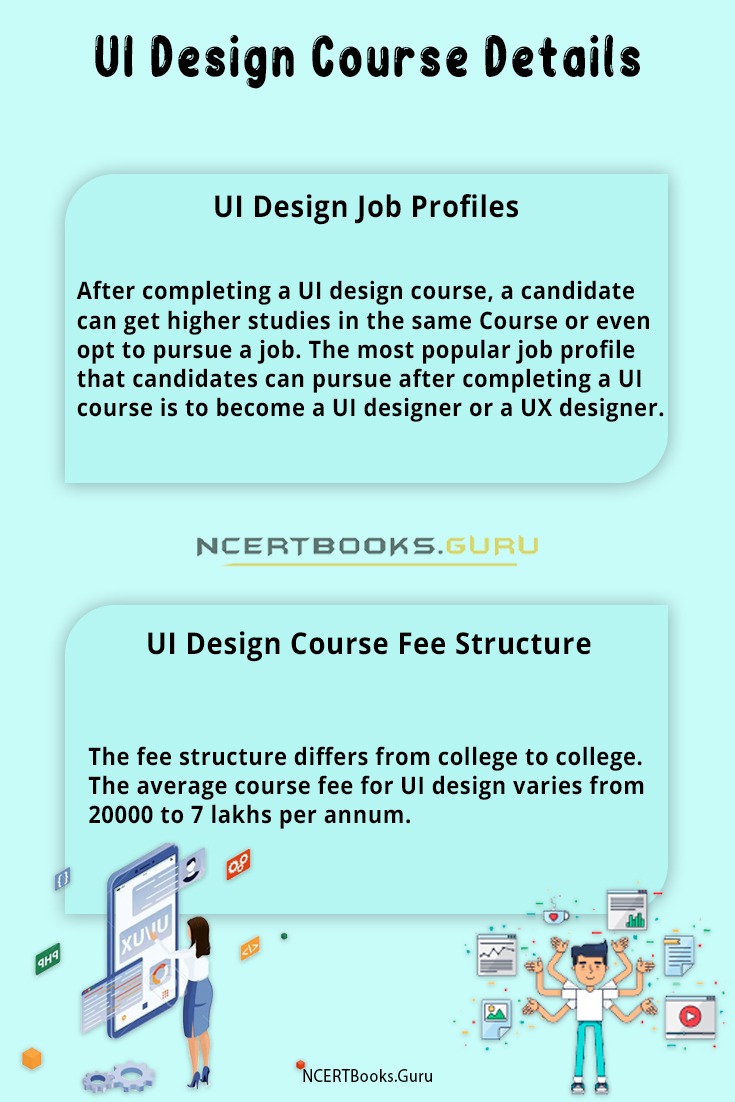 Top Colleges For UI Design
Arena Animation, Mumbai
Institute of Design, MIT ADTU, Pune
ICAT Design and Media College, Chennai
BAOU, Ahmedabad
Symbiosis Institute Of Design, Pune
7 Best Online Courses To Learn UI Design Course
Skillshare
Udemy
Learn.UI design
Bloc
Springboard
Experience Haus
CareerFoundry
Salary Offered After Completion of UI Design Course
An early career User Interface Designer with 1-4 years of experience earns an average total compensation of $59,731 based on 327 salaries. A mid-career User Interface Designer with 5-9 years of experience makes an average total compensation of $69,393 based on 160 salaries.
FAQ's on UI Design Courses Details
Question 1.
What is UI Design Course?
Answer:
User interface design (UI) is the design for machines and software, such as mobile devices, home appliances, computers, and other electronic devices focusing on maximizing usability and the user experience. The aim is to make the user's interaction as valuable and outspoken as possible to accomplish user goals.
Question 2.
Is a good Salary offered in this work?
Answer:
Yes, Higher the experience Higher the salary.
Question 3.
What qualifications are needed for this Course?
Answer:
Students can pursue a UG degree in UI if they have completed their 10+2 from a recognized board. They can be from any of the three streams.