NEET  Chemistry is the scoring paper in the medical entrance examination. Here, you will discover the NEET Chemistry MCQ Questions for all Concepts as per the latest syllabus. Practice more on a regular basis with these NEET Chemistry objective questions on air pollution and improve your subject knowledge & problem-solving skills along with time management. NEET Chemistry Thermodynamics Multiple Choice Questions make you feel confident in answering the question in the exam & increases your scores to high.
MCQs on Thermodynamics
1. What will be the value of ΔH, if the forward and reverse reactions have the same energy of activation?
(a) ΔH = ΔG = ΔS = 0
(b) ΔS = 0
(c) ΔG = 0
(d) ΔH = 0
Answer

Answer: (d)
---
2. What will be the entropy change (ΔS), when an ideal gas undergoes a change in the pressure from pi to pf isothermally?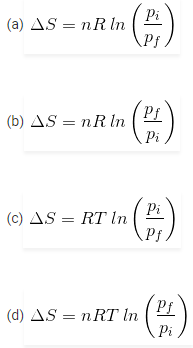 Answer

Answer: (a)
---
3. Find out the relationship between x, y and z considering below three reactions


(a) y = 2z – x
(b) x = y – z
(c) x = y + z
(d) z = x + y
Answer

Answer: (c)
---
4. What is the molar entropy change for melting of ice at 0℃, if ΔHf = 1.435 kcal/mol?
(a) 0.526 cal/(mol K)
(b) 5.26 cal/(mol K)
(c) 10.52 cal/(mol K)
(d) 21.04 cal/(mol K)
Answer

Answer: (b)
---
5. What is the function of a catalyst in a chemical reaction?
(a) decrease rate constant of reaction
(b) increases activation energy of reaction
(c) reduces enthalpy of reaction
(d) does not affect the equilibrium constant of reaction
Answer

Answer: (d)
---
6. What will be the work done by 3 moles of an ideal gas when it expands spontaneously in a vacuum?
(a) zero
(b) infinite
(c) 3 joules
(d) 9 joules
Answer

Answer: (a)
---
7. Find the temperature at which the below reaction will be in equilibrium if the enthalpy and entropy change for the reaction is 30 kJ mol-1 and 105 J K-1 mol-1 respectively
Br2(l) + Cl2(g) → 2BrCl(g)
(a) 273 K
(b) 300 K
(c) 450 K
(d) 285.7 K
Answer

Answer: (d)
---
8. Which is true for the entropy of a spontaneous reaction?
(a) ΔS(system) – ΔS(surroundings) > 0
(b) ΔS(system) + ΔS(surroundings) > 0
(c) ΔS(surroundings) > 0 only
(d) ΔS(system) > 0 only
Answer

Answer: (b)
---
9. An ideal gas is expanded isothermally at 300 K from 1 litre to 10 litres. Find the ΔE for this process (R = 2 cal mol-1 K-1)
(a) 9 L atm
(b) 1381.1 cal
(c) zero
(d) 163.7 cal
Answer

Answer: (c)
---
10. ΔH for the reaction N2 + 3H2 ⇋ 2NH3
(a) ΔE – 2RT
(b) ΔE + 2RT
(c) ΔE – RT
(d) ΔH = RT
Answer

Answer: (a)
---