NEBOSH Course Details: NEBOSH full form is The National Examination Board in Occupational Safety and Health. NEBOSH is an independent examination board based out of the UK, delivering vocational qualifications around the globe in the field of health, safety, and environmental practice and management. The National Examination Board in Occupation Safety and Health was founded in the year 1979. It has received 'charitable status' and offers a wide range of qualifications of various levels; introductory to professional.
NEBOSH attracts over 50,000 candidates annually and is offered by over 600-course providers based in 40 countries worldwide. In 2014/15, nearly 180,000 NEBOSH took assessments in 132 countries. NEBOSH qualifications are recognized by important membership bodies including the Chartered Institute of Environmental Health (CIEH), Institution of Environmental Management and Assessment (IEMA), International Institute of Risk and Safety Management (IIRSM), and Institution of Occupational Safety and Health.
A Brief on NEBOSH Course
The courses under The National Examination Board in Occupation Safety and Health (NEBOSH) are targeted at varied individuals belonging to different industrial surroundings. In India, NEBOSH certification has become much popular, and almost all industries are preferring their personnel to have NEBOSH Course qualifications to manage workplace hazards and related health risks. Choosing a NEBOSH requires one to understand how the chosen course could benefit and add value to the person; moreover, the industry of interest should be kept in mind while picking a course as this could be utilized on the professional front.
Candidates qualifying in NEBOSH creates more opportunities for promotion, open new career paths, and vastly improve their job security. The knowledge developed during these courses benefits everyone, aiding safer workplaces through informed assessment and application of management systems.
Types of Courses in NEBOSH
NEBOSH Certificate Courses
NEBOSH Diploma Courses
NEBOSH Award Courses
NEBOSH Certificate Courses
NEBOSH certificate level courses provide a good base in health safety or managing the environmental systems and principles to help managers, supervisors, and those in health and safety with their day-to-day responsibilities. It is the most popular health and safety qualification in the UK. It provides a vast understanding of health and safety issues within the modern workplace. No prior experience is needed for the NEBOSH Certificate; it's a perfect start to your health and safety career. Some of the courses are
NEBOSH NGC in Occupational Health and Safety
NEBOSH NC in Construction Health and Safety
NEBOSH NC in Fire Safety and Risk Management
NEBOSH NC in the Management of Health and Well-being at Work
NEBOSH Certificate in Environmental Management
NEBOSH IGC in Occupational Health and Safety
NEBOSH IC in Construction Health and Safety
The NEBOSH General Certificate is the primary step towards a career in health and safety. The NEBOSH General Certificate also enables you to apply for the fellowship of all types of learned bodies.NEBOSH Courses are available in areas like construction, fire and risk management, oil and gas, health and well being of the environment, and process safety management.
NEBOSH Award Courses
NEBOSH award level courses implement an introduction into essential health and safety or environmental principles and practices adapted to suit any workplace. While award level courses are primarily designed to help employers improve their health, safety, and ecological culture, they offer a clear progression route to a range of higher-level NEBOSH certificates for those interested in advancing their knowledge and skills further.NEBOSH award level courses are obtainable in numerous languages, including Arabic, English, French, Mandarin Chinese, Russian, and Spanish; a testament to their importance in the international marketplace.
NEBOSH Health and Safety at Work Qualification
NEBOSH Environmental Awareness at Work Qualification
NEBOSH Environment Safety and Health Process Industries Qualification
NEBOSH Diploma Courses
The NEBOSH Diploma Course is the first vocational qualification in the UK developed, primarily for health and safety specialists. It has become one important professional qualification for health and safety practitioners in the UK. Over 11,000 learners have achieved qualification since its introduction. Employers highly value NEBOSH Diploma holders due to their ability to control risk at an operational and strategic level.
The NEBOSH Diploma is the same as an Honours Degree standard. Because of the demands of high-level education and time commitment, one should have a foundation understanding of health and safety principles gained from the previous knowledge, such as the NEBOSH General Certificate, or any experience within the field.
NEBOSH National and International Diploma in Occupational Health and Safety.
NEBOSH National and International Diploma in Environmental Management
NEBOSH also offers Masters of Research degrees and Masters of Science degrees in partnership with the University of Hull:
Masters of Research degrees and Masters of Science degrees in Occupational Health, Safety and Environmental Management
Masters of Research degrees and Masters of Science degrees in Occupational Health and Safety Management
Masters of Research degrees and Masters of Science degrees in Environmental Management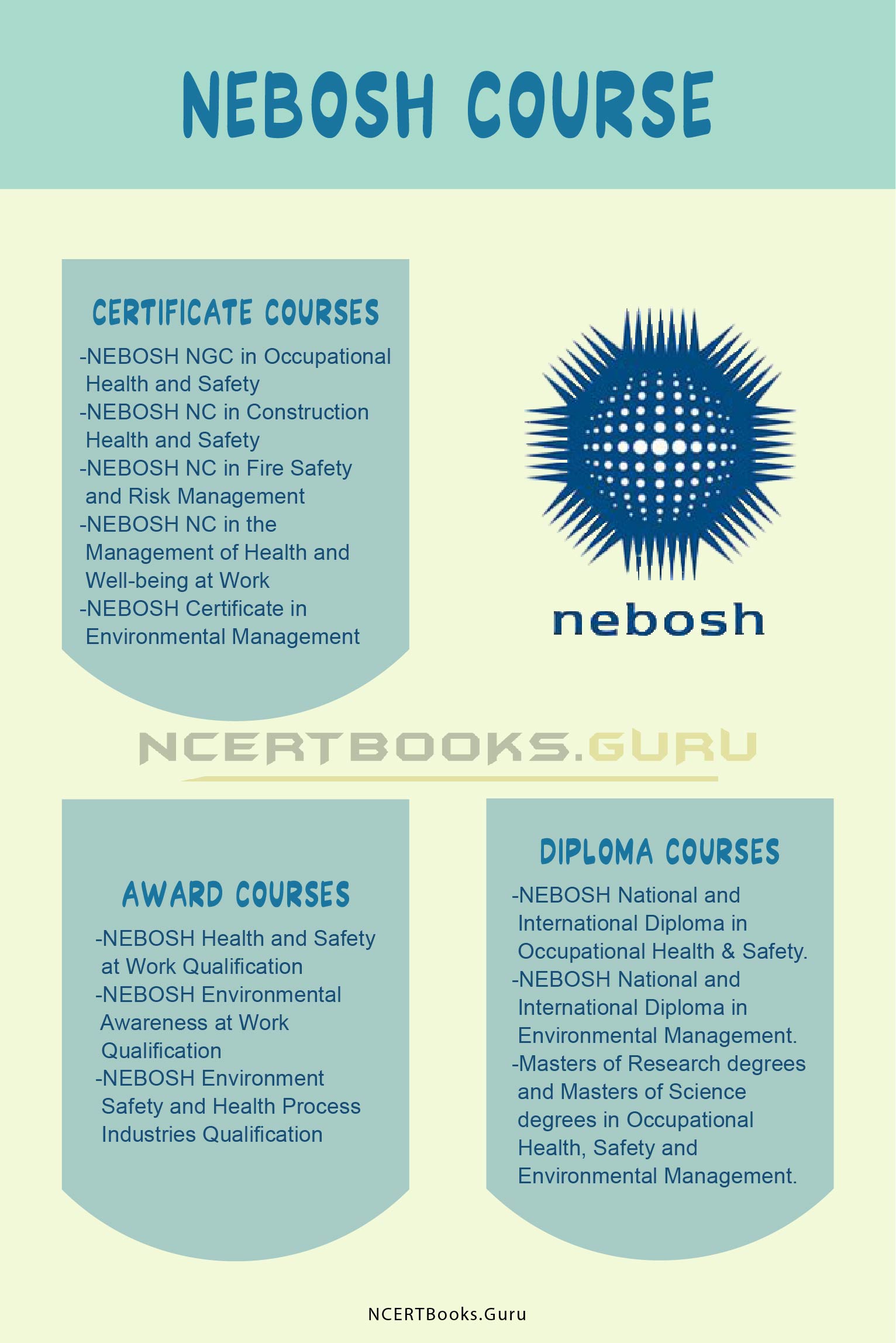 NEBOSH Course Duration
NEBOSH certificate offers learners the flexibility to complete the course, whether they do it online or classroom mode. A student requires 133 hours of study time, divided into 'tuition hours' and 'self-study hours.' How much time one will take to complete the course mostly depends on one's commitment, learning method, time availability, and quality of study material.
NEBOSH General Certificate exam has two papers for NGC1 and GC2 and one practical assignment for GC3.
Written exams are through a NEBOSH approved course provider under exam conditions. The two-hour exam for each paper is held on the same day with NGC1 starting at 9 am, and GC2 at 2 pm. GC3 assignments should be submitted within two weeks of your written exams.
NEBOSH exams are held four times a year during March, June, September, and December. For online students, they have to notify their course providers about a convenient date to make the arrangements.
Graduation Ceremony and Annual Awards for NEBOSH
Since 2006, students who are achieving a NEBOSH diploma-level qualification are invited to attend an annual ceremony of graduation, which is being held at the University of Warwick. In June 2010, more than 1,200 participated in, and a total of 350 people received their diplomas.
Best Candidate awards were also presented at the annual ceremony to the candidates achieving the highest marks in the year for all certificate-and diploma level qualifications in a separate unit of the NEBOSH National Diploma. These are acknowledged in the annual report.
NEBOSH Course Fee Structure
The fee structure of NEBOSH varies from college to college. The average course fee for NEBOSH varies from Four Thousand to Two lakhs per annum.
More Related Articles
NEBOSH Course Syllabus
The NEBOSH syllabus consists of only two units.
IG1 – Management of health and safety – Online Open Book Exam – passing marks 45/100
IG2 – Risk Assessment – Practical unit.
Assessment: Unit IG 1: Unit IG 2:
Theory – Online Open Book Exam
Practical – Work place Assessment
Study Modes: Classroom, Online Live / Virtual Learning, E-learning, In-Company Training
Qualification: The qualification grade is based on the result from Unit IG1
Distinction: 75 marks or higher
Credit: 65 – 74 marks
Pass: 45 – 64 marks
NEBOSH Courses Job Profile
NEBOSH has its own Jobs Barometer research, and this shows that maintaining a professional qualification can cause an enormous difference to the salary expectations of health and safety professionals. Those who acquire a profession in NEBOSH diploma earn an average of 16% more than those in jobs where the Diploma wasn't specified. Jobs opportunities NEBOSH certificate holders can aspire to include:
Health and Safety Advisor
Health and Safety Officer
Health and Safety Auditor
Health & Safety Co-ordinator
Health and Safety Executive
Health and Safety Manager
Environment, Health, and Safety Manager
NEBOSH Salary
In India, the NEBOSH IGC beginning payment is around Rs 45000 to 100000 per month, and in Abroad, it is in the scope of Rs.105000 – to Rs.500000.
Question 1.
What does NEBOSH stand for?
Answer:
NEBOSH stands for the National Examination Board in Occupational Safety and Health.
Question 2.
What jobs can I get from NEBOSH?
Answer:
NEBOSH qualifications can aspire to get jobs in the health and safety sector.
Question 3.
How many types of courses are there in NEBOSH?
Answer:
Three types of Courses are there in NEBOSH
NEBOSH Certificate Course
NEBOSH Award Course
NEBOSH Diploma