NCERT Solutions for Class 10 Science PDF links available here are free to view and download on your devices. From CBSE 10th Science NCERT Solutions Chapterwise PDFs, you can discover various solved and unsolved questions and exercises along with sample papers & a list of important questions for every concept. Practicing all these questions and answers from the chapters of physics, chemistry, and biology will aid students to enhance their subject knowledge and secure good grades in the exams.
Free PDF Download of NCERT Solutions for Class 10 Science English and Hindi Medium
Class 10 NCERT Science Solutions Book is the only guide that covers the complete syllabus with extra knowledge. From this ultimate guide, CBSE students can gain subject skills and utilize them during their final exams for better scores. If you are worried about who has been prepared these NCERT Textbook Solutions for 10th std science can keep their worries aside.
As it is designed by experienced subject teachers as per the latest Class 10 Science CBSE Syllabus. Download the free pdf links of English and Hindi medium 10th science NCERT Book Solutions along with CBSE Class 10 Science book PDF and kickstart your preparation without any hurdles.
MCQ Questions for Class 10 Science
Students preparing for the board examination should opt for CBSE Class 10 Science NCERT Solutions PDF and MCQ Questions for 10th Science with Answers PDF Study Resources as they play a crucial role in scoring better marks. So, download Physics, chemistry, biology MCQs with Answers Chapterwise PDFs from the below links & practice daily.
MCQ Questions for Class 10 Science Chemistry with Answers
Biology MCQs For Class 10 Chapter Wise with Answers
MCQ Questions for Class 10 Science Physics with Answers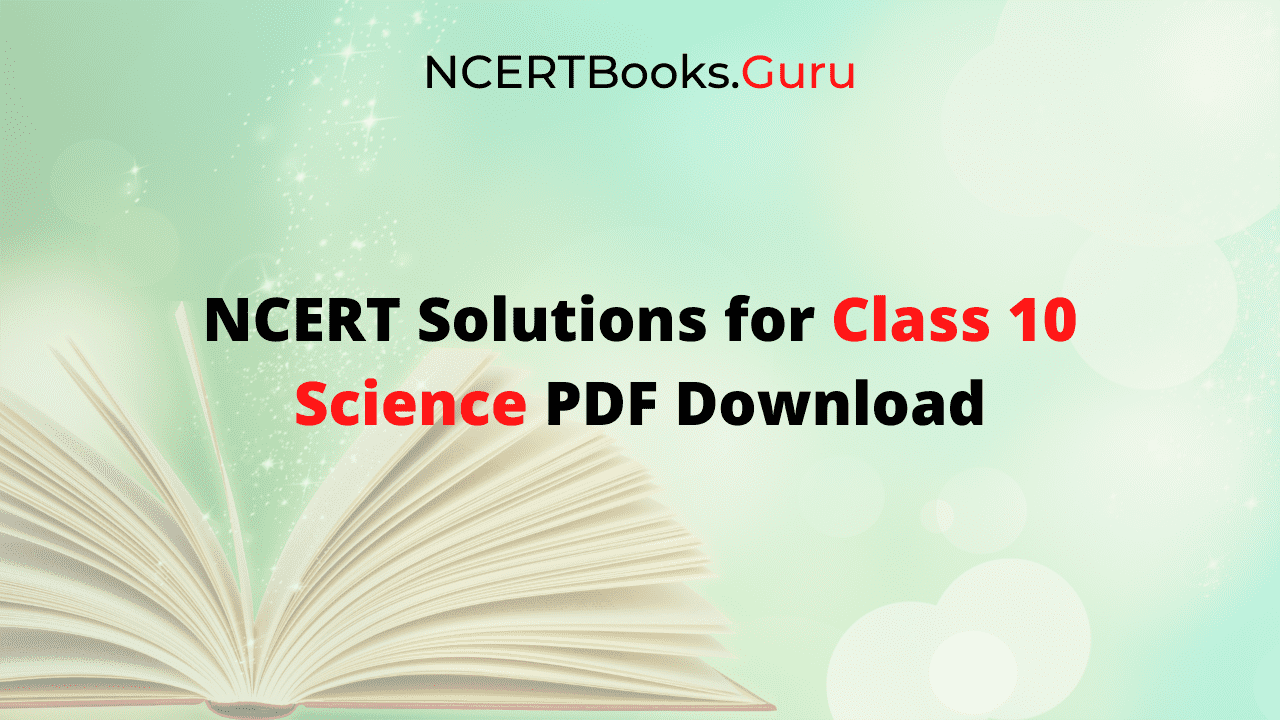 Along with NCERT Solutions and Multiple choice questions for class 10 science, we would also advise you to study important questions for class 10 Science from the material link dropped here. In the below sections, we are going to discuss each and every chapter covered in NCERT Science Textbook in short.
Class 10 NCERT Science Solutions for Physics Chemistry Biology Chapters Brief
The most important subjects for class 10 pursuing students are Science and Maths. Science plays a vital role in assisting students to select their streams in higher studies. If you are interested in science streams then having a good grip on the fundamentals concepts of science is very important. So, understand the concepts by following the NCERT Solutions for Class 10 Science PDF chapters brief discussed below and score high in exams.
Chapter 1 – Chemical Reactions and Equations (रासायनिक अभिक्रियाएँ और समीकरण )
In class 10 science, the first chapter is introduced with the chemistry concepts that help students to learn deeply about the basics of chemical reactions and equations. From this chapter, you will understand the way of writing chemical equations and balance them, types of chemical reactions, combination reaction, displacement reaction, double displacement reaction, effects of oxidation reactions, corrosion, rancidity.
Chapter 2 – Acids, Bases, and Salts (अम्ल, क्षार एवं लवण )
After getting a good grip on chemical reactions & equations concepts, it's time to learn what are chemical properties and how they make things taste sour or bitter, their acidic or basic nature, and how substances are used to test this nature.
Moreover, you may acquire perfect knowledge about the importance of pH in everyday life, the pH range of acidic, basic &neutral solutions, and the wide applications of pH scale, chemical formulae, preparation, and chemical reactions of various important salts that are used in day-to-day life from this chapter.
Chapter 3 – Metals and Non-metals (धातु और अधातु )
Metals and Non-metals come under chemistry subject where it provides knowledge about physical properties, chemical properties of different metals and non-metals. Apart from that, you can also learn the reactivity of metals with non-metals and the properties of ionic compounds.
Chapter 4 – Carbon and Its Compounds (कार्बन और इसके यौगिक )
NCERT Class 10 Science Solutions of Chapter 4 deals with organic chemistry. Also, the chapter is about Carbon which is a versatile element found in many organic and inorganic compounds. Furthermore, you will learn the concepts like Covalent bonds in carbon, compounds derived from carbon, versatile nature, chemical properties of carbon, properties of Ethanol and Ethanoic acid, soaps, and detergents & their cleansing actions in this chapter.
Chapter 5 – Periodic Classification of Elements (तत्वों के आवर्त वर्गीकरण )
Have you ever wondered how the periodic table formed? If yes, then look at this chapter and learn how scientists classified elements based on their properties and organized them into the modern periodic table. Some of the major topics explained here are Döbereiner's Triads, Newlands' Law of Octaves and their limitations, trends in atomic size, valency, and physical & chemical properties of elements across the Modern Periodic Table.
Chapter 6 – Life Processes (जैव-प्रक्रम )
NCERT Solutions For Class 10 Science Chapter 6 Life Processes covers the discussion and explanation of various biological processes and reactions taking place in organisms. Apart from this, you will also learn a few major topics like What are Life Process?, Nutrition in Organisms: Autotrophic and Heterotrophic Nutrition, How do organisms obtain their nutrition, Nutrition in human beings: Respiration, Transportation & Excretion, Excretion in human beings and Plants in this chapter.
Chapter 7 – Control and Coordination (नियंत्रण एवं समन्वय )
In chapter 7 NCERT Solutions, kids will get the basic knowledge about the nervous system of human beings, an explanation about the anatomy of the Human Brain, coordination in plants, and hormones in animals.
Chapter 8 – How do Organisms Reproduce? (जीव जनन कैसे करते है )
Biology chapters can be very interesting for students to learn as they explain various modes of reproduction, including asexual and sexual reproductions, advanced types of reproduction, and diverse processes of reproduction.
Chapter 9 – Heredity and Evolution (अनुवांशिकता एवं जैव विकास )
One more biology chapter in NCERT Science solutions of class 10 is Heredity and Evolution. It completely deals with the passing of genes between different generations, details about the process of sex determination, Charles Darwin Theory to get familiar with the concept of Evolution, and many more.
Chapter 10 – Light Reflection and Refraction (प्रकाश-परावर्तन एवं अपवर्तन )
NCERT Solutions for class 10 science chapter 10 Light Reflection and Refraction illustrates the theories of reflection and refraction of light. Moreover, you will get a deeper knowledge about Image formation by plane mirror/curved mirrors and lenses. From this chapter, you can also get the knowledge about a few important topics such as:
Reflection of light
Power of Lens
Image formation by spherical lenses
Image formation by spherical mirrors
Mirror formula and magnification
Sign convention for reflection by spherical mirrors
Refraction of Light
Refraction through a rectangular glass slab
Refractive index
Refraction by spherical lenses
Sign Convention for refraction by spherical lenses
Lens Formula and Magnification
Chapter 11 – Human Eye and Colourful World (मानव-नेत्र एवं रंगबिरंगी दुनियाँ )
This chapter entirely focuses on the human eye structure and the functions which are involved in every single part of the eye. Some other concepts like various eye defects such as myopia, hypermetropia, refraction through a prism, depression of white light by a glass prism, refraction through the atmosphere, Tyndall effect, and Scattering of light are explained here as it helps students to understand how to cure people eye problems in their life.
Chapter 12 – Electricity (विद्युत )
Chapter 12 deals all about Electricity which we use in our day-to-day life. Having a better grip on all electricity concepts helps you understand the problems that you face in real life. Here in this chapter, you will learn the concepts of electric current, circuit diagram, potential difference, resistance, the combination of resistance, heating effects of current and electrical power, constituents of electricity, current flow in an electrical circuit, Ohm's law, resistivity, Joule's law, electric fuse, electric power.
Chapter 13 – Magnetic Effects of Electric Current (विद्युत धारा का चुम्बकीय प्रभाव )
Studying the magnetic effects of electric current is more important for students to know that Electricity and Magnetism are related phenomena. Practical applications – electromagnets, electric motor (magnetic effect of electric current), and electric generators (electric effect of moving magnets) are some of the important topics explained deeply in this chapter.
Chapter 14 – Sources of Energy (उर्जा के स्रोत )
NCERT Class 10 Science Chapter 14 Sources of Energy Solutions are explained here. The major concepts included in this chapter are as follows:
Ideal source of energy
Non-Conventional Sources of Energy: Solar Energy, Energy from Sea, Geothermal Energy, Nuclear Energy
Conventional sources of energy: Fossil fuels, thermal power plants, hydro-power plants
Renewable and non-renewable sources of energy and their availability in the long run
Bio-Mass and wind energy as major energy resources
On the other hand, this chapter also explains different forms of energy and their sources
Chapter 15 – Our Environment (हमारा पर्यावरण )
Knowledge about the environment that we live in is a must for all human beings not only students. So, this chapter completely deals with the importance of preserving the environment, ecosystem and its components, food chain, food web, waste management, biodegradable and non-biodegradable substances, a tropic level, biotic and abiotic components, producers, consumers, ozone formations & its depletion. Besides, the chapter also explains how to manage the garbage that humans produce
Chapter 16 – Management of Natural Resources (प्राकृतिक संसाधनों का प्रबंधन)
NCERT Solutions for class 10 science chapter 16 Sustainable Management of Natural Resources covers detailed information about different natural resources, their advantages, and conservation efforts. But, primarily the chapter concentrates on the following concepts:
Management of forests and wild-life
Management of fossil fuels; Coal and Petroleum
Natural resources and their management
Water harvesting
Dams
Unit-Wise Marking Scheme of CBSE Class 10 Science Term 2 Exam (Theory)
The unit-wise marks weightage list provided here is completely based on the latest CBSE Class 10 Science exam paper:
Unit
Name
Weightage
1
Chemical Substances-Nature and Behaviour
26
2
World of Living
23
3
Natural Phenomena
12
4
Effects of Current
14
5
Natural Resources
05
Total Marks
80
20 Marks will be Internal Assessment
FAQs on CBSE Class 10 Physics Chemistry Biology NCERT Solutions PDF
1. How students can find Solutions for NCERT 10th Science exercises questions online?
Students can find all chapters of NCERT solutions for class 10 science exercise questions online at NCERTBooks.Guru
2. How many chapters & what are there in the 10th NCERT Solutions Science?
NCERTBooks.Guru provided NCERT Solutions for Class 10 Science cover all the 16 textbook chapters. The list of all the chapters covered in the solutions of NCERT 10th std science are as follows:
Chemical Reactions and Equations
Acids, Bases, and Salts
Metals and Non-metals
Carbon and its Compounds
Periodic Classification of Elements
Life Processes
Control and Coordination
How do Organisms Reproduce?
Heredity and Evolution
Light – Reflection and Refraction
The Human Eye and the Colorful World
Electricity
Magnetic Effects of Electric Current
Sources of Energy
Our Environment
Sustainable Management of Natural Resources
3. Will NCERT 10th Class Solutions for Science PDFs be enough to score well in the board exam?
Yes, NCERT 10th Class Solutions for Science PDFs are enough to score high in the board exam. As it covers all chapters textbook and exercise questions with detailed solutions that clear all your doubts and improves your subject knowledge.
Conclusion
Students of Class 10 may also refer to the study materials like NCERT Class 10 Science Exemplar, NCERT Textbooks, NCERT 10th Science Syllabus as well as NCERT Solutions for Class 10 Science PDF at NCERTbooks.Guru for better preparation for exams. We believe this article has been helpful to you. If you have any questions, ask in the comment section below and we will get back to you at the earliest.