NCC Course Details: NCC stands for the National Cadet Corps, which works towards the empowerment of the nation's youth. The course encourages the aspirants into several productive activities that keep them away from any unconstructive forces. The interested candidates get a chance to get military training after completion of the NCC Course successfully. Here, you will get details about the eligibility criteria, fee structure, colleges, job profile, and the average salary that you can expect after completing the NCC Course.
A Brief About NCC Course Details
NCC refers to the Indian military cadet corps that offer the qualities of discipline and patriotism among aspirants. The course is available for the students where they are introduced with military training in small arms or parades. With the help of different competitions and practical knowledge of the outside world, it helps make a candidate confident. Moreover, students can add NCC to their learning and aptitude activities. The NCC course is available in both junior as well as senior wings. The students of the 9th to 12th class can join NCC in junior wings, and students after 12th can participate in high wings.
NCC Course Details
| | |
| --- | --- |
| Course | NCC |
| NCC Full-Form | National Cadet Corps |
| Eligibility | Citizen of India |
| Duration | Five years |
| Fee Paid | No |
| Starting Salary Offered | INR 10,000 – INR 20,000 |
| Employment opportunities | Reliance Security, SSC in the army, central industrial security force,  border security force, air force, and so on |
Subjects, Concepts in NCC Course
National integration and Awareness
Civil Affairs
Drill
Weapon Training
History of India and Defense
Adventure Training and Obstacle
Personality Development and Leadership
Social Awareness and Community Development
Field Craft and Use of Techniques
Environment Awareness and Conservation
Freedom Struggle and the Nationalist Movement in India
Civil Defense Organizations and their Duties/NDMA
Role of NCC during National Hazards
Traffic Control organization and anti-drunk driving
Also, Check
College List Offering NCC Course
Some of the leading colleges that offer NCC courses are enlisted following. The list, including the top colleges, makes it a stress-free task for you to select the most appropriate one that suits you best:
Jamia Milla Islamia, Delhi
Guru Nanak Khalsa College (GNKC)
Mahatma Gandhi College
Fergusson College, Pune
Jawaharlal Nehru University, Delhi
Kurukshetra University
University of Lucknow
Lovely Professional University
NCC COY Shivaji College
M.a. Block Mohindra College
Hansraj College
NCC Course Eligibility
The students applying for NCC must be citizens of India. The candidates applying for the NCC course should meet the medical standards prescribed by the college. After that, a physical examination is conducted, and the students have to clear that exam to get eligible for the course. Candidates with this eligibility can also get an opportunity to work in the Indian Military. Interested students can check How to Join NCC in India? on this page.
NCC Course Fee Structure
There is no fee for NCC if you get admission in Government NCC Cadets. However, you need to pay for an NCC uniform, belt, shoes, NCC cap, and many more. However, several colleges and schools may ask to pay for Annual Training Camp, parade, or other charges.
NCC Admission Procedure
There are several steps involved in the admission procedure of students as NCC cadets. It includes a medical examination and a physical examination. The students can be asked to perform a chin-up, sit-up, or any other physical activity. After that, there is a written test and then an interview. The students are required to pass this exam to get admission as an NCC cadet.
NCC Course Duration
The NCC Course includes three type certificates and requires five years to complete the certification course. Two years are required to get A Certificate, two years for a B certificate, and one year for a C certificate. A Certificate gets in school when students study in 9th to 10th class, B certificate after the two years in school, and then C certificate after getting B Certificate.
NCC Course Syllabus
| | |
| --- | --- |
| The NCC | Introduction, aims, and general information about NCC. The candidates acknowledge the major objectives of NCC. |
| National Integration and Awareness | It provides a sense of patriotism, secular values, and inspires aspirants to contribute towards the nation. |
| Civil Affairs/ Disaster Management | It educates students to assist civil administration regarding selective duties during disasters. It provides basic knowledge of civil defense organization, its duties, types of emergencies, and so on |
| Drill | It improves bearing, sense of discipline, smartness, general and words of command, attention, saluting at the halt, and so on |
| Weapon training | It provides elementary knowledge about rifles, firing, the lying position, trigger  control, stripping, range precautions, and so on |
| Adventure Training | It exposes candidates with various adventure activities like trekking, rock climbing, cycle expedition, and many more |
| Personality development and leadership | It aims to develop an all-round dynamic personality of the candidates. The aspirants acknowledge the factors influencing personality, self-awareness, self-confidence, effective use of time, social skills, and so on |
| Health and Hygiene | It provides basic information on health maintenance, sanitation, hygiene, physical and mental health, wounds and fractures, and so on. |
NCC Courses Job Profile
Several job opportunities are qualified with NCC as candidates can directly apply for the officer's entry in the defence. The aspirants applying for Government Jobs can get relaxation in all the exams like Bank PO exam, Civil Service Exam, and many more. The students can apply for the police service, Indian Army GD Branch, Government Homeguards services, and so on. Apart from it, the students can also check the following job profiles to select the most appropriate for them.
Short Service Commissioned Officer
Soldier Tradesman
Securities Services Operations
Back Office Assistant
Supervisor
Assistant Statistical Officer
Soldier Clerk
NCC Course Salary Offered
The average salary offered to the candidate with NCC certification is nearly INR 10,000 to INR 20,000. However, an NCC officer having about 4-10 years of experience can earn about 3-5 lakh annually. The salary rises with increasing time and experience.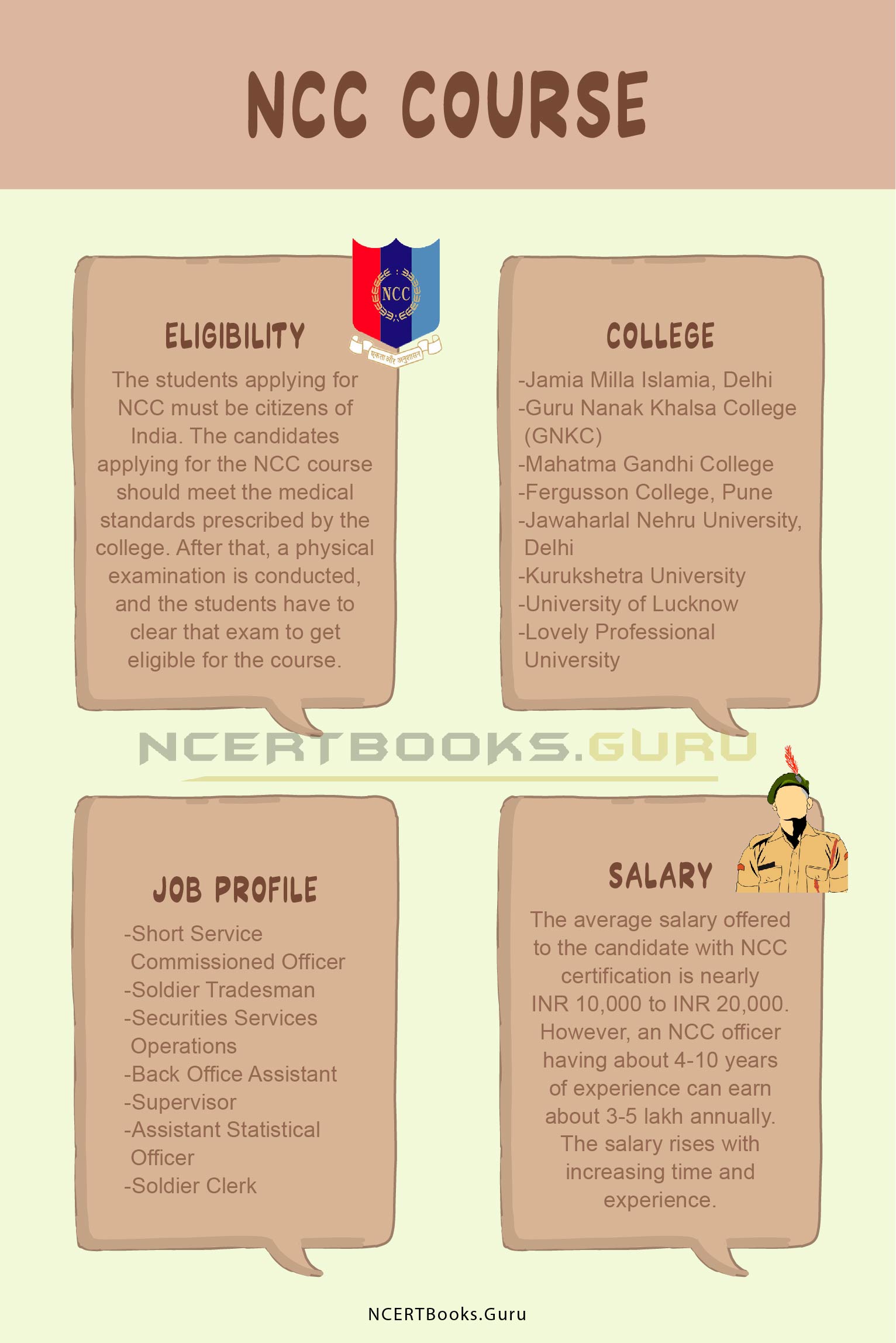 FAQ's on NCC Course Details
Question 1.
What is NCC about?
Answer:
NCC or National Cadet Corps is open for the learners of schools and colleges voluntarily.
Question 2.
Is there any age limit to join NCC?
Answer:
The minimum age of the candidate to join NCC is 13 years. Additionally, the maximum age of the candidate is 26 years to join NCC.
Question 3.
Can a student join NCC in class 9th?
Answer:
The students can join NCC in the 9th class as junior division. However, the students can join only from the government school.
Question 4.
What is the fee charged for NCC training?
Answer:
There is no fee to be paid for NCC training. It is because NCC is entirely a Government organization.
Summary of NCC Course Details
I hope that the information shared about the NCC Course Details is useful to you. Still, if you find any query, then you can write it in a comment section. We, as a team, will try our best to resolve all your doubts as early as we can.