How to Join Officers Training Academy: The Officers Training Academy, Chennai (OTA) provides training to officers of the Short Service Commission. It was founded in 1963. It is located about 15 km from Chennai, India, over 750 acres. There is a new academy at Gaya set up in 2011. The Army Officer Training Academy is a 49-week course that prepares graduates for all branches of the military except the Army Medical Corps.
It is part of the Indian Army. The academy here trains individuals to become officers in the Indian Army. As the only academy in the Army, both female and male cadets are trained together to become officers.
There are several ways for you to enrol in the Officers Training Academy. Entry just after the 12th standard is not permitted. In order to attend the officer training academy, one must have completed at least a graduation degree in any field from a government or nationally recognized university.
Refer to Course Details to know more about related courses and find details like Admission Process, Eligibility Criteria, etc.
Procedure to Join OTA
Officers of the Short Service Commission are trained here. Those selected for SSC in the Indian Army receive training here. It is possible to join the officers' Training Academy in four different ways. The following is a list of the entry requirements one must meet to be considered for the Officer Training Academy.
CDS Exam
Combined Defence Services Exam is held twice a year for men and women to join SSC Non-Technical Branch at OTA Chennai conducted by UPSC. The written exam must be passed first, and after that, you will only be able to proceed to the interview round. Following the interview, you will be required to participate in the medical exam. To be eligible for admission, you must have a B. Com, BCA, BA or B. Sc. degree. It must be from a recognized college or university.
SSC Tech Exam
You can also apply for the Officers Training Academy by taking the SSC Technical Exam. The SSC-Tech Entries are open to both men and women who are technical graduates. There is no written examination and all applications are shortlisted based on the cut-off percentage of engineering qualification exams. Your test marks will determine your selection. Aside from the interview round, you will also need to clear the medical round.
NCC Special Entry Policy
Candidates who have completed their graduation and possess an NCC 'C' Division certificate with a minimum 'B' grade, qualify for the NCC Special Entry. Selection will be made by an interview conducted by the SSB. There will be no Written Exam or Shortlisting criteria for NCC Cadets appearing for the SSB Interview. Candidates must be between the ages of 19 and 24 years old. They must possess a Bachelor's degree in Law or Law Master's degree with 50% aggregate marks, and have served two years in the senior division of the NCC.
Judge/Advocate Entry
A law graduate who has scored at least 55% can apply for this entry, both men and women. This short service commission course is only open to unmarried candidates. The entry is among the best to join the service. Selected candidates will be interviewed by the SSB. As part of the shortlisting process for the SSB, candidates will be selected on the basis of their graduation grades. Applicants must be between the ages of 19 and 26.
Life at Officer's Training Academy
While one is in training, one does not receive a salary. Cadet training expenses, such as Ration, Stay, Training equipment, and all other related expenses, are handled by the academy. As an added benefit, one also receives a fixed sum every month as a stipend. It is a great place to live, and the training period is very enjoyable. However, the training is challenging due to the fact that it is military training.
As a member of the Indian Army, you will undergo extensive training, like Basic and Advanced Military Training. Specialized training is also available in some cases. Special Training is only available to paramilitary members, commandos and other high-ranking soldiers.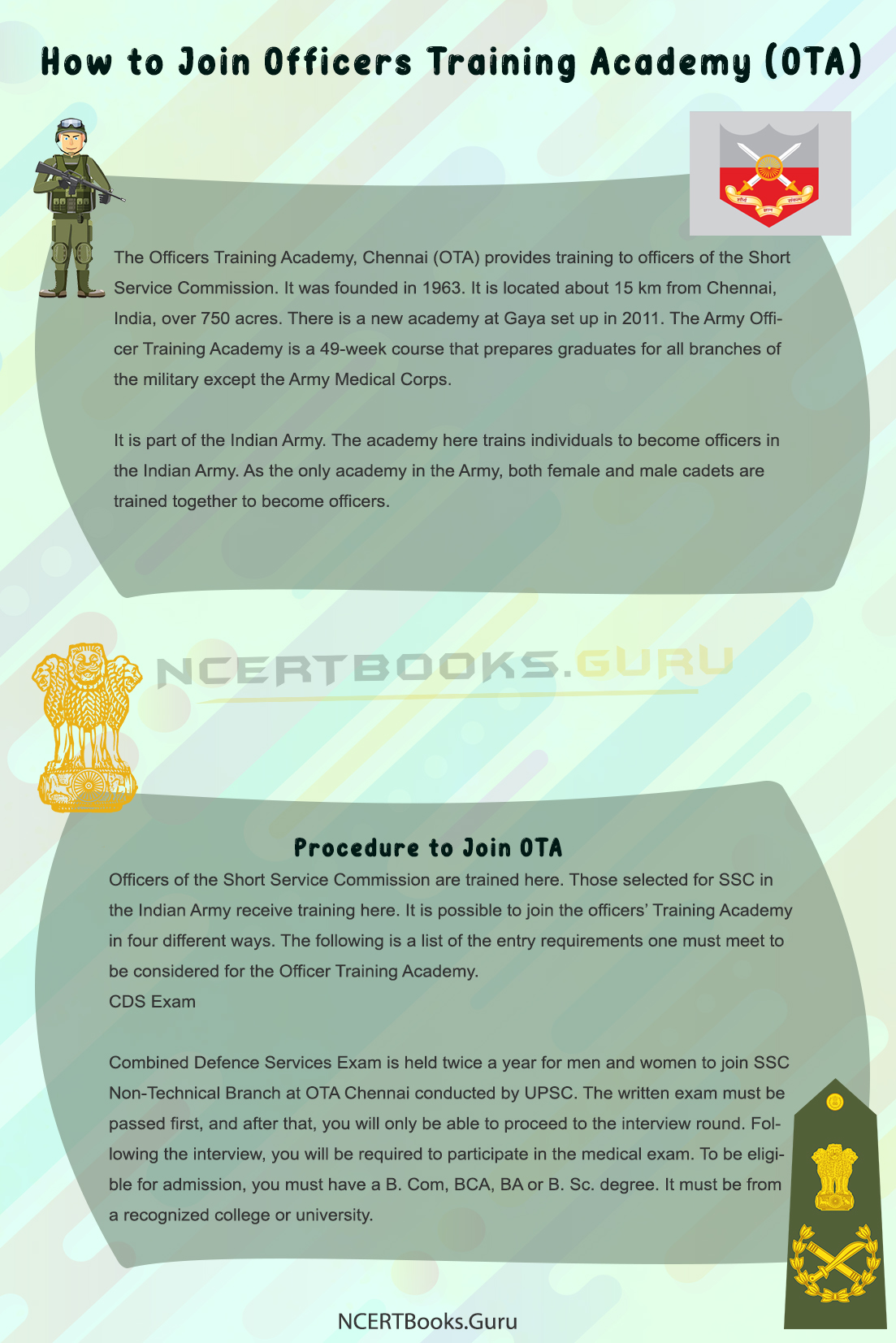 Conclusion
In order to join the Army, you should attend the officer's training academy. A training academy is a good place to begin. Other entries exist as well, but joining OTA is easier than joining CDS, NDA, TGC or any other entry. Everywhere you go, you will find tough competitors, so you must prepare thoroughly if you intend to win.