How to join NCC in India: The Indian Armed Forces' youth wing is known as the National Cadet Corps (NCC). The Indian Armed Forces are India's largest voluntarily recruited force. Likewise, NCC is India's largest uniformed youth organization. NCC is a voluntary organization with its headquarters in New Delhi. NCC membership is also accessible to college and school students.
The NCC has its own wing, just like the Indian Defense Forces. It has an Army, Air Wing, and Navy. In addition to learning about small arms and parades, cadets who join NCC receive military training. Although NCC cadets or officers have completed the course, they are not required to serve in active military service.
Refer to Course Details to know more about related courses and find details like Admission Process, Eligibility Criteria, etc.
About NCC
Listed below are a few facts and some essential information about NCC.
The motto of the NCC is Unity & Discipline, and the organization is dedicated to instilling in youth character, discipline, brotherhood, and an adventurous spirit.
Moreover, the NCC program aids in the development of leadership skills in youth and is sometimes considered a prerequisite for joining Indian Defense Services.
Skills obtained during NCC can also be applied in other areas of life and in other professions.
The National Cadet Corps was established under Act XXXI of 1948.
The NCC crest is encircled with Lotus flowers and is gold in colour. Blue, light blue, and red colours make up the background.
Role & Responsibilities of NCC
In spite of the difficulty of joining NCC, its goals are invaluable in a candidate's life overall. Listed below are some of NCC's aims for its participants.
To develop citizenship traits such as character, discipline, leadership, and selflessness in youth so that they can make valuable members of society.
To create a force of organized, trained and motivated people on all different levels, including the armed forces, that will be able to lead our country to its highest potential.
To provide young people with the ideal environment to pursue careers in the armed forces.
Eligibility to Join NCC
Listed here are the eligibility requirements for joining NCC.
There is a 13-year minimum age limit for the junior wing. The maximum age limit is 18 years old.
In order to be eligible for joining the senior wing, a candidate must be 24 years old.
The candidate must also be a citizen of India or Nepal in addition to the given age limit.
Applicants must be enrolled in a school since membership can only be obtained through schools.
To apply to the NCC, candidates need to meet prescribed medical standards.
The applicant should be able to prove that he has good moral character by providing a character certificate.
Reasons for Joining NCC
NCC members enjoy a variety of benefits. Here are some details.
An NCC is considered a very reputed body that acts as a second line of defence. NCC cadets get a lot of weightage when joining the Indian Defense Forces, so students who want a career there can benefit from the program.
There is an impressive learning curve at the NCC, which is affiliated with the Ministry of Defence. A membership bonus of Rs 700 is also available to the cadets.
The NCC provides candidates with very practical skills that are essential for their future. Skills such as discipline, dedication, honesty, and selflessness are essential. Participants of NCC have the opportunity to gain invaluable leadership abilities that they can use throughout their lives.
The NCC holds camps across India, so the candidate would have the opportunity to travel around the country.
Candidates will also be able to participate in parachuting and aviation courses, as well as arms training, paragliding and a wide array of adventure activities during their NCC training.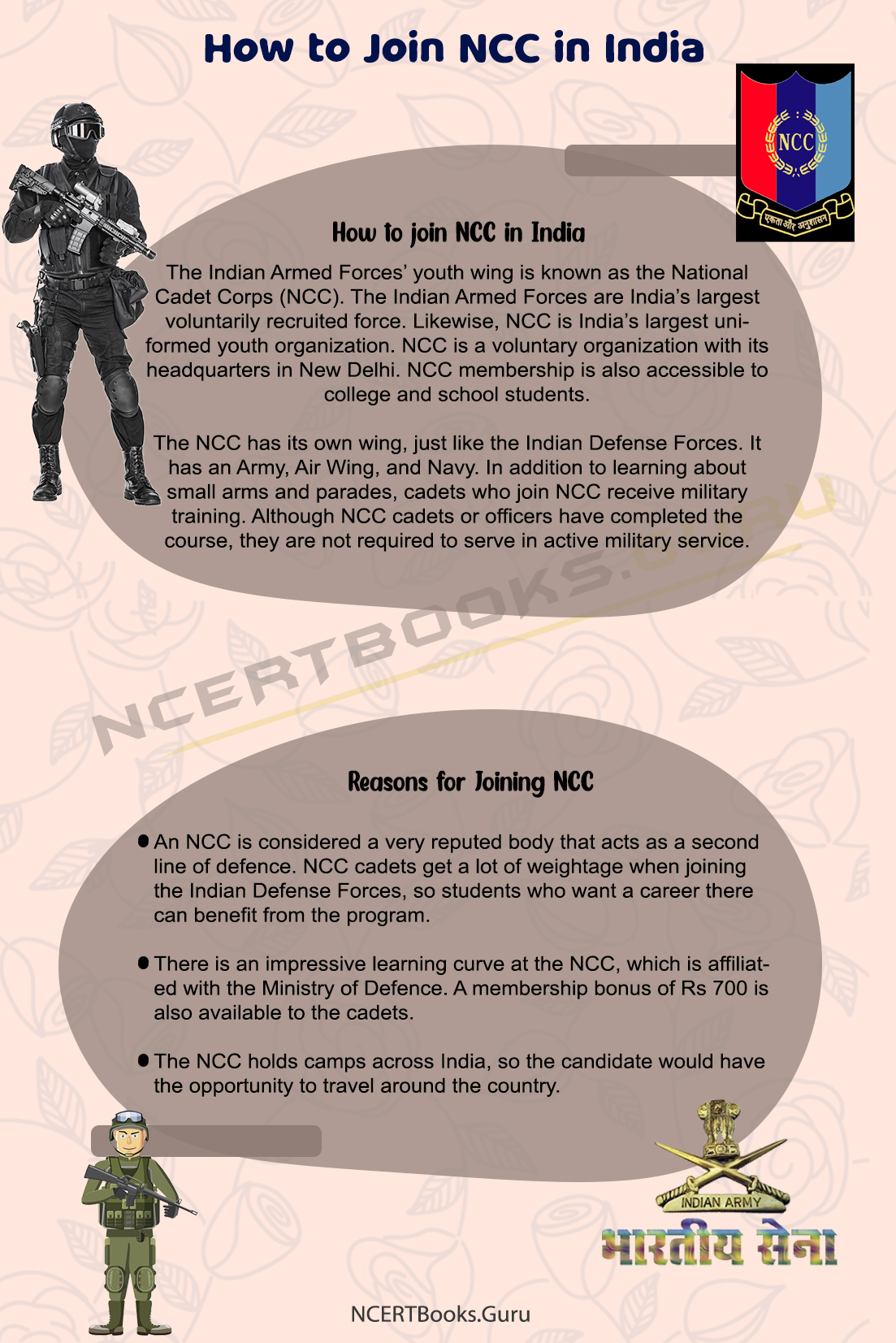 Conclusion on How to Join NCC in India?
NCC students gain impressive skills as a result of their training, which is without a doubt a very respectable organization. Among the reasons, parents enrol their children at NCC is the opportunity for them to learn different subjects. They gain a lot of knowledge and expertise at NCC owing to the type of experiences and exposure they are exposed to. During such programs, they are also taught survival skills that are essential to their well-being. This is a great opportunity and one should be diligent and give it their best shot at achieving it.