Mumbai University Courses: Mumbai University is a public university owned by the state government. Right from the diploma students can find the courses to Ph.D. in almost every stream. This article is very beneficial for you if you are interested in pursuing a degree from the University of Mumbai.
We are providing detailed information related to the University of Mumbai Course admission process, Mumbai university courses list, fees, eligibility, top recruiters, syllabus, part-time courses, distance courses, regular courses, and a lot more.
About Mumbai University Courses 2022
The Univerity of Mumbai is one of the oldest and top universities in India. It consists of three sub-campuses in Ratnagiri, Thale, and Kalyan, and the main campus is situated in Vidyanagri & Fort. The university is well known for its infrastructure and amazing departments in every stream.
It offers 200+ UG, PG, Doctoral, PG Diploma, and Certificate courses in every stream. The courses are offered for the Arts, Commerce, Science, Technology, Law, Management, Fine Arts, and many other fields. Thus, you can choose the best program for you among these ample choices.
University of Mumbai Courses: Overview
There are a few important points related to Mumbai University that every student needs to understand before taking admitted into the college. Here, in the below-mentioned table, you can find these key points.
Courses Offered

Certification
Diploma
M.A
M.Phil
M.Sc
PG Diploma
Ph.D.

Mode of Teaching
Online and Offline
Admission Process
Entrance and Merit-Based
AverageFees
Rs 5,000 to Rs 1,00,000
Salary Offered
Rs 4,00,000 to Rs 8,00,000
Top Collaborators (Companies)

Tata Consultancy Services
Deloitte
Cognizant
Capgemini
EY, and more
The course for Mumbai University varies according to tot the courses. You can find the detailed fee structure for the domains of courses available at the university. Here, we have provided the yearly and the total fees of the courses.
| | |
| --- | --- |
| Certification | ₹5,000 (Total Fees) |
| Diploma | ₹44,898 (1st Year Fees) |
| M.A | ₹34,405 (1st Year Fees) |
| M.Phil | ₹16,415 (Total Fees) |
| M.Sc | ₹11,325 (1st Year Fees) |
| PG Diploma | ₹8,000 (Total Fees) |
| Ph.D. | ₹21,720 (1st Year Fees) |
Mumbai University Eligibility Criteria
The eligibility criteria are quite different for all the courses. Here, get a brief description of the course-wise eligibility criteria.
| | |
| --- | --- |
| Degree Name | Eligibility Criteria |
| B.Sc. | An aggregate score of 45% in the 12th standard (40% for reserved categories |
| M.Sc. | Bachelor's degree (preferably in science stream) |
| M.Com | Bachelor's degree in commerce |
| M.Ed. | Minimum 45% in an undergraduate degree or 55% in bachelor of education |
| B.Com | Minimum 45% marks in 10+2 |
| B.F.A. | Minimum 50% in higher secondary school certificate examination (45% for reserved candidates) |
| M.Tech. | Minimum 60% marks in graduation degree |
| B.A.+ M.A. | Must pass HSC with a minimum of 50% marks |
| L.L.M | Bachelor's degree in Law |
| M.A. | Undergraduate degree in any discipline |
Certificate Courses at Mumbai University
The certificate courses are only for the short time. You can complete them in around 6 to 12 months. Thus, for the arts, science, and commerce students we have provided a detailed description of the courses in the below table.
Certificate Course in Primary Care Paramedics
Certificate Course in Pali Language and Literature
Certificate Courses in Accountancy
Certificate Course in Bioinformatics
Certificate Course in Voice Dubbing and Modulation
Certificate Course in Sensor Networks
More University Courses Related Articles: 
Mumbai University UnderGraduation Courses
The UG courses at Mumbai University are for 3 years. There are numerous courses in science, arts, and commerce such as B.Sc, B.A., B.com, BBA, and a lot more for the students. You can have a list of these courses here.
Science 
B.Sc. in Forensic Science
B.Sc. in Sports Management Degree Course
B.Sc. Mari-time Sciences
B.Sc.(Hospitality Studies) degree Course
Bachelor of Science (B.Sc.)
Bachelor of Science (B.Sc.) (Computer Science)
Bachelor of Science (Bio-Technology)
Bachelor of Science (Home Science )
Bachelor of Science (Information Technology) (B.Sc. I.T.)
Bachelor of Science (Nautical Sciences)
Bachelor of Science Programme in Aeronautics(Avionics)
Commerce
Bachelor of Commerce (Accounting & Finance)
Bachelor of Commerce (B. Com.)
Bachelor of Commerce (Banking & Insurance)
Bachelor of Commerce (Financial Markets)
Bachelor of Management Studies (B.M.S.)
Arts
B.A. Program in Film, Television, and New Media Production
Bachelor In Heritage Management (B.H.M.)
Bachelor of Arts (B.A)
Bachelor of Social Work (B.S.W.)
Bachelor's of Mass Media (B.M.M.)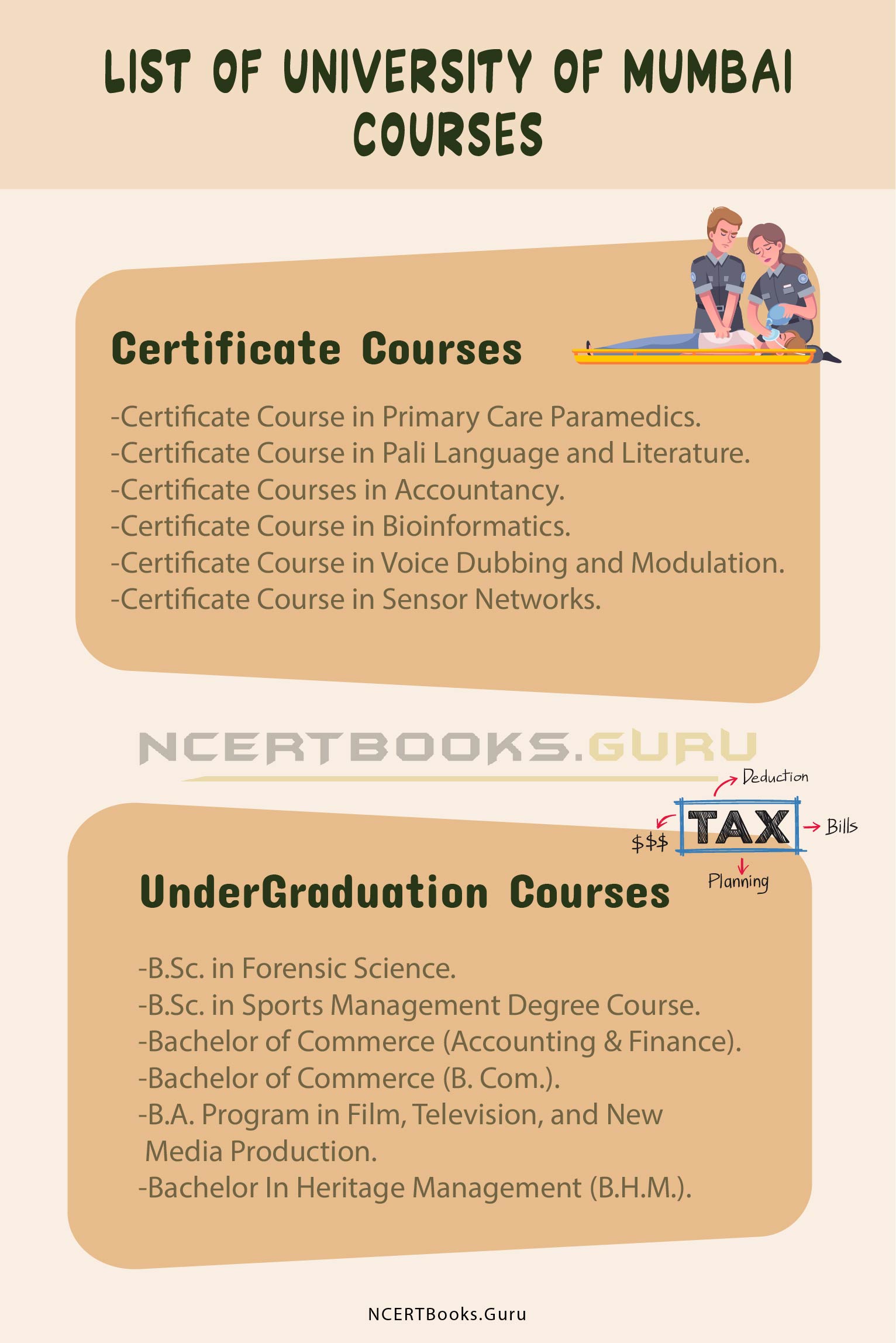 Mumbai University PG Courses
Students can find the list of top PG courses which are offered by the Mumbai Univeirtry. These courses can be completed in just 2 years. They are offered for the regular students.
Faculty Of Science 
M.Sc. (Biochemistry) By Research
M.Sc. Bioanalytical Sciences
M.Sc. (Home Science)
M.Sc. (Home Science) degree Course Sports Nutrition
M.Sc. Degree Course in Herbal Science
M.Sc. degree Course in Bio-analytical Instrumentation
M.Sc. degree Course in Bioinformatics
M.Sc. in Nano-Science and NanoTechnology
M.Sc. in Environmental Sciences
M.Sc. degree Course in Nutraceuticals
Arts
M.A.(Honours) in Sociology
Master of Arts (M.A.)
M.A. in Numismatics and Archaeology degree Course
M.A. Programme in Entertainment, Media, and Advertising
M.A.(Honours) in Politics
Commerce
Master of Financial Management (M.F.M. )
Master of Commerce (M.Com.)
Master of Commerce M. Com. (E. Commerce )
Master of Management Studies (M.M.S.)
Master's Degree in Marketing Management (M.M.M.)
The diploma courses offer you a practical description of the subjects. However, these courses are the key to the jobs just after completing them in a short time. You can have a detailed list of diploma courses by Mumbai university.
Diploma in Aviation Safety and Hospitality
Diploma in Marketing Management (D.M.M )
Diploma in Yogic Education
Diploma in Industrial Toxicology Course
Diploma in Indian Aesthetics
Diploma Course in Analytical Instrumentation
Diploma in Environmental Pollution Control Technology (D.E.P.C.T.)
Diploma in Cosmetics and Perfumery Technology
Diploma Course in Management of Education
Diploma in Systems Management (D.S.M.)
Diploma Course in Electronics
Diploma/Certificate Programmes
Diploma in Geography
Diploma in Aspects of Biotechnology
Also See: List of Courses after 12th Science, Arts & Commerce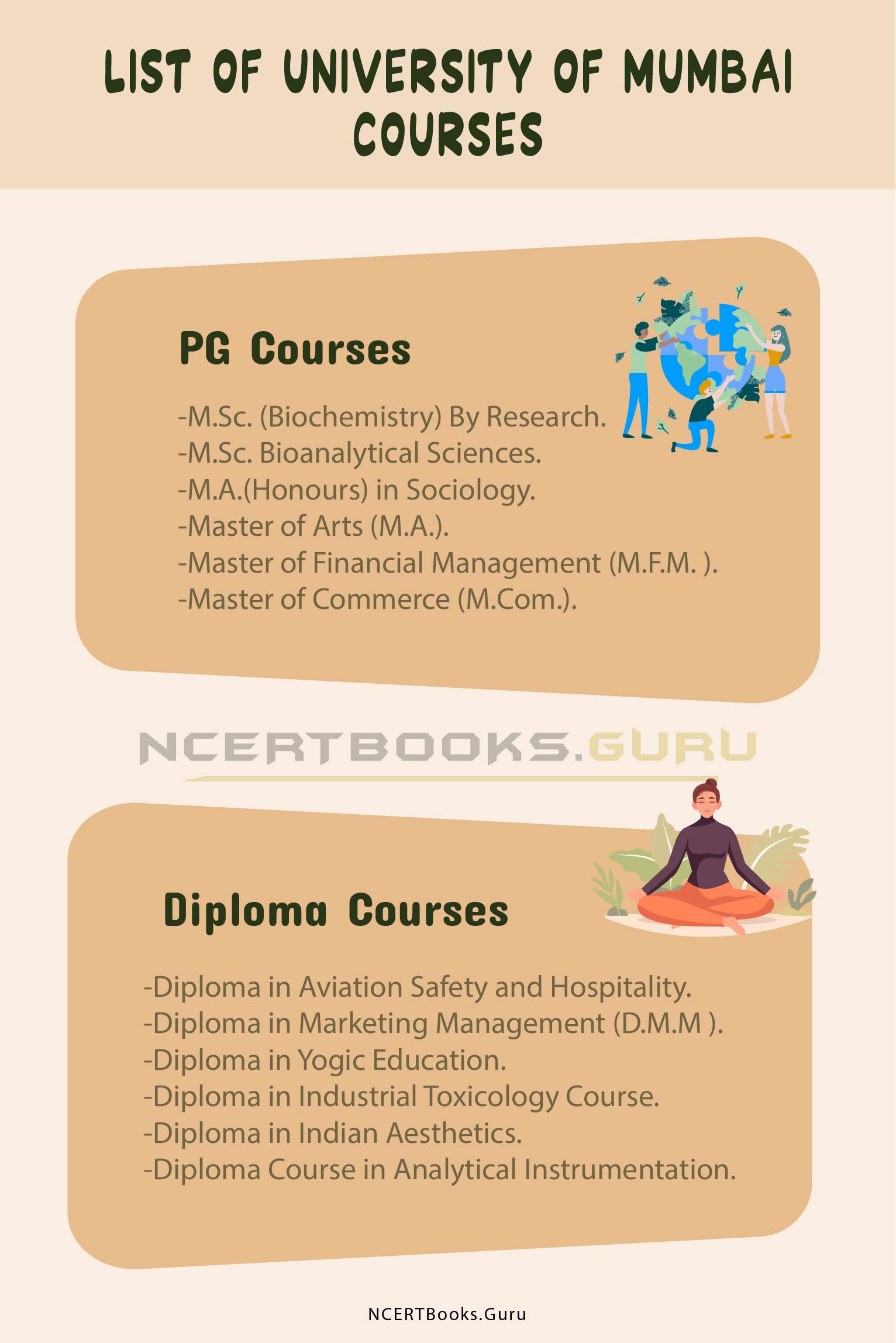 Mumbai University Courses Online
In this era of online technology, students can easily go for online courses. These online courses are offered by the colleges for the need of the students who are working or living far away. You can complete these courses according to your schedule and earn a certificate in the end.
Brand Management
Marketing Management
Mass Communication
Advertising
Journalism
Social Media Marketing
Mumbai University Courses Distance Learning
The distance learning department of Mumbai university plays an important role in students' life. You can pursue a master's, diplomas, bachelor's, and various other courses from distance learning. It offers you courses in all streams.
Here, you can find the detailed list of the open university of Mumbai courses.
Master of Commerce (M.Com.)
PGDFM
MA/M.Sc. (Mathematics)
PGDM
B.Sc (I.T.)
M.C.A.
Bachelor of Arts (BA)
Master of Arts (MA)
MA in Education
M.Sc (Computer science)
M.Sc (IT)
Bachelor of Commerce (B.Com.)
Ph.D. in Mumbai University Courses
To get admission into the doctoral degree course students need to appear for the UGC-NET, Ph.D. Admission Test (PET), or GATE entrance exam. Students must have secured a minimum of 50% marks in their graduation to be eligible for this course.
The below-tabulated information will give an idea about the Mumbai university courses offered for Ph.D. Courses in India.
| | |
| --- | --- |
| Faculties  | Popular Courses  |
| Faculty of Commerce and Management | Business Policy and Administration, Business Economics, Banking and Finance, and Business Management |
| Faculty of Humanities | English/ Economics/ Law/ History/ Social Work/ Sociology |
| Faculty of Inter-disciplinary Studies | Dance/ Education/ Fine Arts/ Music/ Physical Education |
| Faculty of Science and Technology | Computer Engineering, Botany, Computer Science, Physics/ Statistics, Civil Engineering, Chemistry, Mathematics, Electrical Engineering, and more |
Mumbai University Courses Admission Process
To get admission into the best university in India you need to follow up on these defined steps.
Step 1: Visit the official website of Mumbai.
Step 2: Fill out the application form and upload all the scanned documents such as class 10th and 12th mark sheet, photograph, signature, and other required documents
Step 3: Visit the campus after the release of the merit list.
Step 4: Pay the course fees.
Some More Related Articles:
FAQs on Mumbai University Courses Offered
1. What are the entrance exams conducted by Mumbai University? 
Mumbai University admits students through various national and state-level entrance exams. However, the few accepted entrance exams are MHT-CET/ NATA, GPAT/ GATE/ MAH MPH CET, and more.
2. Who are the top recruiting firms which arrive on campus for placement at Mumbai University? 
The top recruiting firms which recruit students of Mumbai Univerity are
Bank of Baroda
Bank of America
Tech Mahindra
Siemens
Flipkart
Tata Services
Times of India
Bombay Stock Exchange
3. Is it worthful to study at the Mumbai university? 
Yes, Mumbai University offers various career opportunities to students. Even after studying courses from the college, you can go for the MNCs too. Students can also look for a career in the government sector. The companies offer high salaries after studying for a degree from Mumbai University.
Wrapping UP
Mumbai University has a lot to offer in addition to the top courses. Studying at Mumbai University is still a dream for many. With the help of the above University of Mumbai courses article, you can get a detailed list of Ug Pg Ph.D. Diploma Online Distance Learning Courses offered by Mumbai university so that you can go towards your dream career.
If you require any counseling then feel free to reach us out through the comment section and do visit NcertBooks.Guru for more course details and career-related articles.