Landscape Architecture Courses Online: Landscape architecture courses are interesting. After completing this course when you will start working you will surely create a lot of impact on people's minds through your techniques. Various opportunities are created for landscape architects throughout the world.
The course can be pursued through various colleges in India and even the fees charged is minimal. However, you need to be clear with the minimum eligibility criteria for the program. If you are willing to understand the key details of Landscape Architecture then you are at the right place.
In this article, you will get detailed information about the course eligibility, top colleges, fees structure, job opportunities, top recruiting firms, and a lot more about the Landscape architecture courses in India.
Details About Landscape Architecture Courses in India
The course includes both scientific and art techniques. The main role of landscape architecture is to involve their art in the designing, planning, analyzing, and managing the environmental and outdoor projects. Thir work includes urban designing, outdoor planning, the building of parks, tourism developments, real estate planning, and more.
B.Arch Landscape Architecture Course teaches you the way to use technology, science, and artistic skills in the framing of the best infrastructures. Not only just the building you must also keep in mind the saving our environment.
Landscape Architecture Courses Admission Process
The admission process for the architecture courses involved a definite process. Some colleges give you admission based on your entrance test marks or the basis of your class XII result. However, the proper admission process for the required colleges will be known while you are taking admission. Some key points while taking admission into the colleges need to be remembered are:
After the result of your entrance exam, you will be called for further counseling sessions or the interview process.
Every college has its merit list through which they provide admission to the students.
Always fill in your authentic details in the application form once the form is filled it might be very difficult for your to change the details.
Do not rush for your admissions as there is a proper process that every student needs to be followed.
However, only the admission process is not sufficient you must know your eligibility criteria before applying to any college.
Landscape Architecture Courses Eligibility Criteria
The eligibility criteria run the same for almost all the colleges. But you will difference in their cut-off lists, as some keep them higher and some prefer to give chance to students with less aggregate.
You must have completed and cleared class 12th with a minimum aggregate of 50%.
In your class XII, you must have studied Physics, Mathematics, and Chemistry as important subjects.
Some institutes may ask about your age limit too but some may not.
You must have appeared in the entrance exams such as JEE, Nata, and more.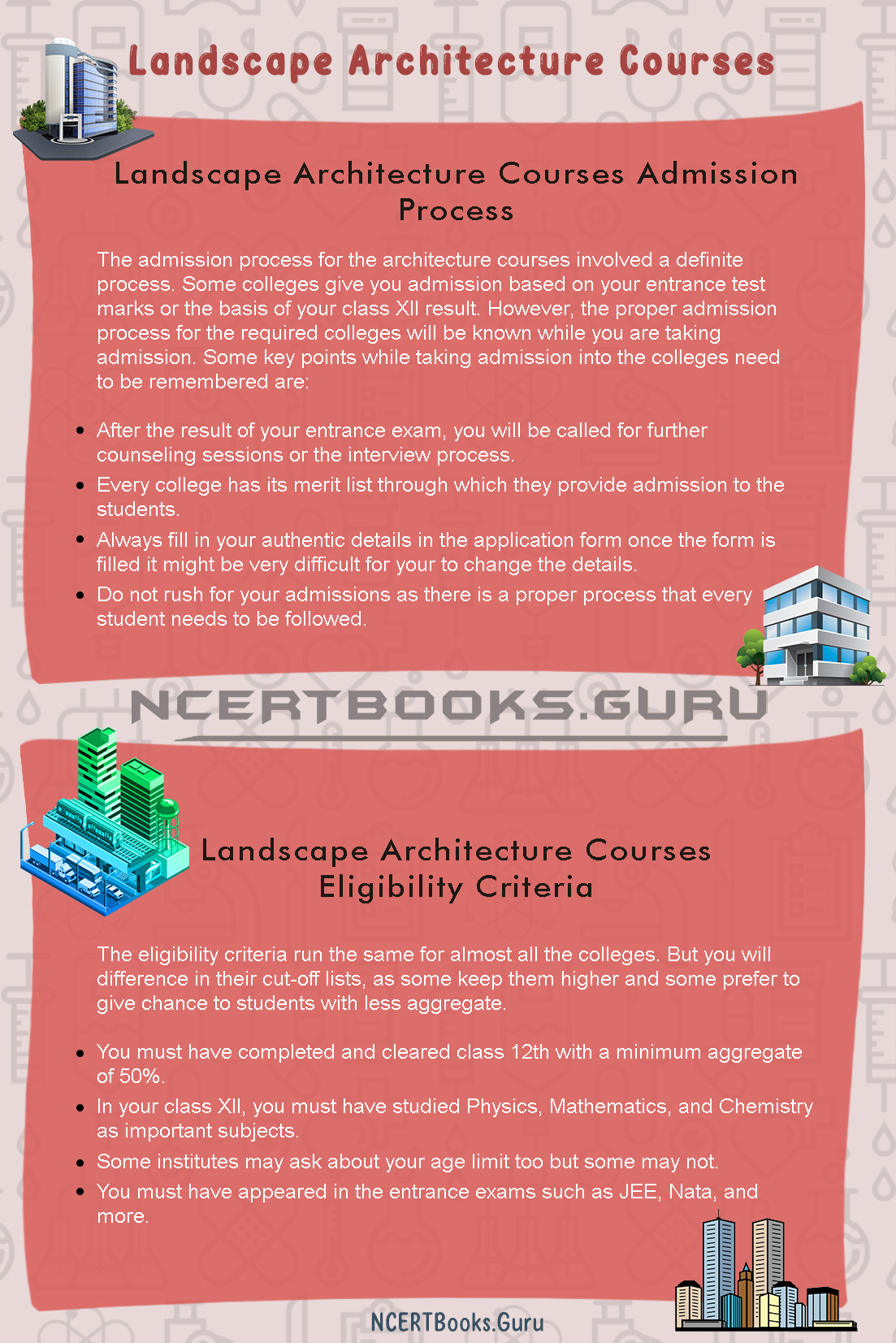 Entrance Exams for Architecture Courses
For the science courses, there are a few main entrance exams that are conducted at the national level. While taking admission in architecture courses you need to be cleared with a high percentage in those entrance exams to make your chances of admission. Some of these entrance exams may be
NATA
BITSAT
JEE Mains and JEE Advanced
few colleges that conduct their aptitude level tests.
Get to Know More about other types of Course Details Streamwise, and Category wise.
Degree in Landscape Architecture Courses
The degree courses are offered after the completion of your class 12th. You can take admission in the B.ASrch Architecture course to receive a degree in the same profile. The course is offered by various top-ranking colleges in India. It takes around 5 years to complete this degree. Also, you can complete the course in the range of between Rs 4 lakh to 7 lakhs.
Landscape Architecture Course Distance Learning in India
Landscape Architecture Course can be pursued in an online manner too. You can easily pursue this degree based on your class 12th marks. IGNOU is one of the leading colleges which offer courses, and you can complete them easily in 5 to 7 years.
Online Landscape Architecture Courses
There are online landscape courses also available in India. As in this era of the internet, you have ample opportunities to choose a course of your choice. There are various websites which are offering Online Landscape Architecture Courses for paid as well as free. Some of these are defined here along with their fees structure and duration.
Alison
Fundamentals of Landscape

Architecture and Site Planning

Diploma in Carpentry Studies

Rs 7,000 – 18,000
4-5 hours
Coursera
Making Architecture

Greening the Economy:

Sustainable Cities

free
1-3 months
edX
The Art of Structural Design:

Bridges Smart Cities

Rs 3,000-15,000
Open learning
Landscape Architecture Course Syllabus
The topics included in the Landscape architecture syllabus are mentioned here. However, you must keep in mind that the detailed topics vary accordingly to the college's curriculum.
Landscape Construction I
Research
Landscape Design III
Landscape Architectural Communications II
Development of Landscape Architecture in North America
Landscape Theory
Landscape Construction III
Geographic Information System Application in Resource Management
Landscape Design I
History of Landscape Architecture
Landscape Design II
Landscape Design V
Landscape Design VI
Directed Studies
Landscape Architecture Communications I
Introduction to Landscape Architectural Practice
Professional Practice
Landscape Construction II
Landscape Design IV
Top Landscape Architecture Colleges
The top colleges for landscape architecture are:
K. R. Mangalam University, Gurgaon
IIT Roorkee
Amity University, Noida
Lingaya's University, Faridabad
Sharda University
Bharath University, Chennai
Jawaharlal Nehru Architecture, and Fine Arts University, Hyderabad
Delhi Technical Campus
Accurate Institute of Management and Technology
NIT Bihar
Apeejay institute of technology
Manav Rachna International University
Job Opportunities After Landscape Architecture
Different job options for the candidates who have finished their Landscape Architecture Courses Online Free are listed here.
Landscape Consultant
Site Designer
Landscape Consultant
Landscape Project Manager
Landscape Architect
Senior Landscape Architect
Landscape Designer
Architect Manager
Landscape Architect Supervisor
Landscape Planner
Civil Engineer
Assistant Landscape Architect
Software Architect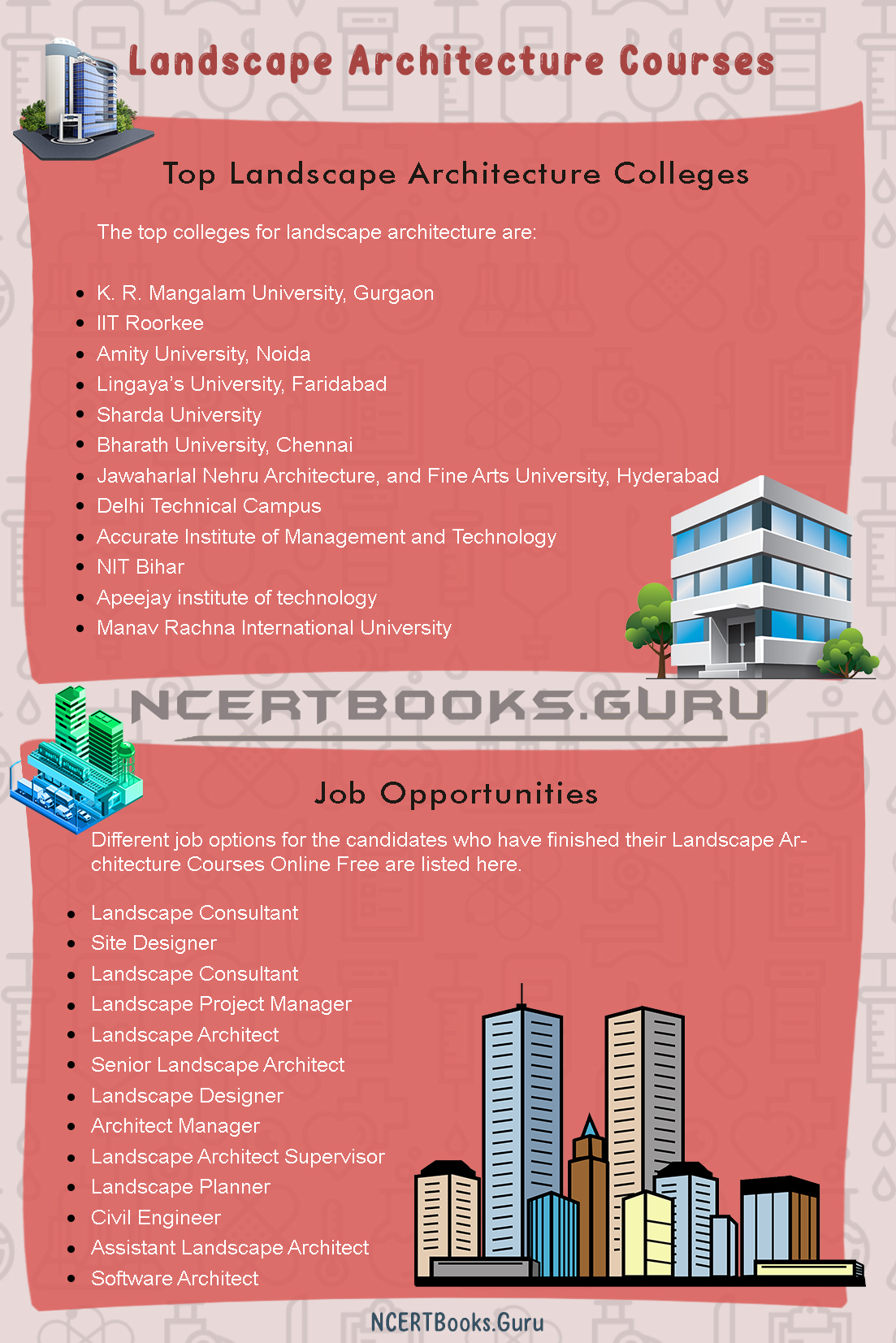 Top Recruiters of Landscape Architecture Courses
The companies which are willing to hire more for the landscape architects with a good salary structure are
Martin Recruiting & Consulting
Turenscape
David Brown International
Precision Executive Search
The Metzner Group
AECOM
Alliance for Public Gardens GIS
Resource Options, Inc
Also, See
FAQs on Architecture in Landscape Courses
1. Are Landscape Architects demanded? 
Yes, landscape architects are in great demand these days, Not only in India but after the completion of your course, you can get a job abroad. You can expect a salary of Rs 4 lakh to Rs 5 lakh after the completion of your degree.
2. Do I need any specific skills as a landscape architect?
Skills are required for every job profile. But for the profile in the landscape you need to be creative, have good communication skills, technical skills, mathematical knowledge, and visualization skills.
3. Can I get a license after my B.Arch in landscape architecture?
For the proper licensing it takes 5 to 7 years. As your bachelor's will get completed in 5 years, and then later you must practice for the pepper licensing. It also depends on the knowledge and skills you attain.
4. Can I work with the government sector after the completion of my B.Arch in Landscape Architecture?
Yes, various government organizations are recruiting landscape architects for the betterment of the country. So, you have a scope to be a government employee after the B.Arch in Landscape. But few entrance exams need to be clear for the same.
Conclusion
Landscape Architecture degree creates a great opportunity. You can easily pursue the degree at a minimal cost. We have included detailed information which surely helps you. However, to get more information on architecture courses you can visit our website Ncertbooks.guru. Also, you may ask your doubts here in the below comment section and we are open to suggestions.