ITI Courses After 10th: ITIs or Industrial Training Institutes are schools that an individual can enroll in after completing class 10th to get proper trading and certification for industry-based employment. ITI courses are great opportunities for students who wish to complete any technical course or specialization within a short period.
Courses offered in ITIs are usually short term and introduce the student to a very brief and practical knowledge of the subjects or training. These industrial trading institutes are established under the Directorate General of Employment and Training, Ministry of skill and development and Entrepreneurship and under the supervision of the Union Government.
Get to Know More about other types of Course Details in Stream wise, and Category wise.
ITI Courses After 10th Overview
The main objective of these industrial training institutes is to establish and develop a set of skilled workforce employees in the country. There are many ITI institutes across the country, both government and privatized that offer multiple ITI courses to suitable candidates. After successful completion of the course, the students are given the National Trade Certificate (NTC) by the ITIs.
By completing a course in an ITI, the student is now trained in vocational skills and can earn a living by working in the same field of work. The fees of the ITI Courses range from seven thousand per annum to twenty-five thousand per annum. The duration of ITI courses varies from 6 months, 9 months, one year or two years. After almost two-year ITI courses the candidate is eligible to obtain a diploma or any other certification degree for a vocational course.
Course duration depends on the type and nature of the particular course. There are two types of ITI courses list after 10th class:
Engineering courses
Non-engineering courses
ITI Course Eligibility Criteria
The eligibility criteria for ITI courses after 10th grade is as given below:
The student must have passed his/her 8th, 10th or 12th grade from the state-recognized or equivalent education board.
The minimum age for applying in an ITI course is 14 years.
The maximum age of a candidate who can apply for an ITI course is 40 years.
There is age relaxation for the reserved quota in the ITIs.
For most state government-run ITIs one needs to appear and qualify the various state ITI examinations.
ITI Course Benefits
After completing a course in ITI you will get more practical knowledge about skill as compared to any other student studying the same subject in theory. A course in ITI will also provide you with job security and minimum financial security and early job settlement. Also, ITIs are easily accessible and are spread all over the country.
Hence, the physical hindrance of distance is pretty much obviated out of the equation. Securing admission in an ITI is also not a difficult task, anyone fulfilling the eligibility criteria can secure an admission in an ITI in India. After completing an ITI course, a candidate can also obtain a polytechnic course certification.
List of ITI Courses After 10th
ITI Courses LIst After 10th class are mentioned here:
Tool and Die Maker Engineering
Draughtsman (Mechanical) Engineering
Diesel Mechanic Engineering
Pump Operator
Fitter Engineering
Motor Driving-cum-Mechanic Engineering
Turner engineering
Dressmaking
Information Technology & E.S.M. Engineering
Secretarial Practice
Machinist Engineering
Fruit and Vegetable Processing
Mechanical Instrument Engineering
Bleaching and Dyeing Calico Print
Electrician Engineering
Letterpress Machine Mender
Commercial Art
Instrument mechanic
Enhancing of radio and television
The mechanic of medical electronics
Laboratory assistant of chemical plant
Horticulture
Building maintenance
Architectural assistant
Refrigeration engineer
Hair and skincare
Weaving Technician
Crèche management
Fireman
Hospital waste management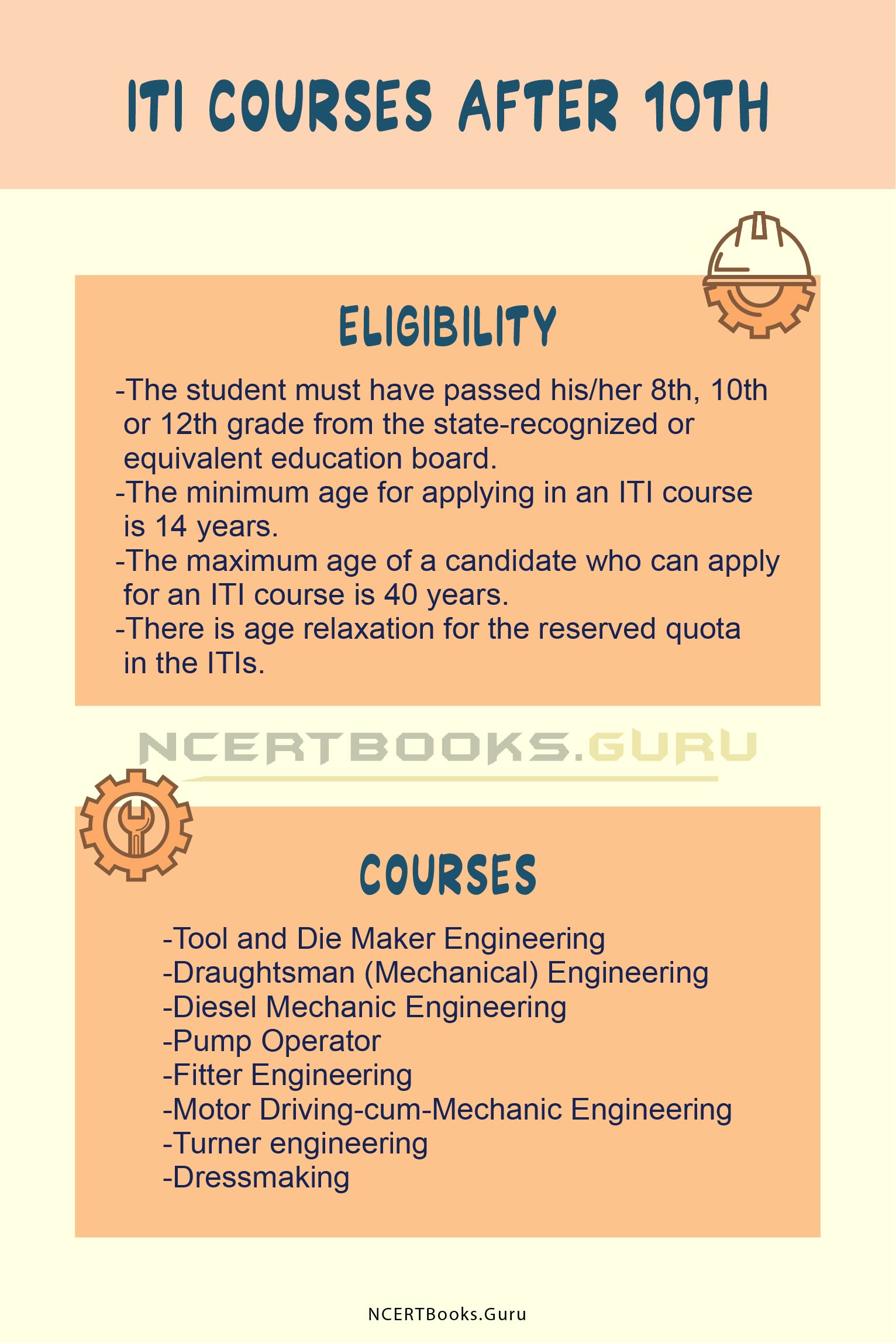 ITI Course Admission Procedure
ITI Courses After 10th Admission Process is not very complex. Both government and private institutes rely on merit i.e. the marks obtained by the student in class 10th or 12th to advance admission to a candidate.
Furthermore, some institutes also conduct entrance exams to select students. For most entrance exams the candidate has to apply online. Some private institutes in the country also have a direct admission process.
Also, Check
ITI Course Scope, Job Opportunities and Salaries
An ITI course provides students with industry-specific skills that help students get technical as well as non-technical jobs in the industry. Job profile and prospects depend on the course or trade that a person chooses to pursue.
One way or the other it is not difficult to land a job in the production unit of a company or a distribution unit or transport unit. The salaries after an ITI depend on the specialized degree that one holds but a salary of a minimum of 1.4 LPA is common.
Question 1.
Which are some popular ITIs in India?
Answer:
Popular ITIs in India are Gyan Ganga Polytechnic College, Kurukshetra; KI Industrial Training Institute, Delhi.
Question 2.
Can I get a bachelor's degree after doing an ITI course?
Answer:
No, you need to pass 10+2 before you can get a bachelor's degree.
Question 3.
What is the ITI course duration?
Answer:
The duration of an ITI course ranges from 6 months to 2 years.
Question 4.
Do multinational companies hire ITI certification holders?
Answer:
Yes, multinationals do recruit people with ITI certification for production and other industrial tasks.