Industrial Engineering Courses: It is a branch of engineering that deals in the subjects of engineering and management science. This field of study provides the optimization of complex engineering organizations and processes. It is one of the fields that deal in almost all aspects of engineering and its main aim is to provide adequate manpower and utilization of resources.
There are enormous job opportunities for the students who choose this as their career option. The role and responsibilities of Industrial; engineers are related to the design, planning, and optimization of production and manufacturing processes. This blog will guide you about all the information regarding industrial engineering course details like course duration, skills, admission procedures, colleges, fees, career scope, salary, etc.
What is Industrial Engineering?
Industrial Engineering is a vast study that offers you numerous diplomas, degrees, and post-graduate courses. Even the salary provided to industrial engineers is sound in nature. In India, various colleges offer these degrees.
To get more information on Industrial Engineering Courses read the below article.
Why Should I Study Industrial Engineering Courses?
There are Bachelor's, Diploma, and Postgraduate degrees available for the students who want to pursue their career in the same. Here are a few details related to Industrial Engineering:
Industrial Engineers work everywhere and they are capable of working in any field of knowledge.
This course will provide you with detailed knowledge about cost optimization, resource management, human management, and more.
Here, in this course, you will get to know about the production of units and their related aspects.
There are various fields related to industrial engineering at the bachelor's and postgraduate levels. For Example, you can opt for PG Diploma in Industrial Safety Management, B.Tech in Industrial Engineering and Management, and more.
Eligibility for Industrial Engineering Courses
The eligibility for the courses is different. Here, you can read the latest eligibility criteria for Industrial Engineering Courses.
Diploma

Class 10th qualification with minimum 60% marks
Clear GATE Exam

Graduate (B.Tech/B.E)

Pass Class 12 with a valid percentage
Pass JEE Advanced with a valid score for IIT
Clear JEE Mains with a valid score for NIT or CFTI.

PG Diploma

Graduation
Class 12
Clear the relevant exam or the specific university exam

Post Graduate (M.Tech/ME)

Regular and a full-time degree in the relevant field of engineering
Valid GATE score
Interview as prescribed by the university

P.hD

Valid percentage in Bachelors
Clear UGC NET/GATE/JEST/UGC – CSIR or relevant national exam
Clear personal interview with a relevant score
Industrial Engineering Certification Courses Specializations
There are various fields for Industrial Engineering. There are various specializations offered in the industrial field such as-
Production Engineering
Industrial Management
Industrial Safety Engineering
Operations Research
Industrial Electronics
Industrial Safety and Security Management
Fire Technology and Industrial Safety Management
Admission Procedure for Courses in Industrial Engineering
The Admission procedure for Industrial Engineering is almost similar to that of the basic Engineering courses that vary from college to college.
You are required to clear class 10th, 12th, JEE Mains, JEE Advanced, Bachelors according to the course you are choosing.
It is mandatory to have cleared class 10th and 12th with at least 60% marks for future admission in engineering courses.
Top Colleges Offer Industrial Engineering Courses in India
Numerous colleges offer Industrial Engineering Courses for diplomas, bachelor's, and masters. The admission procedure is quite different from college to college. Here, is the detailed list for college.
Diploma
| | |
| --- | --- |
| Colleges  | Courses  |
| Government Institute of Electronics Secunderabad | Diploma in Industrial Electronics Engineering |
| Government Polytechnic Kolhapur | Diploma in Industrial Electronics |
| Govt. Polytechnic College Bathinda | Diploma in Production and Industrial Engineering |
| Satara Polytechnic Satara | Diploma in Industrial Electronics Engineering |
| Government Polytechnic Bahraich | Diploma in Electrical Engineering Industrial Control |
Degree
| | |
| --- | --- |
| College  | B.Tech and B.E. Courses  |
| IIT Kharagpur | B.Tech in Industrial Engineering |
| College of Engineering, Trivandrum | B.E. Industrial Engineering |
| Ramaiah Institute of Technology, Bangalore | B.E. Industrial Engineering |
| College of Engineering, Guindy | B.E. Industrial Engineering |
| Pandit Deendayal Petroleum University, Gandhinagar | B.Tech Industrial Engineering |
| JSS Academy of Technical Education, Bangalore | B.Tech Industrial Engineering |
| Visvesvaraya Technological University, Belagavi | B.Tech in Industrial Engineering and Management |
| Bangalore Institute of Technology, Bangalore | B.Tech in Industrial Engineering and Management |
| Ramaiah Institute of Technology, Bangalore | B.Tech in Industrial Engineering and Management |
| Dayananda Sagar College of Engineering, Bangalore | B.E. in Industrial Engineering and Management |
| PSG College of Technology, Coimbatore | M.E. Industrial Engineering |
| IIT Delhi | M.Tech Industrial Engineering |
| College of Engineering, Trivandrum | M.Tech Industrial Engineering |
| IIT Bombay | M.E. Industrial Engineering and Operations Research |
| IIT Kharagpur | M.Tech Industrial Engineering and Management |
| NIT Trichy | M.Tech Industrial Engineering and Management |
Masters
Name of Institute
National Institute of Technology
Integral University
National Institute of Technology, Tiruchirappalli
Maharishi Markandeshwar University
IIT, Delhi, Mumbai
Amity University
Shri Ramswaroop Memorial University
KIIT
VNIT
Kamla Nehru Institute of Technology
GITAM Institute of Technology
Industrial Engineering Course Fees
The Industrial Engineering course fee for certificate degrees, bachelor's degrees, and master's is different. Also, for the private college, the fee is a little high as compared to the government colleges. The detailed description of fees is
| | | |
| --- | --- | --- |
| Courses  | Private Colleges (INR)  | Government Colleges (INR)  |
| Undergraduate | 88 k – 17.72 Lakhs | 16 k – 10.58 lakh |
| Post Graduate | 37 k – 4.20 lakh | 9 k – 10.83 lakh |
| Diploma | 10 k – 1.50 lakh | 5 k – 33 k |
Semester Wise Industrial Engineering Syllabus
The Syllabus for all the courses such as Bachelor's and Masters is described below. You can check the syllabus for Industrial Engineering in detail.
Bachelors in Industrial Engineering
Semester-I
Semester-II
Semester-III
Semester-IV
Expository English Composition
Calculus
Interdisciplinary Technology and Society
Engineering Mechanics
Graphic Fundamentals
General Chemistry
Mechanics and Thermal Physics
Manufacturing Processes
Introduction to Engineering
Research, Critical Inquiry, and Critical Writing
Semester-V
Semester-VI
Semester-VII
Semester-VIII
Ergonomics
Differential Equations
Data Analysis
Electrical Engineering
Fields and Waves
Thermodynamics
Engineering Economy
Fluid Mechanics
Mechanics of Materials
Matrix Algebra
Masters in Industrial Engineering
Sem. I
Sem-II
Sem. III
Sem IV
Advanced Production Planning and Control
Ergonomics
Systems Analysis and Simulations
Organizational Behaviour
Project Management
Reliability Engineering
Enterprise Resource Planning
Project Work Stage 2
Marketing Management
World Class Manufacturing
Service Marketing
Research Methodology
Software Engineering
Security Analysis and Portfolio Management
Industrial Engineering Laboratory (Project)
Software Laboratory
Project Work Stage 1
Industrial Engineering Subjects 1st year
The subjects taught in the industrial course are not the same in every college. But the basic subjects are the same.
Semester 1
Maths
Chemistry
English
Electronics
Mechanics
Engineering Graphics
Electrical Engineering
Manufacturing Process
Semester 2
Physics
Maths
Data Structure
Basic Programming
Mechanical Engineering
Graphics
Manufacturing Process Advanced
Semester 3
Economics related to Engineering
Costing and Accounting
Operations Research
Information Systems
Breadth
Semester 4
Productions Economics
Work System Design
Operations Research Advanced
Breadth
Semester 5
Machine Learning
Tools and Machining
Breadth Advanced
Quality Design
Quality Control
Facility Layout and Design
Semester 6
Simulation software
Casting, Forming
 Welding
 System Management
Breadth Advanced
Semester 7
Product Development
Training and Internships
Project Work
Semester 8
Optimization Methods
Heuristic Methods
Project Work
Training and Internships
Masters
Manufacturing Engineering
Machine Learning
Computer-aided Manufacturing
Financial Engineering
Engineering Economics
Materials and Operations Management
Product Development
Operation Research and Optimisation
Production Planning and Control
Robotics
Quality Control
Time and Motion Study
Logistics
Skills Required for Industrial Engineering
These days companies are more oriented towards the skills of their employees. Without proper skills and training, it is not possible to perform practical tasks. Thus, to be a good Industrial Engineer, you must hold the following skills:
You must have basic knowledge about engineering subjects and management-related concepts.
You must know the authentic and unique ways to apply the Identity Service Engine in the field of production, product, stats, and more.
Should know logistics, cost management, project development, value stream, warehouse management system, and more.
However these days it is necessary for the employer to have basic computer skills related to Microsoft.
Do Check: 
Career Scope After Industrial Engineering Degree
Industrial Engineering is the topmost course in today's world. The students who choose this course have enormous opportunities to build their careers in the same way. Here are the job profiles which you can choose after this course.
Production Manager
Manufacturing Engineer
Quality Assurance Engineer
Quality Engineer(Automotive & Industrial Supplier)
Senior Product Quality Engineer
Process Engineer
Automation Engineer
Metals or Oil Gases
Automation Technician(Robotics)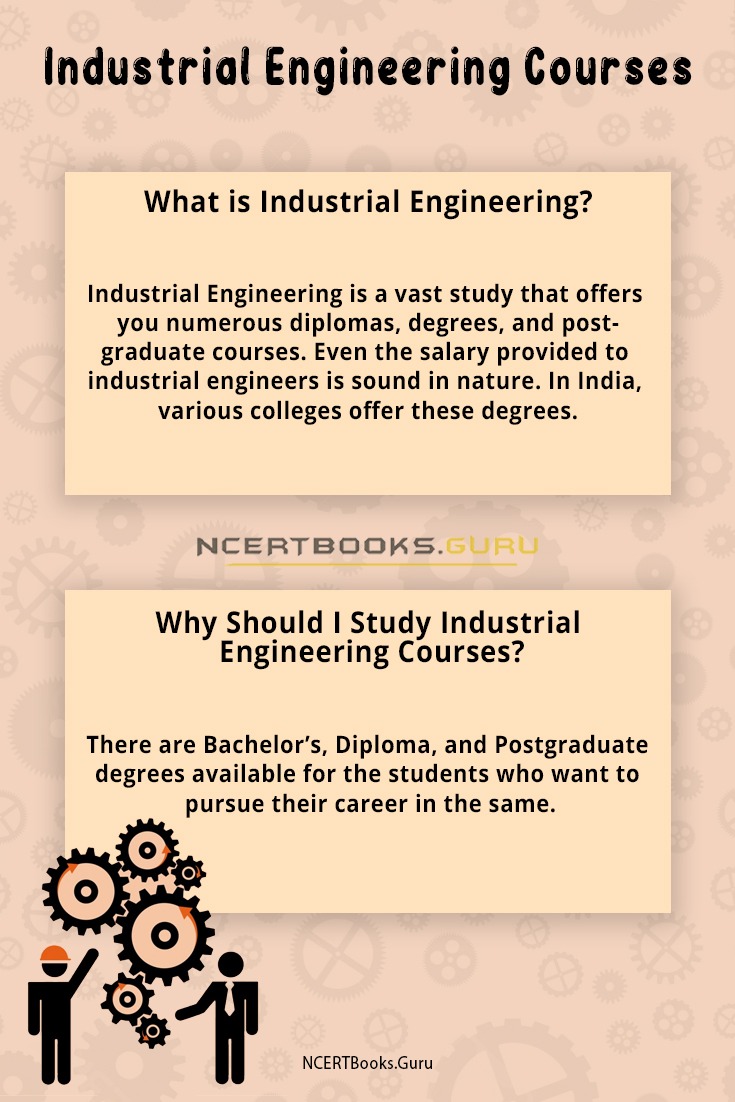 Industrial Engineering Top Recruiters
Industrial engineers are required in every company with a sound salary. But here are the top recruiters who conduct bulk-hiring for industrial engineers.
Tata Consultancy Service (TCS)
Siemens
Tata Elxsi
Schneider Electric
HCL Technologies
Welspun Group
EY
Unilever
Godrej and Boyce Manufacturing
Salary for Industrial Engineers in India
The average salary for industrial engineers in India is INR 4.5 LPA. In the beginning, they are offered an average pay of INR 28,700. But according to the different posts, the salaries are identified. Also, their salaries are affected based on their skills.
FAQs on Free Online Industrial Engineering Courses with Certificates
1. Who are the top recruiters for Industrial Engineers? 
L&T Technology Services Limited, Boeing, Caterpillar Inc., Unilever, Trelleborg Group, ABB Limited, Tata Projects, Siemens Energy, Aditya Birla Chemicals, are the few recruiters for Industrial Engineers.
2. What is the job profile for Industrial Engineers? 
For industrial engineers, there are jobs in logistics engineering, manufacturing engineering, production, forecasting, among many others.
3. Is Industrial Engineering a good career? 
Yes, of course, it is a good career option. As they are required in various fields such as management, production, reduction of cost, and more. They are the key people in the organizations. Thus, it is for sure that by 2030 the growth in job opportunities for Industrial Engineers will be faster than the average for all occupations.
Conclusion
We have provided detailed information regarding the Industrial Engineering Courses. You may visit our official website Ncertbooks.guru for more information on undergraduate and postgraduate courses. Also, feel free to ask your queries in the comment section regarding industrial engineering & others like engineering courses after the 10th or 12th.