ITI Courses List: ITI stands for Industrial Training Institutes. Pursuing an ITI course shapes you with essential vocational skills. Several ITI Courses and colleges are present in India, where you can enroll after passing your class 12th Board Examination.
One can pursue various ITI Courses such as certificate level and vocational training courses under DGET and the Union Government of India.
Admission to the various ITI courses in India is made based on merit. Having completed the ITI course in particular disciplines, one can enroll for a diploma in engineering. The candidates can also join various Advanced Training Institute (ATIs) that offer short-term specialized courses in particular disciplines.
The decision to pursue and enroll for an ITI course is a secure one. The demand for such people is high in the market, and the salary is also feasible.
Get to Know More about other types of Course Details Streamwise, and Category wise.
Duration of ITI Courses
The usual length of the ITI Courses ranges from a period of 6 months to 2 years. Depending on the kind of ITI course opted for and the curriculum followed as per DGET and ITI norms, the course's span varies. It takes no more than two years to qualify.
Types of ITI Courses
ITI Courses list after 10th has two broad sub-branches. Those branches can further be divided into appropriate subdivisions.
Non-engineering Courses: The non-engineering courses are not technical. These include –

Soft Skills
Languages
Industry-specific skills.
ITI Courses Eligibility Criteria
The eligibility criteria for the ITI courses vary from course to course. However, generally,
Those candidates can apply who have passed the 12th standard.
Some courses also take in candidates who have completed education till the eighth or tenth standard.
Here we have provided an extensive list of the various ITI Courses that you can take up after completing your 12th standard.
Engineering Courses
Instrument Mechanic – 1 year.
Architectural Assistant – 1 year
Marine Fitter – 1 year
Multimedia Animation and Special Effects – 1 year
Radiology Technician – 2 years.
Computer Hardware and Networking – 2 years
Mechanic Lens and Prism Grinding – 2 years
Dental Laboratory Equipment Technician – 2 years
Architectural Draftsmanship – 2 years
Computer Operator and Programming Assistant – 2 years
Physiotherapy Technician – 2 years
Mechanic Agricultural Machinery – 2 years
Non-engineering Courses
Computer Operator and Programming Assistant – 1 year
Stenography English – 1 year
Stenography Hindi – 1 year
Insurance Agent – 1 year
Library and Information Science – 1 year
Catering and Hospitality Assistant – 1 year
Creche Management – 1 year
Interior Decoration and Designing – 1 year
Desktop Publishing Operator – 1 year
Plastic Processing Operator – 1 year
Mason – 1 year
Health and Sanitary Inspector – 1 year
Travel and Tour Assistant – 1 year
Human Resource Executive – 1 year
Basic Cosmetology – 1 year
Call Centre Assistant – 1 year
Old Age Care Assistant – 1 year
Health Safety and Environment – 1 year
Marketing Executive – 1 year
Craftsman Food Corporation – 2 years
GoldSmith – 2 years
Surveyor – 2 years
Other ITI Courses to Pursue
Draughtsman Civil
Electrician
IT and Electronics System Maintenance
Mechanic Motor Vehicle
Refrigeration and Air Conditioner Mechanic
Tool and Die Maker
Machinist
Turner
Painter
Weaving Technician
Foundryman Technician
Spinning Technician
Wireman
Auto Electrician
Firemen
Automotive Paint Repair
Vessel Navigator
Automotive Body Repair
Cabin or Room Attendant
Paralegal Assistant
Hospital Waste Management
Spa Therapy
Leather Goods Maker
Dairying
Carpenter
Food and Vegetable Processing
Fire Safety and Industrial Safety Management
Preparatory School Management (Assistant)
Institution Housekeeping
Cane Willow and Bamboo Worker
Dent Beating and Spray Painting
Marine Engine Fitter
Mechanic Diesel
Interior Decoration and Designing
Front Office Assistant
Corporate Housekeeping
Data Entry Operator
Medical Transcription
Domestic Housekeeping
Rubber Technician
Steno Hindi
Weaving (Silk and Woollen Fabric)
Laboratory Assistant
Steward
Secretarial Practice
Lift and Escalator Mechanic
Health Safety and Environment
Agro-Processing
Mechanic Mechatronics
Mechanic Auto Electrical and Electronics
Marine Fitter
Electroplater
Office Assistant Cum Computer Operator
Food Beverage
Hence there is a vast array of ITI Courses from which to choose. You can select and pursue any one of them depending upon your skills and interest.
ITI Course Fee
ITI Course dee is Rs. 1000 to Rs. 9000 for ITI Engineering trades and Rs. 3,950 to Rs. 7,000 for ITI non engineering trades.
ITI Courses Admission Procedure
The admission procedure for applying in the ITI courses commence from the month of April-May every year.
The admission procedure varies from state to state.
Some institutions grant admission based on merit; others conduct an intermediary entrance examination.
Andhra Pradesh
There is no provision for online application
The candidates have to fetch an application form from the ITI Vijayawada campus
The form can be downloaded from the official website and printed as well.
The filled-up application form needs to be submitted in ITI Vijayawada
After the application process is closed, a merit list will be released based on which admission will be conducted.
Bihar
An entrance exam is conducted.
The Combined Entrance Board of Competitive Examinations in Bihar (BCECEB) conducts the examination
ITICAT (Industrial Training Institutes Common Entrance Test) is the name of the entrance exam test.
Admission is made based on the score and rank obtained in the test.
Kerala
Director-General of Employment and the State Board of Training conducts the admission for ITI Courses.
Admission does not happen on the basis of an entry-level test.
Access is made after application and based on merit.
Delhi
The Department of Training and Vocational Education conducts the admission process for ITI Courses in Delhi
There is no entrance examination
Admission is based on merit.
Maharashtra
The Department of Training and Vocational Education is responsible for conducting ITO admissions in Maharashtra.
Uttar Pradesh
Rajya Vyaavasaayik Prashikshan Parishad is the department which conducts the ITI admissions
No entrance test examination
Entry based on the candidates' merit.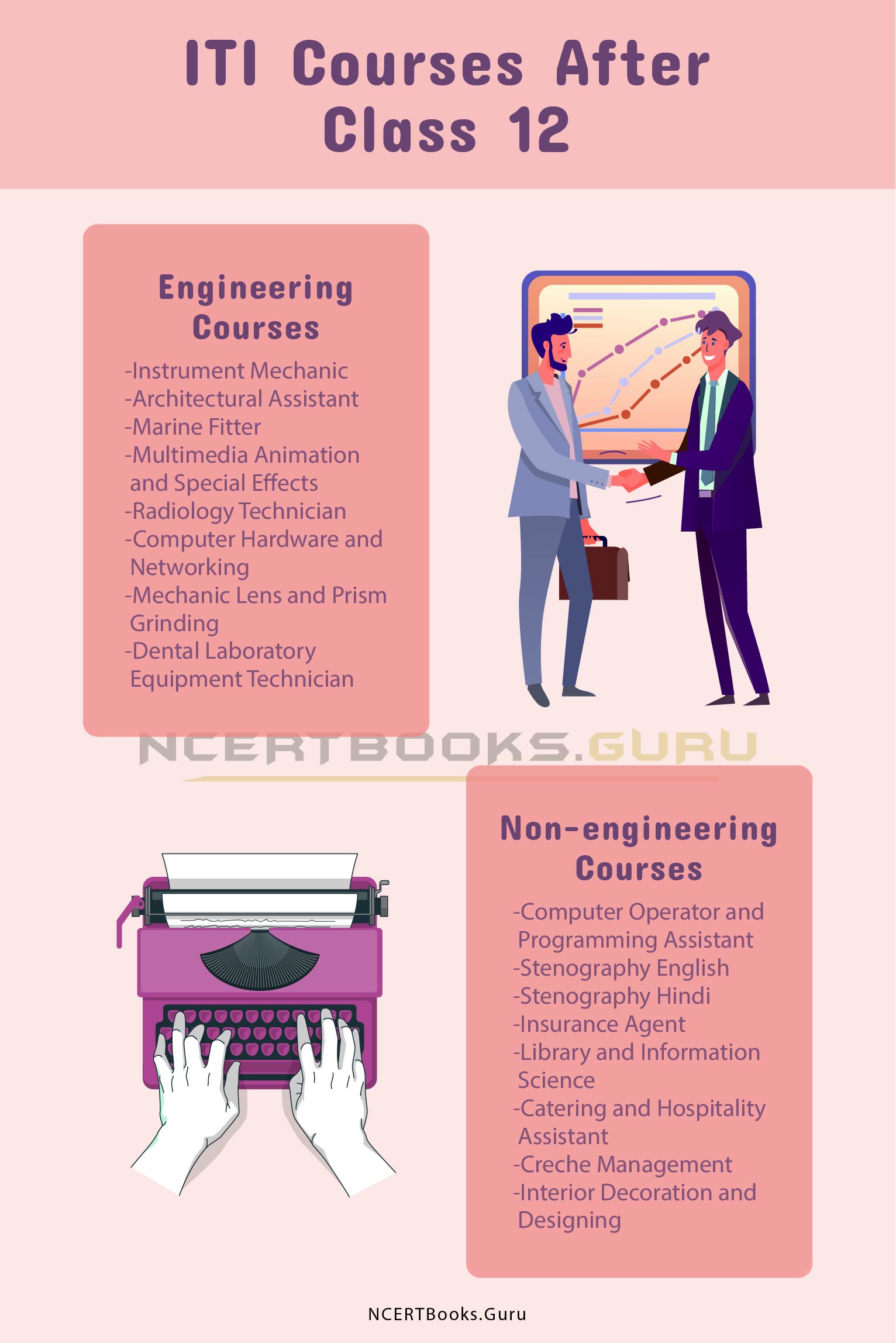 ITI Courses Career Opportunities
After completing the vocational and coursework training, the candidates have to clear the written AITT (All India Trade Test). After qualifying, they can take up their jobs and other career prospects.
The job opportunities are numerous. Candidates are trained to take up jobs that are both industries specific and non-industry specific.
The job opportunities depend upon the candidates' skills, talents, and qualifications.
FAQ's On ITI Courses
Question 1.
When can one enroll for ITI Courses?
Answer:
The candidate can apply for the ITI Course after having passed the class 12th board Examination. Candidates who have completed their class 8th and 10th examination can also enroll for a few of the ITI Courses.
Question 2.
What are ITI courses?
Answer:
Industrial Training Institute Courses are also known as ITI Courses. These courses train and specialize in vocational skills and knowledge. These courses are usually of two kinds – engineering and non-engineering courses. While the former is technical, the latter is non-technical.
Question 3.
What is the ITI Salary range?
Answer:
The ITI Salary for a candidate depends on course-to-course. It also depends upon the person's skills and talents. It can range from INR 12,000 per month to INR 500000 per year.
Question 4.
Are ITI courses worth taking?
Answer:
Yes. Pursuing an ITI course is always beneficial. It entails many benefits. Qualifying with an ITI degree ensures early job settlement and secure employment. The candidate does not have to study a regular 3-year duration of the Undergraduate course. Furthermore, the candidates can apply for the courses at a very early stage – they can enroll in them after completing class 12, and sometimes after grade 8 or level 10.