How to Write a Recommendation Letter: A recommendation letter is a formal document written by a higher position person in any field and helps someone who needs a job. It is a big responsibility to recommend someone for a particular position. In the letter of recommendation, you have the possibility to describe the characteristics, capabilities, and qualities that make them the right person for a particular opportunity.
A recommendation letter notifies a hiring manager or admissions office of their strengths and weaknesses, eventually helps them in making a final decision in the selection process. Here, we have explained what is recommendation letter, how to write it. Also, you can explore tips for writing one, template, format, sample & examples to guide you while writing a letter of recommendation.
However, you may also find more Formal and Informal Letter Writing Topics from our site & get familiar with the styles of writing letters for various situations.
How to Write a Letter of Recommendation?
Whenever you write a letter of recommendation, it should be professional, relevant, and personalized. Below are some steps to follow to create an adequate recommendation letter:
Follow standard formal letter writing rules
Begin with a brief opening line praising the candidate
Describe the letter's intent
Mention why the candidate is a good fit for the job
Present specific examples and anecdotes
Write a closing statement
Add a professional closing and signature
Proofread for grammar, spelling, and formatting errors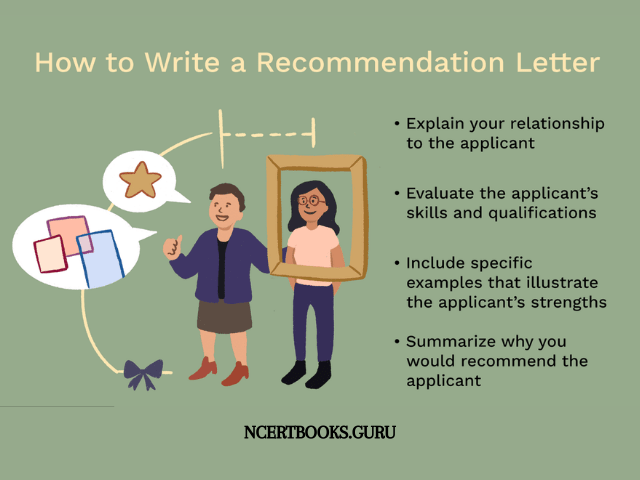 Recommendation Letter Format
The format of the recommendation letter covers the details given below:
Name and Contact Details: The Sender's & Recipient's Address needs to be recorded on the top left corner of the page. The address should be accurate and complete so that the recipient can get in touch with you further.
Date: Simply write the date on which the letter is going to be drafted. It should be written after writing th contact details. It is necessary as the formal letters are kept in records.
Salutation: Leave one line after the date and write your salutation whether you know the recipient or not. In case you don't know the name of the person so use this salutation 'To whom it may concern' or 'Dear Sir/Madam', and if you know the person's name then 'Dear followed by name of the person'.
Body of the letter:  Next to the salutation leave one line and begin the body of the letter. Start writing the body of the letter with the abilities, characteristics, subject matters, and different resources of the individual you are suggesting.
Closing the Letter: End the recommendation letter by summarising why you think the individual would be a good fit for the opportunity.
Signature: You should mention your phone number or email address or a phone number in the part of the signature and end the letter.
Email Template of Recommendation Letter
The following Recommendation Letter Template Image will guide you to write a perfect recommendation letter in an email format: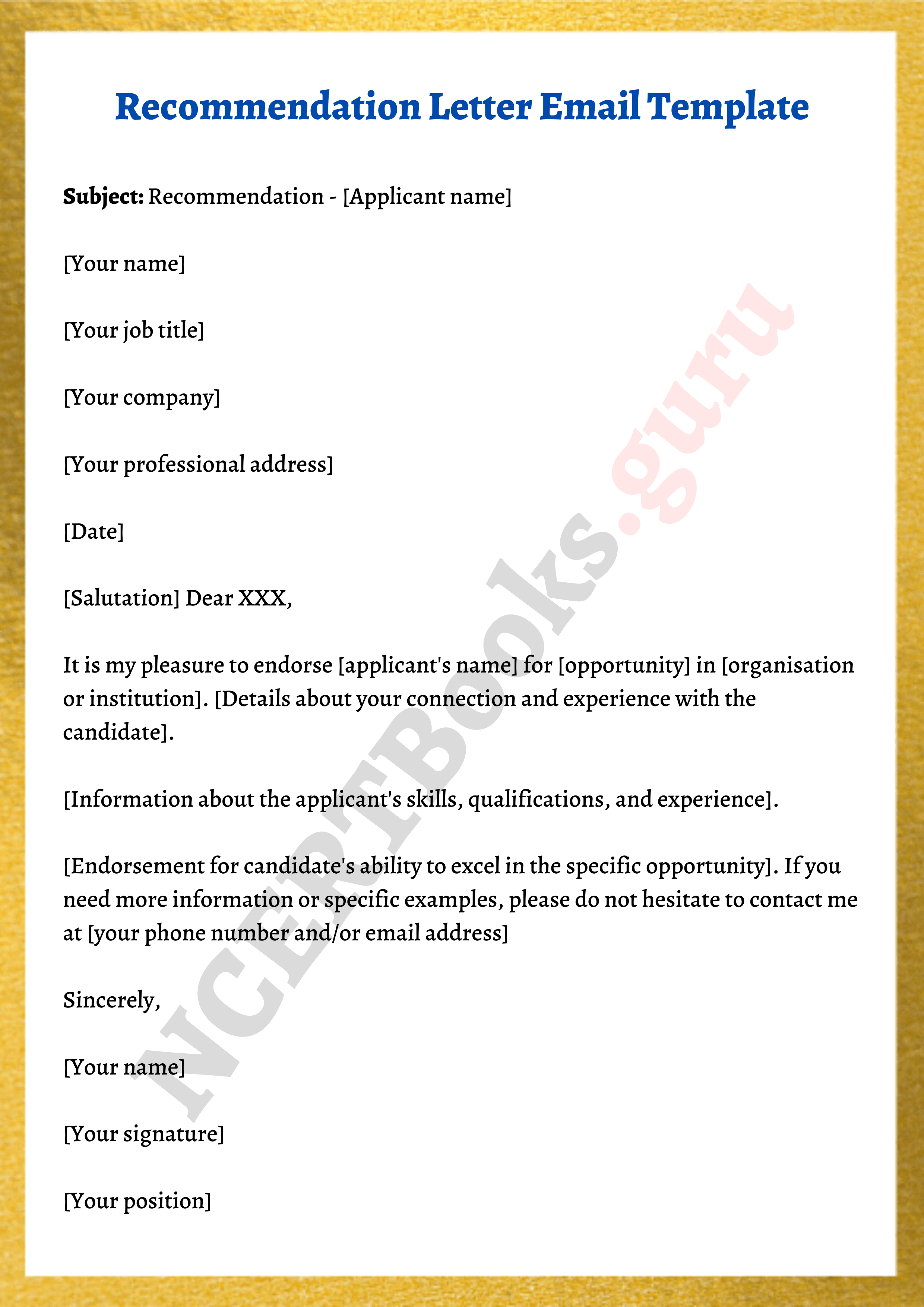 Samples of Recommendation Letter
Here are few example samples of recommendation letter where you can use and make your own letter by referring to them:
Recommendation Letter for Students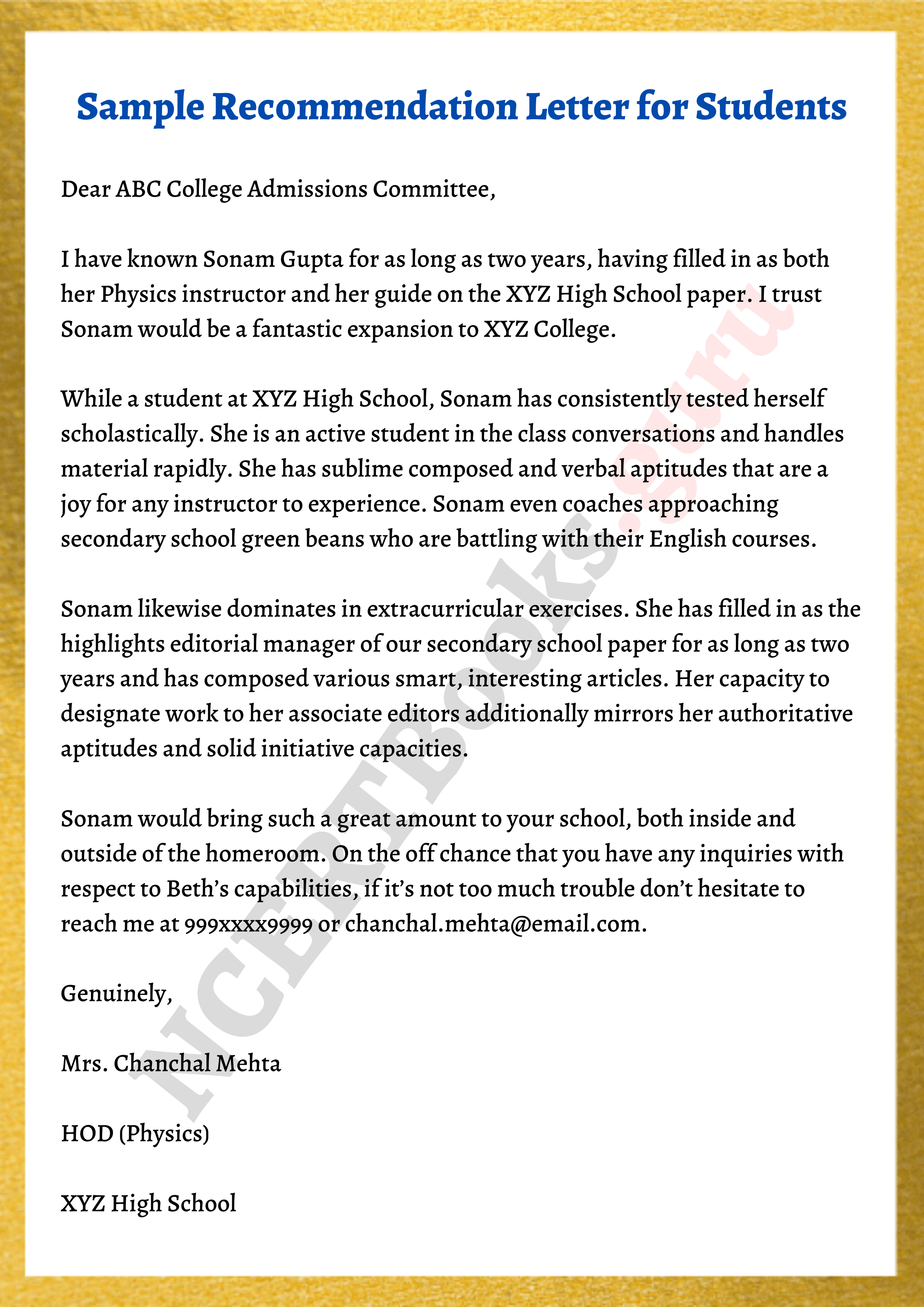 Recommendation Letter for an Employee by Manager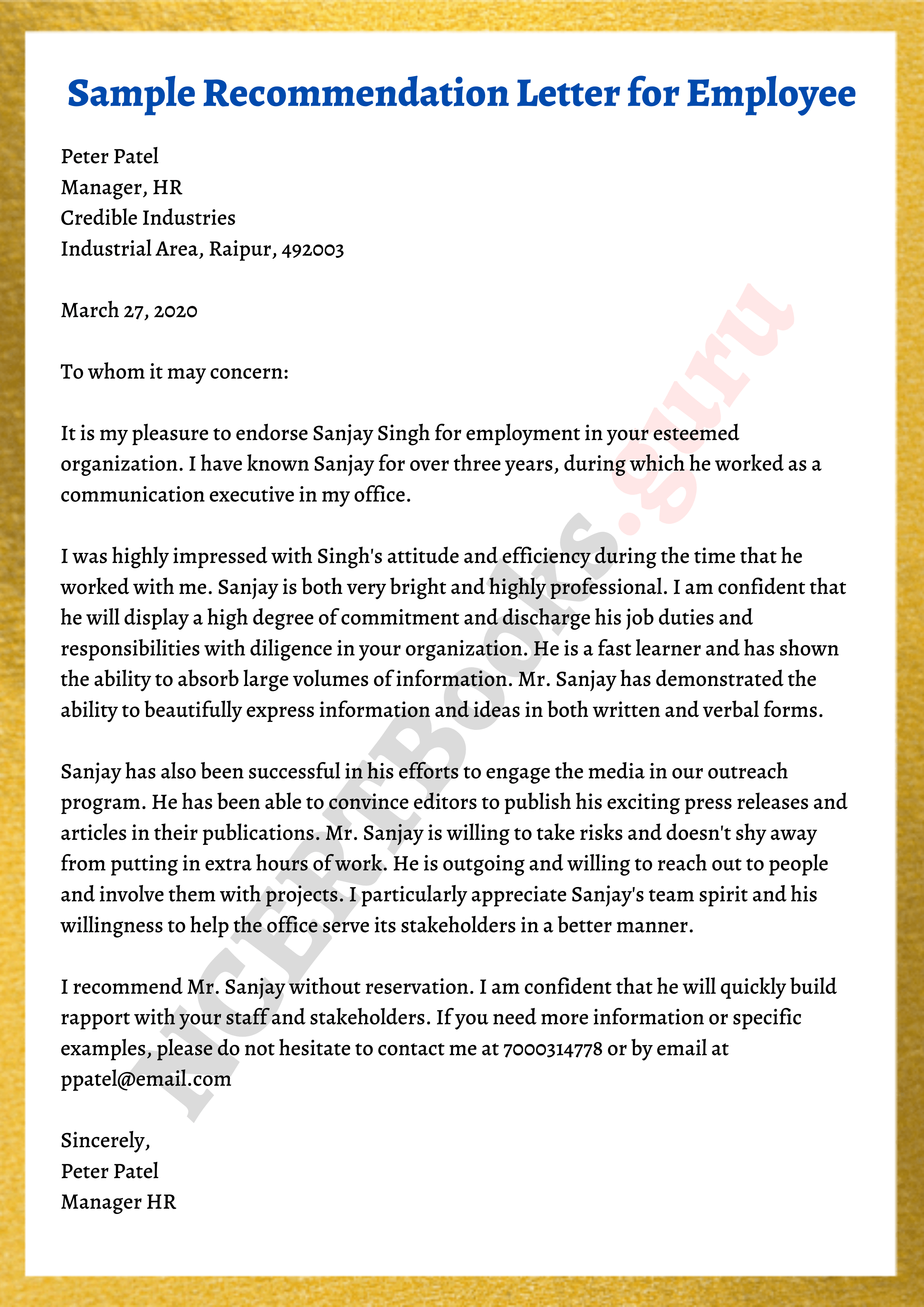 Writing Tips for Recommendation Letter
Below are a few tips to aid you all in drafting an effective recommendation letter:
Address the recommendation letter on your letterhead with your initials on it.
Write a recommendation letter by highlighting the candidate's achievements, qualifications, skills, and educational background.
Spend more time with the candidates and understand their level of performance, goals, and objectives.
Also, make use of this letter for future reference.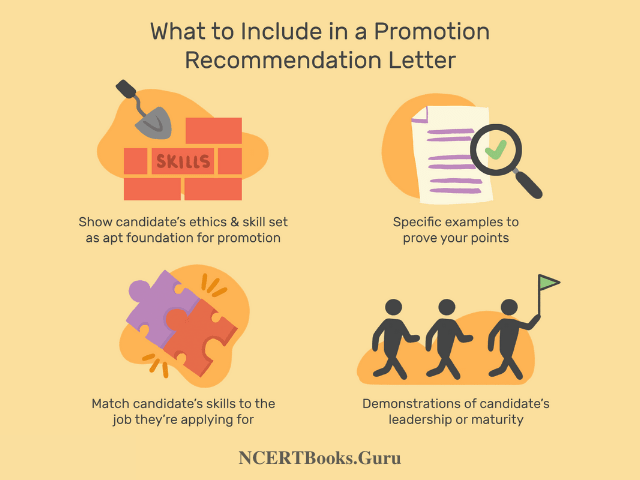 FAQs on Recommendation Letter Writing
1. What is a Recommendation Letter?
A recommendation letter is a formal letter written by someone who can recommend an individual's work or academic performance to the hiring person.
2. What to include in a promotion recommendation letter?
Here are some important points to be verified and included in a promotion letter of recommendation:
Candidates ethics & skill set as apt foundation for promotion.
Match aspirants skills to the job they're applying for.
Demonstrations of candidates leadership or maturity.
Particular examples to prove your points.
3. What is the format for a letter of recommendation?
Following is the format of recommendation letter:
Date.
Dear Sir/Madam.
State who you are recommending and for what.
Describe the capacity in which you know them.
List their most applicable qualities/traits.
Conclude by confidently recommending them.
Yours sincerely.