How to Become NSG Commando in India?: Are you someone who dreams of becoming a Commando in India? But you are not aware of how to become an NSG Commando. In this article, we will guide you on how to become NSG Commando in India.
NSG or National Security Guard is a Federal exigency global level force which is a group to deal with the anti-terrorist inclusion in all the manifestations. NSG's major ethos is lead from the front, attack with zero error and accuracy, speed, and power is their trademark. NSG works under the administration of the Ministry of Home Affairs (MHA). National Security Guard Personnel are also referred to as "the Black Cats".
Roles and Duties of NSG Commando in India
The major duty of NSG Commando is to hold command of counter-terrorism such as taking counter of hijacking on land, water and air.
 NSG has also undertaken the duty of handling bomb disposals such as IEDs neutralization, detection and search. They also take part in the investigation of the bomb blast.
NSG commandos are also given grounding for Hostage Rescue.
NSG Commandos are further classified into various categories such as
SAG or Special Action Group: Special Action Group is the major strike wing that is responsible for offensive strikes. The candidates that enter into SAG enters exclusively from the Indian army. The major duty of the Special Action Group is to handle counter hijacking missions and counter-terrorism.
Special Ranger Group (SRG): Special Ranger Group is responsible to give protection to VIP/VVIPs.The Commandos deployed in this group are taken from the Indian Army, Central Armed Police Force(CRPF) and the State Police.
Special Composite Group (SCG): The formation of the SCG group is to perform counter-terrorism activities in 5 regions of the country-Mumbai, Chennai, Hyderabad, Kolkata, and Gandhinagar.
See More:
Eligibility Criteria to Join NSG
Candidates must have done Graduation in any particular stream or specialisation.
Only Indian Citizens are eligible to take part in NSG.
Candidates that are part of the Indian Armed Forces and have cleared UPSC's CDS and CAPF examination or any other state selection process are eligible to become NSG.
A Candidate must have to be a part of the Indian Army and should have to serve in the Indian Army for 3 years. If you are a candidate for the Police force, then you must have served over there for 5 years.
Age limit-To join any of the categories of NSG, the participant must have to be less than 35 years of age. NSG does not give any relaxation to any candidate based on age as it does not provide quota relaxation.
NSG Selection Process
There is no direct procedure to enter into NSG. A candidate must have to satisfy the eligibility criteria and should pass the selection test. There are different selection Phases  to qualify for NSG:
Phase 1: Pre-Selection Eligibility
A candidate should have served 5 years in the police force or should have a minimum of 3 years of experience in the Indian Army.
A candidate should quality the physical standards and should clear Medical tests.
A candidate must have to be below 35 years of age to qualify for NSG.
The service records for any candidate should not have red-ink or negative entries or any degrading conduct records.
Phase 2: Selection Procedure and Initial Training Qualification
Candidates will be given training in two levels in this stage-Basic and Advanced Training.
The basic training will be given in NSG Training centre that is in Manesar. The time period of basic level training is 14 months. Next is the advanced level training which is comparatively tougher. The candidates usually drop out at this stage. The drop-out percentage stands at 70-80%. The duration of advanced level training is 9 months.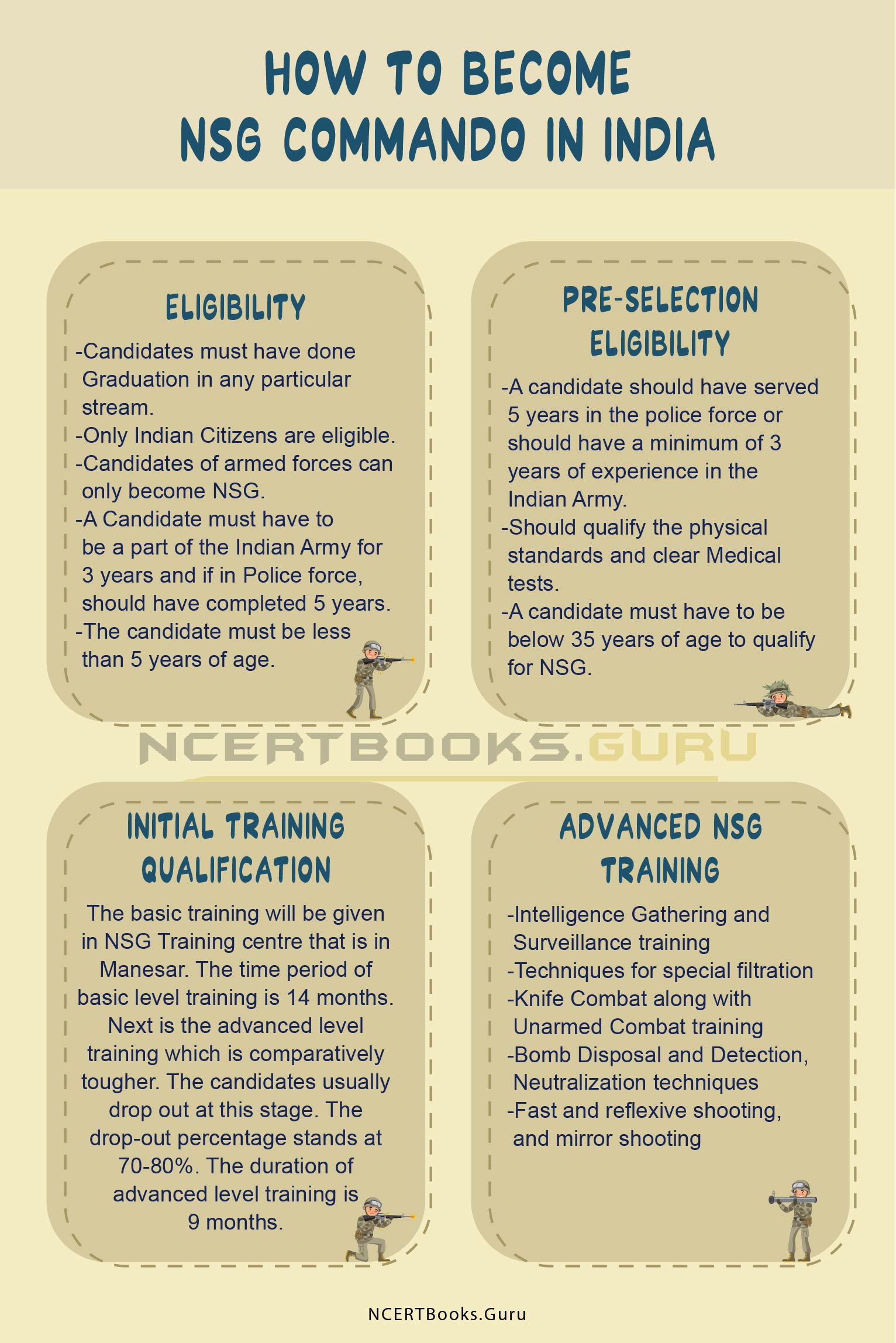 Phase 3: Advanced NSG Training
This is the final step in order to become NSG. It is extremely important to take advanced NSG training after 9 months of completion. The NSG advanced training includes some of the necessary topics such as:
Intelligence Gathering and Surveillance training
Techniques for special filtration
Knife Combat along with Unarmed Combat training
Bomb Disposal and Detection, Neutralization techniques
Fast and reflexive shooting, and mirror shooting
The Candidates who will clear all the three phases will have an opportunity to become an NSG and will be given specialised training and they usually serve for the time period of 3-5 years after graduation.
Apart from the eligibility criteria, you need to have some traits in order to become NSG such as Determination, Patience, Clear mindset, Problem Solving approach, Technical knowledge, self-determination. If you have these traits, you will be able to succeed in the future phases as well.