How to become An Oncologist in India: Being a doctor is a great responsibility. The doctor is the one who treats all kinds of diseases like cancer, heart diseases, and other health issues. Nowadays there is a great demand for doctors as we are seeing different kinds of new viruses all over the world. Almost 60% of the children will have a dream to become a doctor in the future.
An oncologist is the one who treats cancer. You may have a doubt that "How to become An Oncologist in India" Am I correct? This is the article where the aspirants can get complete guidance on how to become an oncologist. Find the information like eligibility criteria, roles, and responsibilities of an oncologist, fee structure, pay scale, top colleges, entrance exams, admission details, and so on.
What does an Oncologist do?
Oncology is a medical terminology that is the study of cancer. An oncologist is a person who will be certified to diagnose and provide treatment for cancer-related diseases. There are different types of oncologists based on the method of treatment they provide or by the area of tumor caused, they are as Medical, Radiation Surgical, Geriatric, Gynecologic, Hematologist, Neuro, Pediatric, Thoracic, Urologic, etc.
Eligibility criteria to become an Oncologist in India
After finishing the intermediate or 10+2 specializing mainly in biology chemistry and physics the candidate need to pursue an undergraduate degree in the medical stream which will be MBBS
It can be simply explained in three steps with their eligibility criterion as follow:
Step 1:
For obtaining a UG degree:
Completed the basic 10+2 education from a well-recognized institution with BiPC as the main subject
Minimum Marks Percentage must be 50%
Must have scored minimum qualifying marks in the entrance exam which is the NEET exam.
Step 2:
For obtaining a PG degree:
After the compilation graduation in MBBS, the candidate must pursue a postgraduate so that they can become an oncologist.
Any candidate can choose MD(Doctor of medicine) in general medicine as his master if he/she has the following:
Completed the basic 10+2 education from a well-recognized institution with BiPC as the main subject
Holding a bachelor degree with minimum required marks in MBBS or its equivalents
And has qualified for the entrance exam which is NEET PG or its equivalent.
Note: There are many other entrance exams available but the best option would be NEET PG
Step 3:
After that go to a super specialty course of DM (Doctorate of medicine) in oncology under a named oncologist as an intern for 3 years.
| | |
| --- | --- |
| Course | Years |
| UG (Undergraduate) | 5.5 years  including internship  |
| PG-post graduation  (MD) | 2 to 3 years |
| DM- Doctorate of medicine  | 3 years of internship |
Age Limit to become an Oncologist
The minimum age limit is 17 for graduation and 21 years for post-graduation in INDIA. There is no upper age limit as the saying goes there is no age restriction to learn.
Know about course details pertaining to different streams all under one roof and choose a stream of your choice.
How to become an oncologist in India?
To become an oncologist you need to satisfy all the above-mentioned eligibility criteria later you must do a 3 years course to obtain your D.M (Doctorate in medicine) degree later you can practice under any recognized hospital.
Roles and responsibilities of an oncologist
The main roles of an oncologist are as given below
Analyzing the best treatment options available based on the different factors.
Making the patient understand about cancer.
Must be having the capability to make the patient at ease and increase the confidence in them that they can be cured.
Assist the patient to understand the side effects and handle them.
See More:
Types of Oncologist
Medical:- This area focuses on treatment based on medication which will also consider immunotherapy, target therapy, and chemotherapy.
Radiation:- In this, the main focus will be on destroying the cancer cells which will be based on radiation.
Surgical:- This is mostly treated using operations and surgeries which might include biopsies.
Geriatric:- It is mostly for treating people who are above 65 age as they need to go some higher challenges so they need more care.
Gynecologic:- This treatment and study focus on diagnosing and treating the reproductive organs such as the cervix, fallopian tubes, ovaries, uterus, vagina, and vulva.
Hematologist:- As the name says it is a study based on treatment for blood cancer.
Neuro:- Neuro-based cancers such as brain spinal and neurons are treated in this study.
Pediatric:- In some cases, the cancer type may mostly occur in children and teens so for such cases this study is useful.
Thoracic:- Lung and esophagus-based cancer are treated and diagnosed in this study.
Urologic:- Cancer cells that occur in the genitourinary system are treated, such as the bladder, kidneys, penis, prostate gland, and testicles.
What to study to become an oncologist in India?
It is just that they come from a biology, physics and chemistry background in their intermediate or diploma later they need to have a gradation in MBBS (Bachelor of Medicine and Bachelor of Surgery) after that based on what so every type they choose in oncology they need to pursue a post-graduation in oncology.
Entrance Exams for Oncologists in India | Admission
All India Institute of Medical Science Entrance Exam (AIIMS)
National Brain Research Centre Entrance Exam
Sree Chitra Thirunal Institute for Medical Sciences and Technology Entrance Exam
Tamil Nadu Dr. MGR Medical University Medical Entrance Exam
Madras Medical College – Institute of Neurology Entrance Exam
Institute of Human Behavior and Allied Sciences (IHBAS)
Banaras Hindu University Entrance Exam
University of Delhi Entrance Exam
Sri Ramachandra Medical College & Research Institute Entrance Exam
All India D.M. / M.Ch. Entrance Examination
Delhi University Super Specialty Entrance Test – DUMET
Maharashtra Super-specialty Entrance Test – MH SSET
Krishna Institute of Medical Sciences (KIMS) Entrance Exam
National Institute of Mental Health and Neuro Sciences (NIMHANS) Entrance Exam
Course Details for Oncologists in India
| | |
| --- | --- |
| Course Name | Duration |
| M.ch Surgical Oncology | 3 years |
| DM Oncology | 3 years |
| M.ch Oncology | 3 years |
| DM Medical Oncology | 3 years |
| Ph.D. Oncology | 3 years |
Top Colleges and Fee structure to be an oncologist in India
| | | |
| --- | --- | --- |
| Collage name  | Rank | Fee |
| AIIMS Delhi | 7th | 6.77 k |
| MS Ramaiah Medical College, Bangalore | 10th | 6.35 lakhs |
| VIMS Bangalore – Vydehi Institute of Medical Sciences and Research Center | 19th | 4.95lakhs |
| BJMC Ahmedabad – B J Medical College | 24th | 1.38 lakhs |
| MMC Chennai – Madras Medical College | 20th | 87.23k |
| SRMCRI Chennai – Sri Ramachandra Medical College and Research Institute | 12th | 1.33 cr |
| Amrita School of Medicine, Kochi | 3rd | 1 cr |
| IGIMS Patna – Indira Gandhi Institute of Medical Sciences | 69th | 4.25 lakhs |
| IMS & SUM Hospital Bhubaneswar – Institute of Medical Sciences and SUM Hospital | 14th | 98.45 lakhs |
| GKMC Chennai – Government Kilpauk Medical College | 32nd | 84.75 lakhs |
Selection Process for Oncologist
There is no certain selection process. It is mashed on his or her entrance marks and academic percentage the seat will be allotted.
Career in Oncology | Job Opportunities for Oncologists in India
There are a lot of job opportunities in India for Oncologists. The pay structure will be different for different sectors.
Private hospitals
Cancer hospitals
Specialist hospitals
Government hospitals
Medical colleges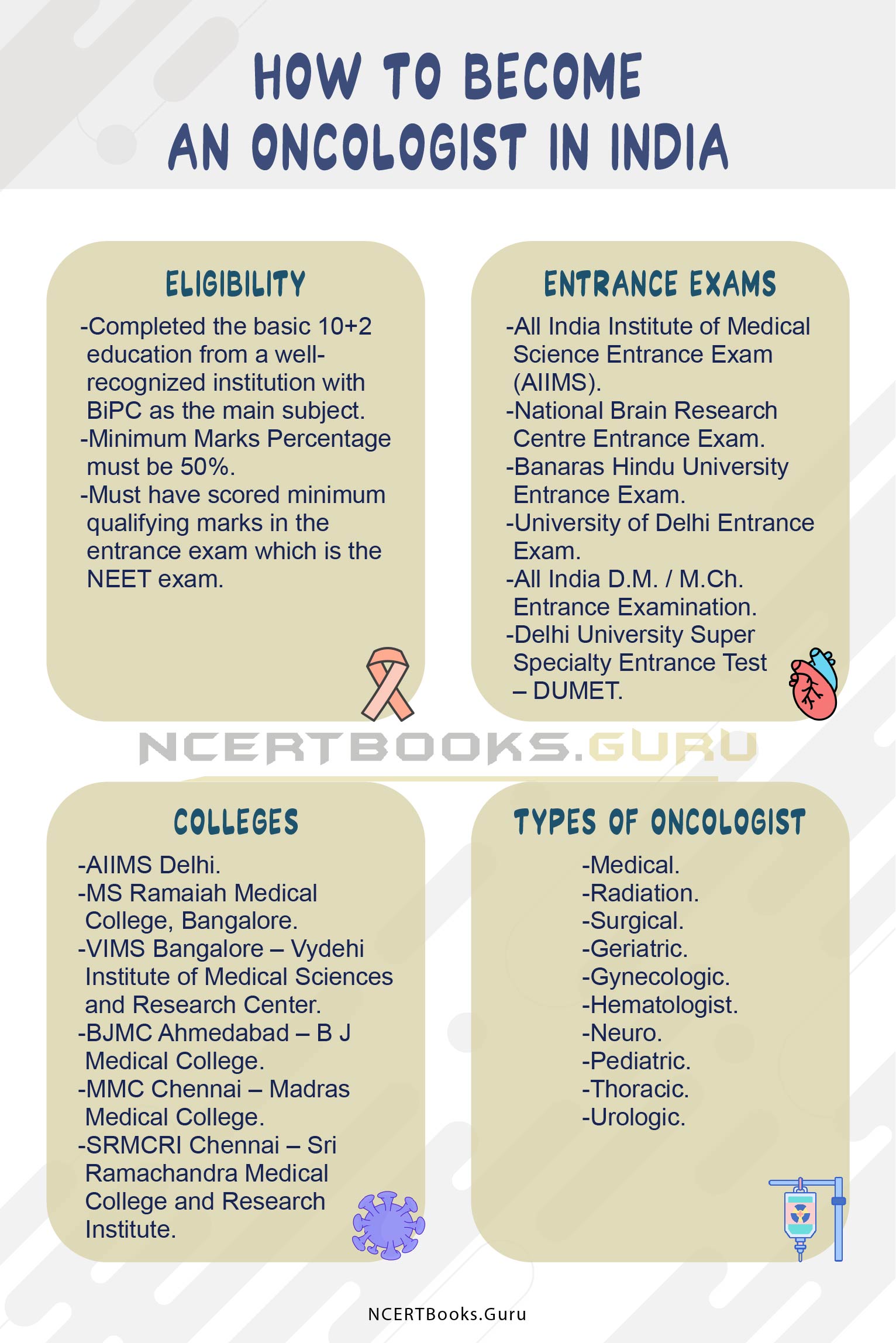 Pay Scale for an Oncologist
The basic salary for an oncologist who will work in any government hospital will be from Rs 30,000 to Rs 50,000 per month and in the case of private hospitals, it might be from Rs 50,000 to Rs 80,000 per month. Once you gain the experience the salary will be based on your specific domain in which you have done oncology such as Radiation, Pediatric, Surgical, Gynecologic, Geriatric, Hematologist, Thoracic, Neuro, Medical, Urologic, etc.
Frequently asked on how to become an oncologist
Is Neet required for oncology?
No, NEET is not mandatory for both Ug or PG there are other entrance exams and also students can go through management seats.
How many years does it take to become an oncologist in India?
For the UG including internship, it will take 5.5 years which only gives MBBS degree
Later for oncology, it's a course of 3 years so in total after 10+2 the candidate has to study for more than 8.5 so as to achieve a master's degree in oncology.
Surgical oncologists perform surgeries and biopsies for the treatment of cancer.
Final Words
Hope the details prevailed in this article is beneficial for all the candidates who wish to become an oncologist in India. Almost all the information on how to become an oncologist is seen in this article. If you need more details feel free to contact us by posting your comments in the below comment section. Also, Bookmark our page to get updates regarding all the medical courses in India.