How to Become A Neurosurgeon in India?: Neurosurgeons are expert osteopaths or medical doctors who treat the nervous system, brain, spinal cord, pain, nerves, and muscles. They've been educated on how to investigate, diagnose, and treat neurological issues.
Clinical trials at the basic, middle, and advanced levels and clinical research are all conducted by them. Neurosurgeons can be found in a variety of settings, such as hospitals and clinics. They work for only forty hours a week.
Refer to Course Details to know more about related courses and find details like Admission Process, Eligibility Criteria, etc.
If you wish to work as a neurosurgeon in India, you will have an excellent chance of making a decent living. Every aspirant would be pleased because it aids in saving lives and improving their health.
A neurosurgeon in India must specialize in one or more areas, such as neurocritical care, headache, child neurology, autonomic illnesses, etc.
Many people refer to them as lifesavers because of their knowledge.
The danger factor is high, and error tolerance is nil, needing extraordinary critical thinking, analytical ability, top surgical skills, optimal talent, and a natural aptitude to do delicate surgeries for the neurosurgeon. Neurosurgeons must also have a good level of fine motor coordination and manual dexterity. This, on the other hand, can be obtained by earning the required specialist qualifications and training.
Eligibility Requirements to Become A Neurosurgeon in India
To become a neurologist, an applicant must have finished at least Class XII in a science subject. He or she must have taken biology, chemistry, or physics to be eligible for a medical exam.
They must also pass the NEET-UG examination with flying colors.
Applicants may pursue a master's degree in Neurology after earning their MBBS.
By enrolling in a one-year training program, candidates can begin their post-graduate internship. This gives them essential healthcare practice experience as well as hands-on experience with patients.
After finishing their two-year post-graduate degree, candidates can apply for a three-year neurology residency. This gives them great experience dealing with neurological issues and disorders.
To take the NEET UG exam, candidates must be at least 17 years old. This exam is only open to people who are 25 years old or older.
Educational Qualifications for a Neurologist
You can begin an MBBS program as soon as you have completed your Class XII in science. This MBBS curriculum is 5.5 years long.
The mandatory internship took up the full last year. Once you have finished your graduation, there are two ways to enroll in a neurosurgery training program.
To begin, you might take any of the March entrance exams available. A 6-year neurosurgery curriculum is offered by some institutes, such as SCTIMST, NIMHANS, and AIIMS. These institutes are in charge of the tests.
The NEET Post-Graduation Entrance Exam is also an option. If you meet the program's standards, you'll be able to quickly get a position in a three-year general surgery residency program leading to an MS degree.
After that, you can apply for a position in the neurosurgical program by taking the NEET Superspeciality entrance exam. The Master of Science in Nursing program is a three-year program that results in a master's degree.
You will be rewarded with several advantages if you choose general surgical training over a six-year neurosurgery residency. It's because it gives you exposure to a wide range of surgical specializations, such as cancer surgery, plastic surgery, urology, and heart surgery, to name a few. You'll be able to move to a different super specialization shortly as a result of this.
After completing your MS in general surgery, you can enroll in a 3-year neurosurgery program at NIMHANS or AIIMS. They prepare for their entrance exams, which are followed by an oral examination.
Neurosurgery training is available at any DNB-approved institution for post-graduates who are unable to find work in the NEET super specialty. The NBE can assist you in passing the DNB Centralized admission examination. You might also apply for an internship in a hospital or a private teaching institute that is accredited.
After finishing the 3-year training program, you will be offered a DNB degree.
The government has indicated that DNB and MCh degrees are treated similarly when applying for a job as a neurosurgeon.
Skills Required for Neurosurgeon
A neurosurgeon works in the non-surgical field and should have the skills listed below to be a successful medical care expert.
They must be able to communicate effectively.
It is necessary to be endowed with the ability to lead.
Always be willing to learn and adapt to new situations.
Should be self-assured in his work.
Should be aware of the importance of teamwork
A neurosurgeon can readily diagnose the patient's problems with the peripheral and central nervous systems.
Scope of Neurology
The area of neurology is fast growing in India. It's because India has a large number of patients with neurological issues. As a result, neurosurgeons are in increased demand. They are trusted by a variety of healthcare institutes and hospitals to deliver the best possible care.
As a neurosurgeon, you can work in a range of research institutes and universities worldwide. A lot of private hospitals and governments are also hiring neurosurgeons. If you wish to be a neurosurgeon, you should seize this opportunity as soon as possible.
Do Read:
JOB Role for Neurology
Following the end of your education and neurology residency program, you will have several professional options. Any of these can be applied for, and you can start working as a neurosurgeon right away.
Neurologist: A neurology specialist is a doctor who specializes in issues relating to the nervous system. To become a neurologist, one must have extensive medical training. It's an excellent option for anyone who wants to learn more about diseases and how to treat them. They are in charge of treating the peripheral, spinal, and brain neurological systems.
Neurosurgeons: Neurosurgeons are the most skilled medical specialists who can treat a wide range of neurological disorders with surgical and pharmacological methods. They are capable of treating both chronic and acute issues.
Neuro Physicians:Neuro Physicians are doctors or clinical practitioners that specialize in treating neurological diseases with non-surgical procedures or drugs.
They specialize in the treatment of disorders like amnesia, memory loss, stroke, and neuromuscular discomfort.
Advantages Of Being A Neurosurgeon Are Numerous
You have the power to make a big difference in the lives of your patients, their families, and friends as a neurosurgeon. A neurosurgeon's job brings them a lot of joy and satisfaction when they see a patient recover.
Even though neurosurgeons have a challenging job, there are various benefits to working in India as one. The following items are included:
Their pay scale is highly generous.
The most intelligent and well-respected medical expert is a neurosurgeon.
A neurosurgeon's employment comprises operating on humans' brain, spinal cord, and nerves to remove brain tumors, cut aberrant blood vessel forms inside the brain, and remove sections of the cerebral cortex to treat epilepsy.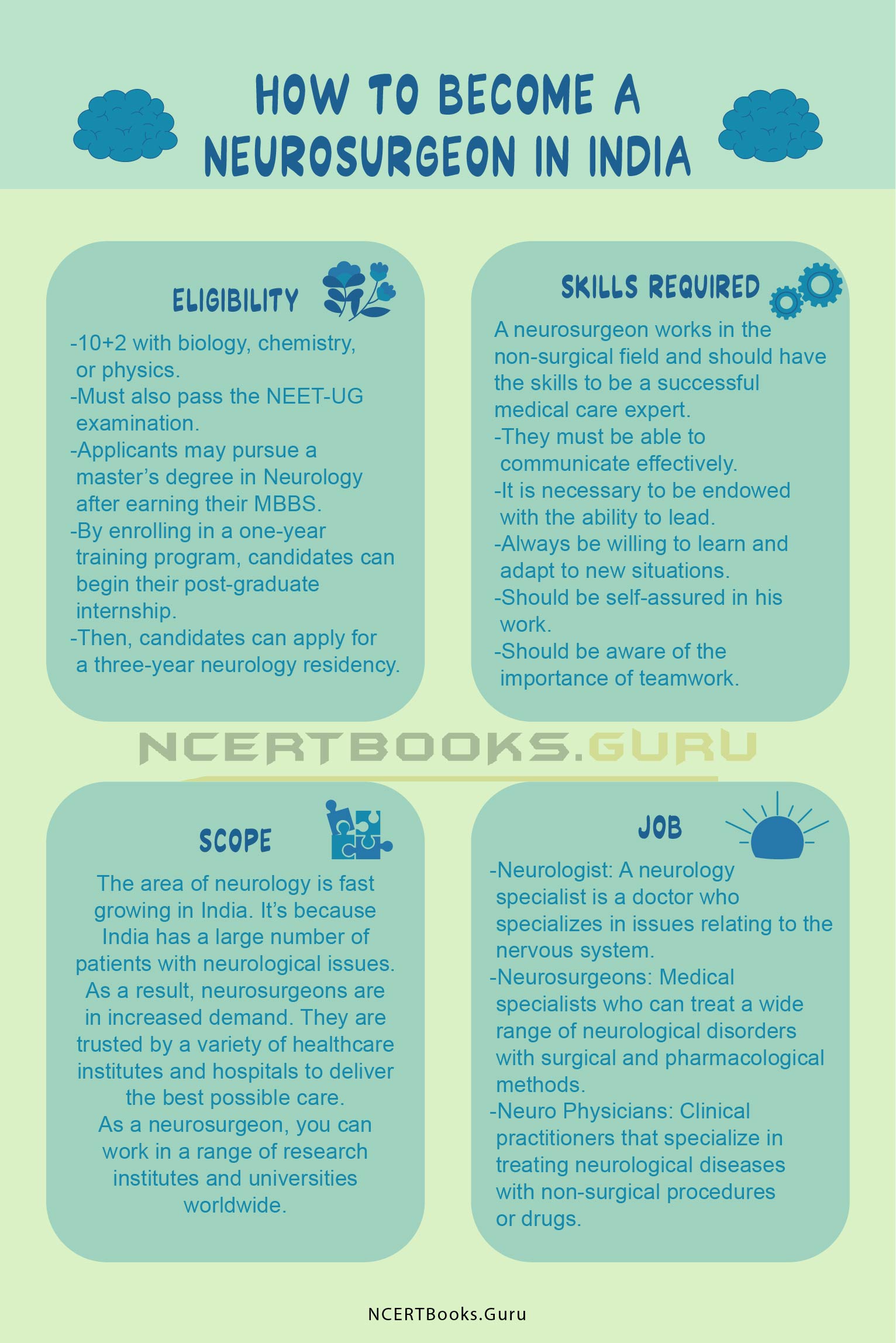 Salary Of A Neurosurgeon
The pay of a neurosurgeon is governed by their expertise and the sort of company where they work. Some doctors work in private practice and earn more money than neurosurgeons who work in hospitals or private clinics.
The average income of a well-known neurosurgeon is 4 lakh per year. The more experience, popularity, and recognition you have in the field of neurosurgery, the higher your income will be.
Keep in mind that a Neurosurgeon's salary is heavily influenced by the company, location, job title, and years of experience.
Career Options of a Neurology
Because of its specialized nature, neurology is a medical field with several job opportunities. If you have a skill, you can quickly locate a range of career opportunities.
Applicants that specialize in neurology are in high demand due to medical advances and innovation in this field. As a neurosurgeon, you can choose to specialize in one of the sub-specialties or practice in general neurology.
As a neurosurgeon, you'll be working in one of the most fascinating and hard medical domains: the nervous and nervous systems. Patients who have been recommended to you by another doctor or physician must be treated. The patient is referred to a neurosurgeon if a doctor believes surgery is required.
These medical professionals are in high demand due to a current shortage of neurosurgeons in comparison to the number of potential patients, and this demand is only expected to grow in the coming years as the number of patients with diseases such as tumors and other diseases that can only be removed through surgical procedures continues to rise. As a result, budding neurosurgeons have a promising future ahead of them.
Conclusion on How to Become A Neurosurgeon in India?
As a neurosurgeon in India, you'll be able to help the sickest patients in hospitals who are suffering from debilitating neurological diseases. You'll have to perform challenging surgery on fascinating and intricate anatomy.
If you have the requisite talents and the courage to work hard, don't miss out on the opportunity to work as a neurosurgeon in India. You should pursue a career in neurology. This will shower blessings on you when you address your patients' complaints, and even little changes will make you happy.