How to Become a Neuropsychologist in India?: With the hustle and bustle in our fast-paced lives, stress and anxiety have gradually seeped in, and to overcome it, we need psychological support. Psychological support is a must in today's time with the ongoing stressful environments; it doesn't just confine itself to mental disabilities but looks into the overall mental well-being of individuals. One such branch of psychology is neuropsychology which is in demand in India.
Refer to Course Details to know more about related courses and find details like Admission Process, Eligibility Criteria, etc.
What is Neuropsychology?
Neuropsychology involves studying mental disorders, learning disabilities, brain injuries, memory loss, and other traumatic injuries related to the human brain.
Professionals in this area are specialized in studying different areas like memory thrashing disorder or disability, pediatric brain disability, sports, etc., and are called Neuropsychologists. Neuropsychology is a sub-domain of Psychology that imparts knowledge on how the human brain works and its related aspects. Students are taught how the brain works in the entire study, and the nervous system manipulates its positive and negative impact on human behavior. Besides the brain functions, it also studies disorders and illnesses of the brain. The study of neuropsychology is done with the primary objective to prepare the candidates in handling real-life challenges. Experiments and research work undertaken helps the students rectify the unusual thoughts and brain damage in patients.
Courses Available to Become A Neuropsychologist in India
Undergraduate level
B.Sc in Psychology: For pursuing a B.Sc in Psychology. The candidate should have passed the class 12th examination in the science stream with an aggregate of 50% marks from a recognized university.
Postgraduate level course in Psychology
There are two degrees available to pursue at the post graduate level: M.Sc in Psychology and MA in Applied Psychology.
M.Sc in Psychology: To get an admission into M.Sc Psychology, the candidate needs to qualify B.Sc in Psychology from any recognized university with a minimum of 55% aggregate marks
MA in Applied Psychology: To pursue MA in Psychology, candidates need to qualify for a Bachelor's degree in a similar subject (BA). Those who have a B.Sc in Psychology are eligible to pursue an MA in Psychology. Students must have scored a minimum of 55% of marks to pursue an MA in Psychology.
M.Phil in Psychology (Specialization): An M.Phil in Psychology candidate should have passed M.Sc or MA in Psychology with a specialization from a recognized university with a minimum of 55% of marks.
Doctorate level course in Psychology
Ph.D. in Psychology (Specialisation): To pursue a Ph.D. in Psychology, the candidate needs to qualify for MA, M.Sc, or M.Phil. from any recognized university with a minimum aggregate of 60% marks.
Eligibility Criteria to Become A Neuropsychologist in India
Various institutes, colleges, and universities offer courses on neuropsychologist study.
For entrance to undergraduate level courses, you need to pass the class 12th examination with a minimum of 50% aggregate marks in the science stream and give the entrance examination of the respective college and universities.
Admissions to the postgraduate courses are based on the score of NEET (National Eligibility Entrance Test). Every college follows the procedure for NEET exams.
For the postgraduate level, students need to appear for the national level or state level entrance examinations. Some of the popular entrance exams to get into neuropsychology courses are.
Delhi University M.A. Applied Psychology Entrance test
National Institute of Mental Health and Neuro Sciences Entrance Exam
Rajiv Gandhi University of Health Sciences M.Sc in clinical Psychology Entrance Exam
Amity Institute of Psychology & Allied Science MA in Applied Psychology Entrance Exam.
Manipal University MA Clinical Psychology Entrance Exam
Institute of Human Behaviour and Allied Science, Clinical Psychology Entrance Exam
Agra University M.Sc Psychology Entrance Exam
Bharathiyar University M.Sc in Clinical Psychology Entrance Exam
Amrita Vishwa Vidyapeetham All India Entrance Examination
Annamalai University M.Sc Clinical Psychology Entrance Exam
J.P. Rohilkhand MA Applied and Clinical Psychology Entrance Exam
Earning a State License
Holding a professional degree alone doesn't entitle you to work as a specialist. In order to work as a Neuropsychologist, you need to possess a license. Each state has its set of rules and regulations to follow enrollment procedures. Similar to other professional degree courses, you must hold a valid license to practice. In some states, a doctoral degree is mandatory for enrolment. Some consider and aggregate scores of a passing exam along with a 1-year experience. The state procedures vary, and professionals need to update themselves regularly with the respective state's requirements.
Upholding Credentials
In order to have rapid growth in this field, you must manage the credentials as top organizations are primarily considering further education programs for talented and skilled individuals. Various states in India conduct educational tests or interviews for licensure renewals.
Selecting the right college or university which offers programmatic accreditation
Candidates are advised to check the college accreditation while selecting their college to pursue neuropsychology. Colleges with national or regional accreditation can be chosen for study as colleges with valid accreditation get more priority during the selection process. Many professional licenses and certifications need an accredited degree. Neuropsychology courses may opt for programmatic accreditation from boards like American Psychological Association as APA degree holders can earn a certificate or license or from the Association of State and Provincial Psychology Boards.
Prominent colleges for studying Neuropsychologist course
AIIMS Delhi – All India Institute of Medical Science
MAHE – Manipal Academy of Higher Education
Amity University – Delhi (New Delhi)
Christ University, Banglore
JMI New Delhi – Jamia Millia Islamia
Aligarh Muslim University – Aligarh
IGNOU Delhi – Indira Gandhi National Open University
LPU Jalandhar – Lovely Professional University
BHU Varanasi – Banaras Hindu University
Chandigarh University – Chandigarh
MSU Baroda – Maharaja Sayajirao University of Baroda
GGSIPU Delhi – Guru Gobind Singh Indraprastha University
B.R. Ambedkar Open University, Hyderabad
SPPU, Pune – Savaitribai Phule Pune University
MGR Educational and Research Institute, Chennai
MSRUAS Banglore – MS Ramaiah University of Applied Science
Do Refer:
Skills-Set Required in Neuropsychology
To become a neuropsychologist candidate, one needs to possess a high level of education and experience. Some of the primary skills required in this field are
Problem Solving
Critical Thinking
Good Communication Skills
Listening skills
Monitoring and Awareness
Documentations and Writing
Analysis and Interpretation
Technical ability
Equipment knowledge
Willingness to understand brain disorders
Job Roles of Neuropsychologists
Neuropsychologists may pursue many specializations in their field. Some of the significant job roles of neuropsychologists are-
Clinical Neuropsychologists – They are specifically trained to handle the assessment of the human brain. They rectify the brain symptoms and try to prevent them if any disorder is found in the brain. They even diagnose mental injuries and diseases by using techniques such as Computerized tomography (CT Scanning), MRI (Magnetic Resonance Imaging), and PET (Positron Emission Tomography).
Forensic Neuropsychologists – They are professionals trained to contribute to solving legal issues. Such experts are also called as a witness in injury cases of individuals. In India, demand for Forensic Neuropsychologists in the legal field is growing fast. Their significant role is in figuring out people accused of crimes and boosting mental health defense.
Cognitive Neuropsychologists –These professionals mainly focus on the association among the brain and functions such as memory, attention, perception, body language, planning, and others. These experts are directly in contact with their patients and provide counseling programs to patients.
Pediatric Neuropsychologists –Pediatric neuropsychologists are trained to differentiate the brain and behavior of newborns and children. Those who are experts in this field are specialized to test brain damage and functional disorders in children. They often provide counseling sessions to children and parents and teachers on how children can grow while having disorders.
Salary of Neuropsychologists
Neuropsychology is growing at a rapid pace, with new developments in this field bringing in a wide range of job opportunities within India and abroad. A lot of health care sectors find qualified and skilled neuropsychologists according to their requirements.
When it comes to PayScale, Neuropsychology is one of the most targeting fields as a career. Based on the experience, neuropsychologists get their salaries. A non-experienced neuropsychologist earns a salary between Rs 50,000 to Rs 80,000, whereas an experienced neuropsychologist may get a salary of Rs 1, 20,000 per month. Salaries depend on the job post obtained and the organization in which they work.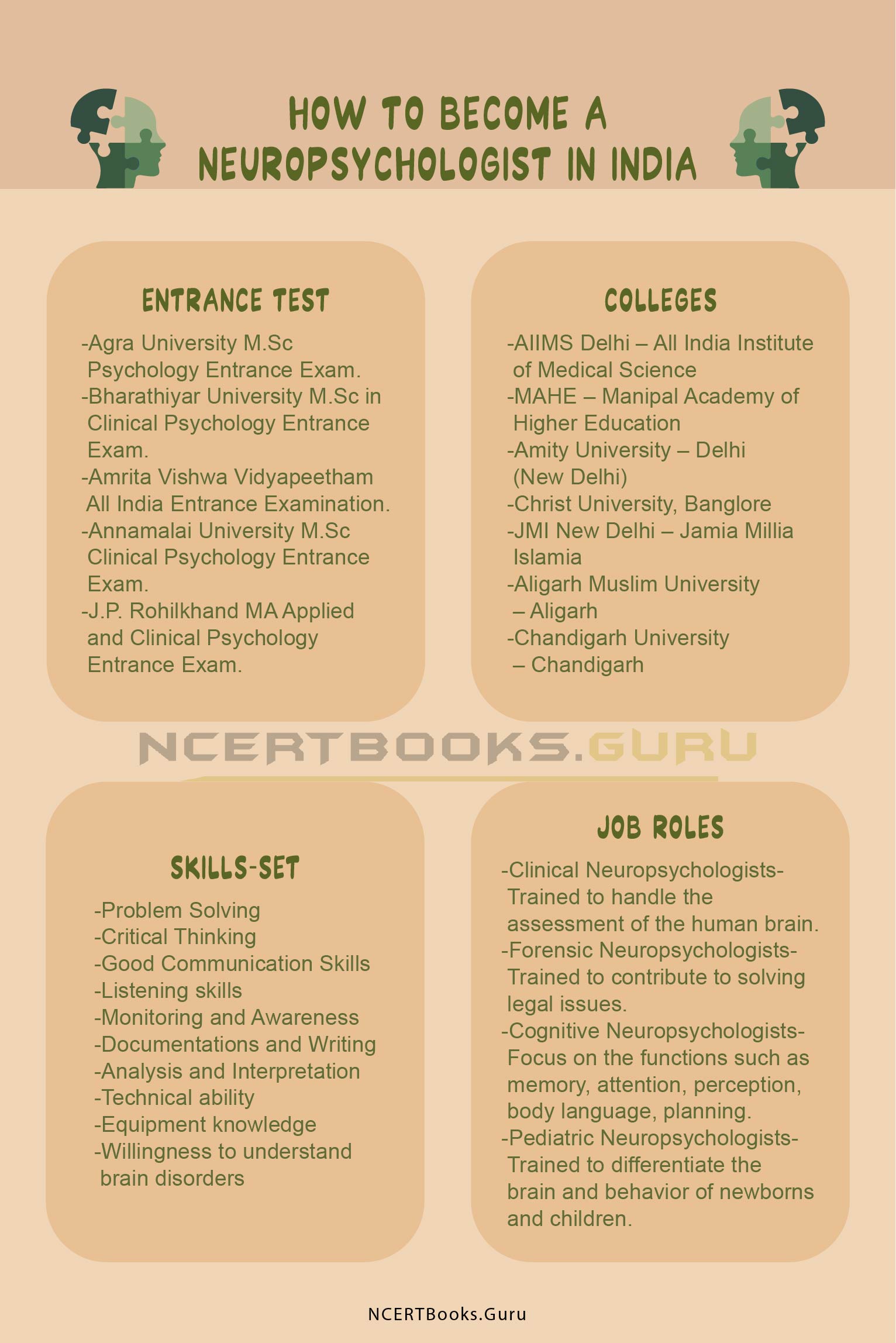 Conclusion on How to Become A Neuropsychologist in India?
In neuropsychology, candidates attain the knowledge of human behavior and its connection with the nervous system. They are trained on neuropsychological evaluations, anatomy structure, cognitive rehabilitation, and treatment methods to understand neuropsychological disabilities. Overall, the course specializes in performing multiple tasks. They may handle clinical techniques like neuropsychological disabilities, memory damage or injury, memory loss, brain disorders of a child, etc.
Individuals studying the Neuropsychology course studies mental health, brain disorders, brain injuries, and trauma that occurs in the human brain. Neuropsychologists work in private or government hospitals, non-profitable organizations, and child care centers. Those employed in the government sector can attain a lot of growth. Many national and international hospitals offer vacancies to skilled professionals, and experts get an opportunity to become Mental health Counselors, Occupational Therapists, rehabilitation counselors, and Industrial-Organizational Psychologists. Apart from that, they can join educational centers to train candidates and pursue an academic career.