How To Become An Anesthesiologist In India?: Anesthesia is a medical procedure that involves making a patient unconscious during the surgery so that they don't feel any discomfort or pain. An anesthesiologist is a doctor who administers the doses of drugs and medication given to a patient before surgery. They hold the responsibility of the safety and well-being of a patient.
Refer to Course Details to know more about related courses and find details like Admission Process, Eligibility Criteria, etc.
If you want to become an anesthesiologist in India, you have come to the right place.
Role Of An Anesthesiologist
Before Surgery: An anesthesiologist's work starts way before the actual surgery happens. Before surgery, an anesthesiologist would interview the patient. It is to make an assessment of the patient's health and discuss the upcoming surgery.
An anesthesiologist will take the patient's medical history, any allergic reactions to certain medications, and their present health condition into consideration to prepare a plan for anesthesia and medicines doses to be monitored on the patient during the surgery.
During Surgery: An anesthesiologist's responsibility is to make sure that a patient undergoing surgery does not experience any pain or discomfort. For that, different anesthesia is given to a patient. Different pain reliefs are offered during different surgeries. This may include:
General anesthesia: This anesthesia is given to a patient to render them unconscious throughout the surgical procedure.
Local anesthesia: Thus, anesthesia is given to numb a specific organ of a patient's body.
Regional anesthesia: When there is a requirement to numb any particular area on a patient's body, then regional anesthesia is given.
Besides administering the doses of anesthesia, an anesthesiologist is also responsible for monitoring the patient's vitals during the surgery. They need to monitor:
Heart rate
Body temperature of the patient
Oxygen level and breathing
Blood pressure
Balance of fluids in the patient body.
After Surgery
The work of an anesthesiologist extends beyond surgery. They also have the responsibility of the well-being of a patient after the surgery. They would need to reverse the effect of anesthesia administered to the patient to bring them back to consciousness. If the patient is in any pain, deciding the dose for the painkiller and other necessary medicines is also the responsibility of an anesthesiologist.
In some situations, where the patient is in critical condition or due to some complication during the surgery, they cannot gain consciousness even after the effect of anesthesia wears off. Even then, it is an anesthesiologist's responsibility to help the medical team to recover the patient.
Do Check:
Specialization of an Anesthesiologist
An anesthesiologist must be properly trained to assist in surgeries. Apart from that, there are several other areas that an anesthesiologist must have specialized in and have gained experience. Some of these are.
Cardiac Anesthesia: For supporting the medical team during heart surgeries.
Neuro Anesthesia: For surgeries related to the brain, nervous system, or spinal cord, an anesthesiologist must be trained in neuro anesthesia.
Pediatric Anesthesia: For administering pain management in children during surgeries.
Obstetrics training: For assisting a gynecologist during the birth of a child or labor, training in obstetrics is a must for an anesthesiologist.
Palliative care and hospice are some other areas in which an anesthesiologist must have experience and expertise.
Other than that, it is also the responsibility of an anesthesiologist to offer assistance to patients who suffer from any pain or discomfort due to chest pain, headache, pelvic pain, burns, diabetes, herpes, or others.
Qualification of How To Become An Anesthesiologist In India?
For pursuing anesthesiology, a candidate must have a strong knowledge of the base subjects that are chemistry, physics, biology, and English. After completion of 10+2, they need to get an MBBS degree. After the MBBS, a candidate can go for a postgraduate degree of MD in anesthesiology which is a 2-year course.
For specializing as an anesthesiologist in any particular field like cardiology, neurosurgery, or any other, a candidate needs to study that particular field too. Like any other job, learning never stops in the field of anesthesia too. You would need to gain knowledge of the new developments by attending seminars and courses.
Anesthesiologist Courses And Duration
If you wish to become an anesthesiologist, there are a variety of courses available in anesthesia. There are several universities and colleges in India which offer these courses. You can enroll in any of these colleges for a graduate or postgraduate degree in anesthesiology.
Courses Available
There is a variety of diploma, graduate, and postgraduate courses in anesthesia that you take. However, not all the courses are offered in every college.
Diploma Course in Anesthesia
A three-year duration Bachelor of Science (B.Sc.) course in Anesthesia.
B.Sc. course in Anesthesia Technology
B.Sc. course in Operation Theatre and Anesthesia Technology
B.Sc. course in Anesthesia and Operation Theatre Techniques
B.Sc. course in Medical Technology (OT and Anesthesia Technology)
Doctor of Medicine in Anesthesia
Doctor of Medicine in Anesthesiology
A two years program of Post Graduate Diploma course in Anesthesia.
Eligibility Criteria for An Anesthesiologist In India
For admission in MBBS programs, a candidate must have passed or appeared in a 10+2 or equivalent exam with Chemistry, Physics, Biology or Biotechnology and English as main subjects. The candidate should be at least 17 years of age, and there is no upper age limit.
Candidates can be of Indian nationality, PIOs, OCIs, NRIs, or foreign nationals. All of them are eligible to apply. The minimum aggregate marks scored by a candidate in 10+2 should be 50% for the general category and 40% for OBC, SC, and ST categories. Candidates belonging to PWD should have a minimum of 45% in 10+2. Please note that the marks are for physics, chemistry, and biology subjects only.
For a postgraduate degree in anesthesiology, a candidate must have an MBBS degree. Soon after completing their MBBS, candidates are eligible to join a postgraduate program that specializes in anesthesia.
How To Become An Anesthesiologist In India Admission Procedure
If you want to make a career in anesthesiology, having a good command of all the subjects you have taken in 12th is necessary. After completing your 12th, you will have to appear in an entrance exam for admission in an MBBS course.
After completing a four-year MBBS course, you can go for a specialization post-graduation degree in the field of anesthesiology. Soon after that, you can start your career as an anesthesiologist.
Entrance Examinations for Anesthesiologist
There are varieties of exams conducted every year for admission for MBBS degree and postgraduate courses in anesthesia.
The entrance exam for AIIMS: Postgraduate course in All India Institute of Medical Sciences.
Each state takes a common entrance test.
National Eligibility Cum Entrance Test (NEET): A common entrance test for all India.
Maharashtra Postgraduate Medical Entrance Exam.
Entrance test by PGIMER: Postgraduate Institute of Medical Education and Research.
All India Post Graduate Medical Entrance exams.
Most of these exams are taken yearly, and candidates have several chances to appear in them. If you were unsuccessful in scoring a good rank, you can prepare and try again next year.
Top Colleges Offering Anesthesiologist Courses In India
Several prestigious colleges and universities are offering a diploma, graduate, or postgraduate degree in anesthesiology. Some of the top colleges that you can choose are:
All India Institute of Medical Sciences, AIIMS
Aligarh Muslim University
Apollo Institute of Hospital Management and Applied Sciences, AIHMAS
Armed Forces College
Agartala Government Medical College
Amrita Institute of Medical Sciences and Research Centre
Srinivas College of Allied Health Sciences
Career Prospective of How To Become An Anesthesiologist In India?
An anesthesiologist is of great importance in all health-related works in a hospital. After completing your degree in anesthesiology, there will be many job opportunities for you.
As long as patients need surgery, an anesthesiologist would be required.
You can work as an anesthesiologist or anesthetist in private clinics, specialty hospitals, health care centers, medical colleges or universities, and even in schools and colleges.
Anesthesiologists play a very important role during surgeries. While surgery is happening in an operation theatre, an anesthesiologist must be present there. Due to some medication, a patient can develop an allergic reaction, which would create complications in the surgery.
The anesthesiologist has to closely monitor the heart rate, breathing, and blood pressure of a patient during the surgery so that the surgeon can focus on the operation.
After completing your course, if you would do some volunteer work for any health care center or hospital, that would be great for gaining experience.
With the increasing demand for anesthesiologists, you can get a job in India and foreign countries with better salaries and perks. You can also work with the military and researchers.
With some experience in the field, if you want to switch to a teaching job, you can very easily join a medical college or university as a teacher of anesthesiology.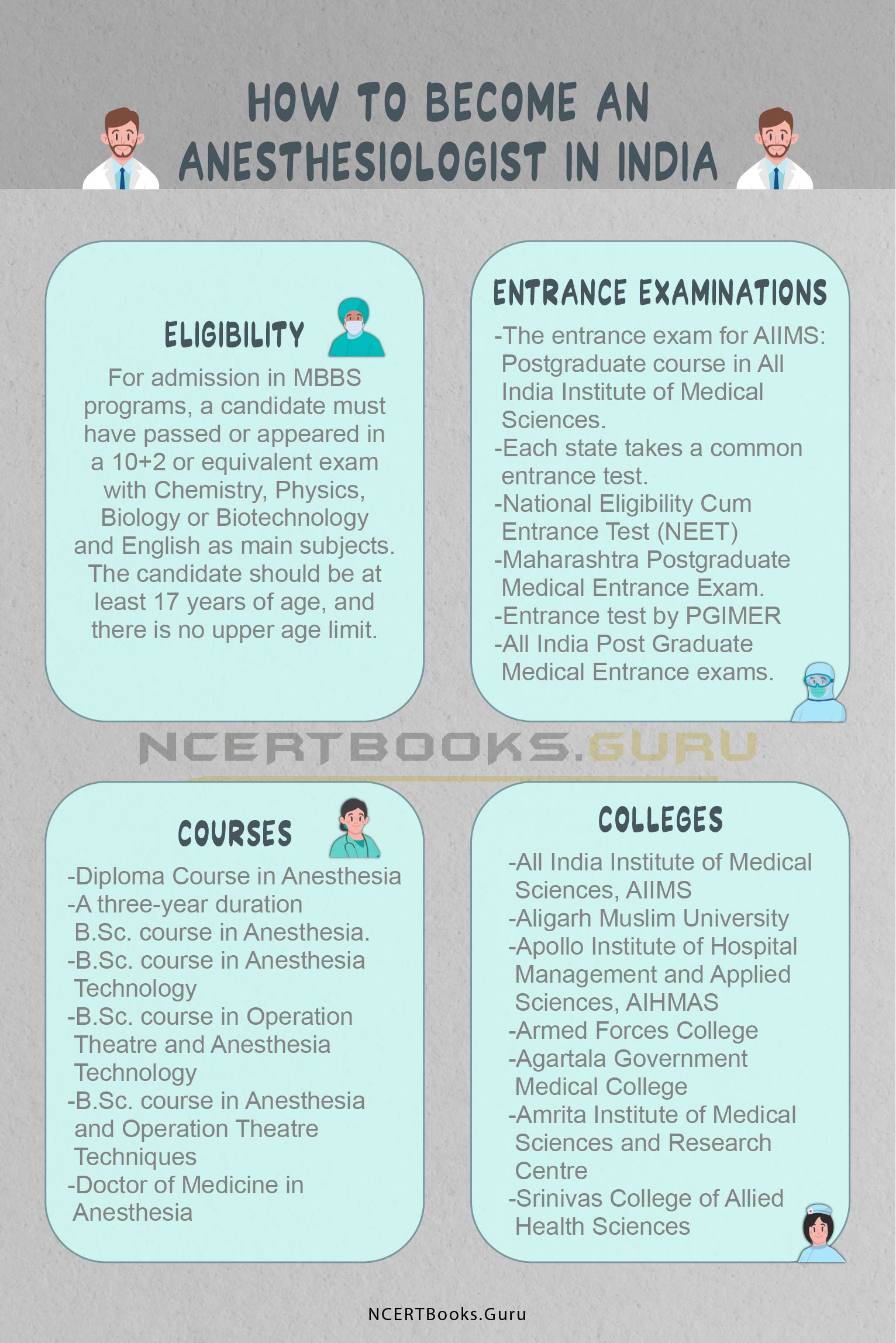 Jobs Under Anesthesiology Degree
Some of the jobs you can get after completing an anesthesiology degree.
A medical consultant
Clinical Associate
Anesthesiologist Assistant
Anesthesia Technician
Associate Consultant
Certified Anesthetists nurse
Expected Salary for Anesthesiologist In India
Many candidates may want to choose the field of anesthesia because they think that this job profile doesn't have much work responsibility. They can't be more wrong. Anesthesiologist's jobs can be very demanding, and they bear a lot of responsibility. Yes, it is a good-paying job, but the responsibilities that come with the job can be very high.
In India, when you start as an anesthesiologist, you will get a minimum salary of 20000 – 30000, depending on your job profile, experience, and location.
At first, you will have to work according to the working hours of the hospital or clinic you will be joining. After gaining good experience, not only will you get a higher package, but you can also work on an hourly basis and schedule the time as per your convenience. However, in case of an emergency, you will even have to work graveyard shifts.
Conclusion on How To Become An Anesthesiologist In India?
Suppose you wish to make a career in the field of anesthesia. In that case, there are many job opportunities for you with the increasing demand for anesthesiologists in the country. You can choose to work in private or government medical facilities.
The job of an anesthesiologist pays well but also comes with great responsibilities. You must be prepared to work under pressure and in any shift. However, there is no greater pleasure than knowing you are helping people by saving their lives.