How To Become An Astrophysicist In India?: Do the sun, moon, and planets pique your interest? If yes, then making a career as an astrophysicist might be the right path for you. Not only is the job of an astrophysicist high paying, but you get to work with the top government organizations like ISRO with the world's best scientists and researchers.
Refer to Course Details to know more about related courses and find details like Admission Process, Eligibility Criteria, etc.
But, becoming an astrophysicist is not an easy process, and not many students know how to become an astrophysicist in India. Let's understand in detail what astrophysics is and how you can become an astrophysicist.
What Is Astrophysics?
Astrophysics is a subpart of science in which we study celestial bodies like stars, moons, planets, galaxies, and any other objects present in our universe.
Who Is An Astrophysicist?
An astrophysicist applies the rules of physics and chemistry to explain how all these celestial bodies are formed.
Astrophysicists collect patterns and data about the celestial bodies by observing them and, depending upon the data, develop theories on the complete life and death cycle of a celestial body.
Eligibility To Become An Astrophysicist
If you too wish to become an astrophysicist, then there are several criteria that you must fulfill. It would help if you had these to begin your path towards being an astrophysicist.
The first thing you need would be a 10+2 degree from some government-recognized board. The subject stream in 10+2 has to be math and physics.
Having a good score would help you get admission to a better college for further studies. For getting selected in a reputed institution, you would need at least 50% aggregate marks in 10+2.
Then, you would need to give either the joint entrance exam or the entrance exam particular to a specific institution that you want to join and qualify in it.
After clearing the entrance exam, you can take admission to an undergraduate course in astrophysics or astronomy. Make sure to choose an institution with a history of successful placements.
You can do a significant/honors degree in physics. Take mathematics as your secondary subject.
After the completion of your graduation, you can opt for a postgraduate degree in physics or astrophysics.
After completing your master's degree in astronomy, you will need to do a specialization course to complete your Ph.D. degree.
On completion of your Ph.D., now you are eligible to work as an astrophysicist in several organizations, either private or public, in India. You can also join any organization abroad.
Top Astrophysics Institution In India
While doing a course in astronomy, you must choose a well-reputed institution or university as that increases your chances of getting a better job after completing your course. Some of the top colleges in India that offer courses in astrophysics or astronomy are:
The Indian Institute of Astrophysics (IIAP), Bangalore
Indian Institute of Space Science and Technology (IIST), Thiruvananthapuram
Osmania University, Hyderabad
Tata Institute of Fundamental Research, Mumbai
Indian Institute of Science, Bangalore
For getting a Ph.D. degree in physics, one can also choose any of the IITs in India. Studying in IITs can get you a better salary and better placement after the completion of your course.
List Of Entrance Exams for Becoming An Astrophysicist
To get admission to top colleges and institutions for studying astrophysics, you must qualify for entrance examinations. Some of the top entrance examinations taken across India are
Indian Institute of Astrophysics (IIA)
Interuniversity Centre for Astronomy and Astrophysics (ICAA)
Autonomous Research Institutions (ARI)
Joint Assessment Test for Skills (JEST)
Joint Astronomy Program (JAP)
Courses Available In Astrophysics
There are several different courses of astronomy available depending upon your level of qualifications.
After the completion of your 10+2, you can get admission to a bachelor's course. You can do these courses for your undergraduate program.
Batch in relevant Engineering – 4-year course
B.Sc. in Astronomy – 3-year course
B.Sc. in Astrophysics – 3-year course
Once you are done with your bachelor's degree, you can opt for postgraduate degree courses. You can choose any of these master's courses for two years.
MTech in Astronomy and Space Engineering
M.Sc. in Astronomy
For becoming a successful astrophysicist, you must get a Ph.D. degree in astronomy or astrophysics. You can choose any of these courses for your doctorate.
PhD. in Atmospheric Science and Astrophysics
PhD. in Astronomy
PhD. in Astrophysics
PhD. in Astronomy and Astrophysics
Several integrated courses let you complete your master's and Ph.D. together. You can opt for these too.
Integrated MTech – Ph.D. (Tech.) program in Astronomical Instrumentation
Integrated M.Sc. – Ph.D. Program in Physics and Astrophysics
Do Refer:
Admission Procedure for An Astrophysicist in India?
For most of the top institutions, there are two different procedures for admission.
Merit List: Some of the institutions prefer to take students who have the higher number of marks. There is a common entrance test for the whole of India, and if you are on the merit list, you can get admission to any of the institutions of your choice.
Entrance Exam: Some institutions prefer taking an entrance exam of their own. Any students interested in joining that particular institution will have to sit in the exam and then qualify for admission.
Course Fee in Astronomy
The fees you will have to pay for a course in astronomy depend on the institution you choose. The subjects you choose also impact the fees of the course. You will have to pay anywhere between 30000- 50000 for every semester for a good government institution.
For private institutions, the fees can go up to 1.5-2 lakhs per annum.
Syllabus for Astrophysics
While pursuing a course in Astrophysics, a student will have to learn subjects related to astronomy in detail. We all have a basic knowledge of these from studying the same in school in 10+2. Anyone having an excellent grasp of physics and mathematics would have fun doing this course as most of the syllabus is from maths and physics. Subjects that you will have to study in astrophysics are.
Astrophysics
Physics
Mathematics
Properties of Matter
Laboratory Work
Special Relativity
Stars & Planets, Galaxies & Universe
Oscillations and Waves
Quantum Mechanics
Cosmology
Practical Laboratory
Thermal Physics
Electromagnetism
High Energy Astrophysics
Optics and Quantum Mechanics
Most of the institutions have these subjects as the syllabus of astrophysics. However, depending upon the nature of your course and the institution, you might have to study some extra subjects.
Career Options for An Astrophysicists
After completing the course of astrophysics, there are many career options for an astrophysicist.
There are two different career options for an astrophysicist. You can go for theoretical or observational research in astrophysics. Understanding astronomy involves both observation and theory.
Observational Research In Astrophysics
Astrophysicists in an observational research study the real world data of astronomy. Based on real-world data, they observe how celestial objects, like stars, planets, and others behave in space.
There are vast career options in Observation Research in astrophysics. Candidates, even from an engineering background or someone possessing knowledge of computers and electronics, can apply for the graduation course. They can also do a master's course by research before doing a Ph.D.
Theoretical Research In Astrophysics
Astrophysicists in Theoretical research make connections between various data observed by the observational researchers. This allows them to understand the observations better and, based on their understanding, make future predictions for phenomena that we have yet to observe.
Working as a theoretical astrophysicist involves making templates and mathematical models for astronomical phenomena for new results whenever they arise.
To work as a theoretical astrophysicist, a candidate needs a bachelor's degree in Engineering and Technology field. A student with a master's degree in physics knowing mathematics can also go for theoretical research for the course. They can join any institution or university of astronomy in a Ph.D. course and get a permanent job after completing the course.
Job Opportunities for an Astrophysicist
After completing a course in astrophysics, an astrophysicist would have many job opportunities both in private and public institutions. As a research scientist, you can join any private or government research organization like the Indian Space Research Organization or ISRO.
Some of the private organizations that you can work with as an astrophysicist are:
Bhabha Atomic Research Centre (BARC)
Technology Information, Forecasting and Assessment Council (TIFAC)
Inter-University Centre for Astronomy and Astrophysics (IUCAA)
At the beginning of your career, you can join a research team already working on a project in astronomy as a fellow researcher.
If you are perfect as an astrophysicist, then you may have a chance of working in the space research centers like
ISRO, Indian Space Research Organization
NASA
If you like the profession of a teacher, you can also choose to join a university or college as a professor of astrophysics.
For gaining experience as an astrophysicist, you can join an internship program at different astronomy centers in India like ARIES, IUCAA, and NCRA.
In India, you can also get a job as a researcher in several organizations abroad.
Even if you don't have an astronomy degree but have a B.Tech. or B.E. and have an interest in astronomy, you can enter the field of astronomy as a research scholar.
Areas in Which You Can Get A Job As An Astrophysicist
Industry
Universities
Research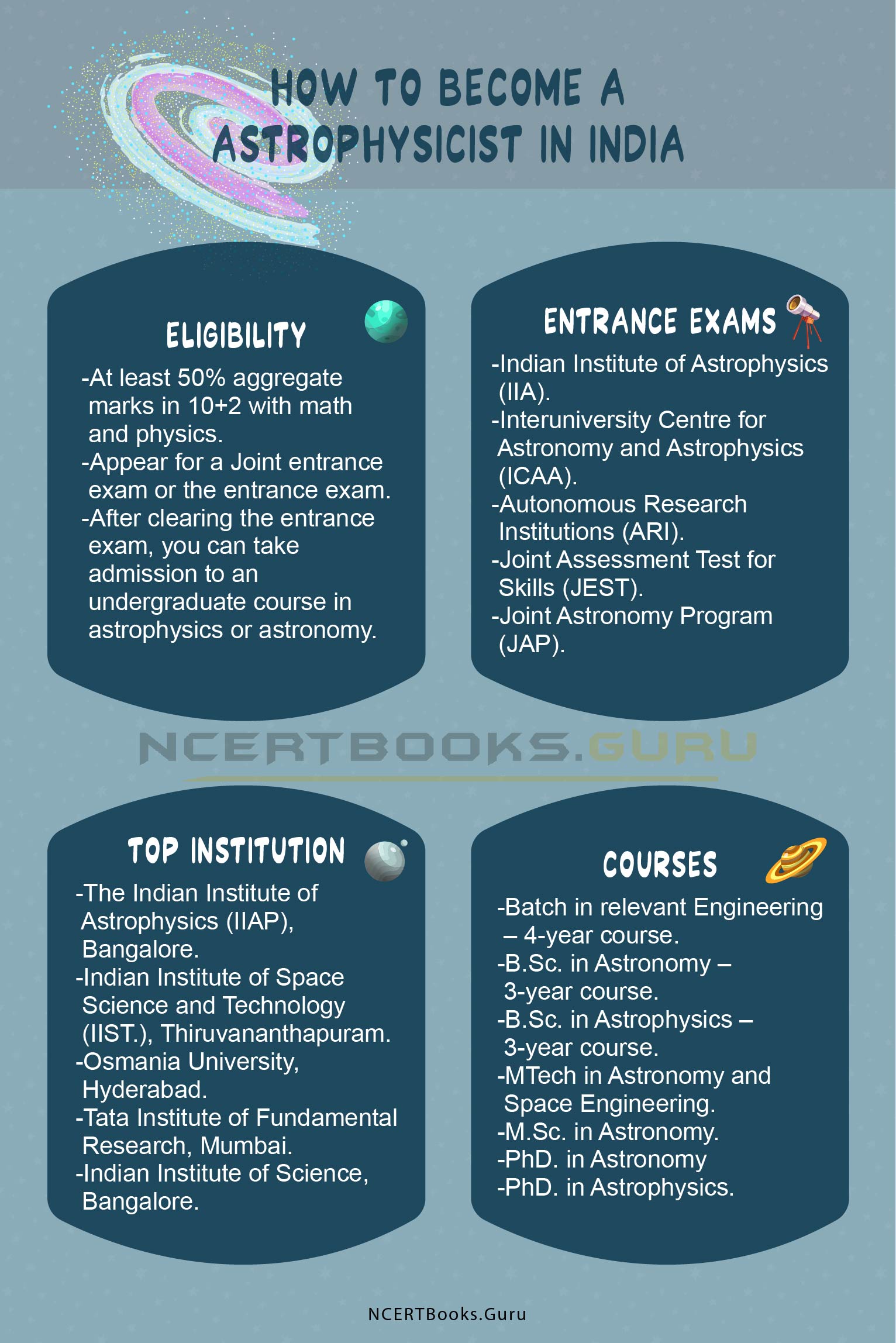 Job Profile for an Astrophysicist
Lecturer
Research Scientist
Astronomer
Astronaut
One thing to note would be that studying in the right institution also increases your chances of getting a better job and a good salary package.
Salary Of An Astrophysicists
An astrophysicist will receive an impressive salary in India. However, the salary of an astrophysicist will depend on the course you have done and the job you have taken. An astrophysicist choosing the teaching profession will earn a different salary from someone who decides to research.
The basic salary of an astrophysicist can start somewhere around 50000 rupees per month. A more experienced astrophysicist can earn around 8 to 10 lakh per annum or even more, depending upon their knowledge and the organization they are working for.
Conclusion
To become an astrophysicist, you need to be sincere about your studies from the base that is your 10+2. Choosing the right institute to study also plays a vital role in where you will work and what package you will be getting. You will need to work hard to work in top government space research centers in India or abroad.