Are you quick at typing letters on a computer or mobile? Have you ever tried typing while someone is dictating? If your answer is yes, then you can build your career as a stenographer. A stenographer is a person whose responsibility is to translate speech in shorthand. Do you know how to become a stenographer in India after 12th? To become a stenographer the candidates need to meet some qualifications and qualify for the competitive exams.
A stenographer post is a government job with a lot of facilities. Nowadays there is a high demand for stenographers in different fields. So, the aspirants who wish to become a stenographer can make use of this article to get all the required info like course details, educational qualifications, age limitations, pay scale, selection procedure, and so on.
What does a Stenographer Do?
As the technology is increasing day by day the demand for stenographers is becoming high. The designation of the stenographers is different for different organizations. The role of the stenographer is to translate the language into a coded form. They need to shorthand the matter on paper or computer in the normal form. The average typing speed of the stenographer should be at least 35 words per minute.
Eligibility Criteria for a Stenographer
Educational Qualifications: The minimum qualification that is required for the candidates to apply for stenographer posts is 10+2 from any recognized board. In addition to that aspirants can complete the polytechnic course and diploma course in shorthand and typing with at least 65% of marks from any stream.
Age Limit: The minimum age required for the candidate to apply for the stenographer post is 18 years and the maximum age is 27 years.
Nationality: The applicant must be a citizen of India.
Read More: High court typing test paragraph
Stenographer's Selection Procedure
Every year government of India fills the vacancies of stenographers by conducting entrance or competitive exams like SSC, High Court, DRDO, CRPF, CISF, Railway. The applicants will be selected based on the marks scored in the exams. There are two stages to select the candidates for the post of stenographer.
Computer Based Test/ written test: In this stage, the candidates will be tested based on General Knowledge, English, Hindi, Maths, and Reasoning. You can test your skills by writing a mock test.
Skill Test: In this stage, the typing speed of the candidates will be tested.
Read More:
Top Colleges that Offers Stenography Courses
Students can join the stenography courses that offer very rarely in some colleges. You can find the stenography course in Diploma i.e, after polytechnic. Here we have prepared the list of the colleges that offers stenography courses in India.
Women's Technical Education & Research Institute, Nagpur
IEC University – Baddi Campus, Himachal Pradesh
International Women Polytechnic – Delhi, Chandigarh, Haryana, Punjab, Uttar Pradesh
The George Telegraph Training Institute – Ansel, Gujarat, Bagnan, West Bengal
Shri Vishwakarma Private Industrial Training Institute (SVPITI), Indore
Sriram Institute of Professional and Vocational Studies (SIPVS), New Delhi
Ahimsa Women Polytechnic, New Delhi
Delhi Institute of Early Childhood Care and Education – DIECCE, New Delhi
Maharani Kishori Memorial College of Vocational Education for Girls – MKM, Haryana
Bhavnagar University, Gujarat
Courses of Stenographer in India
Students who aspire to become a stenographer must complete the relevant course to stenography. There are three courses related to stenography.
ITI Course with 2 years duration
Diploma course with 3 years duration
Certification Course
How to become a Stenographer in India? | Steps to become a stenographer
There are some steps to follow to become a stenographer in India. They are
Eligibility criteria play a vital role in the selection process for any job. So, first, the candidates have to fulfill the eligibilities required by the companies. The applicant of stenographer post must have completed at least 12th class with minimum marks from any state or central board of education.
Candidate can also complete Diploma/ITI Course in the relevant field with minimum marks.
Typing speed is very important to get selected as the stenographer. The minimum typing speed required is 30 to 40 words per minute and also knowledge of Hindi/English Language.
Skills Required to Become a Stenographer
Apart from the educational qualifications candidates must have to meet the extra skills required by the organization.
Typing skills with at least 25 words per minute.
Communication skills
Proficiency in English
Knowledge of latest technologies
Knowledge of shorthand
Salary for a Stenographer
The pay scale for a stenographer will be based on the performance of the candidate. The salary for fresher and experienced candidates will be different in different sectors. The initial salary of a stenographer in the government sector is Rs. 8000 and the private sector is Rs. 10,000 to Rs. 15,000 per month. The pay scale for an experienced stenographer is Rs. 25,000 to Rs. 30,000 per month.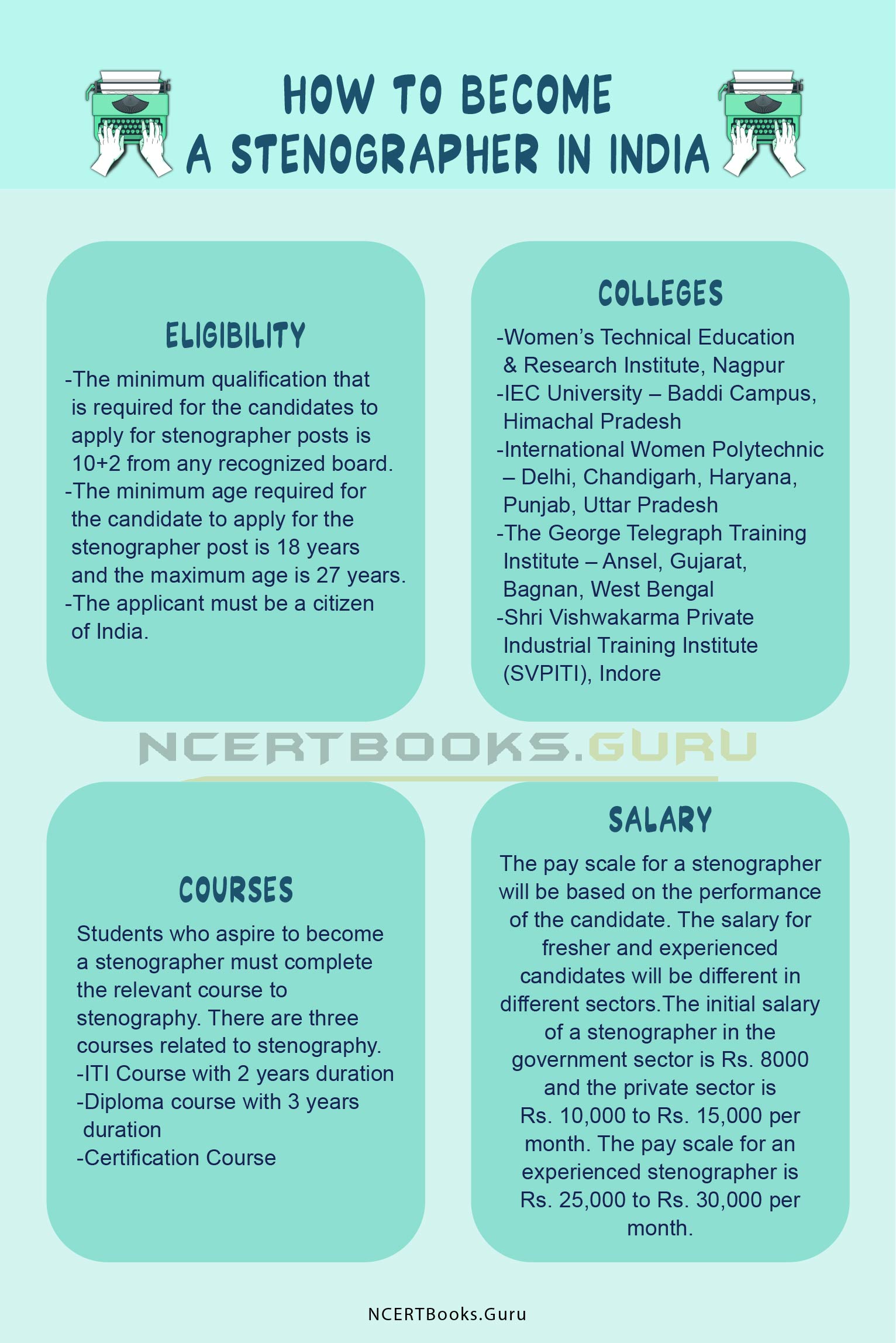 FAQs on How to Become a Stenographer in India
What is the salary of a stenographer?
A stenographer will get Rs. 15,000 to Rs. 25,000 per month based on the experience of the candidate.
How many hours does a stenographer work?
Generally, a stenographer works 9 to 11 hours per day. If he/she is a freelancer then you can work on your own schedules.
What is the maximum age for a stenographer?
The maximum age for a stenographer is 27 years.
Final Verdict
Hope we have provided all the useful information regarding how to become a stenographer in India. Check out the exams to write to become a stenographer in India. Feel free to ask doubts about course details and other details in the below-mentioned comment section. And also share this link with your friends and help them to get placed as a stenographer. All the Best!!!