Calligraphy Course Details: Calligraphy is the art of beautiful handwriting. The term comes from the Greek words for "beauty" (kallos) and "to write" (graphein). It emphasizes a sure knowledge of the correct form of letters i.e., the conventional signs by which language can be communicated—and the skill to make them with such ordering of the various parts and harmony of proportions that the experienced, knowledgeable eye will recognize such composition as a work of art. Calligraphic work, like art, need not be legible in the usual sense of the word.
Modern calligraphy ranges from designs to fine-art pieces, and functional inscriptions were the letters may or may not be readable. Classical calligraphy is completely different from typography and non-classical hand-lettering, though a calligrapher may know both.
Calligraphy continues to grow in the forms of font design and typography, wedding invitations and event invitations, original hand-lettered logo design, graphic design religious art, announcements, and commissioned calligraphic art, memorial documents and cut stone inscriptions. It is also used in props and moving pictures for film and television, birth and death certificates, maps, and other written works.
Why Should One Take Calligraphy?
Few of the reasons are as follows:
It is satisfying. You create work on calligraphy, show your friends, and receive good vibes and feedback from creating something beautiful.
It builds up a person. Some people discover that calligraphy is the most critical thing in life, becoming part of their identity. They gain confidence as their skills mature.
It builds creativity. You will always feel like trin the lettering a bit different — a different color, angle, size, slant with new or different elements, or whatever.
It's an outlet for love. You can create unique and unusual gifts from the heart for others based on your skills.
It is meditative. It calms you down and rejuvenates as you work on one stroke in a letter one at a time.
It fosters patience. It is time taking to create perfect letters and crafts based on their design. It requires repetitive practice, and in that way, you learn patience, both for calligraphy and in life.
It builds the brain. Studies and research show that the brain develops better when one pays attention to writing careful, handwritten letters than typing on keys.
It builds community – At the end of the day, you want to seek out others who are very interested in calligraphy. You join a community and influence of such people, either online or in a local hub. Then you learn from each other and get better through feedback. Lasting friendships are made, along with your skills and knowledge.
It provides income. You get paid for doing the work without much work pressure which you like, and people appreciate it.
It is fun. You can try out many techniques with combinations of inks, papers, paints, lettering styles, and tools to see what you wind up with.
It beautifies the environment. When your works are displayed to others in your home, at a wedding, parties, or anywhere else, you bring a little beauty and brightness into a world seeking it.
It adds meaning. The message in poetry, stories, and other texts can suddenly become apparent when "illustrated" with hand-done calligraphy.
It trains the eye. Studying other works of art in our field it helps us be constructively critical of our work. Our design sense gets evolved. We try new and different directions for our work.
About Calligraphy Course Details
There are mainly two mediums to learn calligraphy courses either you can learn online or offline.
Below are the details about a few different types of online courses available on Skillshare, EDX, Udemy, etc.:
Introduction to Modern Brush Calligraphy – in this Introduction to Modern Brush Calligraphy to gain knowledge on how to change a brush marker into a magic brush capable of creating Instagram-worthy masterpieces. In this course, you'll learn:
proper grip, posture, and movement
ten basic strokes – the building blocks of the lowercase alphabet
how to script the lowercase alphabet
how to properly connect letters
the ins and outs of different brush pens
tips and tricks from a professional calligrapher
Hand Lettering: Four Easy Steps to Modern Calligraphy – In this, one will learn through bite-sized lessons with one step at a time instructions for how to use variants of your handwriting to make the modern script. You'll discover many tips and tricks for basic letter formations, connecting letters and phrases, and even illustrative concepts! This is focused more on letter structures than on design, so you'll be prepared to take on all stylistic approaches.
Fauxsaics in Procreate: Make A Typographic Mosaic – Learn how to make digital mosaics similar to standard mosaics (aka "fauxsaics") on the iPad Pro/ with Procreate. This is an incredibly fun explained technique that has soared in popularity in recent years – and for a good reason. Not only are fauxsaics fun to make, but the end result is exceptionally eye-catching and rewarding.
Modern Calligraphy: Pointed Pen Basics – This class has everything one needs to know to get started on the right path for modern calligraphy: supplies, posture, strokes, alphabets, numbers, punctuation, and a little bit on exploring different styles.
In this class
You will learn the eight basic strokes as well as several modified strokes
You will build lowercase and uppercase letters with the strokes
Practice words, numbers, and common punctuations.
Mastering iPad Lettering with Procreate 4 – This start-to-finish class will teach you the essentials of hand lettering on the iPad with Procreate plus provide in-depth lessons about widespread effects (like ombré lettering) and challenging skills (like the lettering in layer masks). It shows you my favorite techniques for some of the most popular and fun hand-lettering effects, and It shares tips and shortcuts for a smooth workflow.
Topics covered include:
Learnings in Procreate 4 interface and the new iOS11 Files app
Lettering basics from drawing letters and baselines to selecting and resizing
Brush tutorials on importing, editing, and designing them from scratch
Adjustments for recoloring and adding texture
Effects like ombré and watercolor brush lettering
Dimension, drop shadows, and shading.
Highlights and simple text-decoration
Alpha Lock for recoloring and erasing with precision
Masking for layered effects and nondestructive erasing
Copy/paste tricks to divide up layers and combine files
Color palette customization and shortcuts
Bounce Letters: Bringing Character to your Hand Lettering – In this class, we'll learn adding the bounce by going over how to bring bounce, the best lettering combinations and opportunities to bring bounce, and how much is too much or too little. We'll go through some exercises to practice and develop excellent letter combinations of muscle memory, so you'll begin bringing the bounce to your specific style by the end of the course.
A lightbox is a plus if you have it, but you'll only need a pen and any kind of paper you have available.
Bonus practice words worksheet, letter direction cheat sheet, and a lettering utensils resource list are also included with your enrollment in this class!
Also, Check
Calligraphy Course Eligibility
No specific degree or diploma is needed to become a calligrapher, only artistic imagination skill and bent of mind; There are no university-recognized courses in India only short and long term courses offered by a private institution. These courses have a time period of a few weeks to a few months. And to learn this art, it requires hard work, patience, and practice. Fine art courses can help candidates by giving the basics of calligraphy. Calligraphy course candidates can go in for a degree in visual art or history to learn about the ancient scripts and alphabet. Some foreign universities, like The University Of Sunderland, UK offer a foundation certification in calligraphy.
Calligraphy Course Fee
The calligraphy course fee depends on the course you choose. In general, the fee ranges from 16 K to 1 L.
List of Colleges Offering Calligraphy
New Delhi YMCA Arts ( Fine / Visual / Performing ): The course's total fees are around twenty thousand. It is located in New Delhi. It is a three-month full-time course.
Natraj Academy Of Fine Arts And Animation Arts ( Fine / Visual / Performing ): This institute is in Thane, Maharashtra. It is a three-month part-time course.
Calligraphy India, New Delhi
Council of Education and Development Programmes: It is also located in Thane, Maharashtra. The fees for the course is around thirty thousand.
Rishihood University: This institute is located in Sonepat.
Indira Gandhi National Centre for Arts, New Delhi
Achyut Pallav School of Calligraphy, Mumbai
Calligraphy Courses Career Opportunities
Wedding/party invitation cards are one of the essential and most prominent target groups of calligraphy services. From the shlokas with the design page on it to the wedding ceremony detailing inside and to the names and addresses on the card, calligraphers can do many amazing things with their craft. You can be a freelancer and work for yourself, start your own calligraphy related business, or think for a career in calligraphy at print shops, wedding planners, and publishing houses, Apart from wedding cards, your calligraphy portfolio can include samples of birthday cards, party invitation cards business cards, and even the name cards to place on the table or seats for guests in an event or party or working with tattoo artists and also by creating and selling their work.
Logo designs look tiny but play a significant role in brand image and brand identity. Calligraphers play a vital role in coming up with logo designs and brand imaging. Hoarding designs, signboards, graphic designing such as desktop wallpapers, and packaging designs use calligraphy.
Manuscript design, font design or typeface illustrations, and fine arts (whether it is computer-based or pen-based) have not lost its shine with the evolution of the digital age. The art of calligraphy, which has existed for centuries and has a rich heritage of its own, has now been dusted by digital media and made glossier than ever.
Basics tools needed for doing calligraphy
If you want to learn good and leave things open for your calligraphy to evolve, this is a beneficial minimum of calligraphy tools and materials to start with:
right, black calligraphy ink such as Higgins' – they do waterproof and also non-waterproof
practice paper ( thin so that you can see guidelines through the paper)
good quality calligraphy paper, like Sennelier (or cartridge paper, thin watercolor paper, etc.)
nib-holder
Brause medium nib (2-2.5mm is good)
You will find your calligraphic to be much easier if you also have:
slanted writing surface: either buy a proper adjustable desk as known as bookstand with a card or plywood support, or you can start with simply a drawing board propped against a thick book, or in your lap leaning against the edge of the desk.
rough paper (cheap printer paper, etc.)
a decent scale, ideally 50cm, transparent, and marked in cm and inches
drawing pencils – obviously, the higher-quality, the better, within reason
medium, rough paintbrush, for mixing up colors, applying ink to the nib, etc
a good eraser (not those pink scrubby ones on pencil-ends)
guide sheets (pages of thick ruled lines to put behind practice pages: you will be best making them match your different nib sizes)
more ink colors, watercolor, or artists' gouache paint, for ornament and decoration – you can add fine watercolor brushes to the list as well.
Make sure you have bright lighting from the right side. If necessary, add 'an adjustable lamp' to the above requirements, and good light is an integral part of all fine artwork, including calligraphy!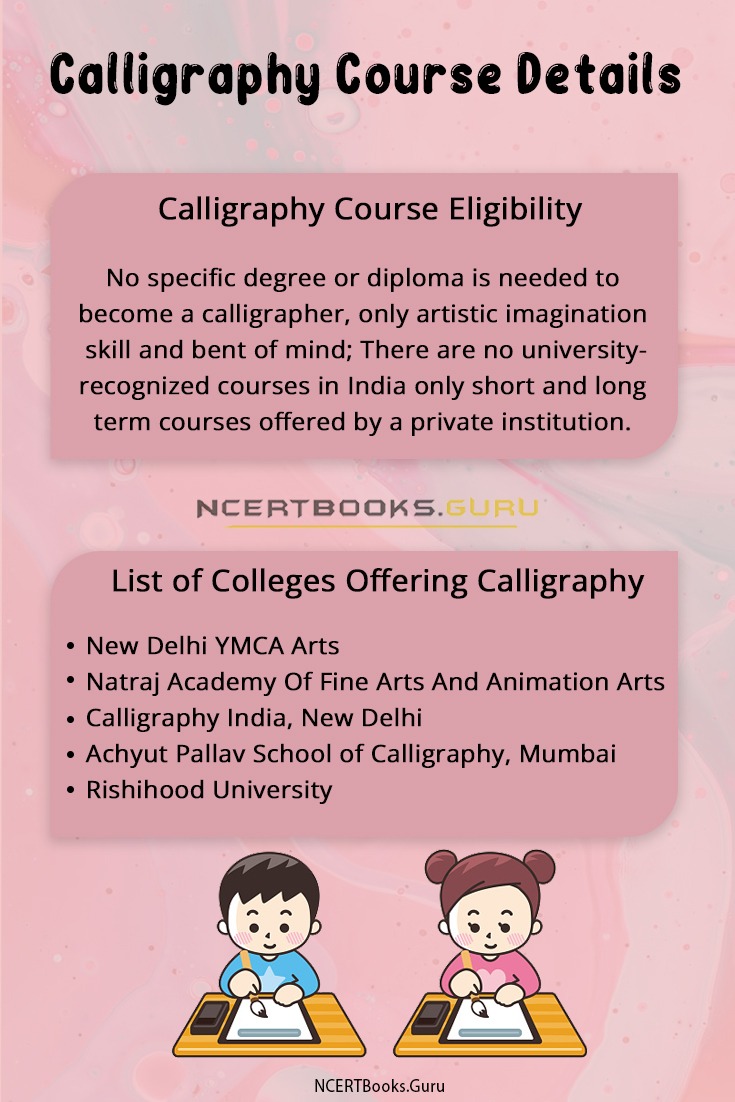 Skills Required for Calligraphy Course Details
Creativity, patience, imagination, zeal, aesthetic sense and an eye for detail are a few requisites to pursue this career. In the present day, both pen-based and computer-based calligraphy is in use, so one must be proficient in both. Knowledge of digital media(Advantages of Digital Marketing Course) and designing are a must as this will help calligraphers become more innovative.
Salary of a Calligraphy
The salary depends on location, project, and art form. A fresher can earn from 15,000- 20,000 per month; they even receive a commission on every project they undertake. Freelancers make more than employed people.
It is an excellent career for students after plus two and can explore a lot and make themselves successful with their art and imagination.
FAQ's on Calligraphy Course Details
Question 1.
Does Calligraphy courses have any eligibility criteria?
Answer:
No specific degree is needed to become a calligrapher, only artistic bent of mind, imagination, and skill.
Question 2.
How much salary one gets after pursuing such courses?
Answer:
The salary depends on location, project, and art form. A fresher can earn from 15,000- 20,000 per month; they even receive a commission on every project they undertake. Freelancers make more than employed people.
Question 3.
What is the Admission process in Colleges?
Answer:
Admission Process is pretty simple. There is no need for an examination. Interested candidates have the opportunity to apply directly to the college. In online courses, candidates can just enroll in the class by signing up and paying the enrollment fees.
Calligraphy is a craft that has to be practiced every day, perfected and honed diligently, with as much passion as dance or music. Like dance, you have to learn the methods, styles, strokes, and scripts, but the talent, the creativity, and the passion for the art form have to come from you. If you are in love with motifs, symbols, and images and have a good sense of aesthetics and artistic balance, you are all set to pursue a career in Calligraphy. It has an excellent scope if you wholeheartedly follow it.