BFA Course Details: Bachelor of Fine Arts or BFA is an undergraduate three years degree course that deals with Visual or Performing Arts. A society where people are linked with circuits all the time everywhere fails to build emotions and humanly connections.
The paper on Performing Arts involves topics such as dance, music, and theatre. Art education connects students with their culture as well as with the broader world. BFA includes subjects such as painting, sculpture, photography, literature, animation, etc.
A Brief On BFA Course Details
Fine arts education combines strong, sensitive faiths and a bond with canvas pencil and colors. BFA is a fundamental vocational program that makes students ready for various creative career fields upon graduation. Today's school's pressure test scores and fine arts are considered less important than academic subjects. Fine arts education can shape an individuals' passion for art and motivate and encourage him to paint his world with his love. The institutions today offer are few, and these few lack the quality education, structured classes, or enthusiasm to transform an art dreamer into an art believer and follower.
Fine arts cover a varied range of subject areas. It is suited to full-time artists, students, working professionals, or those interested in the subject; Fine Arts classes are open to anyone. Some Fine Arts courses may require submitting a portfolio before enrollment to ensure the considered student has adequate foundational knowledge or potential for success in the class.
BFA Course Details
| | |
| --- | --- |
| Course  | BFA |
| BFA Course Full-form | Bachelors of Fine Arts |
| Examination Type | Semester System |
| BFA Entrance Exams | BHU UET, UPSEE, AUCET, etc. |
| Duration | 3-4 years |
| Average BFA Course Fees | INR 1-5 lakhs |
| Course Type | Undergraduate Program |
| Average BFA Course Salary | 3 – 8 LPA |
| Job Positions | Fine Artist, Visual designer Art Teacher, Graphic Designer, Painter, Editor, Art Critic, Illustrator, etc |
| Top Recruiting Areas | Design, Film, Theatre, Teaching, Animation, Educational Institutions, etc. |
Bachelors of Fine Arts subjects usually include ideas of various forms of performing arts, including painting, sculpture, architecture, music, and poetry, exhibited primarily for aesthetics or beauty rather than a business application.
BFA Specialisations
The different specifications of this course are mentioned below. Those interested in this degree course can look at the details mentioned below to get an advanced idea on the course.
Painting
Applied Arts
Plastic Arts
Pottery & Ceramics
Textile Design
Music
Drama & Theatre
Digital Arts
Calligraphy
Cartooning
Dance
Graphic Designing
Illustration
Photography
Printmaking
Sculpture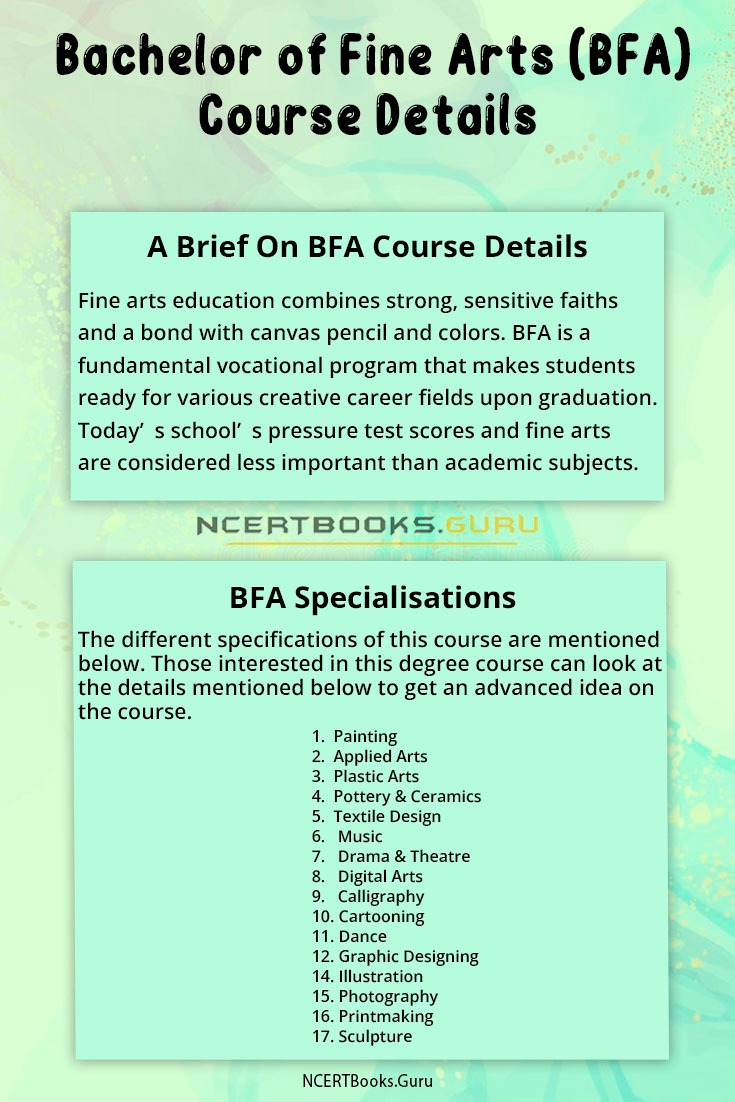 The program BFA is inclusive of both theoretical as well as practical subjects. Given below are the theoretical and practical Programmes:
BFA Theory Subjects
English
Hindi
Punjabi
Cultural History of India
Health Education
History of Indian Art
Environmental Studies
Basics of Computer Fundamentals
Aesthetics
Design & Communication Practice
Human Values & Professional Ethics
Market Research
Mural
Visual Graphics
BFA Practical Subjects
Geometry Perspective
Sketching & Drawing
Painting
Design
Lettering Layout
Clay Modelling & Sculpture
Printmaking
2D Art & Design
Computer Graphics
Communication Illustration
Communication Design
Advertising Art
Market Research
Visual Arts Process & Practices
Composition
Check Various Arts Courses After 12th details.
List of Top Colleges in India Offering BFA Courses
Here, we are mentioning some top listed colleges that are offering BFA undergraduate courses. You can choose the best BFA Course colleges according to your preference. It is always better to research the college before joining it.
College Of Art, New Delhi
Banaras Hindu University, Varanasi
Jawaharlal Nehru Architecture And Fine Arts University, Hyderabad
Savitribai Phule University. Pune
Jamia Milia Islamia, Delhi
Aligarh Muslim University,
Anna University, Chennai
Amritha Vishwa Vidyapeetham, Coimbatore
Amity School of Fine Arts
NIMS University, Jaipur
Bachelor of Fine Arts (BFA) Admission Process
Most of the institutes offering Bachelor of Fine Arts admit students through Merit Basis. Institutes like Savitribai Phule University, Jamia Milia Islamia, Delhi University, etc. conduct entrance examinations to judge a candidate's capability.
The following are the two important pathways through which BA Fine Arts admissions take place.
Admissions through Merit Basis: Most private universities offering the course usually admit students based on the High School level marks. Apart from this, colleges may conduct a Personal Interview or a small Written Test to know the candidate and his/her skills further.
Entrance Exam Based: Top Art Colleges like College of Arts Delhi, Savitribai Phule University, etc. offer admissions in the Bachelors of Fine Arts program through entrance examinations that usually consist of MCQ questions linked to Fine Arts, helping the university to select the worthy candidates for admission. Some BFA Entrance Exams are BHU UET, UPSEE, AUCET, etc.
After the result declaration of Entrance Exams, colleges conduct a Personal Interview Round to know the student's interest in the course, skills, and career. They might go through their Art Portfolio as well.
Bachelors of Fine Arts Syllabus
BFA Course subjects vary from college to college; its syllabus consists of foundation and elective programs that students can select based on his/her interests. Subjects included in the structured BFA Course  syllabus are:
First Year of BFA
History & Appreciation of Art
Aesthetics
Illustrations
Methods & Materials 1
Composition Painting
Press Advertisement
Portrait Painting
Poster Design
Second Year of BFA
Specialization courses
Aesthetics 1
Composition 1
Environmental Education
Graphics Printmaking
Methods and Materials
Ceramics and Molds
Magazine Advertisements
Third-year of BFA
Specialization Course
History and Appreciation
Indian Aesthetic, Portrait Painting
Methods & Materials 2
Composition Painting 3
Printmaking
Aesthetics 2
Life Study
BFA Job Prospects and Career Options
After completion of the BFA course, most students go for higher education or look for job opportunities. BFA jobs are mostly in the creative and entertainment field. Media houses, marketing companies, the entertainment industry, art galleries, magazines, schools, colleges, etc. are areas where a BFA graduate finds employment.
Several job profiles are open to BFA students, depending on the specialization they choose. One can work as a Graphic Designer, Art Director, Musician, Visual Artist, Animator, Cartoonist, etc. Jobs are available in private and public sector organizations. Apart from getting a job, one can also opt for higher education options and increase the chances of gaining more from their craft.
The most popular course BFA graduates choose to do is the Masters of Fine Arts. It is a postgraduate program in visual and performing arts. You can become Art Teacher by pursuing Art Teacher Diploma Course.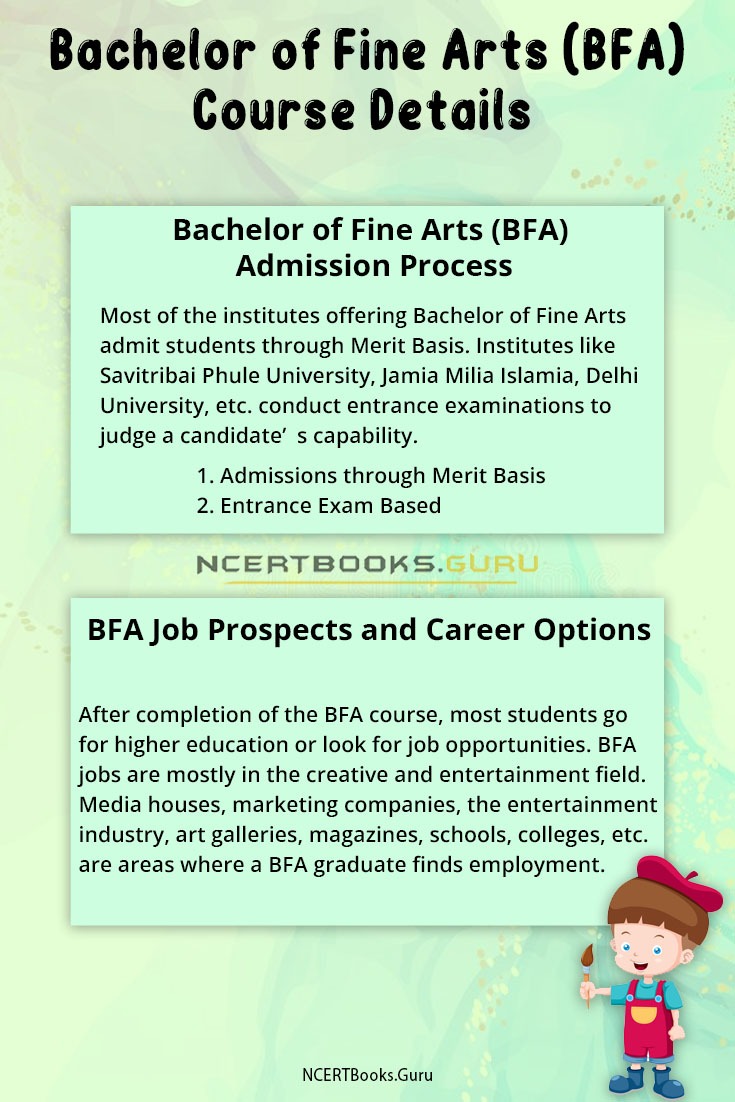 FAQ's on Bachelor of Fine Arts (BFA) Course Details
Question 1.
What is the full form of BFA?
Answer:
The full form of BFA is a Bachelor of Fine Arts.
Question 2.
Can I study BFA Course after pursuing Science in class 12?
Answer:
Yes, you are eligible to apply to the BFA course, on the basis that you secure a minimum of 50% or above in Class 12.
Question 3.
What subjects are taught in BFA?
Answer:
Some subjects taught in BFA are History & Appreciation of Art, Aesthetics, Illustrations, Methods & Materials, Composition, Graphic designing, etc. In second-year students can take specialized subjects like Painting, Applied arts, etc.