Genetic engineering courses after 12th: Genetic engineering is a field of precision and patience that deals with the genetic modification techniques to achieve desired characteristics in any organism by removing the defective genes & segments and altering the DNA with new artificial or synthetic ones.
Genetic engineering was very new but with the advancement of science, it has been explored more and more to solve various problems in the medical field, agriculture, increasing production and quality of hormones, industrial consumption, mineral addition, etc. Aspirants across the globe, get fascinated by how genes rule over the world and want to pursue their careers in the same.
In this article, we will shed light on the various aspects of genetic engineering courses after 12th and cover topics like types of courses, list of best chemical engineering courses after 12th, eligibility, set of skills, duration, topics & subjects, fee structure, top Genetic Engineering colleges, career prospects, salary structure, etc. to help you have enough knowledge to pursue a career in it. This is one of the best career options which assures handsome pay as well as good exposure.
About Genetic Engineering Courses After 12th
Genetic engineering involves Crafting Technology for DNA synthesis which helps in genetic modification, manipulation, management, and innovation to change the hereditary form of cells and develop new synthetic well-functioning genes to replicate the living organism in the place of the defective ones.
Genetic engineering requires aspirants with an analytical brain and proper field knowledge to renovate new health or product essentials for the various fields like commercial, scientific, etc. Organs instrumentation is involved in this field of genetic engineering that has a Geneticist who helps patients with head to toe injury genetic disorders by recommending them safe treatment procedures.
Genetic Engineering Course Duration After Class 12
Genetic engineering courses after 12th include degrees like Btech, BE and have a minimum duration of 3 to 4 years. The Genetic engineering courses include subjects like nanotechnology, microbiology, biotechnology, etc.
It is not only research-oriented but also has crossfield applications in Computers and Engineering which include computational biology, biochemical engineering, etc.
Why should you opt for Genetic Engineering courses after 12th?
An undergraduate degree in genetic engineering after 12 will open in front of you an array of various career opportunities with handsome pay packages not only in India but also worldwide.
Genetic engineering also involves advanced lab equipment to ensure modern gene-editing techniques and all other aspects that not only need science but also mathematics and Chemistry are one of the most essential technologies in today's time.
Best Genetic Engineering Courses After 12th
Undergraduate genetic engineering courses are of 3 major categories:-
| | | |
| --- | --- | --- |
| MEDICINE | AGRICULTURE | RESEARCH |
| A genetic engineering study is used in the formulation and manufacture of medicinal drugs, in laboratory research as well as gene therapy. | Genetic engineering in the field of agriculture is used in the modification and preservation of crops or any other genetically modified organisms to harvest better quality and long-lasting modified foods. | Genetic engineering finds its use in a variety of research fields. In these, the genes and their segments from various organisms are converted into bacteria and then stored for modification and creation of genetically modified bacteria which are pushed into the various living organisms to get desired results. |
Here is a list of the best Genetic engineering certification courses that can be done after the 12th along with their duration –
This is one of the best specialization courses which you can do in the field of Genetic Engineering after 12th. This basically deals with using living organisms and applying them technologically to create and modify organisms for a specific purpose.
A bachelor's degree course in biotechnology will include a combination of technology as well as R&D( Research and Development) and will have subjects namely biochemistry, microbiology, chemistry, engineering, environmental study, etc.
This field has huge career prospects in agriculture, medicine, environmental study, etc. The duration of this course is 4 years, the admission process being 10+2 60% aggregate, PCM/PCB background, and entrance exam based. The fees may range up to INR 10 lakhs.
This is yet another undergraduate course that typically deals with the study of analytical instruments which are used in various hospitals, clinics, and Healthcare sectors like dialyzers, x-ray machines, USG machines, MRI machines, CT Scan machines, electrocardiographs, endoscopes, etc.
This course is a combination of research and development, manufacturing, and computer-based software coding, and training of these instruments with the help of artificial intelligence in various analytical administration and medical purposes.
The duration of this course is 4 years, the admission process being 10+2 60% aggregate, PCM/PCB background, and entrance exam-based merit record. The fees may range up to INR 3.5 lakhs per annum.
BTech in Bioinformatics:
This undergraduate course is a combination of Biological aspects, Information Technology, and Computer-Based research with Data management and software Technologies more in comparison to production or development.
Subjects that you will need to have a stronghold on include physics, chemistry, biology, and maths. You will need to have a basic understanding of Biomolecules, Biology, Microbiology, Immunology, Medicine handling, Biological reaction mechanism, Biochemistry, etc.
Computer-Based knowledge that is required in this field includes concepts of database management, software programming language, job algorithm, numerical method approach, etc.
The duration of this course is 4 years, the admission process being 10+2 60% aggregate, PCM/PCB background, and entrance exam-based merit record. The fees may range up to INR 2.5 lakhs per annum.
This undergraduate course deals with the study and application of engineering principles, medicinal concepts, and problem-solving skills of biological sciences to improve healthcare diagnosis, administration, monitoring, and therapy. The biomedical engineering graduates apply their expertise and practical knowledge to assist senior practitioners like doctors.
This is a 4-year undergraduate course that is divided into 8 semesters, the admission process being 10+2 60% aggregate, PCM/PCB background, and entrance exam-based merit record. The fees may range up to INR 4-9 lakhs per annum in public or government institutes and INR 8-18 LPA in private ones.
BTech in bioprocess technology:
This course typically deals with the study of quality control, manufacturing, and analysis, research and development of the processes and technologies which are used in various fields like biotechnology, nanotechnology, gene engineering, etc
The graduates in this field develop bioprocesses like microbes used in treatment, hybrid grain, long-lasting fruits and vegetables, stable and good quality biofertilizers, etc. for the welfare and innovation of society.
Examples include long-lasting tomatoes, Golden rice with enhanced nutrition value, modified Pharmaceutical drugs, medicines, etc. The duration of this course is 4 years, the admission process being 10+2 60% aggregate, PCM/PCB background, and entrance exam-based merit record. The fees may range up to INR 3 lakhs per annum.
B Tech in Biotechnology and Biochemical Engineering:
This is an undergraduate specialization course that deals with living organisms and their application in fields like industrial processing, medicine, environment, agriculture, and energy. Graduates need to have a good concept in the fields of biochemistry, enzyme technology, microbiology, and industrial microbiology.
Some other concepts that you will need to be thorough with are genetics, biology, phase equilibrium, chemistry, property estimation, industrial microbiology, embryology, cell, and molecular biology, thermodynamics, enzyme feeding, etc.
They mainly find their use in various industries like pharmaceutical, bioproduct, textile, nutrition, animals, conservation of energy, etc. The duration of this course is 4 years, the admission process being 10+2 60% aggregate, PCM/PCB background, and entrance exam-based merit record. The fees may range from INR 0.14 to INR 3.96 lakhs per annum.
B Tech Genetic Engineering Eligibility After 12th
Want to know What is the B Tech Genetic Engineering Eligibility? Go with the points discussed here. Overseas education will require different parameters depending upon the respective Universities.
Apart from this, there are a few basic parameters that you need to follow. Firstly you need to pass your 10 + 2 with a minimum aggregate of 60 % and you will have to be from a PCM/ PCB background. Secondly, you will have to qualify for the basic entrance examinations.
Following is a list of some of the main entrance examinations that you need to qualify:-
JEE ( JEE Main, JEE Advanced )
Birla Institute of Science and Technology (BITSAT)
VITEEE (VIT Vellore)
SRMJEEE (SRM University of Science and Technology)
Graduate Attitude Test in Engineering (GATE)
KEAM (CEE) Commissioner of entrance examination from Kerala architectures and medical Institute
Ever wonder How to become a genetic engineer in India? If yes, then here is the solution. In order to become a genetic engineering scientist in India, you will have to complete a doctorate degree in bio-sciences and complete your research and development department studies from any of the various government institutes.
In case you wish to do your masters from abroad you will have to qualify in the English proficiency examinations namely IELTS TOEFL PTE, etc. Additionally, you will have to qualify SAT/ACT to get admission to universities in the USA and Canada.
Skills Required To Do Genetic Engineering Degree after 12th
Every aspirant must have the following set of skills listed below :
A theoretical, analytical as well as practical mindset
The ability to handle vulnerable situations
Crucial skills to tame any exigency.
Complex problem solving and critical thinking skills
Programming skills with Python and word processing software program skills
Patience and precision in technology and methodologies.
Lab handling skills to work with sensitive lab equipment or any other essential component of lab equipment without damage.
To use CAD (Computer-aided design)
Research skills because genetic engineering will require a completely new and explored type of study.
Understanding scientific methods and rules.
Graphics and photo imaging skills
Topics and Subjects Covered in the Genetic Engineering Courses after 12th
Students need to learn the basic concepts of structure, function, and replication of DNA and RNA, DNA transcription and translation, gene therapy, tissue culture, gene cloning, enzymes taking part in various technical fields, application of biotechnology, hybridization, etc.
The genetic engineering course curriculum includes a study of genes at a broader and advanced level. Therefore, a wide array of subjects sum up the course curriculum. To name a few:
Microbiology
Nanotechnology
Immunology
Biotechnology
Biochemistry
Material science
Cell biology
Biostatistics
Bioinformation
Nanobiotechnology
Stem cell therapy
Principles of tissue engineering
Bioethics and safety
Mathematics
Transgenic Technology
Recombinant DNA technology
Genetics and cytogenetics
Various upcoming trends have introduced new subjects like genome editing, RNA reference embedded exterminating, synthetic chromosomes, gene expression, plastone transformation, genedrive, experimentation of added genes, etc.
Genetic engineering course fees
The average fees of the course in India can range between INR 2 lacs and can go up depending on the institute that you have chosen to do your course with. Below is a simple breakup of the fee structure at various levels for genetic engineering courses.
Basic Fees breakup:
| | |
| --- | --- |
| Fee Structure | Under-Graduate |
| Private College | INR 6-10 LPA |
| Government College | – |
Top genetic engineering colleges in India for class 12 students
Below is a list of the best colleges for genetic engineering that you can consider after class 12:
Best colleges for Bsc Genetics:
SRM University Chennai
Jawaharlal Nehru University JNU
AWH Special College, Calicut
Punjab Agricultural University
University of Delhi
Banaras Hindu University
University of Kolkata
Top private colleges for B tech genetic engineering:
SRM University, Chennai
Bharath University, Chennai
Amity University, Jaipur
Jaypee Institute of Information Technology, Noida
Delhi Technological University, Delhi
Sharda University, Greater Noida
Guru Nanak Dev University regional campus, Sathiala
Aryabhatta Knowledge University, Patna
Indian Institute of Science, Bangalore
JIMS Engineering Management Technical Campus, Greater Noida
Top Government Genetic Engineering Colleges in India:
Indian Institute of Technology (IIT Kharagpur).
Delhi University
Indian Institute of Technology (IIT Delhi)
Jiwaji University
School of Biotechnology – Devi Ahalya Vishwavidyalaya
Kurukshetra University
University of Kerala
For research in genetic engineering in India:
The Institute of Genomic and Integrative Biology (IGIB), Delhi
Rajiv Gandhi Center of Biotechnology (RGCB), Thiruvananthapuram
SRM Institute of Science and Technology
International Center for Genetic Engineering and Biotechnology (ICGB), New Delhi
Jawaharlal Nehru Center for Advanced Scientific Research (JNCASR), Bangalore
National Institute of Immunology (NII), Delhi
 For research in genetic engineering abroad:
The Harvard University
University of Pennsylvania
Cambridge University
Cornell University
Stanford University
Oxford University
Columbia University
Duke University
SRM Institute of Science and Technology
University of Michigan
Career Prospects for Genetic engineering course after 12th
Genetic engineering is newly evolving with numerous job opportunities that ensure a good job position as well as a handsome salary package. India has literally become a global hub for genetic medicine production in expert hands as well as at an affordable price.
The demands have grown more and more for medical experimentation and job opportunities, introduction to new technologies, lab techniques, and requirements in addition to improving and keep advancing in respective sectors.
Genetic engineering undergraduate students get employed in numerous industry bases like agriculture, research, labs, government and private sector services, agriculture, food industry, research and development, department of biotech and pharmaceutical, etc. There are also a variety of job roles as university professors, forensic lab experts, assistants, etc.
Top genetic engineering job roles after 12th class
The scope of demand for genetic engineers is huge in India as well as abroad in various roles in the medical, pharmaceutical, and research industries. The job responsibilities include conducting proper lab research, generating reports and trials, extracting the DNA (deoxyribonucleic acid), and performing analysis, documentation, interpreting, administration, etc.
Some of the most important job categories or roles include:
Geneticist (explains concerned patients with hereditary genetic disorders and recommends safe treatment procedures to them)
Biophysicist (experiments to identify various substances like hormones, commercial products, environmental products, preservatives, etc. to conduct genetic tests)
Medical writer (somebody who is known for being a research writer, editor, and publisher in reference to scientific research papers, statistical clinical records, and characteristics study reports.
Other job roles include:
Information security engineer
Production control
Analysis control engineer
Technical writer
Research scientist
Information management specialist
Junior research analyst
Scientific medical writer, etc.
Top recruiters to hire genetic engineers in India
Some of the top recruiters and companies to hire genetic engineers are as follows:
Invitrogen ( Bangalore),
Stempeutics (Bangalore),
LG life Sciences (Delhi),
Panacea Biotech (New Delhi),
Maymygenome (Hyderabad),
Bharat Biotech (Hyderabad),
Emcure Pharmaceuticals (Pune),
Pandorum Technologies (Bangalore),
Wockhardt (Mumbai),
Intas Biopharmaceuticals (Ahmedabad),
Swagene (Chennai),
Cadila Pharmaceuticals (Ahmedabad),
Datar Cancer Genetics Limited (Maharashtra), etc.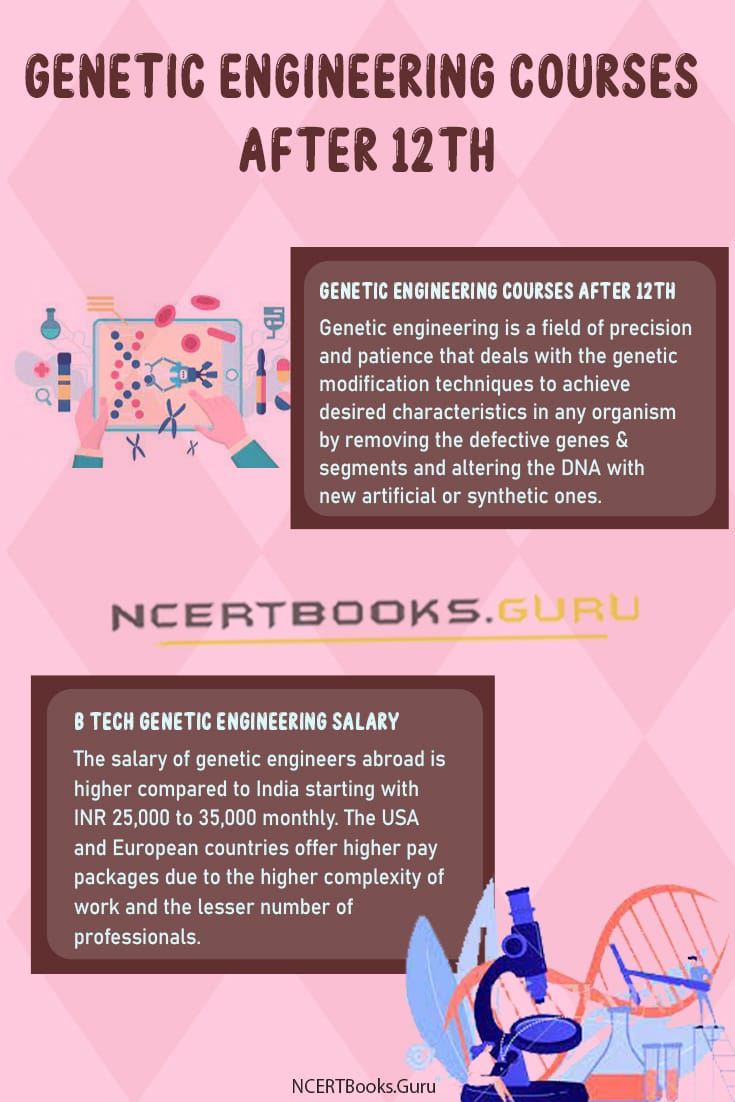 B Tech genetic engineering salary
The average salary of a btech genetic engineer depends on a number of factors mainly type of job, field, job position, location, expertise, knowledge, specialization, government or private, skills, etc.
The salary of genetic engineers abroad is higher compared to India starting with INR 25,000 to 35,000 monthly. The USA and European countries offer higher pay packages due to the higher complexity of work and the lesser number of professionals.
Similarly, in India, you earn more in the private sector as compared to the government sector. The average salary for somebody ranges from 2-2.5 LPA during the training period, 3.5-5.5 LPA for a research associate, 6-9 LPA for junior scientists, 15-16 LPA for senior scientists in private companies. Salary packages increase with an increase in years of experience.
The following table shows you an average salary structure in various job fields:
| | |
| --- | --- |
| Job Roles | Average Salary in INR |
| Geneticist | 5 – 8.5 lakhs |
| Medical Writer | 2.5 – 6 lakhs |
| Information Security Engineer | 4 – 8 lakhs |
| Professor | 5 – 7.5 lakhs |
| Genomics | 3.5 – 6.5 lakhs |
1. What are the subjects in Genetic Engineering?
The subjects available in the genetic engineering courses are material science, cell biology, stem cell therapy, bioinformatics, immunology, cell biology, biostatistics, bioethics and safety, biochemistry, principles of tissue engineering, etc.
2. Is NEET required for genetic engineering?
No, NEET is not at all required for genetic engineering. The basic eligibility criteria that you need to follow is 60% aggregate in 10 + 2 and the respective entrance merit examinations conducted by respective universities.
3. How to become a genetic engineer in India?
Candidates in India need to complete a bachelor's degree in science with a specialization in subjects like chemistry, biology, biochemistry, nanotechnology, immunology, gene therapy, genetic mapping, etc. to become a genetic engineer in India. You need to follow the basic eligibility criteria and appear for the merit entrance examinations conducted by your respective universities.
4. What are the best colleges in India to study genetic engineering?
Some of the best colleges in India to study engineering are SRM University, Amity University, Sharda University, Bharath University, etc.
CONCLUSION
In this article, we have tried to provide you with an overview of Genetic Engineering Courses after 12th with all details to decide your scope and interest in the same. It is recommended to check all details, match your skill-set accordingly and decide your goals.
If your dream is to work with evolution and experimentation then Genetic Engineering is one of the best courses to opt for. You can also check our article Genetic Engineering Courses in India to get detailed information on all the genetic courses (undergraduate, post-graduate, etc.). For more such career and course details articles stay tuned with ncertbooks.guru.