How to become a Genetic Engineer in India: A Genetic Engineer has a huge impact on society. We can expect the demand for genetic engineers in India as the research is improving day by day. Selecting the job as a genetic engineer is different from all other jobs. Genetic Engineering is related to research and experiments on microorganisms. Get the details on Genetic Engineering Courses In India like course details, eligibility criteria, books and study material, job roles, salary, etc from here.
Genetic Engineer
A genetic engineer is one who works on research and experiments. It is also called genetic modification or genetic manipulation that works on microorganisms. The duty of a genetic engineer is to cure genetic disorders. They are connected in different fields like medicine, biotechnology, agriculture, healthcare, and research. It is the study of genes and DNA in living organisms.
Eligibility to become a Genetic Engineer | Educational Qualifications to become Genetic Engineer in India
Candidates who wish to become a genetic engineer must have 10+2 in MBiPC with an aggregate of a minimum of 60% from any recognized board of exams.
Must have cleared entrance exams with a good score.
The candidate must have completed a bachelor's degree in genetic engineering from any recognized university or institution.
Genetic Engineer Course Details
| | |
| --- | --- |
| Course | Duration |
| B.Sc in Genetic Engineering | 3 years |
| B. E/B.Tech  in Genetic Engineering | 4 years |
| M.Sc in Genetic Engineering | 3 years |
| M.Tech in Genetic Engineering | 2 years |
| Ph.D. in Genetic Engineering | 3 years |
Entrance Exams for Genetic Engineering
GATE
JEE Main
AISEEE
BEEE
AEEE
CEE AMPAI
AUEET
BISAT
SRMJEEE
JEE Advanced
Amity JEE
Banashali University Aptitude test
What are the subjects to study in Genetic Engineering Course?
Sem 1:
Mathematics 1
English
Chemistry
Basic Engineering 1
Physics
Sem 2:
Mathematics 1
Material Science
Biochemistry
Principles of Environmental Science
Basic Engineering 2
Cell Biology
Value Education
Sem 3:
Enzyme Technology
Genetics & Cytogenetics
Immunology
Microbiology
Mechanical Operations & heat Transfer
German Language Phase 1/French Language Phase 1/Japanese Language Phase 1
Computer Skills
Sem 4:
Basic Molecular Techniques
Molecular Biology
Bio-press Principles
Stoichiometry and Engineering Thermodynamics
German Language Phase 2/Japanese Language Phase 2/French Language Phase 2
Biostatistics
Sem 5:
Advanced Molecular Techniques
Functional Genomics and Microarray Technology
Momentum Transfer
Bioprocess Engineering
Biophysics
Plant Tissue Culture and Transgenic Technology
Personality Development
Sem 6:
Recombinant DNA Technology
Bioinformatics
Gene Therapy
Chemical Reaction Engineering
Biosensors and Biochips
Sem 7:
Bio-separation Technology
Animal Cell Culture and Transgenic Technology
Nano-biotechnology in Healthcare
Stem Cell Biology
Sem 8:
Project Work
Bio-Safety, Bio-ethics, IPR & Patients
Top Colleges for Genetic Engineering Course
B.Sc Genetics:
University of Delhi
University of Kolkata
Punjab Agricultural University
SRM University
Jawaharlal Nehru University
Banaras Hindu University
IIT Biotechnology departments
NII, Delhi
The Institute of Genomic and Integrative Biology, Delhi
Tata Institute of Fundamental Research, Mumbai
B.Tech Genetical Engineering:
Delhi Technological University
Aryabhatta Knowledge University, Patna
SRM University, Chennai
Bharat University, Chennai
Sharda University, Greater Noida
Research in Genetic Engineering:
IIT Biotechnology departments
Indian Institute of Science (IISc), Bangalore
National Institute of Immunology (NII), Delhi
The Institute of Genomic and Integrative Biology (IGIB), Delhi
International Centre for Genetic Engineering and Biotechnology (ICGEB), New Delhi
Bcs-Insilico Biology, Lucknow
Rajiv Gandhi Centre for Biotechnology (RGCB), Thiruvananthapuram
Tata Institute of Fundamental Research (TIFR), Mumbai
Jawaharlal Nehru Centre for Advanced Scientific Research (JNCASR), Bangalore
Puna University
Indian Institute of Sciences, Bangalore
Jadavpur University, Kolkata
Get to know about different course details belonging to different streams all under one place and choose the right course for you.
Skills Required to become Genetic Engineer
Some of the skills required to become a successful genetic engineer is given below,
Knowledge of Computer-Aided Design (CAD) tool
Graphics or photo imaging
python
Communication skills
Comprehension skills
Reasoning, reading, and writing
Management skills
Job Roles of a Genetic Engineer
There are different job roles of a genetic engineer.
Genetic Engineer: He/she must have knowledge of engineering, biomechanical principles to design, development such as artificial organs, instrumentation, medical information systems, healthcare, and management.
Professor/Lecturer: They can teach the undergraduate level students in different locations and examine from time to time by the head of the department.
Research Scientist: The research scientists are responsible for analyzing information from lab-based investigations, designing, experiments and test runs, etc.
Scientific/Medical Writer: They are responsible for research scientific paper publications.
Also, see:
Responsibilities of a Genetic Engineer in India
The duties and responsibilities of a genetic engineer in India are as shown below,
Initiating new research at a senior level
Recording their procedures and results
Excerpting DNA or performing analytic tests
Governing lab research and trials
Checking lab results
Supervising scientists, specialists
Communicating consequences of discoveries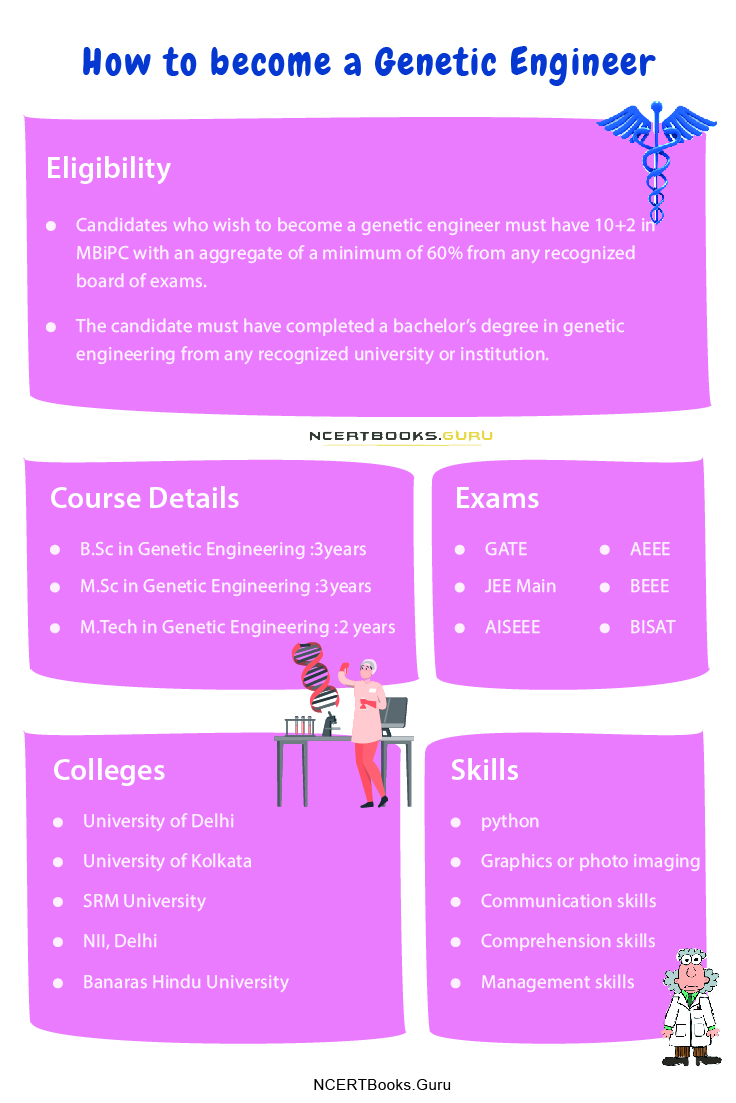 Recruiting Sectors for Genetic Engineers
There are different recruiting sectors for genetic engineers in India. They are as follows,
Healthcare
Forensics
Hospitals
Agriculture
Research Centres
Government Agencies
Pharmaceutical Companies
Pay Scale for Genetic Engineer in India
| | |
| --- | --- |
| Job Type | Pay Scale per annum |
| Research Associates | Rs. 3.5 lakhs to 5 lakhs |
| Junior Scientists | Rs. 6 to 9 lakhs |
| Senior Scientist | Rs. 15 to 16 lakhs |
Study Material for Genetic Engineer
Genetic Engineering by Jane K.Setlow
Biotechnology and Genetic Engineering by Lisa Yount
Genetic Engineering by P.S Verma P.S, V.K Agarwal V.K
An Introduction to Genetic Engineering by Desmond S.T Nichol
Genetic Engineering by Smita Rastogi, Neelam Pathak
Pros & Cons to become a Genetic Engineer
Pros:
They play a major role to prevent genetic diseases in humans.
Helps in treating the novel diseases caused by microorganisms.
Cons:
Research and experiments must be carried out cautiously.
Risk of negative impact on work.
FAQs Related to Genetic Engineering in India
How do I become a genetic engineer?
The candidates who wish to become a genetic engineer must have completed a bachelor's degree in biochemistry, biophysics, molecular biology, or molecular genetics.
How can I do Genetic Engineering in India?
Students who are planning to become genetic engineering in India must have passed the 12th class in Maths, Physics, Chemistry, and Biology.
Which entrance exam is for genetic engineering?
JEE is one of the most common entrances to get admissions in engineering courses all over India.
Summary
I think the information about how to become a genetic engineer in India is helpful for you. Stay tuned to our page for more updates regarding the engineering jobs. Feel free to ask your doubts in the below-provided comment section.