Essay on Football Match: My father is a great football enthusiast. During his younger days, he was the captain of his college team. Even today, he never misses an opportunity to watch a match whether it is on TV or in person.
Students can find more English Essay Writing Topics, Ideas, Easy Tips to Write Essay Writing and many more.
Short Essay on Football Match 200 Words for Kids and Students in English
Below we have given a short essay on Football Match is for Classes 1, 2, 3, 4, 5 and 6. This short essay on the topic is suitable for students of class 6 and below.
Last Sunday he took me to watch a football match. It was being played at Ambedkar Stadium, in Delhi. The Indian team was playing against South Korean team. After buying our tickets, we entered the stadium and settled down in our seats.
By the time the game started, the stadium had filled to capacity. It was a warm August day and the players looked very smart in their bright uniforms. Soon it was time and the match began.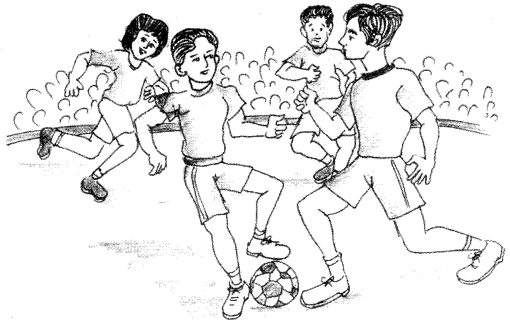 The Koreans were really fast and scored the first goal within ten minutes. The Indian team had to struggle very hard but managed an equaliser before half-time. Five minutes after the game started again, the visitors scored their second goal. Their shooting and teamwork were excellent. It was hard for the Indian team to match their speed and skill.
From the start, it was a one-sided game. Though the Indian team tried hard they lost 1-4. Nevertheless, it was a thrilling game to watch. The Koreans proved to be the superior team but India gave a tough contest to the Koreans. It was a great experience to watch a match in a stadium.