Essay on Diwali: Deepawali or Diwali means the 'festival of lights'. On this occasion, houses, shops and streets are decorated with earthen lamps or lightings at night. It is an important and popular Hindu festival. It is celebrated all over India and the world. It comes on the last day of the dark half of Kcirtika, a month of Hindu lunar calendar (October-November).
Students can find more English Essay Writing Topics, Ideas, Easy Tips to Write Essay Writing and many more.
Short Essay on Diwali 200 Words for Kids and Students in English
Below we have given a short essay on Diwali is for Classes 1, 2, 3, 4, 5 and 6. This short essay on the topic is suitable for students of class 6 and below.
Houses are cleared of unwanted clutter and whitewashed. Lots of sweets are prepared and exchanged. Mutual relations of love and friendship are established. All enmity is forgiven and forgotten and people embrace each other.
On Deepawali, the goddess of wealth, Lakshmi is worshipped. It is an occasion of gaiety, mirth, rejoicing and festivity. People dress themselves in their colourful best and roam about the bazaars and streets, enjoying the illumination at night. People indulge in buying sweets, jewellery, clothes and utensils.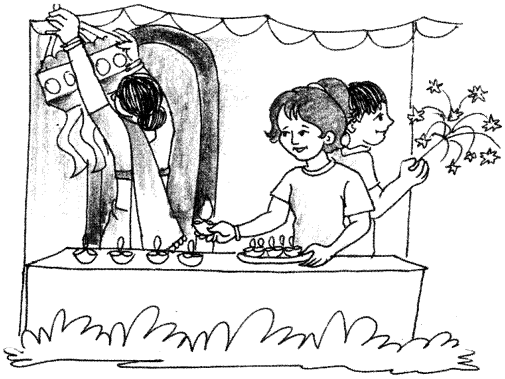 Deepawali marks the coming of the new season. It marks the return of Lord Rama to Ayodhya after his victory over Ravana. It is also said that on this day Lord Krishna killed the demon Narakasura. The Hindus observe this day with great festivity.
Deepawali is meant for happiness and prosperity, so we should not pollute the environment by bursting crackers.