Electronic Diploma Course: Are you interested in studying the interior design and technical part of electronic devices? If yes, then Diploma in Electronics is one of the best courses. After this programme, you are able to understand the process of how an electronic gadget works, the flow of electronics in it, and so on. Students can even deal with electronic devices which we use in our day to day life.
In fact, engineers are going to be in demand for a very long time. By the year 2026, there will be more than 3,24,600 jobs for electronics engineers. Graduates with Electronics Diploma holders can easily get placed in various top recruiting companies as professors, electronics engineers, and so on.
Go through more details about streamwise and category wise Course Details from this page.
What is Electronic Diploma Course?
Nowadays, there is a huge demand for electronics and electrical engineers. We know that electronics is a branch of science that deals with the study of the flow of electrons and the study of their behaviour and effects in various gadgets. Electronics is of modern technology and computer is an electronic device. Electronics is a subject that offers opportunities to technicians in the engineering fields such as quality control, research assistance, maintenance & service, production control and marketing.
Candidates who have passed 10+2 exam or equivalent from a recognised board can apply for 3 years Electronic Diploma Course Online. Admissions to Diploma in Electronic Course is done based on the entrance exam followed by document verification. The course fee structure is between INR 25,000 to 30,000 per year. The programme finished candidates can work as a professor, electronics engineer, instrumentation engineer, electronics technician, etc and can earn an average pay scale of INR 2 to 5 lakhs. Also, find Diploma Course in Electrical Engineering details.
Benefits of Studying Diploma Electronics Course
The following are the advantages of studying Diploma in Electronics course.
A Lot of Career Options: The course is completed students will get a lot of career options. There are plenty of employment opportunities for skilled candidates like electronics executives, broadcast and sound technicians, electronics engineers, communication operators, etc.
Reputed Profession: It is one of the heavy demand courses, where graduates can find job profiles earlier. It is the most reputable job field where students with passion will surely succeed in the field of electronics.
High Salaries: Average salary package for Diploma in Electronics in both private and government organisations is more. They can opt for teaching jobs in colleges or schools.
Higher Studies: You can also go for other higher studies like B.Tech, M.Tech, PhD.
Diploma in Electronics Course Details
| Particular | Details |
| --- | --- |
| Course Name | Electronics Diploma |
| Duration of the Course | 3 Years |
| Course Level | Diploma |
| Exam Type | Annual System |
| Admission Process | Merit Basis/ Entrance Exam |
| Eligibility Conditions | 10+2 Exam |
| Electronic Diploma Course Fee | INR 25,000- INR 30,000 per year |
| Recruiting Companies | IBM, DELL, Samsung, INTEL, Philips, National Electronics, Sony, etc. |
| Job Profile | Electronics Technician, Instrumentation Engineer, Lecturer or Professor, Traction power Electronics Design Engineer, Electronics Engineer, etc. |
| Average Pay Scale | INR 2,50,000- INR 5,00,000 per annum |
Eligibility Criteria of Diploma in Electronic Course
To get eligible for Electronic Diploma Course, the different colleges give different eligibility conditions.
In general, students have to score 60% marks in the 10+2 exam or equivalent from any recognised board/ institution.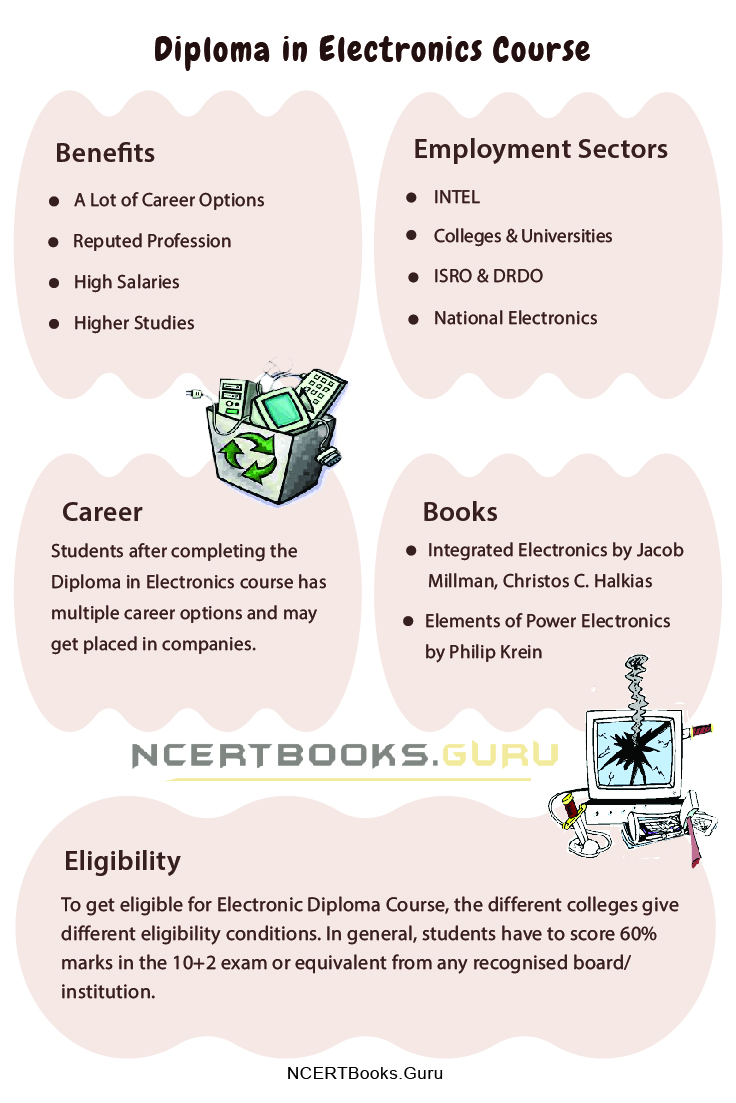 Electronic Diploma Course Admission Process
Admissions into the Diploma in Electronics Course is based on the applicant's performance on the entrance exam conducted by institutions. The simple steps to apply for Diploma Electronics Course are listed here.
Registration: The registration dates of the application will be announced by the universities. Eligible students have to register on the official website using an email id, phone number.
Fill Details: You have to fill out the application form with personal details, educational qualifications, etc.
Upload Documents: Scan and upload the required documents.
Application Fee: Pay the application fee online.
Download Admit Card: After submitting the applications, you can download the admit card and take a printed copy.
Entrance Exam: Prepare all the subjects and attend the entrance exam with admit card on the date of the exam.
Results: After the exam, results will get announced. The qualified candidates will move to the next round.
Also, Read
Diploma in Electronics: Top Colleges and Course Fee
The course fee and best colleges of Electronics Diploma Course are given below. Candidates before applying for the programme can check this and decide which college is best for them.
| College Name | Course Fee |
| --- | --- |
| Chandigarh University | INR 19,400 |
| Jamia Millia Islamia University | INR 8,970 |
| DayalBagh Educational Institute | INR 8,640 |
| Veermata Jijabai Technological Institute | INR 12,679 |
| Vision Institute of Professional Study – VIPS, Kolkata | INR 15,600 |
| Institute of Professional Studies and Research – IPSR, New Delhi | – |
| NTTF Technical Training Centre – NTTF, Ganjam | – |
| Arjun College of Technology & Science, Hyderabad | INR 20,000 |
| Brindavan Group of Institutions, Bengaluru | INR 12,890 |
| Lenora College of Engineering, East Godavari | – |
| VSM College of Engineering, Ramachandrapuram | – |
| Lovely Professional University, Phagwara | – |
Diploma in Electronics Syllabus
Diploma in Electronics Subjects are mentioned here.
Year I
Electronic Components and Devices.
Elementary Workshop Practice.
Engineering Mechanics & Materials
Electrical Engineering I
Applied Mathematics III
Applied Chemistry
Technical Drawing.
Applied Mechanics
Computer Application for Engineering
Professional Communication
Applied Physics
Year II
Principles of Communication Engineering.
Electronics Workshop
Principles of Digital Electronics
Electrical Engineering II
Network Filters & Transmission Lines
Programming in C & C++
Industrial Electronics & Transducers
Applied Mathematics II
Electronic Devices and Circuits
Year III
Construction Management, Accounts & Entrepreneurship Development
Audio and Video System
Industrial Management and Entrepreneurship Development
Field Exposure
Environmental Education & Disaster Management
Microprocessor and Application.
Electronic Instruments and Measurement.
Project I Problem
Communication System
Television Engineering
Elective Subjects
Microelectronics
Modern Consumer Electronic Appliances
Modern Communication System
Biomedical Electronics
Electronic Equipment Testing
Advanced Microprocessor and Interface
Recommended Books for Electronic Diploma Subjects
Some of the subject books that can help students to have a better understanding of the Electronic Diploma Course are given here.
Integrated Electronics by Jacob Millman, Christos C. Halkias
Electrical and Electronic Principles and Technology by John Bird
Basic Electronics by U.S. Bureau of Naval Personnel
Elements of Power Electronics by Philip Krein
Learning the Art of Electronics by Thomas C. Hayes
Diploma Electronic Course Career Opportunities & Scope
Students after completing the Diploma in Electronics course has multiple career options and may get placed in companies. You can work in any industry such as Teaching, Instrumentation Technician, Electronics Engineer, etc.
You can also go for higher education after this programme. The popular courses after diploma are master of technology and competitive exams. You can also pursue other Diploma in Engineering Courses here.
Electronics Diploma Course Employment Sectors
Diploma Electronic Course finished individuals can find employment in any of the following recruiting companies and get highest salaries easily.
National Semiconductors
INTEL
AMD
Colleges & Universities
PHILIPS
SONY
ISRO & DRDO
IBM
BEL
National Electronics
NASA
SAMSUNG
Candidates can also pursue Electrical Diploma Course irrespective of Electronic Diploma Course to get best job options.
Diploma in Electronic Job Profiles & Salary
Some of the common job profiles that Electronic Diploma holders can opt for are along the lines:
| Electronic Diploma Job Profile | Job Description | Average Electronic Diploma Salary |
| --- | --- | --- |
| Traction Power Electronics design engineer | His job is to develop and verify analog and digital power electronics control hardware. They can also record drawings, test data, specification designs. | INR 4,00,000 |
| Electronics Technician | One who assemble electrical and electronic systems and products as per the engineering data and knowledge of electrical principles. They also have to run performance analysis on electronic devices, troubleshooting. | INR 2,50,000 |
| Instrumentation Technician | His work is to test, calibrate, repair, install, and inspect manufacturing material and monitoring devices. | INR 3,00,000 |
FAQ's on Electronic Diploma Course
1. Is it worth doing Electronic Diploma Course?
Yes, it is worthy to do a diploma in the electronic course as there are various opportunities available for the candidates who have finished the course as various companies recruit students after this course.
2. How can I get a job after Diploma in Electronic Course?
After Electronic Diploma Course, you can pursue B.E/B.Tech courses. Otherwise, you can get a job as a professor, instrumentation technician, electronics technician, and traction power electronics design engineer.
3. What is taught in Diploma in Electronics Course?
In this programme, students can learn about applied physics, electronic devices and circuits, electric components and devices, professional communication, and so on.
4. What is the qualification required to get admission to Electronic Diploma Course?
Students must have scored 60% marks in the 10+2 exam from a recognised board to be eligible for Electronics Diploma Course.
Final Words
We thought that the data given here about the Electronic Diploma Course is useful for you while applying for the diploma courses. Stay in touch with our website to know about other course details.