Do you have a zeal to market any kind of website? Are you in search of How to get success in business via marketing techniques? Then, here is the best answer to all of your questions. Yes, after doing deep research we came to know that the world is rounded by the digital era and everything is operating via digital media. To accomplish all these works without anyone's help, you have to go through with the course called Digital Marketing.
We have worked on Digital marketing course details for helping all enthusiastic Students and Marketing Employees. Find the complete information about digital marketing courses such as what is digital marketing course, course type, eligibility, Digital marketing course duration and fees, career options, jobs, institutes that offer digital marketing course, salary, DMCA certification details, etc. Get all details regarding Digital India Course from this page without any late.
Read More: Computer paragraph
Digital Marketing Course Details
The following table contains the basic information about Digital Marketing Course contents. You will find a detailed explanation for each of your doubts in the below section of this page. So, check out this article and know all about the DMCA certification.
| | |
| --- | --- |
| Course | Digital Marketing |
| DMCA Full form | Digital Marketing Certified Associate |
| Eligibility & Requirement | Minimum Graduation |
| Duration | 3 Months |
| Fee Offered | Rs. 36,000 |
| Course Type | Certified Exam |
| Starting salary offered | Rs. 12,000 to 15,000 per month |
| Advance Courses | Advanced Web Analytics, Advanced SEO, Advanced Social Media |
| Employment opportunities | Digital Marketing Manager, SEO Executive, Social Media Marketing Expert in Startups, Mid-level & MNC Companies |
Also Check: 
What is Digital Marketing Course?
Digital marketing is the best & trending way of marketing nowadays. It is all about reaching customers via various digital channels like search engines, social media, email, and many more. Digital Marketing course content will make sure you master the art of online marketing by reaching your target audiences in a more powerful and accurate way through several digital channels, to impress and engage with them for converting them to customers. It helps you to develop and manage marketing techniques for your company website. You will be certified by DMCA certification after completing the digital marketing course. The DMCA full form is Digital Marketing Certified Associate. Interested candidates can also pursue Digital Marketing Diploma Course.
Eligibility for a Digital Marketing Course
Any minimum graduate students who had an interest in the digital marketing side can go for this digital marketing course content and can take a certified exam.
Candidates should get the required skills to begin a career in the digital marketing field.
If you want to eligible for the UG course in DMCA, you should clear 10+2 or equivalent from an acknowledged university or board.
For the candidates who are interested to do PG in Digital India course, must be a graduate and clear 10+2+3 from a recognized university.
Top Entrance Exams for Digital India Course
None of the individual entrance exams are directed for admission to Digital Marketing as it is termed under MBA and BBA. But here we have shared some of the major entrance exams one can look for admission to Digital Marketing/ BBA or MBA in Marketing are:
| PG level exams | UG level exams |
| --- | --- |
| CAT | DU JAT |
| XAT | DSAT |
| SNAP | NPAT |
| MAT | B-MAT |
| CMAT | DSAT |
| CAT | PESSAT |
Digital Marketing Course Duration and Fees
From this module, you will find the details of Digital marketing course duration and fees. This information will be useful for you to choose the correct institution and start your learning about the Digital India Course.
Digital Marketing Course Duration
DMCA certified course duration is three months. Digital Marketing Course Duration may also vary from 3 months to 6 months depends on your chosen online certification course or private institutes such as DigitalVidya, Uedmy, UpGrad, etc.
Fees for Digital Marketing Course
Digital marketing course fees can differ from one institute to another. In India, there are various institutes offers digital marketing courses after 12th. The estimated digital marketing course fee is about 35,000 rupees for DMCA certification.
If candidates are taking a digital marketing course as an academic program, there also fees that might be varied from one institute to another. Institutes will set up the course fees depending on the following factors:
Type of Institute (Government, Private, Aided, etc)
Location of the college
Status and Rating of the college
Well, Government colleges will charge low fees for digital marketing courses. Whereas private colleges charge average digital marketing course cost, which could be in the range of 60-100K per semester.
Digital Marketing Syllabus, Modules, Outline, Curriculum
Aspirants must have knowledge about what they would learn after opting for the digital marketing course. So, before getting enrolled in the course, candidates should aware of digital marketing syllabus and exam concepts. Hence, we have provided the following table for you to check the whole syllabus of a Digital Marketing Course. Have a look at the digital marketing course contents before you enroll in any of your chosen institute:
Digital Marketing Fundamentals

Marketing v/s Sales
Marketing Mix and 4 Ps
What is Digital Marketing
Inbound vs Outbound Marketing
Content Marketing
Understanding Traffic
Understanding Leads
Strategic Flow for Marketing Activities

Website Planning and Structure

Core Objective of Website and Flow
One Page Website
Strategic Design of Home Page
Strategic Design of Products & Services Page
SEO Overview
Portfolio, Gallery and Contact Us Page
Call to Action (Real Engagement Happens)
Designing Other Pages
Strategic Design of Pricing Page
Google Analytics Tracking Code
Website Auditing
Designing WordPress Website

Facebook Marketing Fundamentals

Profiles and Pages
Business Categories
Creating Facebook Pages
Page Info and Settings
Facebook Page Custom URL
Invite Page Likes
Featured Video
Pin Post and Highlights
Scheduling Posts
Facebook Events
Reply and Message
Facebook Insights Reports
Competitor's Facebook Page
Ban User on Facebook Page
Connect with Twitter

Facebook Ad Campaigns

Organic v/s Paid
Defining Ad Objective
Performance Matrix
Ad Components
Designing Creative Image
Facebook Ad Structure
Setting Up Facebook Ad Account
Create Ad – Targeting
Create Ad – Budgeting
Page Promotion
Content and CTA
Boosting Page Posts
Create Ad – Creative
Video Promotion
Similar Ads and Audiences
Tracking Pixels Code
Remarketing – Website Visitors
Custom Audiences – Look-Alike
Custom Audience – Saved Group
Managing and Editing Ads
Ad Reports and Ad Insights
Billing and Account
Facebook Advance Strategies
Facebook Business Manager
People, Pages, and Roles
Ad Accounts Configurations
Ad Agencies and Assigning
Shared Login for FB Business A/c
Power Editor
Email Targeting on Facebook
Facebook Offers
CTA on Page
Posts for Location

Google Adwords

Understanding Adwords
Google Ad Types
Creating Ad Campaigns
Pricing Models
Creating Text Ads
Creating Ad Groups
PPC Cost Formula
Bidding Strategy for CPC
Ad Page Rank
Keywords Control
Adwords User Interface
Remarketing Rules
PPC, CPM, CPA
Bidding Strategy on Location/Schedule/Devices
Conversion Tracking Code
Designing Image Ads
Creating Animated Ads
Youtube Video Promotion
Remarketing Strategies
Keyword Planning
Remarketing Tracking Code
Linking Google Analytics
Designing Remarketing Images
Shared Budget
GWD Software

YouTube Marketing

Video Flow
Branding Watermark
Google Pages for YouTube Channel
Verify Channel
Webmaster Tool
Associated Website Linking
Custom Channel URL
Channel ART/Links/Keywords
Featured Contents on Channel
Channel Main Trailer
Uploading Videos
Uploading Defaults
Channel Navigation
CTA – Annotation
CTA – Extro
Managing Messages
Redirect Traffic to Website
Post Upload Enhancements
Live Broadcasting
Managing Playlists
Managing Comments
CTA – Cards for Mobile
Monetization with Adsense
Paid Youtube Channel
Channel Analytics
Real-Time Analytics

Google Plus for Business

G+ Pages Ranks Higher
Google Plus Profile
Social Relevance to G+ in Adwords
Google + Company Page
Adding Contact Links
Utilizing +1 Button
Managing Circles
Posting Contents
Google Hangouts
Google Local Business
Sharing G+ Buttons on Website
Hashtags and Mentions
Review and Testimonials
G+ Mobile App

Integration with Website

LinkedIn, Twitter and Pinterest
Creating LinkedIn Account
Updating Contact Information and Links
Designing Profile and Summary
Managing Connections
Advance Searching
Endorsements – Publishing and Receiving
Creating a LinkedIn Company Page
Updating Products and Services
Creating Showcase Pages
Engaging with Updates
Running Paid Campaigns
Recruitment through LinkedIn
LinkedIn Groups
LinkedIn Mobile App
Marketing on Twitter & Pinterest

Google Analytics and Webmaster Tool

Web Analytics
Integrating with Website
Measurement Metric
Accounts and Profiles
Analytics Reporting
Sorting, Filter and Time Chart
Audience Segmentation
Traffic and Behaviour Reports
Remarketing Audiences
Goals and Conversion Reports
Developing Intelligence Report
Google Webmaster Tool
Setting up Tool for SEO
Adding and Managing Assets
Integrating Webmaster Tool
Site Map and Site Links
Search Traffic and Links
Google Indexing
Managing Crawl Errors
Managing Security Issues

Search Engine Optimization

Understanding SEO
SEO Keyword Planning
Meta Tags and Meta Description
Website Content Optimization
Back Link Strategies
Internal and External Links
Optimizing Site Structure
Keywords in Blog and Articles
On-Page SEO
Off-Page SEO
Local SEO
Mobile SEO
eCommerce SEO
Optimizing with Google Algorithms
Using the Webmaster Tool
Measuring SEO Effectiveness
Institutes Offering DMCA Certificate Exam Course
IMRI – Internet and Mobile Research Institute
Digital Vidya
Learning Catalyst
Digital Academy in India
Edukart
Webnext Solutions
Specializations on Digital Marketing Course
Email Marketing
Search Engine Optimization (SEO)
Web Analytics
Mobile Marketing
Search Engine Marketing (SEM)
Inbound Marketing
Growth Hacking
Social Media Marketing (SMM)
Digital Marketing Career Options
It may be startup, mid-level or top MNCs, no matter whatever the size of the company, everyone are opting a digital marketing techniques to attract their customers. So, companies are starting online marketing or internet marketing methodologies for enhancing their branding. As there are various job opportunities for DMCA certified candidates. Below we have given a list of job designations that candidates can fit after taking a digital marketing courses.
Opportunities for Digital Marketing Certified Candidates
Content Marketing.
Search Engine Marketing (SEM)
Search Engine Optimization (SEO)
Social Media Marketing (SMM)
Web Analytics.
Email Marketing.
In What Job Designations did DMCA Certificate Holder may fit?
SEO Executives.
Search Engine Marketers.
Social Media Marketing Experts/Specialists.
Content Writers.
Content Marketing Manager.
Digital Marketing Manager.
Inbound Marketing Manager.
Conversion Rate Optimizer.
Salary Details for Digital Marketing Certified Associate (DMCA)
By learning digital marketing courses, you can get more profits not only in India across the world because it is one of the most trending courses in the software industry. So, DMCA certification holders can get a huge salary in any of the designations.
Beginning Salaries offered for Digital Marketing Employees
The candidate who did their graduation and willing to search for the job in the digital marketing field will get the starting salary from the range of 10,000 to 15,000 INR. If you get experience in all modules of digital marketing course then you may get a 30-60 percent hike to the present salary.
Wages of DMCA Certificate Holder
Digital Marketing Certificate holder earnings will be about 90,000 to 1 lakh INR. According to their skills & experience, they may get more than a lakh per month. Besides, digital marketing candidates are getting an equal range of salaries compared to software candidates.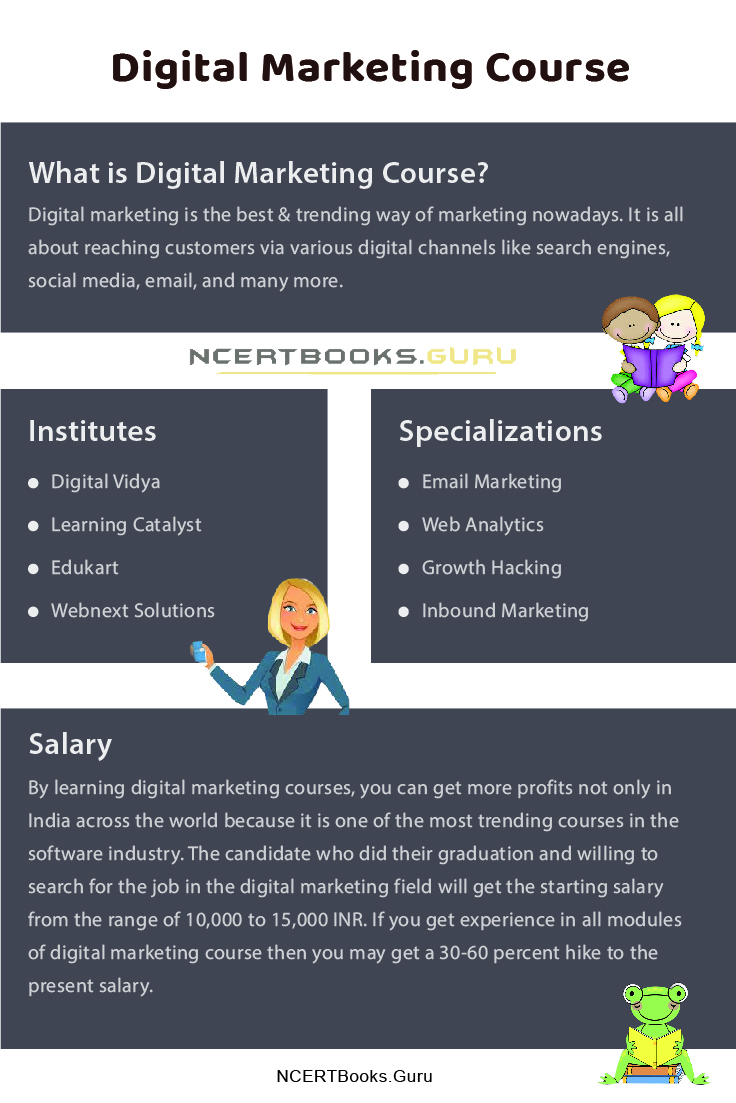 FAQs on Digital Marketing Course
Conclusion
Hoping that this article will help you to find all the answers for your doubts on the concept of Digital marketing course details like training cost, duration, career options, syllabus, etc. If you have any queries regarding SEO Course details or fees for a digital marketing course, drop a comment in the below comment box and we will surely get back to you with the best solutions for your queries. Hence, Visit our site or bookmark ncertbooks.guru page for more updates on DMCA course details.
Read More: Paragraph on internet