Introduction
India has a rich history and culture in the past times that has spanned over thousands of years. Indian art always had a religious effect on it. Hinduism, Buddhism, and Islam have made its way into the culture. Now we are going to see the difference between these popular art forms.
You can also find differences between articles on various topics that you need to know. Just tap on the quick link available and get to know the basic differences between them.
What is the Difference Between Gandhara School of Art and Mathura School of Art?
Gandhara School Of Art
During the reign of the Kushana empire, Gandhara art got known in India. Kanishka was famous for backing this art from 127 to 151 AD.
Typically it was influenced by Buddhist art. There was also Greek influence over Gandhara school.
This school was the first to depict Buddha as human. Budhha figures were famous for their fine detailing and bluish-grey and grey colour. Jalalabad, Begram, Taxila are the places where art pieces from Gandhara school were found.
Mathura School Of Art
The Hindu religion vastly influenced the Mathura school of art. However, the sculptures were less spiritual. This art reached its peak during the 6th or 7th century. There was many Vishnu and Shiva images or crafts found in this art form.
There are sculptures of Budhha that were found in this aspect also. Primarily red sandstone was used to make sculptures of Mathura school of art. Examples of this art school famously include Kaniska, Pratham Yaksa.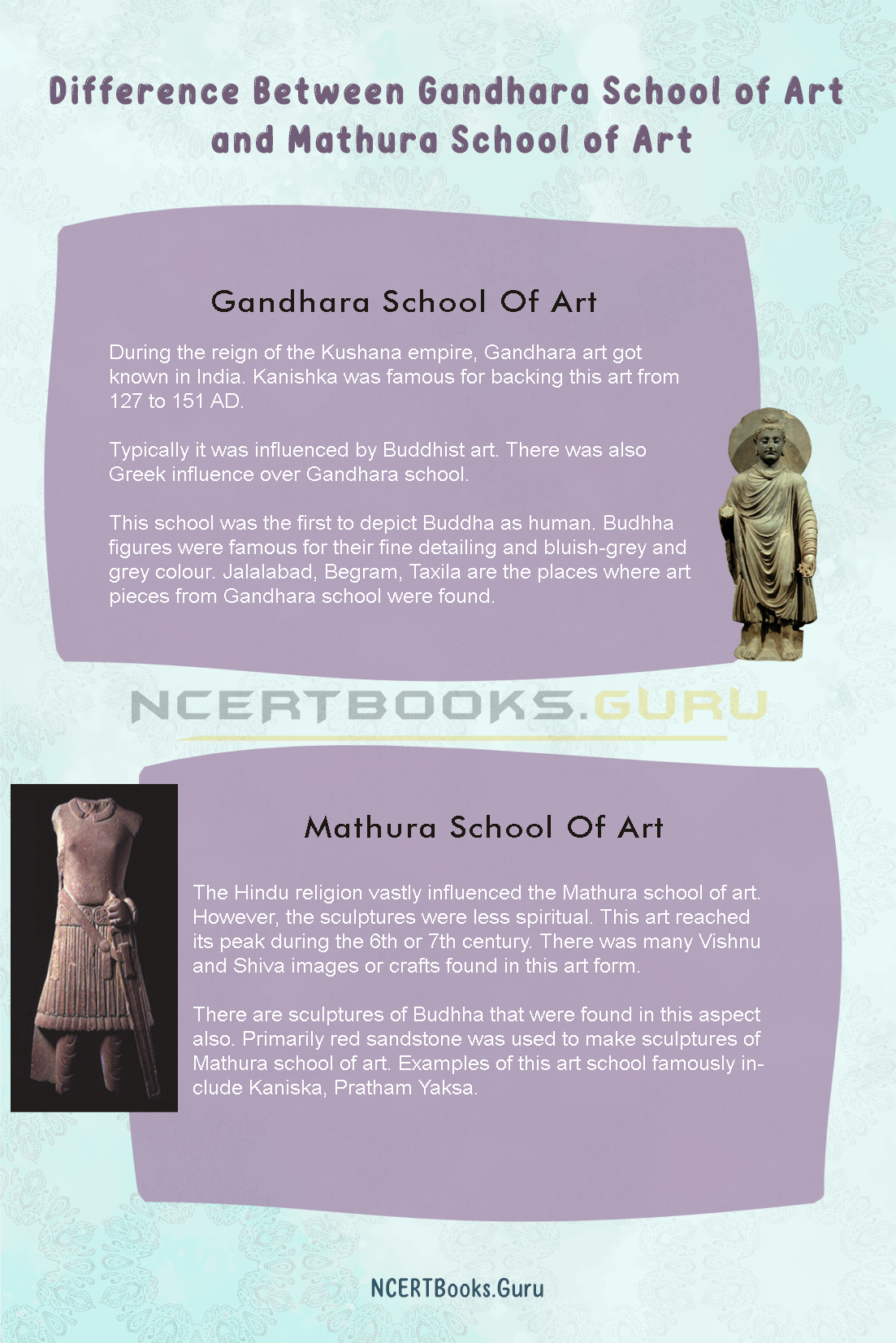 Difference Between Gandhara School And The Mathura School Of Art
| | | |
| --- | --- | --- |
| Specific areas | Gandhara School of Art | Mathura School of Art |
| Centre of attraction | The art form revolves around the expression of calmness of Gandhar Buddha. | Mathura artform revolves around masculinity and specific hand positions with a light-hearted Buddha. |
| Material |  This school used lime plaster. | This school used red sandstone. |
| Influence | Greek, Roman and Indianfusion resulted in this school of art. | Early Hindu and Buddhist art inspired this artform. |
| Key Features | The features included great detailing, spiritual expression, wavy hair, long ears. | Seated in a specific position, masculinity, Smiling expression, and noticeably less attention to the sculptures' spiritual aspect were notable features. |
| Notable Feature |  Half closed eyes were noticed. | Eyes of the sculptures are open. |