Countries and their National Sports: A sport is a structured form of play that, over casual or organized participation, aims to use, maintain or develop physical ability and skills while giving enjoyment to the participants, and in some situations, entertainment for the audience. A national sport is considered to be an essential part of the culture of a nation. Some of the games are established as national games by the law of the country, whereas others are commonly acknowledged as national sports.
Various countries are recognized with their flag, their national anthems, birds, animals, language, and also with their national sports. I know you have no idea about all the national symbols of all countries in the world but now you can aware of them all by going through with our General Knowledge Article. Simply have a look at these games that have the integrity to become a national sport of a country.
Also, the National Sport represents its people in a significant way not just specify the culture and traditional ideas and beliefs of that nation. From this page, you goona get the answers to such questions like what is the national sport of India? Is cricket a national game of Australia? etc
National Games of Different Countries in the World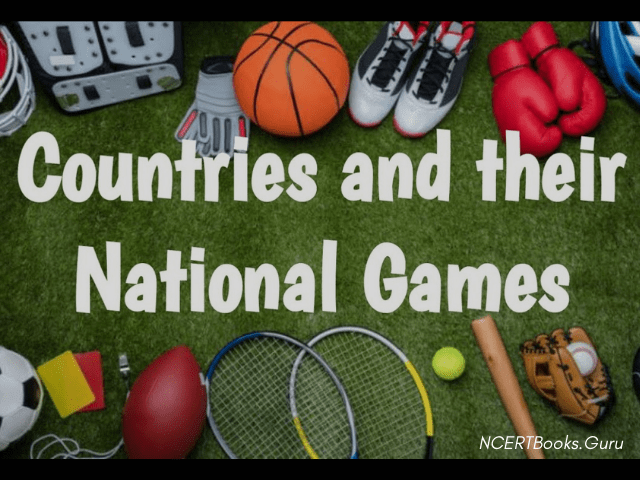 Any national sport or game of a country represents the culture, rich heritage, and tradition of the country. Based on the popularity or its historical connection with the country, officials designated the particular game or sport as a National game of the country. Each and every country has its own national game or sport and this is one of the important categories in various exams like govt, UPSC, SSC, Bank, etc. Students who are preparing for the competitive exams can gain complete knowledge and be aware of the national sports of all countries from the below modules.
Related Articles on World GK:
List of Countries and their National Sports (Alphabet-wise)
In the world, there are 195 countries and they have different national symbols to represent the traditions of the country. So, all countries have their own national games or sports as per their followed cultural values. To aware of all countries and their national sports kindly go through this table mentioned here. Below is the list of important countries and their national games/sports that help you at the time of preparation and revision time.
Country
National Games / Sports
A
Afghanistan
Buzkashi
Anguilla
Yacht Racing
Antigua And Barbuda
Cricket
Argentina
Pato
Australia
Cricket
B
Bangladesh
Kabaddi
Barbados
Cricket
Bermuda
Cricket
Bhutan
Archery
Brazil
Association Football
C
Canada
Lacrosse (summer), Ice Hockey (winter)
Chile
Chilean Rodeo
China
Ping Pong (Table Tennis)
Colombia
Tejo
Cuba
Baseball
D
Denmark
Association Football, Handball
Dominican Republic
Baseball
E
England
Cricket
Estonia
Basketball
F
Finland
Pesäpallo (Finnish Baseball)
France
Football
G
Georgia
Rugby Union
Grenada
Cricket
Guyana
Cricket, Water Polo
H
Haiti
Association Football
I
Iceland
Handball
India
Field Hockey
Indonesia
Pencak Silat
Iran
Wrestling
Ireland
Gaelic Football
Israel
Association Football
J
Jamaica
Cricket
Japan
Sumo
L
Lithuania
Basketball
M
Madagascar
Rugby Union
Malaysia
Sepak Takraw
Mauritius
Association Football
Mexico
Charrería
Mongolia
Mongolian Wrestling, Archery
N
Nepal
Volleyball
New Zealand
Rugby Union
Norway
Cross-Country Skiing (winter)
P
Pakistan
Field Hockey
Papua New Guinea
Rugby League
Peru
Paleta Frontón
Philippines
Arnis
Puerto Rico
Paso Fino
R
Romania
Oina
Russia
Bandy
S
Scotland
Golf
Slovenia
Alpine Skiing
South Korea
Taekwondo
Sri Lanka
Volleyball
T
Tajikistan
Gushtigiri
The Bahamas
Cricket
Turkey
Oil Wrestling
Turks And Caicos Islands
Cricket
U
United States Of America
Baseball
Uruguay
Destrezas Criollas
V
Venezuela
Baseball
W
Wales
Rugby Union
The above list of countries and their national games is helpful for both sports lovers and for the aspirants of different competitive examinations.
Also Check: Difference between Football and Soccer
FAQs on All Countries National Sports
1. Which is the oldest sport in the world?
The oldest sport in the world is Wrestling. Also, Wrestling has been a part of the ancient Olympics since 708 BC.
2. Which country's national game is football?
The national game of France is football.
3. Sumo wrestling is the national game of which country?
Sumo wrestling is the national game of the country called Japan.
4. What is the National Game of India? 
As per the latest report from the government, there is no confirmation on the national sport of India. So, at present, there is no specific national game that represents India.