Computer Science Courses After 12th: In this age of Information Technology, Computers have become such an important part of our lives that we depend on them to do many things now. They are now our knowledge treasure, our social platform, our entertainment center, and whatnot. During a pandemic, the role of computers was expanded and became a virtual classroom for children. This expansion in the role of computers is expanding the role of computer science in the world.
If computers are your best friend and you're someone who spends more than half of your time on computers and wants to build a career in the same stream, then this article on Best Courses after 12th in Computer science is for you. In this article, we have covered various course details of computer science courses after 12th like eligibility criteria, top colleges, course fees, career scope, and high salary jobs. So let's begin.
What is a Computer Science Course?
In simple terms, computer science is the science of computers. It means that computer science is the theoretical and practical application of various concepts related to computers and computing. It applies subjects like mathematics, engineering, and logic to perform various computing functions like algorithms, software development, artificial intelligence, etc.
The spectrum of computer science courses is increasing with the increase in the use of hardware and softwares across various sectors. This, in turn, is increasing the requirements of computer science professionals. Due to this reason, computer science is the most viable degree option these days and among the highest paying jobs in the world.
After 12th Computer Science Courses List PDF
The range of computer science courses after 12th covers a wide variety of course options. These varieties of courses can be categorized into UG courses, PG courses, Diploma courses, and short-term certificate courses.
Also Find:
Here is the list of various Best courses after 12th Computer science available in undergraduate, postgraduate, diploma, and other streams.
Best Computer Science Degree Courses After 12th – Undergraduate
The range of various computer science courses that are available for a bachelor's degree is mentioned below:
B.E/B.Tech in computer engineering
B.Sc in software Technology
B.E /B.Tech in Computer science
B.Sc in computer science
Bachelor of Computer Application (BCA)
B.E/B.Tech in computer science engineering
B.Tech in Software Engineering
B.Tech in computer and communication science
B.E/B.Tech in information technology
Postgraduate Courses in Computer Science after 12th
The PG programme in computer science generally has fewer options to choose from. Some top PG courses in computer science are given below:
M.Tech Computer Science
Masters of Computer Application (MCA)
M.Tech Computer Engineering
M.Sc Computer Science
M.Sc Software Engineering
M.Tech Software Engineering
Computer Diploma Science Course List After 12th
The craze for Diploma courses in computer science is increasing in the past few years. It not only enhances your skills but also makes you job-ready. If you want to pursue a short term diploma course in computer science, we have prepared the list for you:
Diploma in Software Engineering
Diploma in Computer Engineering
Diploma in Computer Hardware Technology
Diploma in Computer Technology
Diploma in Hardware and Networking Course
Diploma in Computer Science
Diploma in Computer Science and Engineering Course
Also Check:
Computer Science Course Duration after 12th
The Computer Science courses after 12th are 3-4 years. The PG courses are of 2 year period and the diploma courses are usually of 6 months duration.
To be eligible for a computer science course the candidate must have qualified 10+2 from a recognized board with a science stream, PCM to be specific with a minimum of 55% marks. However, for a PG course, you need to have a graduation degree in computer science with a minimum of 50% marks from a recognized university.
The average fee for a computer science course ranges between INR 80k-20lacs. The fee variation also depends upon the course that you are pursuing.
Top Colleges for Joining Courses After 12th in Computer Science
You want to take admitted to top colleges to pursue your career. We want that for you too. That's why the list of top colleges for pursuing a computer science course after the 12th is given below for you:
IIT-Delhi
Vellore Institute of Technology
Indian Institute of Engineering Science and technology
Delhi Technological University
National Institute of Technology, Warangal
Thapar Institute of Engineering
IIIT, Hyderabad
College of Engineering, Pune
Ramaiah Institute of Technology, Bengaluru
Motilal Nehru National Institute of Technology, Allahabad
Do Check:
Career Options After 12th Computer Science
For a student of computer science, it is very important to know the career prospects of the course they are pursuing. Here is the list of various career options available to you after completing a computer science course:
Software Engineer
Digital Marketing Manager
SEO specialist
Data Scientist
Machine Learning Engineer
Web designer
Software Developer
Database Administrator
Computer System analyst
Top Companies That Hire Computer Science Candidates in India
The top recruiters in India for a computer science professional are mentioned below:
Google
Infosys
TCS
HCL technology
Microsoft
Wipro
Tech Mahindra
Cisco
Amazon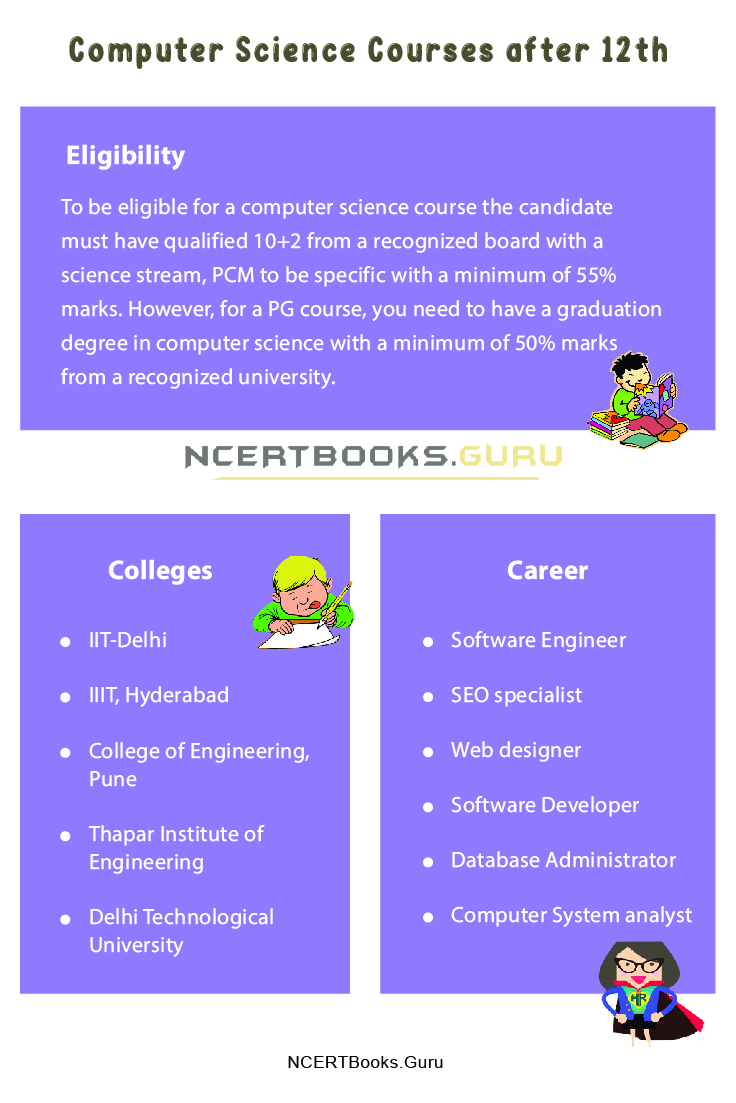 Best Computer Science Courses After 12th Salary in India
The average salary after a computer science course varies from ₹6 lacs per annum to ₹50 lacs per annum. Yet, the salary varies relying upon the position you're looking after. For instance, an entry-level software engineer's average salary is ₹7-8 lacs and that of a web designer is ₹5-6 lacs.
High Salary Courses After 12th Computer Science
The following table includes the list of High Salaried Job Oriented Computer Courses with duration and eligibility. Please, have a look at it and decide your career path:
| | | | |
| --- | --- | --- | --- |
| S.No. | Computer Courses Name | Duration | Eligibility |
| 1 | Big Data Engineer Course | 6 Months | B.Sc. degree in computer science |
| 2 | Data Scientist Course | 6-12 Months | B.Sc. degree in computer science |
| 3 | Computer and Information Scientists And Researchers Course | 2-3 Years | Any Bachelor degree |
| 4 | Computer Programmers Course | 1-2 Years | 12th from any stream |
| 5 | Video Game Designer Course | 2 Years | 12th from any stream |
| 6 | Network Security Administrator Course | 2 Years | Any Bachelor degree |
| 7 | Computer Systems Analysts Course | 3 Years | B.Sc. degree in computer science |
| 8 | Systems Software Engineers Course | 4 Years | Bachelor's degree in software or computer system |
| 9 | Mobile Application Developer Course | 6-12 Months | Bachelor's degree in software or mobile computing |
| 10 | Website Development Course | 6 Months | 12th from any stream |
FAQs on Computer Science Courses After 12th without JEE
1. What are the skill courses in computer science?
Complete Ethical Hacking Bootcamp 2020
PHP for beginner
Python for Absolute Beginner
C++
Unlock Excel VBA and Excel
2. What are some online platforms for computer science courses?
The results are as follows:
Udemy
Youtube
UpGrad
Coursera
3. Do computer science engineers get paid well in India?
The jobs in computer science engineering are among the highest paying jobs in India. The average salary of an entry-level computer science engineer can be upto ₹6 lacs which can go high up to ₹30 lacs after 3-4 years of experience in the field.
4. What computer-related courses are in demand these days?
Data Science
Computer Security
Web design
Artificial Intelligence
Animation
Machine Learning
Final Words
In this article on Computer Science courses after 12th, we have covered all the information that may be useful for you completely. The article walks you through the various essential elements regarding after 12th computer science courses in India.
However, if you have any doubt or queries regarding the article or you want more information regarding the course, feel free to comment below and more such articles on various courses and other topics, keep visiting our website NCERTBooks.Guru