BTC Course Details: Basic Training Certificate (BTC) is a certified course that is recognized by NCTE, Government of India. Candidates who want to pursue their career in the teaching line can get admission into this course. This course basically trains the candidates to become a primary school teacher. But it doesn't mean that this is the only job opportunity a candidate will get after this course, there are many other job profiles who are hiring candidates with a BTC course degree.
A candidate who wants to improve his/her skills in the teaching line can opt for this training course. This training certificate can help the candidate to get a job in the government sector. Getting a job in the government sector is becoming challenging every year due to the increase in competition, but candidates with this training certificate have higher chances to get a job as a primary teacher in some government element school.
BTC Course Full Form is Basic Training Certificate.
Importance of BTC Course
The main aim of the BTC course is to train and develop the skills of the candidates who are willing to become teachers in the future. Teaching is considered to be an art, and a candidate requires proper creativity skills to offer proper teaching, this course helps the candidates in improving their creativity skills.
This course consists of some procedures and policies which a candidate has to follow in order to become an efficient teacher. This course increases the knowledge of the candidates in different fields as well as improve the attitudes and behavior of the candidates so that they can perform their teaching tasks efficiently and promptly.
This course has proved to be of great help for the candidates pursuing their careers in teaching. With the training certificate of this course, a candidate can find it a little easy than the others to find a job in a government school.
Get to Know More about other types of Course Details in Streamwise, and Category wise
Skillset Required for BTC Course
Skills are the most important thing to look after before starting to pursue any course. Every course requires a specific skill set without which a candidate will find it difficult to continue the particular course. Similarly, before starting a career in the teaching field, a candidate needs to have some pre-developed skills which will help him/her to grow in a particular field.
The skills required for a BTC course are:
Communication – Candidate must be an excellent communicator so that he/she can communicate his/her knowledge and thoughts to the listeners smoothly without creating any confusion in the listener's mind.
Patience – Candidate must have some patience while he/she is teaching. A candidate with proper patience can properly pass knowledge to others, which is a significant role for a teacher.
Creativity – A candidate must be creative and should always develop some unique ideas to pass knowledge to others. Creativity in teaching can help listeners or students understand a particular topic more easily and quickly.
Confidence – A candidate should always be self-confident on what he/she is teaching or presenting before the listeners. Any doubt in his/her mind on his/her personal abilities can act as a hurdle in the teaching process.
Dedication – A candidate pursuing his career in the teaching line should always be dedicated to his/her work in order to complete it efficiently.
Organization – A candidate with an interest in a teaching career should always be organized on what he/she is doing. An unorganized candidate is not a good fit for becoming a teacher.
BTC Course Duration
The basic Training Certificate course is a certificate-level course offered for a period of two years by different colleges and universities. This is a full-time course of two years. The two years course is divided into four semesters.
After completing the two years and passing all the semesters, the candidates will be awarded a training certificate that will help them to get jobs.
BTC Course Eligibility Criteria
In order to pursue a particular course, a candidate needs to qualify in all the eligibility criteria of the course. Similarly, BTC courses also have some criteria which a candidate has to fulfill in order to get admission for a BTC course in some college. The eligibility criteria for the BTC course are:
The candidate must have passed the 10+2 exam in any stream from a recognized university.
Some colleges fix a minimum mark as an eligibility criterion such as a candidate has to pass the 10+2 exam with a minimum of 50% mark to get admission to a particular college. This minimum mark differs from college to college.
A candidate with a graduation degree can also take admission into this course.
The candidate should be at a minimum age of 18 years and should not be more than 35 years.
BTC Course Fee Structure
The average fee for pursuing the Basic Training Certificate course ranges between Rs 8000 to Rs 1.3 Lakhs for a period of two years. The course fee depends upon the college or university the candidate is getting admission into.
The course fee doesn't include other expenditures of the candidate such as hostel fee, mess fee, library fee, college development fee, cost incurred in different seminars and fests organized by the college or university and also traveling expenses.
BTC Course Admission Process
The admission is done through entrance exams by colleges and universities under the guidance and rules of NCTE, Government of India. Candidates clearing the entrance exams have to go through a counseling process after which they become qualified to get admission into a BTC course. Then the eligibility criterion of the candidate is verified before the admissions.
There are many top government colleges who offer this course to the aspirants, some of them are:
IIMT – Ishan Institute of Management and Technology, Noida
NIIT – National Institute of Information and Technology, Delhi
PC – Punjab College, Mohali
LPU – Lovely Professional University, Jalandhar
YMCA – Young Men Christian Association, Delhi
BTC Course Subjects
The subject wise and year wise BTC Course Syllabus is mentioned here.
1st Year
Education and principles of teaching
Hindi, Environmental Studies, Social Studies, Mathematics, Sanskrit/Urdu, English
Psychological basis of child Development
Psycho Motor Aspect: Class Teaching, Curriculum Analysis
Cognitive Aspects: Moral Education, Physical Education and Music, Art
2nd Year
Emerging Trends of Elementary: Education and Education Evaluation, School Management, Community Education and Health education
What are Teaching Methods including work experience and Relevance of Practical work: Hindi, Environmental Education, Science, Social Studies, Mathematics, SUPW, Sanskrit/Urdu, English
Cognitive Aspects: Physical education and music
Psychomotor aspect: classroom teaching, school experience (internship) Community work and Action research, Analysis of Curriculum and textbook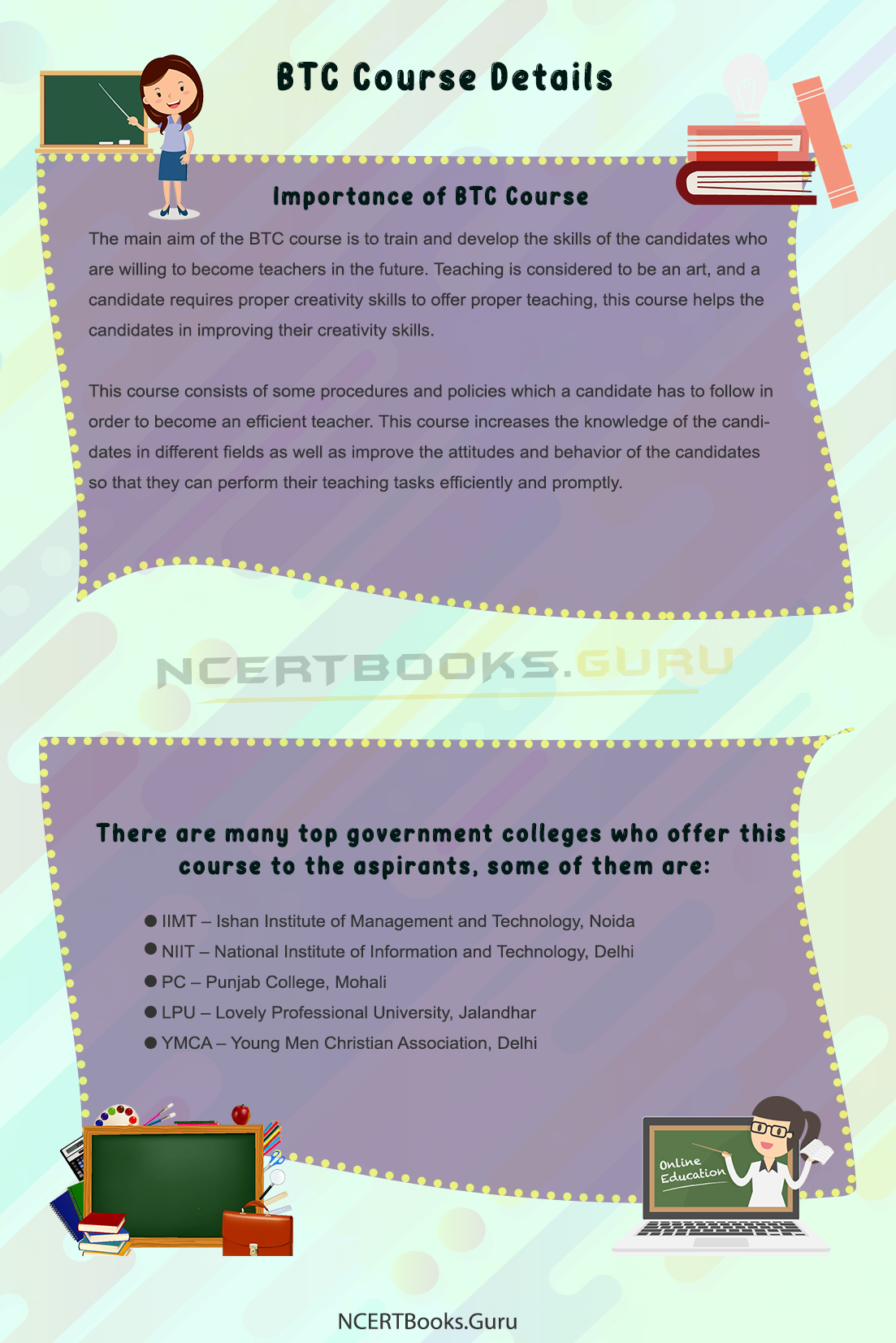 BTC Course Career Options
After completion of this course, the candidates can get job opportunities only in the teaching sector because the course has developed and improved the teaching skills of the candidates. There is a wide range of opportunities for a candidate with a BTC course degree. Let's discuss some of the job profiles where a BTC candidate can get hired:
Teacher – Candidate with a BTC course degree can get a job as a teacher in some elementary schools. The candidate can get hired as a primary teacher in some government schools or private schools. They can also teach in different coaching centers. A teacher's primary responsibility and goal is to educate the students he/she is teaching.
Assistant Teacher – A candidate can also get hired as an assistant teacher in some schools. The primary duty of an assistant teacher is to help and advise the lead teacher in different classroom situations and teachings.
Tutor – A candidate can become self-employed by becoming a tutor and opening his/her own coaching center. This type of job profile has gained popularity in recent days. In this type of employment, a candidate is his/her own boss.
Student Counselor – A candidate can also become a student counselor after completing the BTC course. A student counselor helps the students in career planning, choosing specializations, managing the time for studies, and many other things related to studies.
Salary after BTC Course
The average salary a candidate can get after the completion of this course ranges between Rs 2 Lakhs to Rs 4 Lakhs. The salary can increase with the increase in the experience of the candidates in terms of years. Let's have a look at salaries some of the job profiles in the teaching field:
| | |
| --- | --- |
| Job Profile | Annual Salary (Rs) |
| Teacher | 2 Lakhs – 2.5 Lakhs |
| Assistant Teacher | 1.8 Lakhs – 2 Lakhs |
| Tutor | 3 Lakhs – 4 Lakhs |
| Student Counselor | 2 Lakhs – 4 Lakhs |
All of the salaries, as mentioned above, are for the freshers. After gaining some experience in the passing years, the freshers will become experienced teachers or tutors and will be paid more.
Also, Check:
FAQ's on BTC Course Details
Question 1.
What is BTC training?
Answer:
BTC training is a two-year certification level training recognized by NCTE, Government of India. This course is for the aspirants who are planning to pursue their career in the teaching field.
Question 2.
Which is better B.Ed or BTC?
Answer:
Ed is an undergraduate course on education and is the right choice for the candidates who are interested in the teaching line. In contrast, the BTC course is just a basic training certificate that will qualify a candidate to become a primary teacher in government schools. It is better to first do the undergraduate course and then complete the BTC course in order to get more job opportunities.