B.Sc Filmmaking Course: Are you now passed with the 12th standard and planning further for graduation? Did you feel interested in the world of movies? If you are into it, then you will like to read complete details for the course. Candidates, who are into learning filmmaking, are at the right place for complete information regarding the course with the salary, syllabus, fees, eligibility, and job. You will have comprehensive knowledge with in-depth analysis in Filmmaking.
You will find full detail for the course through this article with everything regarding B.Sc in Filmmaking. It is an Under Graduation Course that need your three years to complete. Get complete detail for the course.
About B.Sc Filmmaking Course
B.Sc in Filmmaking in India is a full-time graduation course for three years to carry after completion of the 12th standard. The course involves teaching the entire discipline that you need to follow in Filmmaking. There will be a total of six semesters with a complete study of the animations, production, pre-production, visual effects, sound editing, and filmmaking. After you complete the degree students get a chance to work in different preferred fields along with their skillset. Different sessions in this field can help the students to know complete particulars and thus be a master in filmmaking. This academic program is for 12th passed students.
B.Sc Filmmaking Course Details
| | |
| --- | --- |
| Course | B.Sc in Filmmaking |
| Eligibility | The student must be 12th pass |
| Duration | Three Years course with six semesters |
| Fee Paid | 40-80k INR per semester |
| Course Type | Filmmaking and Animation making course |
| Starting Salary Offered | Average 30-75K INR per month |
| Job Opportunities | Director, Assistant Director, Cameraman, Assistant Cameraman, Cinematographer, Production Assistant, Sound Engineer, Sound Designer, Actor, ScriptWriter, and so on |
Subject, Concepts in B.Sc Filmmaking Course
Some of the critical subject and concepts to study in B.Sc Filmmaking are below:
Film History
Music
Media and Communication
Digital Art
Acting
Cinematography
Editing
Photography
Sound Design and Engineering
You need to master the above concepts to become a master in Filmmaking.
List of Colleges and Institutes Offering B.Sc Filmmaking Course
If you want to be proficient in Filmmaking, you must choose the best institute to help you. You can have a better future ahead after joining the institute. Various institutes offering you to join this B.Sc course include
Zee Institute of Creative Art, Chandigarh
R.T.G. animate-animation Academy, Kolkata
Cavalier Animation, Banglore
D.Q. School of Visual Arts, Hyderabad
ANITECH College of Technology and Management, Banglore
Bachelor of Animation in Delhi-NCR
Bachelor of Animation in Maharashtra
Bachelor of Animation in Chennai
Bachelor of Animation in Telangana
Bachelor of Animation in Uttar Pradesh
These are some popular B.Sc Film making colleges in India.
Get to Know More about other types of Course Details Streamwise, and Category wise
Eligibility Criteria for B.Sc Filmmaking Course
Students who have an interest in Filmmaking and have passed their 12th with good marks can go for B.Sc in Filmmaking. A student can pass 12th standard with any stream including science, arts, or commerce as they prefer. They can quickly pursue this course from any of the institutes mentioned above. However, they must have passed with an aggregate of 50% and more in the 12th standard for taking admission in Filmmaking.
B.Sc Filmmaking Fee Structure
Considering the total fee for four years, B.Sc in Filmmaking can be carried out within INR 2 lakhs to INR 8 lakhs. However, the entire fee structure depends upon the institute you chose. If you are going to undertake admission in any government institute, then the fee would be quite lower than privately owned colleges and universities. For one semester, the fee structure is 40K to 80K INR. The final cost is according to the institute you choose for it.
B.Sc Filmmaking Course Admission Procedure
If you want to take admission in B.Sc in Filmmaking course, then you need first to satisfy the eligibility criteria. It is a must to follow throughout India. However, along with that, many universities and colleges have set their entrance test and give admissions according to the marks scored or on a merit basis. They undergo proper counseling after the test results and hence allot seats to the desired candidates. One who satisfies this criterion of eligibility, universities, and colleges permit them to have a seat in this course. However, some viral tests conducted for admission includes
N.I.D. Entrance Test
TOEFL
ACAD Entrance Test
IELTS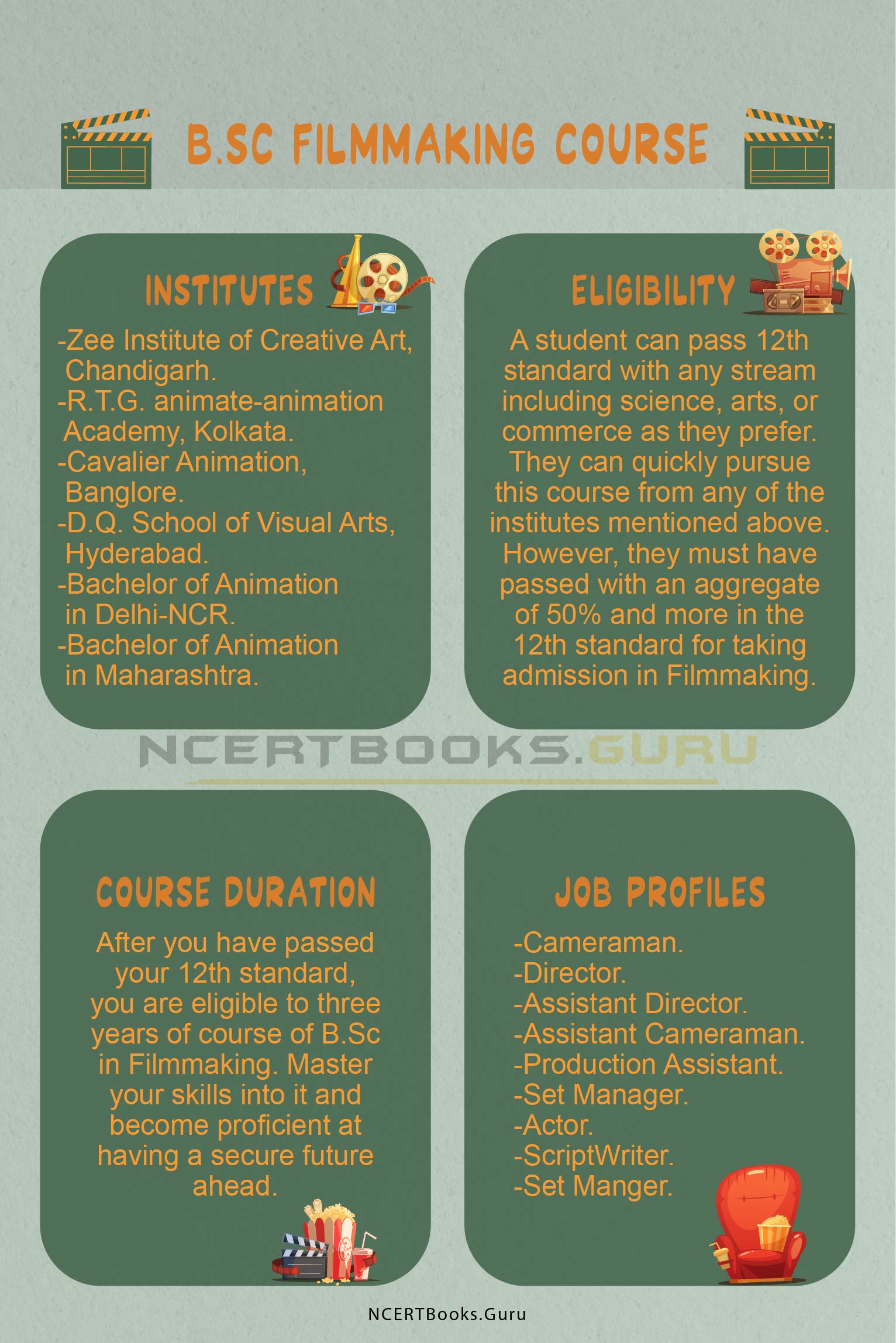 B.Sc Filmmaking Course Duration
If you want to pursue a good career in Filmmaking, you must be proficient in the skills. It is only possible if you undergo proper training in it. After you have passed your 12th standard, you are eligible to three years of course of B.Sc in Filmmaking. Master your skills into it and become proficient at having a secure future ahead.
Also, See:
B.Sc in Filmmaking Syllabus
The concepts to follow in B.Sc Filmmaking are all semester wise. Different institutes carry different subjects for a particular semester. Here is the list of the different subjects offered in this course.
Basics of Filmmaking
Production Design
Film History
ScreenWriting
Communication Skills – I
Communication Skills – II
Digital Art
Acting
Cinematography
Photography
Classical Animation
Pre-Production
Advanced Digital Art
Art For Animation
Character Design
Fundamentals Of Film Making
Motion Graphics
The Script Development
Introduction To Modeling, Shading, And Texturing
Introduction To Lighting, Rendering, And Effects
Digital 2d – Toon Boom
And so on
These are a few basic concepts that you need to clear first and move ahead to the coming years.
B.Sc Filmmaking Course Job Profiles
Filmmaking has been popular to make a secure future under this field for the Indian Students. However, before that, only a few people were not much aware of this course and study. But it has gained a good reputation and attention among the masses in the last few years. Most of the companies have been working to improve the quality of Filmmaking, and those have even succeeded in their plans. Filmmaking has a considerable career trajectory for the students who have an interest in it. Some popular known job profiles after this course study include:
Cameraman
Director
Assistant Director
Assistant Cameraman
Production Assistant
Set Manager
Actor
ScriptWriter
Set Manger
And so on
Some sectors offering a job in Filmmaking include:
Film Production Houses
Advertising Agencies
Media Firms
T.V. Production Houses
B.Sc in Filmmaking Salary
A person who is starting his career in Filmmaking will have a salary depending upon the various factors. The one major factor is your skillset and the institute's reputation where you pursue this course. Other Major Factors include:
Institute for the course completion
Level of education he has (either graduate or post-graduate)
The person specialization in the class like Acting, Editing, Directing, and more
The domain in which he wants to work
Location of his job
After reviewing all these factors, the average salary offered to the person who is starting his career in Filmmaking is around 30-75K in a month. The pay differs from the post for which you work. However, the expected salary in the field of animation in Filmmaking varies from INR 3 lakh to INR 8 lakh depending upon the post you have.
FAQ's on B.Sc Filmmaking Course
Question 1.
Is the Degree in Filmmaking useful?
Answer:
Any type of knowledge you get is never useless. It is your interest where it takes you. A degree in Filmmaking will be worthless only after you cannot have a secured job in it. However, the demand for filmmaking courses has been rising day by day.
Question 2.
Is it good to make a career in Filmmaking?
Answer:
As if you are in school, filmmaking will be reflecting the kind of approach you have developed. It is only good to make a career in filmmaking if you have a competitive mind that can produce creative results.
Question 3.
Is it challenging to get a job in the Film Industry?
Answer:
It could be challenging for you to get started with the film industry for once. But as soon as you get a good reputation, nothing can deny you to begin your successful and high earning career in Filmmaking.
Summary
Hopefully, you must have gained the complete detailed information for B.Sc in Filmmaking Course in India from the above article. This detail must have improved your understanding of this Filmmaking Course.