Biological Science Courses: Some people get confused with biology and biological sciences courses as it holds slight differences. Biological sciences involve biology and math subjects too in their syllabus. The career scope after Biological sciences is also very high.
With the evolution of time biology is also evolving. We have observed that this field has been available to us for too long, now you can find new and interesting career fields in biological sciences. Now, let's read more about the biological science courses in India in detail. You will get to know more about the top colleges, eligibility criteria, and career scope in this article.
Get to Know more about other Course Details by the stream, and category-wise easily.
Everything About Biological Science Courses in India
The biological sciences courses focus on the biology understanding at the molecular and cellular levels. It is a study that involves life and living organisms, their life cycles, adaptations, and environment.
The course has a duration of 3 years which involves practical and theory work with a mixture of lectures, seminars, and lab work. A biological science degree is best for those who want to gain knowledge about the natural history and conservation of living and abiotic ecosystems. You will get to know the worldwide aspects of the ecosystem in detail.
The specialized degree involved various courses in the umbrellas of biological sciences. But the most preferred course is B.Sc in Biological sciences. Some of the specializations in biological science areas are as follows:
Actinobiology
Anthology
Pharmacognosy
Anatomy
Genetics
Plant Physiology
Biochemistry
Microbiology
Theoretical Biology
Bioinformatics
Molecular Biology
Astrobiology
Biophysics
Mycology
Virology
Biotechnology
Parasitology
Zoology
Botany
Photobiology
Genetic Counsellors
Cell Biology
Marine Biology
Epidemiologist
Cytology
Cryobiology
Structural Biology
Embryology
Horticulture
Paleontology
Enzymology
Immunology
Paleozoology
Histology
Evolution
Radiobiology
Morphology
Agronomy
Physiology
Pharmacology
Pathology & Agroforestry
Sericulture
Pisciculture
Ecology
Ethology & Toxicology
Taxonomy
Food Safety
Eligibility For B.Sc Biological Science Courses
To be eligible for the B.Sc Biological science courses the colleges have their own rules and guidelines. Some may admit you on the basis of entrance examinations. But some may ask you to have an amazing score in class 12th for the merit admission.
However, the key biological science requirements that candidates must fulfill are as shown below:
Students must have cleared class 12th with at least 50% marks. However, the cut-off for top colleges goes higher than this.
You must have studied Biology, Chemistry, and Physics as important subjects in your class 12th.
Entrance Exams for Biological Science Degree
The acceptance of these entrance exams depends on the college curriculum. The few entrance exams which you can give are
DU BSc Entrance Exam
KCET
CUCET
ICAR AIEEA
Fees for Easy Biological Science Courses Online
The fees for a Biological Science degree vary according to the college. It also depends on the course which you are choosing. But the Bachelor of Science in Biological Sciences can be completed in around Rs 5,000 to Rs 50,0000.
Top Colleges for Certified Courses in Biological Science
There are various colleges that offer Biological Sciences courses for bachelor's degrees and in other specialties too. You need to browse these top courses on the basis of your conveniences such as location, infrastructure, admission process, fees, and more. You can find the detailed college list along with their fee structure:
| | |
| --- | --- |
| Name of College  | Annual Fees  |
| Baruipur College, South 24 Parganas | INR 3,080 |
| Chandernagore Government College, Chandgannagar | INR 2,100 |
| City College, Kolkata | INR 3,505 |
| Deshbandhu Mahavidyalaya, Bardhaman | INR 3,760 |
| JK College, Purulia | INR 4,260 |
| KBNU, Gulbarga | INR 17,000 |
| Nizam College, Hyderabad | INR 15,600 |
| Osmania University College for Women, Hyderabad | INR 7,640 |
| Syamaprasad College, Kolkata | INR 13,010 |
| Vidyasagar College, Kolkata | INR 6,515 |
Biological Science Degree Courses Syllabus
The subjects involved in the biological science degree have been taken differently by the colleges. But the topics remain the same. Thus, you can find the subject list here:
| | |
| --- | --- |
| Light and Life | Biodiversity & Bioprospecting |
| Chemistry | Bio-resources and Management |
| Physics and Applications to Biology | Ecology: Concepts and Management |
| Mathematics & Statistics | Technical Writing & Communications in English |
| Light and Life Laboratory | Growth & Production |
| Chemistry Laboratory | System Physiology & Behavior |
| Physics and Applications to Biology | Bio-organic & Bio-inorganic Chemistry |
| Defense Mechanisms | Applied Biology |
| Metabolism, Integration, and Adaptation | Differentiation & Morphogenesis |
| Cell Biology | Applied Biology |
| Molecular Biology | Differentiation & Morphogenesis |
| Evolution & Adaptation | |
Set of Skills for Biological Science UG Courses
For every high profile job and amazing salary structure, you need to pursue some skills as without them you could lag among all the employees. Also, these skills make your resume worthwhile in the eyes of the employer. These skills related to Biological Sciences can be
Research and Quantitative Skills
Knowledge of Biology
Ability to Work Well
Analytical Thinking Skills
Investigative Skills
Basic experimental design
Communication Skills
Fundamental skills
Analytical Skills
Excellent Verbal Communication Skill
Also Read:
Biological Sciences Careers
A biological science degree has a lot to offer. You can pursue the career of your choice after the completion of a bachelor's degree in this domain. You get to know a lot about the history and the presence of living organisms.
You get to know more about life processes and their nature. The career scope is not only high in India but the companies abroad are also looking for the best biologists. With the changing lifestyle, career opportunities have increased.
Also, if you are willing to study further and gain specialization in biological sciences then you can go for a master's and then-doctoral degree.
After the completion of B.Sc Biological Sciences, you can also look for teaching sector opportunities. As in the school, be it government or private the requirement for biological teachers is always high. For this, you need to pursue B.Ed after your B.Sc in the relevant domain.
The career growth for the teachers is quite good in the schools and the salary offered is also pretty good. You can also look for applying to different government sector exams such as UPSC CSE, IFS, and PSC of different states.
Job Profiles for Biological Science Degree Holders
After the B.Sc Biological sciences degree, high-profile companies are waiting for you. You can be placed with these job profiles:
Biotechnology Firms
Broadcast Companies
Biotech Engineer
Agricultural Research Services
Pharmaceutical Companies
Botanical Survey
Clinical Research Organizations
Medical Laboratories
Colleges/Universities
Hospitals
Lecturer
Food Scientist
Botanical Gardens
Conservatories
Biophysicist
Pharmaceutical Personnel
Biotech Engineer
Biophysicist
Food Scientist
Related Articles: How to become a Bio Technologist in India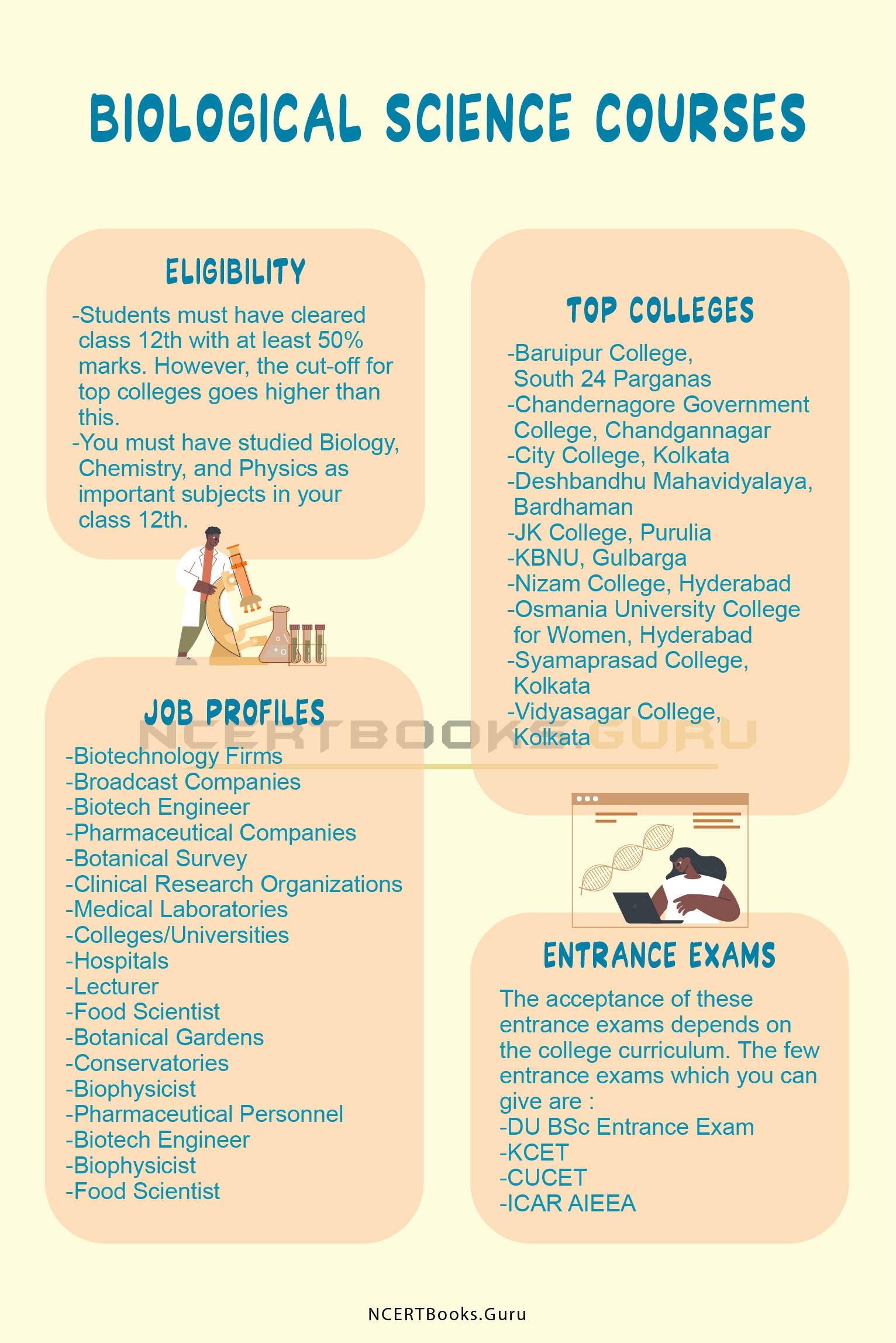 Top Recruiters that Hire Degree Holders in Biological Science
The companies which deal in Therapeutic Research centers, Pharmaceutical firms, Laboratories, etc. recruit students after the completion of a biological science degree. Some of the famous companies are shown below:
AIIMS
BCS- In- silico Biology
Tata Memorial Centre
Indian Society of Cell Biology
Ministry of AYUSH Biotech Research
DRDO-DEBEL Biotech and Life Science
Bureau of Police R&D Life Science
Nestlay
Cadbury
The average salary after the completion of Biological Sciences Courses is around Rs 3 lakhs to Rs 12 lakhs. You get a chance to work in laboratories, Universities, Pharmaceutical businesses, atomic science-based research work, health-based research fields, Therapeutic Research centers, and many more. Here is the job profile-wise salary structure defined:
| | |
| --- | --- |
| Job Profiles | Salary Structure |
| Biophysicist | Rs 6,75,000 |
| Biotech Engineer | Rs 4,73,000 |
| Food Scientist | Rs 5,24,000 |
| Pharmaceutical Personnel | Rs 2,85,000 |
FAQs on Career in Biological Science in India
1. Which is the best Biological Science Course?
Ans. There are around 20+ fields available for the biological sciences. You can choose any of them in which you are interested a lot. Some of these top biological courses are Taxonomy, Morphology, Cytology, Biochemistry, Biotechnology, Botany, and more
2. What are the career choices after studying Biological Science?
Ans. Just like the opportunities to study the course of your choice is huge in the same manner the opportunities after studying this course are huge. You can be an Academic researcher, Biotechnologist, Pharmacologist, Nanotechnologist, Marine biologist, Higher education lecturer, and more.
3. Is a Biological Science Course difficult? 
The Biological courses are not that difficult but they require your complete concentration. There are various lab practices, challenging concepts, a depth syllabus, and difficult vocabulary has been involved. But by studying the courses with full dedication you can score good marks.
4. Do Biological Science courses involve math? 
Ans. The courses in biology may ask you to hold at least some knowledge of the mathematical subjects too such as calculus and statistics. As for the plotting of graphs, understanding equations, and other methods math is involved so must have knowledge about it.
Conclusion
As with the latest and informative content related to B.Sc Biological Science Courses, we are always there to help you. A Biological Sciences degree is an amazing opportunity for students who want to know more about the life sciences. NCERTBooks.Guru has provided complete details on the Indian biological sciences course, and if you find any difficulty you may ask your queries in the comment section below.