B.Com LLB Course: B.Com LLB course stands for Bachelors of Commerce and Bachelors of Legislative Law. It is a professional and integrated course where students are taught law and commerce subjects together for five years duration. The course is divided into ten semesters that provides students with a vast knowledge of business, commerce and law subjects that are crucial in the professional world.
B.Com LLB Full Form is Bachelor of Commerce and Bachelor of Legislative Law.
If you're interested in learning business laws, clauses as well as commerce then B.Com LLB Course is the best career option for you, as this enables students to gain comprehensive proficiency and gain two degrees in a single course. Being a commerce student, you get knowledge about business communication, auditing, economics, and more. In contrast, the combined study of commerce and law provide experience for lawsuits, business laws, criminal laws, legal languages, etc. In this course, a candidate needs to pass all the semesters of its duration for the degree. The medium of this course is English, as this helps students to become professionals in their carrier.
Get to Know More about other types of Course Details in Stream wise, and Category wise
B.Com LLB Course Duration
Bachelor of Commerce and Bachelor of Legislative Law is a five years undergraduate program. This program is designed to provide an extensive study of law, commerce and business to the students. After five years, of course, the mandatory internship is followed for 20 weeks.
B.Com LLB Course Eligibility Criteria
To join this course, aspirants need to meet with the following eligibility criteria.
A candidate must have completed a minimum qualification of 10+2.
A candidate has scored 50% to 60% marks in 10+2; it can vary from college to college.
For Sc/ST students, the average percentage is 40%-50%.
For seeking admission, the candidate's maximum age is 20 years for the general category and 22 for other categories.
B.Com LLB Course Admission Process
The admission process of B.Com Course LLB is precisely based on the national level of the entrance exam. The number of famous colleges and universities conduct entrance exam each year to shortlist the eligible candidates, as they pursue the degree in relevant college. The entrance exam for B.com LLB undertaken by various authors as follows:
National level commerce entrance exam
Government & state level entrance exam.
Aspirants need to fill entrance exams at their desired level. Then, they are allocated with the test date. The top scorers get the desired college whereas the candidates who have scored less, given with their colleges by national/state level.
B.Com LLB Course List Of Entrance Exams
The most popular entrance exam for B.com LLB are:
CLAT
MHCET Law
APLAWCET
ULSAT
TSLAWCET
LSAT
B.Com LLB Course Fee Structure
The average B.Com LLB course fee for five years is INR 13.20 lakhs or above. The price can vary from different colleges and universities.
Top B.Com LLB Course Colleges/Institutions
The list of best Bachelor of Commerce and Bachelor of Legislative Law colleges details are mentioned here:
CMR University School of Legal Studies Bangalore
MS Ramaiah College of Law Bangalore
School of Law GITAM University Visakhapatnam
School of Law, University of Petroleum and Energy Studies, Dehradun
IMS Law College Noida
The Tamilnadu Dr Ambedkar Law University Chennai
LPU
Gujarat National Law University Gandhinagar
Tamil Nadu National Law University Tiruchirappalli
Institute of Law, Nirma University, Ahmedabad
B.Com LLB Subjects
B.Com LLB Course Syllabus PDF is here.
Financial Accounting
Family Law
Taxation
Labour Law
Economics
Business Statistics
Environmental Law
Humans Rights and Humanitarian Law
Criminology and Penology
Intellectual Property Rights
B.Com LLB Scope
After completing 5 years of B.Com LLB course and 20 weeks of internship, the candidate will have immense job opportunities. Here is the list of jobs the candidate can prefer.
Legal Advisor: After studying law, a candidate can pursue his/her career as a legal advisor for government offices, private companies, etc.
Lawyer: An eligible candidate can pursue his/her career as a lawyer in various groups such as aa criminal lawyer, financial lawyer, etc.
Advocate: In this job profile, a candidate must have a specialty in doing research work that supports the claim. Besides these, the other responsibility, like drafting company clauses, policies can be added.
Lecturer: If you want to pursue your career as a law teacher, you can consider it after this course.
Check other law courses that offer job offers similar to B.Com LLB Courses.
Also, Check
B.Com LLB Course Skillset Required
B.Com LLB is a professional course. Therefore, candidates must have good speaking skills as well as quick readers and learners. Further, they should have the desire and the willingness to work for more than 8 hours. Some other skills are given below:
Fluency in English
Ability to do research and analyze facts.
Desire to become successful.
Confident
Excellent presentation skills.
B.Com LLB Salary Offered
The average salary depends on the career you have opted after the course. Further, the B.Com LLB salary depends on the skills and expertise you have. Based on the facts, the average salary one can expect INR 2.5 lakhs to INR 50 lakhs per annum.
If you have opted for a government job, then salary and career opportunities can be high.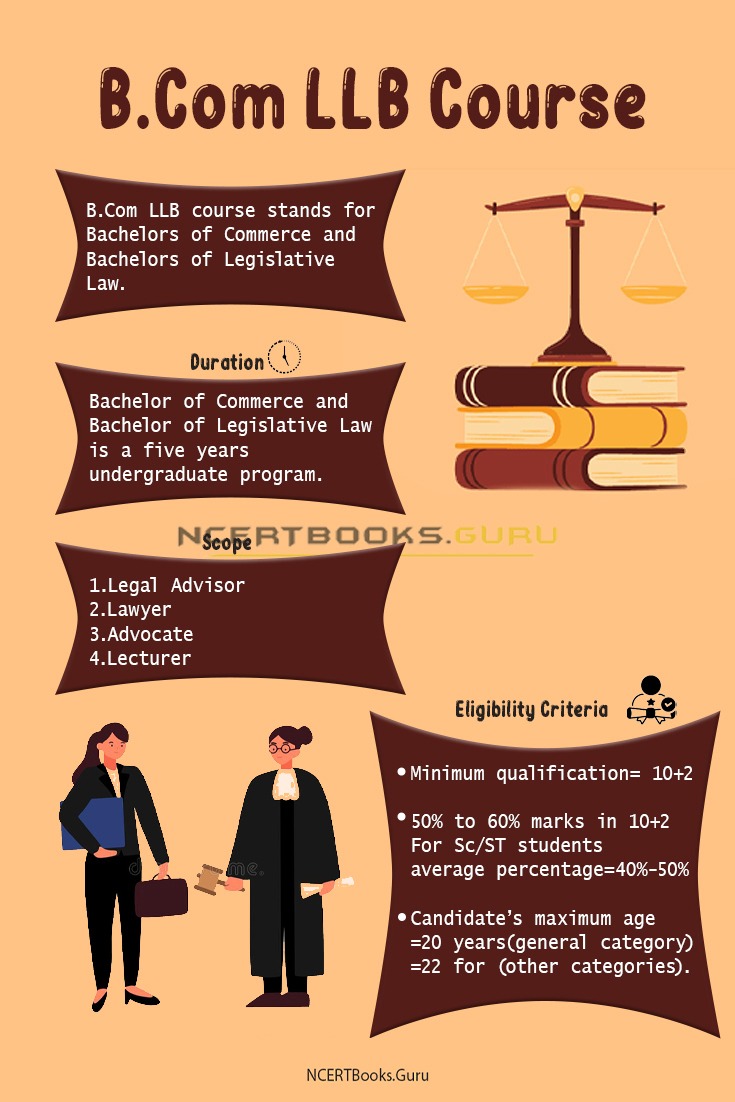 FAQ's on B.Com LLB course
Question 1.
Which is the best BA LLB or B.Com LLB course?
Answer:
The significant difference between the two streams is BA LLB covers law and arts subjects whereas B.Com LLB Course covers commerce, business and law. If we talk about career opportunities, both courses provide the same opportunities, but the B.Com LLB course seems can help you get into corporate law.
Question 2.
What are the subjects in the B.Com LLB course details?
Answer:
The B.Com LLB course is divided into ten semesters with different subjects such as business statistics financial accounting, the law of contract child, consumer protection law, constitutional law, common legal law, company law, Civil Procedure law, property law and many more.
Question 3.
What are the best colleges for the B.Com LLB course?
Answer:
Here is the list of top B.Com LLB course colleges in India.
School of Law, UPES.
Institute of Law Nirma University.
SRM University
Amity Law school