BBA LLB Courses: BBA LLB course is a five-year integrated course where students learn subjects related to both commerce as well as law. Gone are the days when those who wanted to make their career in the field of business had to study BBA first and then pursue an LLB. It stole away a lot of time from students and added to it was several years of preparation and hard work. With BBA LLB courses being taught together it has become easier for aspirants to fulfill their professional desires and land their dream jobs.
In the first year of their course, students get an insight into subjects of commerce including accounts, computer applications, management principles, etc. In the next years, they are taught subjects related to law such as family law, company law, administrative law, etc.
Keep scrolling to get important details of the course including eligibility criteria, structure, admission process, scope and benefits of the course in this articles.
BBA LLB Full Form is Bachelor of Business Administration & Bachelor of Legislative Law.
Get to Know More about other types of Course Details in Stream wise, and Category wise
BBA LLB Course Overview
The main aim of the BBA LLB course is to teach them all the important theoretical and practical knowledge about laws and business within a period of 5 years. Mock courts add to their advantage of gaining practical knowledge.
BBA LLB courses mainly stretch for 5 years. As discussed above, students get a grasp of topics related to commerce in the first year while in the second year they get deep insights into various kinds of laws related to commerce and business.
Students can opt for specialization courses in company law, business law, criminal law, or corporate law. Along with this BBA LLB Course, you can also check other law courses details.
BBA LLB Course Eligibility Criteria
Students wishing to get admission for the BBA LLB course must pass 10+2  with an aggregate score of a minimum of 50% marks.
Though students from any stream can pursue this course commerce students get an added advantage. Students aged between 18-22 years can apply for the course, anyone can apply.
BBA LLB Course Fee Structure
The fee structure of BBA LLB courses varies depending upon the type of college. Government colleges may charge 35,000 to 50,000 for the course while the fee of private colleges is generally higher- may vary between 1 lakh to 2 lakh.
BBA LLB Admission Process
There are mainly two processes to get admitted to BBA LLB Colleges in India.
Entrance Test: Some colleges take an entrance test that includes topics covering English, General Knowledge, General Altitude, Reasoning and Logic. This is followed by counseling or an interview.  CLAT, SLAT, LSAT, ULSAT, MH CET Law and KLEEE are popular entrance exams for the students willing to pursue BBA LLB courses.
Direct Admission: Many colleges offer direct admission to students and may follow the process of personal interviews.
Similar Courses
BBA LLB Syllabus Semester Wise
Along with the BBA LLB Subjects, also go through recommended LLB Books here.
Semester I
English
Fundamentals of Business Organization
Law of Torts including MV Accident and Consumer Protection Laws I
Accounting I
Jurisprudence (Legal Method, Indian Legal System, Basic theory of law.)
Semester II
English
Managerial Economics
Law of Torts including MV Accident and Consumer Protection Laws II
Accounting II (Corporate Accounts)
Managerial Economics
Semester III
Effective Communication Skill
Constitutional Law I
Quantitative Techniques
Special Contract
Family Law I
Semester IV
Law of Crimes Paper I: Penal Code
Family Law 2
Constitutional Law 2
Organizational Behaviour
Business and Managerial Communication
Semester V
Property Law
Law of Crimes Paper II: Criminal Procedure Code I
Company Law I
Corporate Governance and Finance
Administrative Law
Semester VI
Environmental Law
Principles of Taxation Law
Law of Crimes Paper III: Criminal Procedure Code II
Human Resources and Total Quality Management
Company Law II
Semester VII
Code of Civil Procedure and Limitation Act I
Labour and Industrial Law
Public International Law
Drafting, Pleading and Conveyance (Clinical Course I)
Alternative Dispute Resolution (Clinical Course II)
Semester VIII
Professional Ethics and Professional Accounting Systems (Clinical Course III)
Code of Civil Procedure and Limitation Act II
Law of Evidence
Moot Court Exercise and Internship (Clinical Course IV)
Projects and Presentation
List of Elective BBA LLB Course Subjects
Semester V

Sanskrit I
French I
Hindi I
German I
Spanish I
Marathi I

Semester VI

Sanskrit II
French II
German II
Hindi II
Spanish II
Marathi II

Semester VII Part I

General Agreement on Tariff and Trade
Merger and Acquisitions

Semester VII Part II

Banking Law
Trade and Services immigration
Insurance Law
Investment Law

Semester VIII Part I

International Banking and Finance
Information Technology Law

Semester VIII Part II

International Trade and Economics
Trade-in Intellectual Property
List of BBA LLB Subjects
Family Business Management
Personnel Management & Industry Relations
Business Laws
Commercial Bank Management
Security Analysis
Sales & Distribution Management
Introduction to Operations Research
Human Resource Management
Computer Applications
Export/ Import Management
Consumer Behaviour
Production & Material Management
Quantitative Methods
MIS / Systems Design
Strategy
Business Data Processing
PR Management
Introduction to Psychology
Marketing Management
Essentials of Marketing
Project Management
Financial Modelling using spreadsheets
Corporate Strategic Management
Business Economics
Principles of Management
E-Commerce
Introduction to Sociology
Leadership and Ethics
Organisational Behaviour
Retail Management
Micro Economics
Entrepreneurship
International Business Management
Financial & Commodity Derivatives
Financial & Management Accounting
Manufacture Planning and Control
Industrial Relations and Labour Legislation
Business Analytics
Digital Marketing
Understanding Industry and Markets
Business Mathematics & Statistics
BBA LLB Course Benefits
Develops analytical mindsets
Furnishes public speaking skills
Improves personality
Boost decision-making skills
BBA LLB Scope and Career
With a rapid change in the industrial and business sector in our country, the BBA LLB course provides ample opportunities to students to dive into expansive fields including administration, law, business, company laws, communication, etc. Another benefit of the program is that the students get a deeper insight into both fields, law as well as business.
They can find themselves happily placed in administration and planning, banking, industrial sector, business law, company law, the legal profession as well as the judiciary.
BBA LLB Course Job Profiles, Salary
Students passing out from the BBA LLB course can get placed as an advocate/corporate lawyer, business consultant, professor, legal office manager, research assistant, attorney general, human resource manager, assistant advisor, law reporter, law officer and management accountants, etc.
Salaries of professionals engaged in this field may vary in terms of experience and profiles. Generally, BBA LLB Salary package starts at 2 lakh per annum.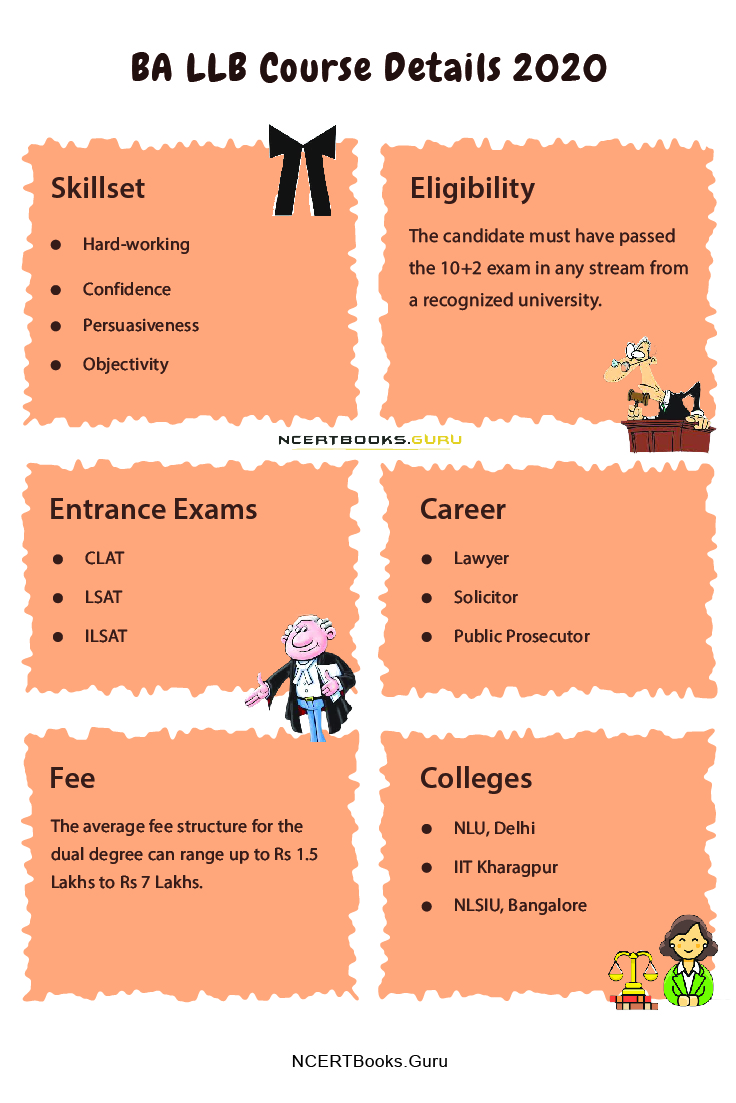 FAQ's on BBA LLB Courses
Question 1.
I have passed 10+2 with 55%. Am I eligible for the BBA LLB program?
Answer:
Yes, to be eligible for BBA LLB, one must pass 10+2 with a minimum of 50% marks. The course extends for 5 years. Colleges either admit students directly or through an entrance test.
Question 2.
What do I need to study for an entrance exam in BBA LLB?
Answer:
BBA LLB entrance exam generally touches topics in logical reasoning, mathematics, general knowledge, English, Current Affairs and Legal reasoning.
Question 3.
Is there any age bar to pursue the course?
Answer:
Students aged 18-22 can pursue BBA LLB courses. Initially, students till the age of 20 could sit for the exams, later the Supreme Court had pushed the age to 22 years.
Question 4.
What are the subjects in a BBA LLB course?
Answer:
BBA LLB course structure includes English, Economics, Principles of Management, Improving Communication Skills, Property Law, Family Law, Constitutional Law, Consumer Protection Laws, Organizational Behaviour, International Banking, Public International Banking and more.