LLB Syllabus: LLB course refers to Bachelor of Laws, an undergraduate law degree offered to desirable aspirants who like to pursue their career as a lawyer. The law courses are offered in many renowned colleges in India in both the regular and correspondence format of studying. The Bar Council of India closely conducts this three-year degree program.
Get to Know More about other types of Course Details in Stream wise, and Category wise.
LLB Course Overview
If you wish to pursue LLB Course, you should fill up some requirements details to become eligible, as given by BCI. The candidates have to complete their graduation degree, i.e. Bachelor of Laws, undergraduate law degree with 50% marks from a recognized university. However, the eligibility requirement may vary as per colleges and universities. The minimum percentage requirement for SC/ST category candidate is 40%-45% and 50%-55% for the general category.
LLB Course Duration
LLB course is divided into six semesters for three years, which means a candidate needs to clear each semester with good marks to get the degree. In this course, the candidate is requested to take part in all programs assigned with a course such as a courtroom practice, moot courts, theory classes, and internships.
Syllabus of LLB Course
The syllabus and subjects of this 3 years LLB course vary from colleges to colleges. However, some common subjects that are taught in almost every college in India throughout the six years are given below.
| | | |
| --- | --- | --- |
| Labour law | Family law | Human rights & international law |
| Legal Aids | International economics law | Arbitration, conciliation & alternative |
| Companies law | Land laws | Law of contract |
| Administrative law | Professional ethics | Jurisprudence |
LLB Course Specializations
With this degree program, a qualified candidate can pursue their specializations as follows:
Tax lawyer
Criminal lawyer
Corporate lawyer
Patent lawyer
Media lawyer
Intellectual property lawyer
Constitutional lawyer
Environmental lawyer
Real estate lawyer
Civil lawyer
Labour lawyer
Lecturer/ Teacher
Advocate
Solicitor
LLB Course Entrance Exams
The majority of law colleges offer admission in LLB course to the candidates based on their score in the National entrance exam conducted by them. However, there are many exams conducted by colleges and the national level both. From which CLAT is the most common exam which a candidate should pass to secure his seat in the best law colleges.
CLAT is abbreviated as the standard law admission test. It is a national level entrance exam conducted for the graduates to get admission in various top colleges of India. However, there are various law entrance exams are conducted such as AILET, LAT, SET, and more. Most of the law exams follow the same exam pattern. If you're preparing yourself for upcoming CLAT 2020 or other, then follow the given tips for exam preparation and to perform the best.
LLB Course Exam Preparation
Before getting ready to study, it is essential to know the CLAT 2020 Exam syllabus. With this, you'll be ready to attempt every minor to major topics. Now, prepare your study schedule with the given syllabus.
Subjects & No. Of Questions 
English language, you need to attempt 28-32 questions.
Quantitative techniques, you need to attempt 35-39 questions.
Logical reasoning, you need to attempt 13-17 questions.
General Awareness, you need to attempt 35-39 questions.
Legal aptitude, you need to attempt 28-32 questions.
LLB Syllabus Exam Pattern
Once you know about the syllabus, your second step is to know about the exam pattern. So, the mode of exam is offline, and candidates are allowed with 2 hours to attempt 150 objective type questions. Keep in mind there will be negative marking for each wrong answer, i.e. -0.25 (exceptional case in a few institutes).
How to Prepare for The Exam?
If you are done with everything, now the next important step starts, and that is starting your exam preparation. For your help, we have listed some good points that the candidate should follow while studying, such as:
Make notes of important topics.
Find out the best study material relate to subjects.
Attempt previous year's exams.
Practice mock tests.
Stay updated with current affairs.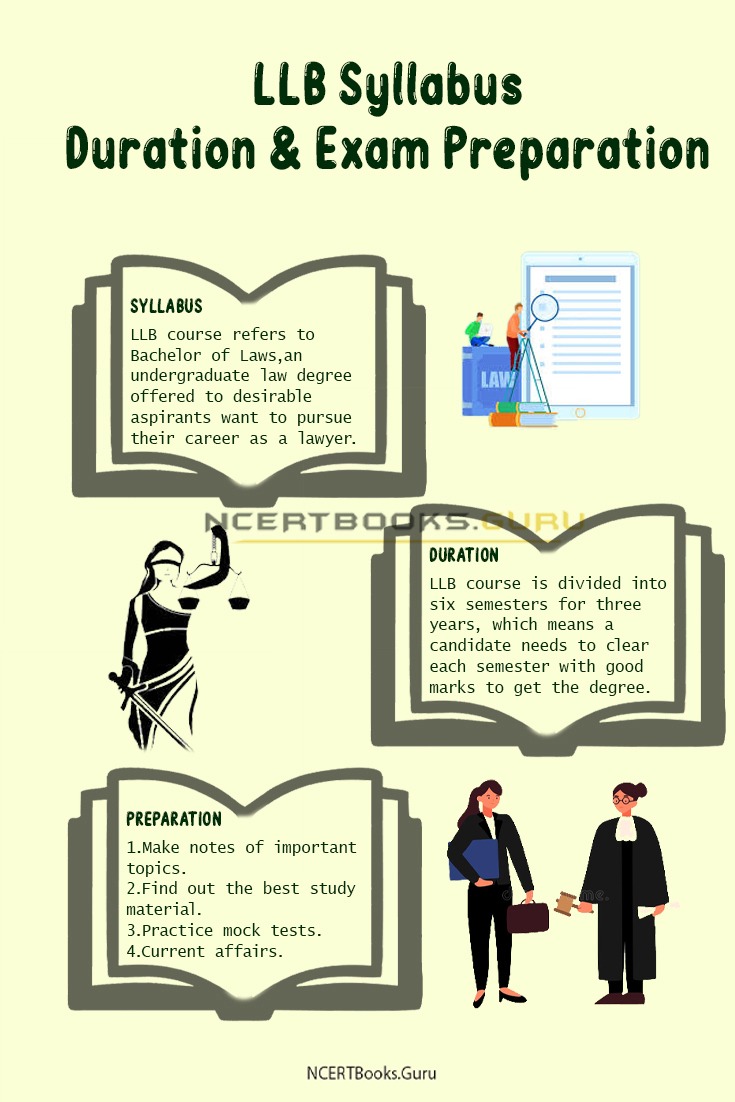 FAQ's on LLB Syllabus
Question 1.
What are the best books for CLAT 2020?
Answer:
A few of the best books for CLAT preparation are listed below that will help you in the best way.
English is easy by Chetnanand Singh.
Analytical Reasoning by M.K. Pandey
Analytical and logical reasoning by R.S. Aggarwal
Manorama yearbook.
Verbal Reasoning by R.S. Aggarwal
Word Power Made Easy by Norman Lewis.
Question 2.
How to choose the best books for CLAT?
Answer:
While choosing books for the entrance exam make sure you're buying the updated one. The updated books cover the entire syllabus as well as provides an updated exam pattern, so you can prepare your study accordingly. Also, it would be best if you bought books which are easy to understand and read.
Question 3.
What is the skillset for LLB Course?
Answer:
LLB course is a professional degree course which is more demanding right now, as this opens vast opportunities for qualified candidates to have successful careers. In such a case, candidates are required to accomplish the following skillset.
Fluency in the English language
Ability to research and work for long hours.
Ability to give a robust debate on the topic.
Good presentation skills & judging situation.
Must have convincing power.