Aviation Management Courses: Looking for aviation management courses to build your future. Then you are at the right place. We have provided this blog for you by giving complete information about courses in aviation management.
These aviation management online courses deal with the study of airlines, airports, and businesses related to the aerospace industry. Candidates studying aviation management aim to work in high-level positions like security at airports and air traffic control towers. These aviation courses are gaining a lot of popularity these days.
Aviation management courses in India are offered in many colleges and institutes in the fields of diploma, certification, PG, Doctoral, and UG. These courses are offered not only in colleges but also offered online via platforms like Udemy, Skillshare, and many others.
Aviation online degree courses can be pursued after 12th and graduation too. Read out the article as we have given much information about aviation management courses.  Moreover, we also have many course details on our website, you can check them as we have given them streamwise and category-wise.
What is Aviation Management?
Nowadays aviation management courses have a lot of job opportunities and it has a better future. With the increase in the number of aviation companies, the demand for aviation professionals will also rise. Aviation management course provides individuals with the necessary education to oversee the departments of airports and airlines.
Short-term aviation management courses are the best choice for aviation aspirants to learn valuable knowledge in a short period of time. Aviation Management covers a range of courses from cabin crew training to ground staff.
People who are interested to pursue this career will be more aware of various thrilling and exciting opportunities to travel around the world. Traveling across the world and getting paid for it can unquestionably be the most satisfying job for the people who love to travel.
We have given eligibility criteria for aviation management. Candidates who are looking for aviation management courses should go through these eligibility criteria. We can do aviation courses after completion of 12th and also completion of graduation. We will look for both eligibility criteria that are listed below for undergraduate and postgraduate levels.
For Undergraduate Level
To study undergraduate level candidate should complete 10th or 12th with a good percentage from the recognized college.
Candidates should score at least 50%  to be eligible for the entrance examination.
Admission for these courses will vary from college to college. Some colleges select the candidates based on entrance exams and some colleges select the candidates based on marks.
Check for the selection process and eligibility before selecting the particular college.
For Postgraduate Level
To study postgraduate level, the candidate should get 50% of marks in bachelors degree and also one should get 50% of marks in 10th and 12th grade.
A graduation degree is preferred to be in commerce or economics with a maths background.
To study MBA in aviation along with the study you should also have a minimum of 2 years of experience.
Aviation Management Courses Fees
Here are the course fee details that are given below for diploma, PG, and UG courses.
UnderGraduate
Private: 60.00 K to 9.62 Lakhs
Government: 51.90 K to 3.16 Lakhs
Post Graduate
Private: 30.00 K to 15.26 Lakhs

Government: 6.50 Lakhs to 8.50 Lakhs

Diploma Course
Private: 10.00 K to 1.00 Lakhs
Online Aviation Management Courses
The table mentioned below will help you understand which aviation management courses online is best to pick as a career. As it includes information like certificate name, provider, average fees, and duration.
| Certificate Name | Provider | Duration | Average Fees |
| --- | --- | --- | --- |
| Certificate Course in Aviation Management | Udemy | 1 Hour | INR 455/- |
| Drones and Autonomous Systems 1: Fundamentals | edX |  6 Week | Free* |
| Aviation 101 | Canvas Network | 9 Weeks | NA |
| Aviation Security and Safety Management | Udemy | 1.5 Hours | INR 455/- |
Aviation Management Course Subjects
Take a look at these aviation management subjects that are given below. We have given undergraduate courses syllabus and postgraduate courses syllabus.
Undergraduate courses Syllabus
Below are the subjects for the undergraduate courses BBA for three years.
Community Service
Business Law
Airport Functions of Airlines
Human Resource Management
Aviation Marketing
Cargo Handling
Financial Accounting
Community Service
Business Statistics
Customer Relationship Management
Also Check: Air Hostess Diploma Course
Postgraduate Courses Syllabus
MBA in aviation management is a 2- year program in the following management subjects and more.
Airline Economics
Aircraft Maintenance Management
E-Business
Supply Chain Management
Cross-Cultural Management
Total Quality Management
Aviation Law
Strategic Management
Airline Advertising and Sales promotion
Following are some of the aviation courses that you can pick after class 12 are given below.
Name of the Course
Duration
Roles Offered
Expected Salary
BBA in Aviation
3 Years

Assistant airport manager
Recovery & Credit Manager
Airline Contracting Manager

Rs. 3 to 6 Lakh per Annum
BBA in Business Management
3 years

Administrator
Airport Manager
Staff Manager
safety Officer

Rs. 3 to 6 Lakh per Annum
Diploma in Ground Staff and cabin crew training
6 months to 1 year

Steward
Air hostess
Front end office operator

Rs. 4 to 6 Lakh per Annum
Diploma in Airport Management
1 year

Assistant Manager
Airport Manager
Cargo Department Manager

Rs. 2 to 5 Lakh per Annum
Diploma in Aviation Hospitality
1 year

Cabin crew
Office operators
Ground Staff

Rs. 4 to 6 Lakh per Annum
Commercial Pilot Training
4 to 5 years

Ferry pilot
Commercial pilot

Rs. 5 to 12 Lakh per Annum
B.Sc Aviation
3 Years

Air traffic controller
Technical ground operator
Safety Operator

Rs. 2 to 4 Lakh per Annum
Aircraft Maintenance Engineering (AME)
3 Years
Rs. 3 to 5 Lakh per Annum
BBA in Airport Management
3 years

Airport Executive
Guest relation Executive
Safety and Maintenance Manager

Rs. 4 to 8 Lakh per Annum
Related Articles: Aviation & Navy Courses
Best Colleges for Aviation Management Courses in India
Here are the top colleges that are given below for the Aviation Management Courses in India. You can study aviation after graduation or after graduation.
School of Business, University of Petroleum and Energy Studies, Dehradun
HITS Chennai
DYPUSM Mumbai
SJES College of Management Studies, Bangalore
Nehru College of Aeronautics and Applied Sciences, Coimbatore
Indian Institute of Knowledge Management, Chennai
Institute of Clinical Research India, Ahmedabad
Nehru College of Aeronautics and Applied Sciences, Coimbatore
Institute of Clinical Research India, Ahmedabad
Job Profiles after Aviation Courses
Candidates who have successfully completed their respective courses have better chances that they will be hired by the best airport authorities in India. Here are some of the top job profiles after the aviation courses are listed below.
Airline cabin crew
Flight Attendant / Air Hostess
Airport Manager
Airport operation Manager
Aviation Maintenance Technician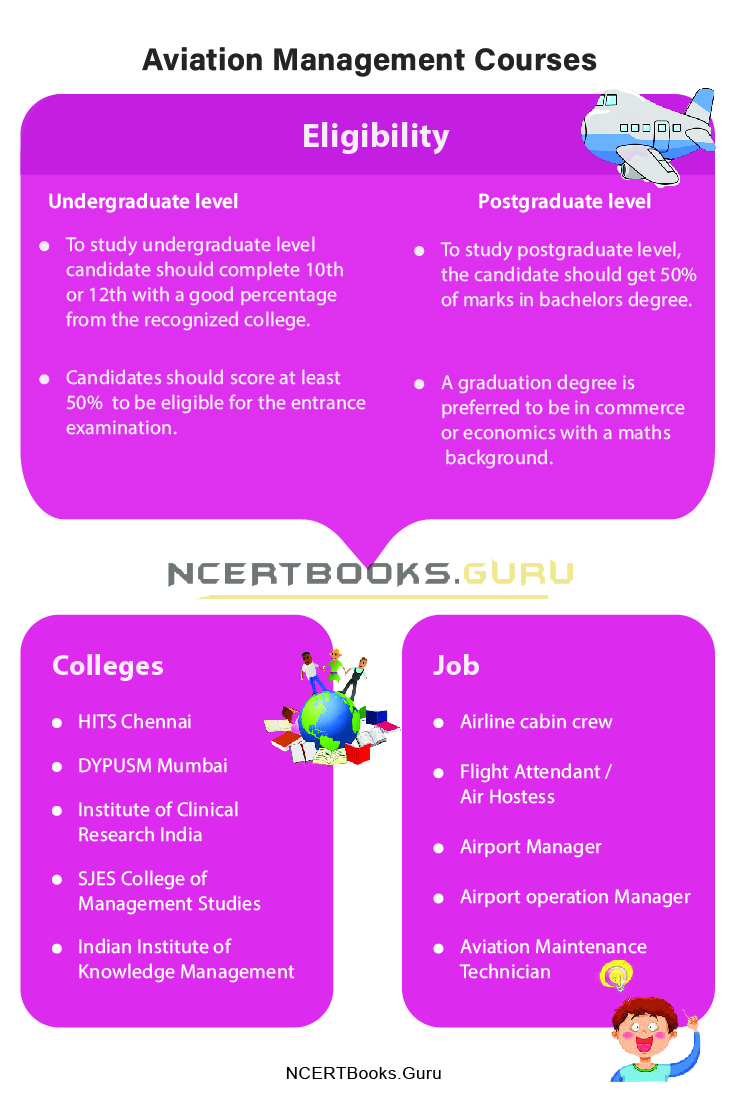 Aviation Management Salary
The average salary for a fresher in the industry varies from their job roles. Here are some of the job roles that are given below along with the salary.
Cabin crew – Rs. 5 to 7 lakhs per Annum.
Ground Staff – Rs. 4 to 6 lakhs per Annum.
And also you can start your own aviation training centers or can work as a full-time grooming / professional trainer.
Must See: Airport Management Courses after 12th
FAQs on Aviation Safety Management Courses
1. Which course is best in aviation management?
Here are some of the best aviation courses for aviation management are given below.
Diploma in Airlines
Tourism and Hospitality Management
Diploma in Airport Ground Handling
Diploma in Fight Attendant
MBA in Aviation Management
MSC in Aviation Management
Diploma in Aviation Management
2. What is the scope of aviation management?
There is a vast scope for aviation management as it is witnessing new heights every day. Many courses are included in ground handling, ticketing, hospitality, fleet management, in-flight services, and many other aviation management jobs are available.
3. Is aviation management easy?
Aviation Management is complex, varied field. There is a huge base of topics within aviation. When you want to study aviation management you learn about the topics like the operation of airlines, airports, and aircraft manufacturers.
As aviation companies are growing you will have a good career and future. If you are passionate about airplanes you can start your career in aviation.
Summary
Hope that the information that was given about the aviation management courses is useful. Let us know your opinion about this article and what would you like to expect from us in the future, comment us via the comment section below. If you are much passionate about aviation then you can build your career in this field. Checkout NCERTBooks.Guru for more latest updates. All the best!