Allotment Letter: For people who are booking an under-construction property, you are expected to obtain an allotment letter from the builder. This letter covers all the details regarding the flat, the payment options and any extra charges that you may have to pay in case of maintenance or additional facilities. Also, it is offered as a provisional certificate of share ownership on receipt of share payment.
Moreover, you can also know about the due of allotment money from the shareholder by this Letter of Allotment. Once you receive the allotment letter, one should sign it and return a copy of it to the corporation registrar. Know more information about Allotment Letter Writing such as how to write it, what should include in the letter, and many more from this article.
Apart from these, you even can find the format and examples of Allotment Letter Writing. Not only letter writing for allotment of plot or park or property but also you will discover Letter Writing Topics of both Formal and Informal letter from our site Ncertbooks.Guru
Guidelines on How To Write an Allotment Letter?
Check out the below writing tips for an Allotment Letter and draft a letter on your own in an effective way. By following these steps or points, you can easily write a letter of allotment. So, have a look at below:
An allotment letter is a formal letter so you should be drafted a letter in an official way.
Also, it should be duly dated, stamped, and signed by the authorized person.
A letter of allotment includes the number of shares allotted and the amount payable on the allotment.
Ensure to draft it grammatically right.
Due date and place of allotment money payment must be included in the letter.
It should contain the interest that will be charged on allotment money receiving after the due date.
It should also cover the consequences of non-payment of the allotment money and the reference number of the share application and the applied number of shares.
Allotment Letter Format
After knowing the points to be remembered while writing a letter of allotment. It's mandatory to have a look at the format of the allotment letter. So, the below image can help you to know the Allotment Letter Format:
Dated: [Date]
To,
[Name]
[Address]
Fax: [Fax No.]
Reference Number: [Reference No.]
Subject: Allotment Letter
Dear Mam/Sir,
This is in reference to your application number [application number] dated [date] was considered at the board meeting conducted on [date]. The details of the equity share allotment are mentioned below: [mention the information of share allotment]
You are requested to pay the due amount of allotment to our company. The payment of allotment must be made on or before [date]. A duly signed share certificate will be exchanged against the letter of allotment.
Thanking You.
Yours Sincerely,
[Company Name]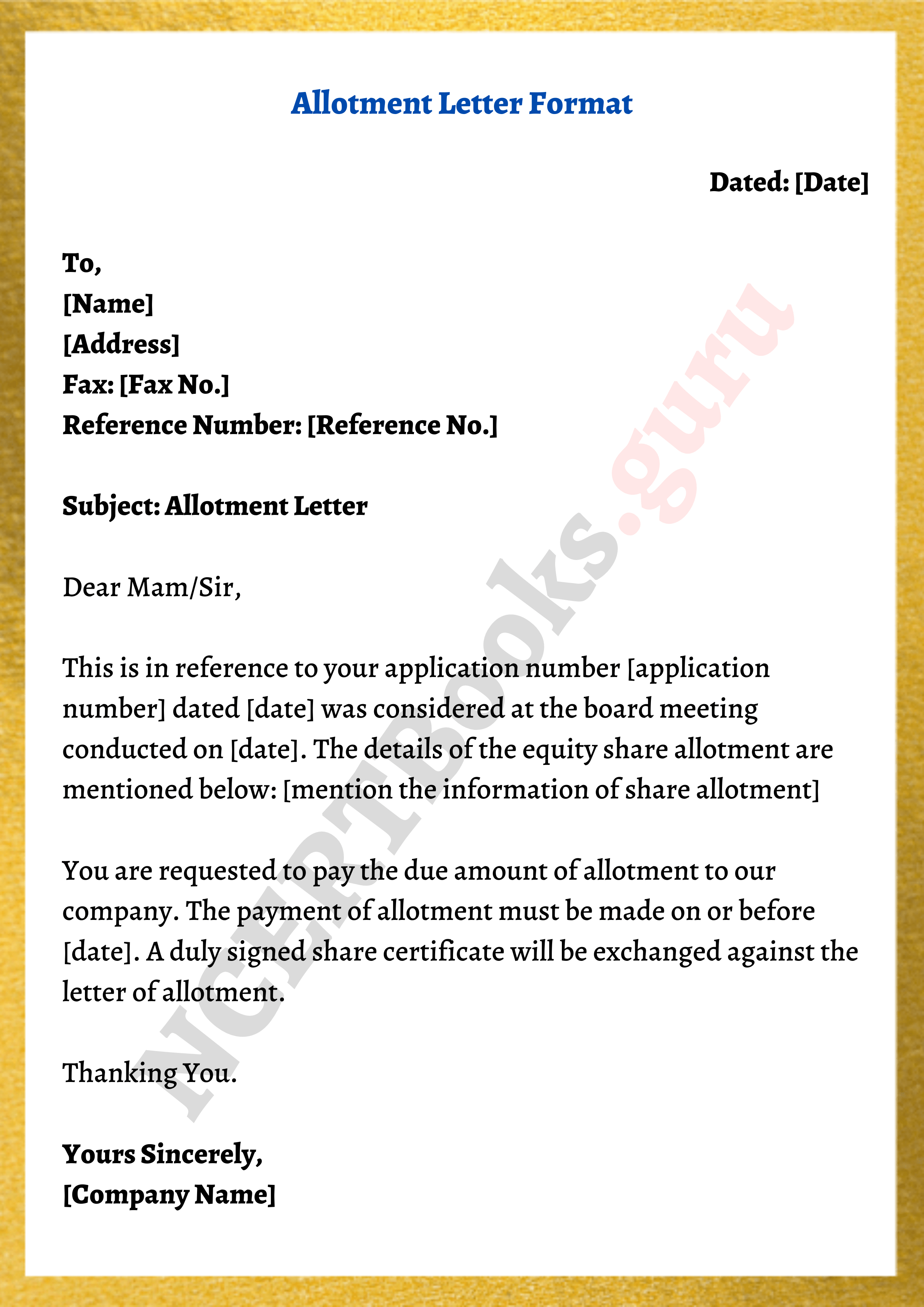 Samples of Allotment Letter | Letter of Allotment Examples
Take a glimpse at the Allotment Letter Samples added here in image form and make use of them for your reference. They are as such
Allotment Letter To Allot A Plot – Sample 1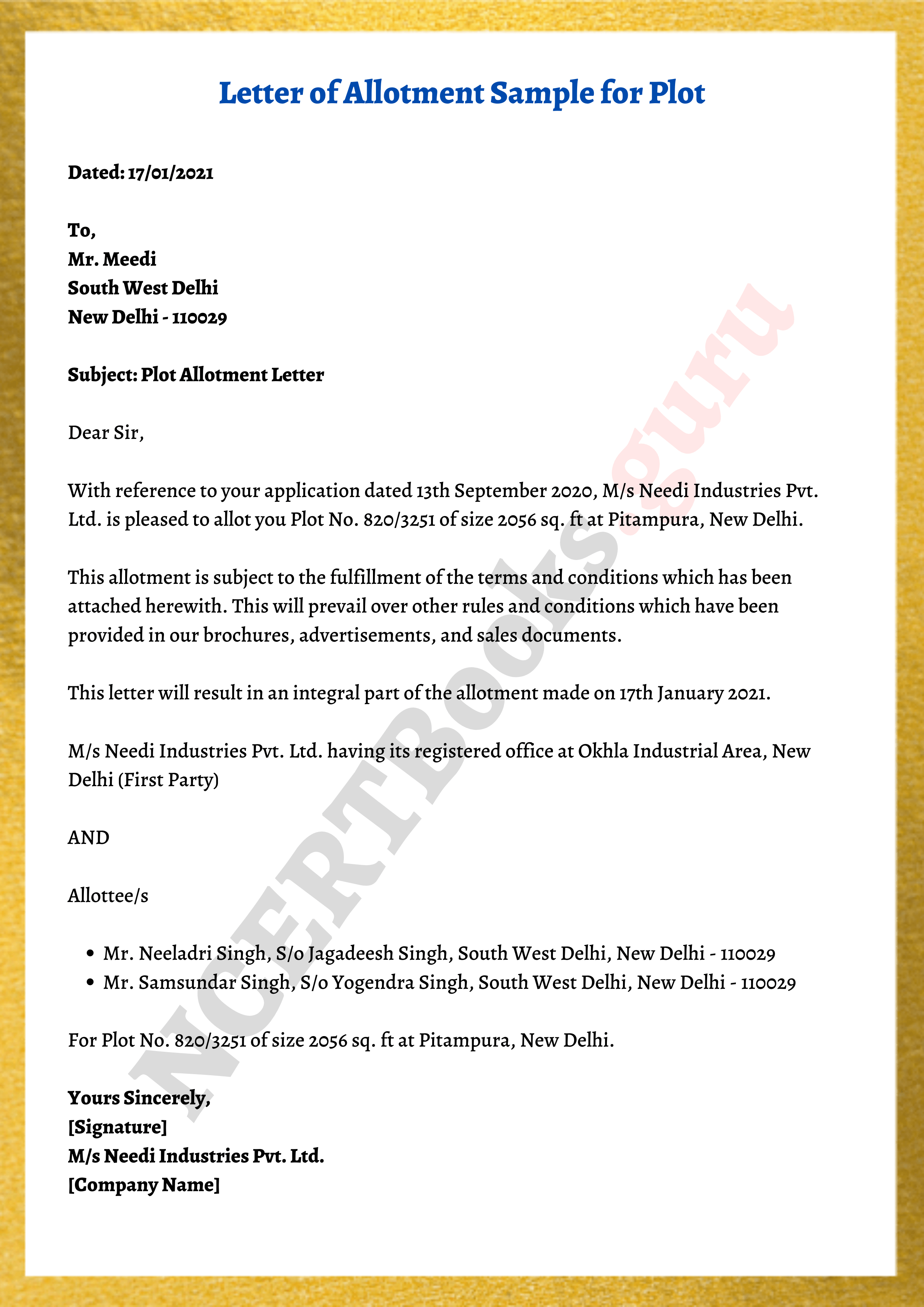 Letter of Allotment Sample for Parking Space Allotment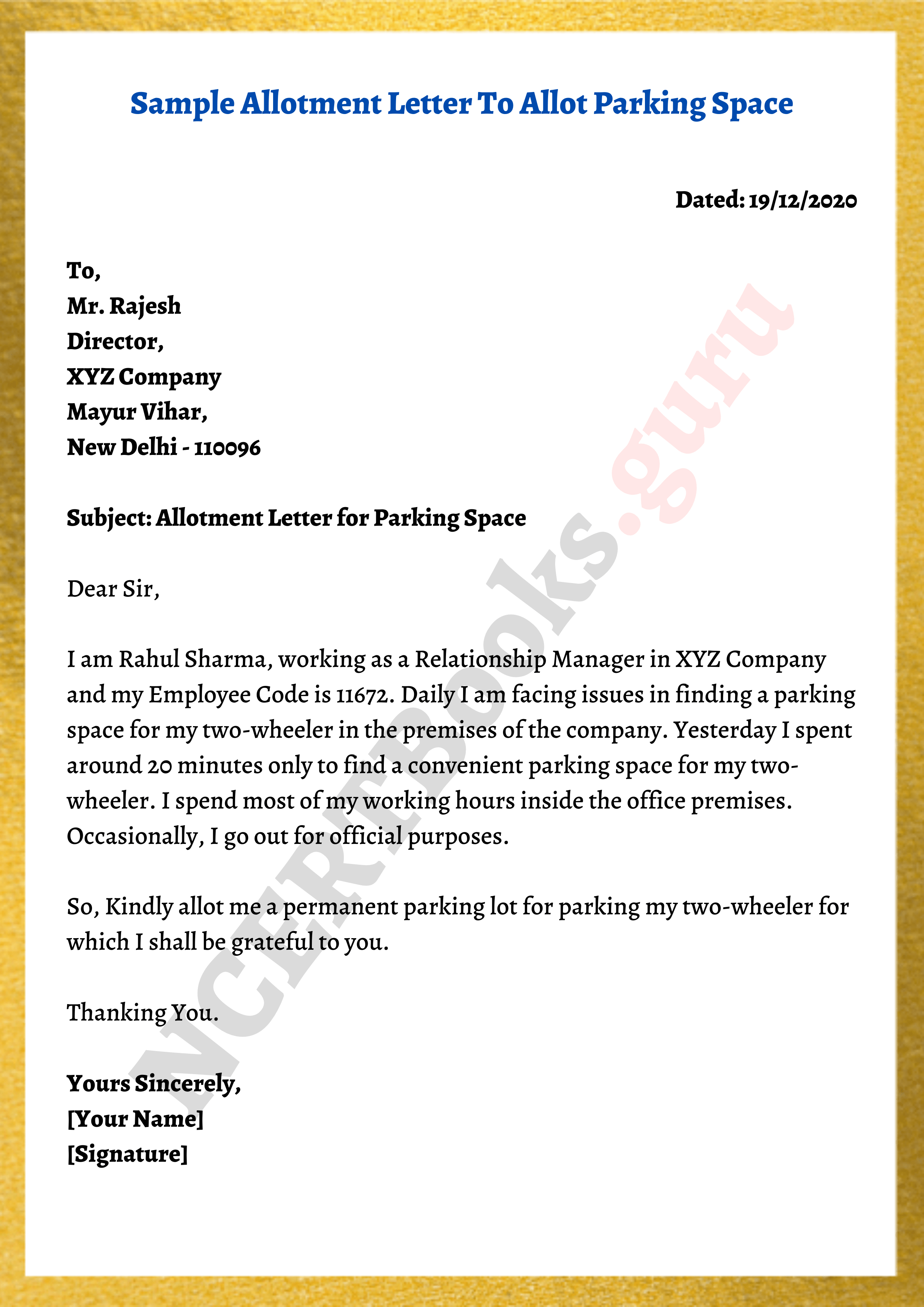 FAQs on Allotment Letter Writing
1. What is an Allotment Letter?
An allotment letter is a formal letter where a builder drafts for an individual who books an under-construction property. It confirms the number of shares allotted to an individual for a new issue of shares or an actual stockholder following the rights issue.
2. What is a provisional allotment letter?
A Provisional Allotment letter is a letter for confirmation of the seat in any college or university, for instance, If you apply for admission in any college then they provide you provisional letter for confirmation of seat from their end then you pay a fee for a seat that's all about Provisional seat allotment letter.
3. Where can I get the Allotment Letter Formate and Samples?
From NcertBooks.guru, you can easily get the Allotment Letter format and samples for various types of properties. So, check out the site and find formal and informal types of letter writings along with allotment letter writing.